Comptroller General Predicts Fiscal Crisis Unless Government Reforms
Posted March 22, 2006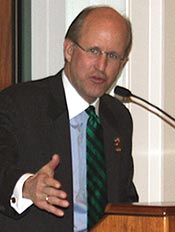 The Government Accountability
Office, led by Comptroller General
David Walker, provides the fiscal
oversight, insight, and foresight for
government initiatives.
Podcast:
MP3
 (right click to
download)
The government must change how it does business now or the United States will face a serious fiscal crisis in the future, said David Walker, Comptroller General of the U.S. Government Accountability Office (GAO), at the Conference on Public Service & the Law dinner March 17. He challenged law students to take on the issues faced by the government by getting involved in public service at some point in their careers.
"The United States government faces some serious challenges in the 21st century," Walker warned. "Deficits, changing security threats, demographics, quality-of-life concerns, rapidly evolving technology, I can go on and on and on."
Plagued by waste, fraud, abuse, and mismanagement, the government must reconsider longstanding policies to sustain its superpower status and leave the country better positioned for the future. "Washington is out of control," Walker asserted, not blaming anyone in particular. "I mean this on a nonpartisan basis.
"We could eliminate every dime of waste…and this nation would still have large and growing structural deficits," Walker said. There are "too many layers, too many players, too many turf battles, and too many hardened silos."
In order to make the necessary changes, the government needs more leaders with courage, integrity, creativity, and stewardship and who are willing to reform entitlement policies, namely Social Security, Medicare, and Medicaid. The government also needs to re-engineer the base of spending and re-evaluate tax policies.
The GAO, which provides the fiscal oversight, insight, and foresight for government initiatives, is at the forefront of making critical changes to government operations, starting with their own agency. "We try very much as an institution and I try very much as an individual, to practice what we preach and to keep in mind that leading by example is a powerful, powerful, but simple concept."
Walker was able to turn the GAO from an at-risk agency to a model agency by being a good leader and adhering to three core values; accountability, integrity, and reliability. The GAO, for example, is the only government entity that has changed to a flat, market-based, skills-, knowledge-, and performance-oriented classification and compensation system.
The government is operating under policies that were meant for conditions that existed in the 1940s, 50s, 60s, and 70s, Walker charged, which hurts government productivity. Once a program or policy has been approved, it becomes part of the base set of programs in the annual budget.
"The base is unaffordable, unsustainable. The base is going to have to be dramatically reengineered and GAO is going to be in the forefront of efforts to analyze what's working, what's not working, and what is a possible way forward."
In Walker's estimation, the government has specific problem areas that must be addressed now. "Number one, a budget deficit. Number two, a balance of payments deficit, of which the trade deficit is a subset… [and] both of those [were] record levels last year. Number three, a savings deficit. Americans are great at spending, we're poor at saving…and then we have, probably the most serious deficit of all and that is a leadership deficit. And that is a bipartisan statement," Walker said.
"Where's the accountability for spending increases and tax cuts that are unaffordable and unsustainable over time? Where's the accountability for government programs and tax preferences that aren't getting real results? ... Where's the accountability for congressional projects, better know as earmarks or pork barrel spending, at a time of record budget deficits? Where is the outrage about these issues?"
The apathy of citizens will result in record deficits and will affect generations to come. "When our new grandson was born this afternoon, he not only got a birth certificate, he received a birth burden of $156,000. Now I know why he was crying," Walker joked. More and more of our debt must be financed by foreign nations.
The United States has gone from the largest creditor nation to the largest debtor nation—and not due to the war on terrorism, Walker noted. "Of that $760 billion deficit last year, only $100 billion had anything to do with Iraq, Afghanistan or incremental Homeland Security costs," Walker said.
The first baby boomers will reach age 62 in two years, making them eligible for Social Security. In five years, they will be eligible for Medicare, escalating the debt dramatically. The baby boom generation will not leave the country "better positioned for the future," fiscally speaking, Walker said. "We need to get serious soon because the longer we wait, the more dramatic the changes are going to have to be, the more disruptive that they'll be, and the less time that we'll have to be able to transition to a more positive and sustainable future."
After Hurricane Andrew, the GAO issued a series of recommendations, many of which were not adopted but could have been useful for responders to prepare, respond, and recover before, during, and after Hurricane Katrina. After Katrina, the GAO again identified areas of improvement. The national response plan needs clarity, consistency, and more common sense, Walker said. More training is needed to mobilize responders in the public, private, and nonprofit sectors. The government needs to take a risk- management approach and re-evaluate whether FEMA even needs to be in the Department of Homeland Security. Now that rebuilding has begun, tough decisions have to be made, with the state and local governments taking the lead, Walker said.
The GAO itself has made some tough and unpopular decisions under Walker's watch, one of which was suing Vice President Dick Cheney. "I don't like the idea of suing, unless you have to, and I don't particularly like suing the vice president of the United States. On the other hand, if we are committed to truth and transparency, if we believe that anybody who is a public servant is subject to the law and that nobody is above the law and the public has a right to know who met with whom, when, about what, and what did it cost when it deals with issues as significant as our national energy policy, and if we were concerned that if we did not act that we were going to face broad-based records access problems throughout the entire government, then under those circumstances, we did what we had to do. We sued." A district court ultimately dismissed the case, ruling that the GAO lacked standing to sue.
The GAO chose not to appeal for several reasons; however, the message got across. The GAO has not had to take any similar action since.
The GAO also acted on the Bush administration's release of government news stories produced to influence the public on a variety of issues. Walker said the GAO brought the practice to light because they wanted citizens to know the government was trying influence them with "covert propaganda" financed with their tax money. Congress ultimately enacted legislation to stop it.
"I'm a strong believer if you don't learn from history, you're doomed to repeat it. Unfortunately, I wish we had more Americans that understood that because in many ways, we're not learning from history," Walker said. "We have a great country, but we face serious challenges." We need to address those challenges starting today, he said, and take steps now to create a better tomorrow.
Martin Challenges Lawyers to Keep Law a Profession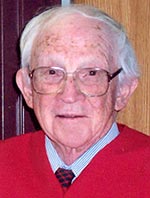 Harry Martin
Speaking Saturday at the public service conference, Harry Martin, the chief justice of the Eastern Band of Cherokee Indians, urged young lawyers to fulfill the public service duties of their profession by dedicating time to teaching, representing indigent defendants, and serving as a judge.
"The law is becoming less and less a profession and more and more a business—more and more of a way to earn money and less and less of a way to serve the public," Martin said. "Going to law school and becoming a member of the bar involves accepting a duty to society and to your fellow man, and we must not turn our backs on that duty."
Young lawyers, Martin said, should go to their local courthouse and inquire about being appointed to represent indigent defendants because public defenders often have conflicts of interest. He added that he hopes many young law students will aspire to become judges and teachers of law, despite these professions' relatively low salaries.
Martin, who served on the North Carolina Supreme Court, said that the recent trend toward strict sentencing guidelines has made judges' jobs harder. "Judges have an opportunity to individualize justice because every case is different, every defendant is different," he said.
REPORTED BY SARAH INGLE
Founded in 1819, the University of Virginia School of Law is the second-oldest continuously operating law school in the nation. Consistently ranked among the top law schools, Virginia is a world-renowned training ground for distinguished lawyers and public servants, instilling in them a commitment to leadership, integrity and community service.