Harmon Brings Prosecutorial Experience to the Classroom
Posted Aug. 16, 2006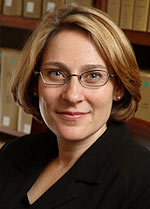 When Rachel Harmon was preparing her closing statements for a civil rights trial she was prosecuting in Texas, she wanted to make sure that there were no holes in her argument.  The defendant in the case was a police officer who had allegedly violated the civil rights of a man by punching him in the face.  She anticipated objections from the defense and made sure she had the legal framework to back herself up. She particularly wanted to curb any objections that could be raised about the relationship she painted between self defense law and police use of force, a strategy she used to help the jury determine whether the use of force by the police officer was reasonable.  After researching the issue, she was astonished to find there was insufficient legal literature to support a connection—so she decided to write about it. The result, "Police Violence and Self-Defense," argues that existing case law about what constitutes excessive force by police officers during an arrest is not adequate for guiding courts and juries, and that elements of justification defenses, including self defense, provide a better framework for examining excessive force cases. 
Writing, once a spare-time hobby for Harmon, is now a core part of her job she looks forward to pursuing more in depth as an associate professor at Virginia.  Rooted in real-world legal experience, Harmon's scholarship will largely be informed by her experiences as a trial attorney and the symbiotic passion for theory and practice she has cultivated throughout her education and career. 
"As a practicing lawyer I would confront interesting legal issues or interesting policy questions, but then quickly have to come up with an answer for the litigation I was involved in and move on to the next thing. I started working on an article and found that I really, really enjoyed the writing process and enjoyed being able to think about the same issue over time and not just have to move on," Harmon said.  "I really like a combination of theory and practice. I really like understanding the whys behind things as well as just doing them."
For the past eight years, Harmon served as a civil rights prosecutor for the U.S. Department of Justice's Civil Rights Division, working in its Criminal Section to prosecute hate crimes, police brutality cases, and cases of government officials' misconduct, fostering a portfolio of research interests in substantive criminal law and theory, criminal procedure, and civil rights.  
"Rachel brings a unique prosecutorial perspective to our criminal law faculty with her years of experience litigating federal police brutality cases," said Associate Professor Brandon Garrett. "Rachel's work brought about a legal role reversal, with police officers as defendants, on the receiving end of a criminal prosecution for their misconduct. That intersection of civil rights and criminal law enforcement will be a rich area for future scholarship."
Harmon builds on an already-strong criminal law program, said Professor Julia Mahoney, who chaired the entry-level faculty appointments committee last year.  
"She's someone who has stellar work experience and has done graduate work in political theory. It's a terrific combination." Mahoney said. "She's just a wonderful addition to our faculty."
Harmon has long had an interest in social justice issues. She served as a consultant on the Human Rights Task Force of Cambodia, training NGO members in political organizing and educating prostitutes on their rights under laws on prostitution and sex slavery.  Additionally, she worked as a special assistant in the U.S. Attorney's Office.  Her efforts were recognized through multiple awards, scholarships, and fellowships.   
Harmon began her academic career at MIT, where she earned a degree in civil engineering and a minor in women's studies. Afterwards, while working on her master's degrees in political theory and political sociology as a Marshall Scholar at the London School of Economics, Harmon found herself yearning for scholarship more grounded in practical problems. She decided to combine her work in political theory with law. Harmon entered Yale Law School, where she made the decision to put academia on hold and follow in her father's footsteps, practicing law. At Yale, Harmon served as the articles editor for the Yale Law Journal and the Yale Journal of Law & the Humanities, and held several teaching and research assistantships. 
After law school, Harmon clerked for Judge Guido Calabresi of the U.S. Court of Appeals for the Second Circuit and then for Justice Stephen Breyer of the Supreme Court. Harmon said the experiences were invaluable for developing a meaningful understanding of how judiciaries work, substantively and procedurally.   
In addition to her enthusiasm for teaching and learning, Harmon's experience conducting investigations and building and trying cases will offer students a snapshot of the legal process. In the coming year she will teach Criminal Law, Criminal Investigation, and a new course, Police Misconduct.
  
"As a federal prosecutor, I worked on aspects of the areas of law I'm interested in teaching," she said. "Those experiences will definitely affect how my scholarship proceeds and what I talk about in the classroom.
 
"I think I can be part of a broader team here that's interested in issues in criminal law and police practice. I am very excited to work with them and to contribute from my experience." 
Founded in 1819, the University of Virginia School of Law is the second-oldest continuously operating law school in the nation. Consistently ranked among the top law schools, Virginia is a world-renowned training ground for distinguished lawyers and public servants, instilling in them a commitment to leadership, integrity and community service.