Homecoming for New Faculty Hire Toby Heytens
Posted June 26, 2006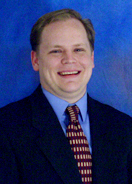 Having known no professors and very few lawyers while growing up, new faculty hire Toby Heytens had not exactly dreamed of becoming a law professor. Still, it's a thought he's carried with him since he was a law student at U.Va. Heytens's professional experiences during and after law school have been ideal preparation for his new role as associate professor of law at his alma mater. 
Over the past six years, Heytens has pursued his interests in civil procedure, federal courts, civil rights litigation, habeas corpus, and remedies through a wide variety of positions. Following his graduation from the Law School in 2000, Heytens clerked for then-Chief Judge Edward R. Becker of the U.S. Court of Appeals for the Third Circuit. He next served as a Bristow Fellow in the Office of the Solicitor General of the United States, which conducts all of the federal government's litigation before the Supreme Court and also oversees all government-taken appeals in the lower federal courts.
During 2002-2003, Heytens clerked for Justice Ruth Bader Ginsburg of the Supreme Court of the United States. He then worked in the Washington, D.C., office of O'Melveny & Myers LLP, where his practice focused on appellate litigation, including United States v. Martha Stewart. In the spring of 2005, Heytens took a leave from O'Melveny to serve as a visiting assistant professor at Cornell Law School. Following his return to the firm, Heytens was the principal author of an amicus brief in the Supreme Court case FAIR v. Rumsfeldthat was one of two briefs recognized in the Green Bag's inaugural almanac of Exemplary Legal Writing.
"I think having worked in different parts of the system and from different angles and on different kinds of issues will be very helpful in terms of teaching," Heytens said.
Heytens has already had his work published in impressive journals, including the Yale Law Journal, to which he contributed "Managing Transitional Moments in Criminal Cases," a reconsideration of nonretroactivity doctrines—the Warren Court's preferred method of dealing with shifts in precedent that occur between the initial decision in a case and its ultimate resolution, such as through an appeal.
As a law student, Heytens served as articles development editor of the Virginia Law Review, competed twice in the National Moot Court Competition, and co-authored a problem used during the elimination rounds of the Lile Moot Court Competition. Heytens's abilities were not unnoticed, as he received numerous awards, including the Law School Alumni Association Award for Academic Excellence, the Best Note Award, and the Roger and Madeline Traynor Prize. In addition to his academic accomplishments, he developed a lasting fondness for Bodo's Bagels, a favorite eatery he is looking forward to enjoying again.
The transition to academia should be natural for Heytens. "I've always loved being in the academic environment," Heytens said. "I like having all of the opportunities for learning you have being in the academic environment, the opportunity to think about and explore different ideas."
Professor Julia Mahoney, chair of the entry-level faculty appointments committee last year, is delighted to have Heytens on board.  "We value the depth of experiences he has amassed in the six short years since he graduated," Mahoney said. "He adds to the breadth of our distinguished faculty."
Heytens looks forward to returning to Charlottesville and the Law School.  "I'm thrilled to be coming back," he said. "The culture at U.Va. is fantastic and is really second to none.  I always thought Charlottesville was great."
Founded in 1819, the University of Virginia School of Law is the second-oldest continuously operating law school in the nation. Consistently ranked among the top law schools, Virginia is a world-renowned training ground for distinguished lawyers and public servants, instilling in them a commitment to leadership, integrity and community service.