Human Rights Program Conference to Explore Chinese Legal Reform
Posted March 19, 2008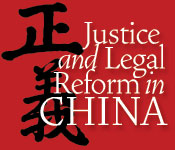 Schedule | Program
A group of experts and scholars will examine the changing legal landscape in China in light of the country's rapid growth during a conference at the University of Virginia School of Law on Thursday, March 27.
Sponsored by the Law School's Human Rights Program, "Justice and Legal Reform in China" will feature panels on Chinese legal reform, Internet access and regulation, environmental advocacy, and China's role as a world leader. An open session of the Human Rights Advocacy Seminar will feature a pre-conference panel, "Defending Rights in China: The Weiquan Movement," on Wednesday, March 26 at 5:15 pm.
"China has invited international scrutiny by hosting the 2008 Olympics, and seemingly embraces its growing prominence on the world stage," said conference organizer Deena Hurwitz, director of the Law School's Human Rights Program. "But alongside reports of exceptional development are stories that document the corresponding costs and concerns of the country's rapid growth." 
The conference is free of charge and open to the public. RSVP toRolandchang@gmail.com by Tuesday, March 25 to join the luncheon or to receive a parking pass; spaces are limited.
WEDNESDAY, MARCH 26
Location: Room WB102
5:15–6:45 p.m.

Defending Rights in China: The Weiquan Movement 
Human Rights Advocacy Seminar open session

"Weiquan"can be translated as "rights defense," or the action of lawfully defending one's legal rights. Rights defense groups have been active for a several decades in China, but the term "weiquan" has come into wide circulation only recently. The Chinese government's reaction to this trend has ranged from expressions of concern for the rural poor and calls for a harmonious society based on the principles of weiquan, to increasingly severe crackdowns on weiquanactivists.

MODERATOR
Patricia Cowan, historian, freelance translator and editor, Probe International

PANELISTS
Xiarong Li, research scholar, Institute for Philosophy and Public Policy, University of Maryland

Luo Xiaopeng, professor, Chinese Academy for Rural Development, Zhejiang University

Yao Yao, director, Civil Society Watch, Law & Public Participation Project, Fellow, Public Interest Law Initiative, Columbia Law School  
   

THURSDAY, MARCH 27
Location: Purcell Reading Room (except where noted otherwise)

9 am

Welcome

Paul G. Mahoney, David and Mary Distinguished Professor of Law; co-director, John M. Olin Program in Law and Economics, University of Virginia School of Law

Deena Hurwitz, director, Human Rights Program; associate professor, General Faculty; director, International Human Rights Law Clinic, University of Virginia School of Law

9:15–10:45 am  

Chinese Legal Reform: Potential for Change in Public Interest Law

In response to intensifying international scrutiny, China has recently made changes to its criminal justice system and property laws. Are these reforms artificial, or do they reflect substantive and lasting change for China's legal system? What do these reforms mean for legal practitioners, individuals, and business in China? 

MODERATOR
Doug Ford, lecturer, General Faculty; director, Immigration Law Clinic
                                    
PANELISTS
Margaret Woo, professor, Northeastern University School of Law

Chen Yueqin, director and lawyer in public interest, Chen Yueqin Law Firm, Beijing

Robin Maher, director, American Bar Association Death Penalty Representation Project

10:45–11 am

Break

11 am–12:30 pm

The Internet in China: Digital Barriers or Digital Gateways?

As technology improves Chinese citizens' ability to access and transmit information and ideas globally, the Chinese government faces a turning point: Will it allow the Internet to increase individual autonomy and intellectual freedom, or will it attempt to tighten its control of communication gateways? Internet access is spreading throughout China but, critics say, so are the government's practices of blocking foreign Web sites and filtering online content. This panel will examine the current status of Internet access and regulation in China, and possible directions for future policy.

MODERATOR
Daniel R. Ortiz, John Allan Love Professor of Law, University of Virginia School of Law

PANELISTS
Peter Yu, professor, Drake University Law School; director, Intellectual Property Law Center; founder, Annual Chinese Internet Research Conference

Zhao Jing (Michael Anti), Niemann Fellow for Journalism, Harvard University

Molly Beutz, associate professor of law, New York Law School 

12:30–2 pm  

Luncheon with Panelists and Film Showing 
Lunch Location: Caplin Pavilion; Film Location: WB101

(Lunch is free, but requires pre-registration; anyone may attend the film whether or not they registered for lunch)

1:15-2 pm

Film: "The People's Court: China's Legal Revolution" (2007)

Poised to surpass the United States as the largest economy in the world, yet facing mounting domestic and international pressure for a fair and transparent framework of laws, China is racing to reshape the rules of society. In the past quarter-century, the country has opened nearly 400 law schools, trained hundreds of thousands of judges and lawyers, and launched education campaigns to encourage people to bring their grievances to court rather than taking to the streets. But the transformation is incomplete and the judiciary far from independent. Senior judges are appointed by, take orders from and receive their paychecks from the one-party state. Hundreds of Chinese lawyers have been jailed in recent years, while citizens are taking to the streets in record numbers to protest land seizures, corruption, pollution or unpaid wages. And China executes more prisoners each year than the rest of the world combined.

WIDE ANGLE (a production of WNET/Thirteen, part of a series of international, current affairs documentaries) gained exclusive access to film in Chinese courts — a first for a Western documentary. Profiling itinerant judges, law students, a human rights lawyer, and ordinary citizens, "The People's Court" examines China in flux, revealing the lengths to which Chinese people must go to obtain justice and raising crucial questions about their emerging system of law.  

www.pbs.org/wnet/wideangle/shows/china2/index.html  (45 mins.)

2:15–4 pm

The Impact of Environmental Justice Advocacy in China

China's rapid industrial development has increased pollution and degradation of the country's natural resources. The Chinese environmental crisis has significantly affected China's population, with air and water pollution causing an estimated 760,000 deaths each year. The Chinese government recently claimed it will greatly expand environmental legislation and enforcement in order to reduce pollutant levels. At the same time, it continues to pursue environmentally suspect policies, such as the building of the Three Gorges Dam on the Yangtze River. This panel will examine the Chinese government's response to the environmental crisis, as well as possible solutions.

MODERATOR
Jonathan Z. Cannon, professor of law; director, Environmental and Land Use Law Program, University of Virginia School of Law

PANELISTS
Hu Jing, director, Research and Communication Office, Center for Legal Assistance to Pollution Victims, Beijing

Liu Jianqiang, senior investigative journalist, China Southern Weekend, 2005 winner of the Dupont Prize for environmental journalism

Anna Brettell, program officer-East Asia, National Endowment for Democracy; Patricia Adams, executive director, Probe International (Toronto)

4–5:30 pm 

"The Peaceful Rise": China's Role on the World Stage

Along with its rapid economic growth, China has built new strategic alliances and strengthened its diplomatic presence around the world. With the 2008 Beijing Summer Olympics approaching, critics have turned a spotlight on China's currency policy, its relationship with Sudan, its growing military capability and product-safety concerns, among other issues. At the same time, China's increasing influence may be an opportunity for diplomatic leadership and peace building in Asia and sub-Saharan Africa. This panel will examine how China is likely to assert its influence in the coming decades, and the possible implications for human rights, international relations and the global economy.

MODERATOR
John K. Setear, Class of 1962 Professor of Law, Thomas F. Bergin Professor, University of Virginia School of Law

PANELISTS
Sophie Richardson, Asia advocacy director, Human Rights Watch

Chin-Hao Huang, senior research associate, Stockholm International Peace Research Institute

Yong Deng,professor in political science, United States Naval Academy; co-editor, "China Rising: Power and Motivation in Chinese Foreign Policy" (2005)

5:30–5:45 pm   

Closing Remarks

Cameron Cowan '81, partner, Orrick, Herrington & Sutcliffe, LLP; managing partner for Orrick's China Practice (2005-06); board member, Trustees of the University of Virginia Law School Foundation

5:45–6:30 pm
Reception
Founded in 1819, the University of Virginia School of Law is the second-oldest continuously operating law school in the nation. Consistently ranked among the top law schools, Virginia is a world-renowned training ground for distinguished lawyers and public servants, instilling in them a commitment to leadership, integrity and community service.