Law School to Host Debate on Pirating Copyrighted Material
Posted April 5, 2012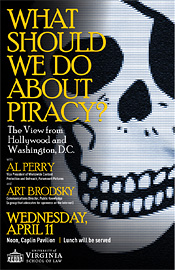 Two leading voices from opposing sides of the media piracy debate will face off at the University of Virginia School of Law on April 11 at noon in Caplin Pavilion.
The event, "What Should We Do About Piracy? The View from Hollywood and Washington, D.C.," is open to the public and lunch will be available.
Al Perry, vice president of worldwide content protection and outreach at Paramount Pictures, will present the view from the film industry. Art Brodsky, communications director at Public Knowledge, a group that advocates for openness on the Internet, will make the case for a balance between copyright law and the public interest that allows more access to media.
"The debate over Internet piracy is not just for the insiders in D.C. and Hollywood — it affects all of us — and this is a great opportunity for the public to hear from two people with great experience and knowledge on both sides of the debate," said University of Virginia law professor Chris Sprigman, who organized the event and will serve as moderator.
The debate over pirated content recently garnered attention when Congress introduced related legislation, including the Stop Online Piracy Act, which is designed to fight online trafficking of copyrighted products and counterfeit goods, as well as successor legislation, the Online Protection and Enforcement of Digital Trade Act.
Founded in 1819, the University of Virginia School of Law is the second-oldest continuously operating law school in the nation. Consistently ranked among the top law schools, Virginia is a world-renowned training ground for distinguished lawyers and public servants, instilling in them a commitment to leadership, integrity and community service.