Library Art Show Visits "NYC-ville"
Posted August 29, 2005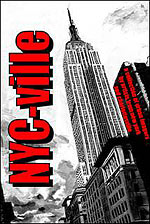 The urban landscapes of New York City and Charlottesville take center stage at the Law Library's eighth annual art show, a multimedia collection of local artwork titled "NYC-ville."
Sou Young Lim's "Rooftop"
Organized by Law Library Director Taylor Fitchett and show curator Bill Finn, "NYC-ville" features the work of 10 artists and echoes the differences and similarities between the two cities through a variety of interpretations both realistic and imaginative. In these various works, individuals are often dwarfed by the landscapes that surround them, be it the monolithic skyscrapers of New York City or the main artery of the Downtown Mall. Places become more important than the people who inhabit them.
 
Retsu Takahashi's "Neighborhood"
"I was looking for something that really appealed to law students," said Fitchett. "I was looking for something young, urban, edgy."
Nathan Hord's "Masking the 
Rebirth"
The artwork that wraps around the walls of the library's second floor reflects a wide variety of creative talent. Nathan Hord's photographs of the Downtown Mall in winter present an urban center devoid of the typical crowds and blanketed in soft white snow. Sou Young Lim's ethereal oils on canvas capture New York City at morning, its brick, steel, and glass buildings glazed with sunlight. The xerographic prints of Retsu Takahashi create an almost surreal cityscape where bridges blend into refrigerators.
"NYC-ville" was a year in the making, Fitchett said, beginning with early conferences with the artist Bill Finn and culminating with the installation of the selected pieces right before the start of classes. Other featured artists are Jessie Coles, Earl Dawson, Bill Finn, F. Lynn Johnson, Teri Sanders, Jay Venute, and Bill Weaver.
A reception featuring a jazz band is scheduled for Thursday, September 1 from 4 to 7:30 pm on the second floor of the library. Many of the featured works are for sale, with prices ranging from $50 to $3,500. A full price listing will be available at the reception. The artwork will remain on display until June 2006.
Founded in 1819, the University of Virginia School of Law is the second-oldest continuously operating law school in the nation. Consistently ranked among the top law schools, Virginia is a world-renowned training ground for distinguished lawyers and public servants, instilling in them a commitment to leadership, integrity and community service.