Meet Your New SBA President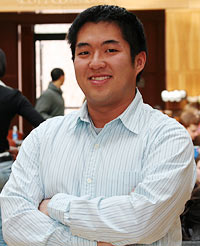 Brian Leung takes office as Student Bar Association president March 1, following in the footsteps of third-year law student Adam Wolk.
Prior education: University of Virginia, 2005, B.A., American Government; B.A., Philosophy
Future career plans: As of now, I am interested in either corporate or entertainment law. This summer I will be a summer associate with Dewey Ballantine LLP. After graduation, I plan on going into private practice and, of course, doing great things there and beyond.
Favorite law class or subject/why: I've really enjoyed the antitrust classes here. I'm fascinated by seeing how businesses interact with each other and learning what kinds of restrictions we as a society have placed on them in an otherwise survival-of-the-fittest kind of world. 
What you look forward to as SBA President: The thing I'm probably looking forward to the most is getting to meet all the people that make Virginia Law as great a school as it is. I've already gotten to know many more students since the election, and I'm looking forward to meeting more each day. I'm also looking forward to meeting and working with the deans and administration that make this school run, as well as our many alumni who continue to support our school and our endeavors.
Goals as SBA president: Next year my primary concern is to focus on the students. I hope to increase the number and quality of SBA programs, I hope to improve the effectiveness of SBA committees, and I hope to address the issues most important to students, such as parking as it relates to the John Paul Jones Arena and student organizations' space allocation. If I can get milkshakes in the cafeteria, I will consider next year a raging success.
What do you want classmates to know about you: I suppose, first of all, I do not have a date for next year's PILA yet. For those interested, I am a Scorpio who enjo—oh I'm sorry. Sometimes I confuse the SBA with eHarmony. In any event, I don't think I'm as outgoing as people make me out to be. Though a little shy, I do enjoy meeting new people, so I hope my classmates will come up to me and engage me in conversation. Also, if anyone is ever looking for someone to go to a Virginia sporting event with, or would like to play a few matches of tennis, I am always game.
Founded in 1819, the University of Virginia School of Law is the second-oldest continuously operating law school in the nation. Consistently ranked among the top law schools, Virginia is a world-renowned training ground for distinguished lawyers and public servants, instilling in them a commitment to leadership, integrity and community service.