Mitchell Examines Intersection of Law, Psychology, Social Science
Posted July 13, 2006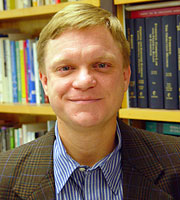 Legal scholars long used the "rational actor" model in economic theory to explain how people make decisions, before behaviorialists adopted the "quasi-rational actor" model that maintains people more frequently make decisions that aren't in their best interests. But Gregory Mitchell, who joins the Virginia Law faculty this fall, thinks this latest revision went too far. He's not an apologist for the rational actor model of human behavior—it's not that simple. Rather, Mitchell's own examination of how people make judgments and decisions, enter into contracts, evaluate options, and maximize utility suggests a more nuanced, complex picture of human behavior.
"One of the leading questions in legal theory is 'Which of these models of human behavior—humans as perfectly rational actors or humans as quasi-rational actors—should guide courts and legislatures when they formulate the law or regulate transactions?'" said Mitchell, E. James Kelly, Jr.-Class of 1965 Research Professor. The question raises issues at the intersection of law and economics and psychology, and ultimately affects how we regulate society.
Until recently, the dominant model proposed that rational actors are capable when tasked with negotiation; they make the decisions that are best for them. Within the last 10 years, the quasi-rational actor model has moved to the forefront of behavioral theory, seeking to amend or overthrow the rational actor model. The foundation for the movement is psychological research—or, Mitchell asserts, the interpretation of that research—that demonstrates people often make poor decisions.
"The advocates for the quasi-rational actor—or the advocates for a new model of human behavior that says that people often engage in suboptimal decision making—get it wrong," he said. "Certainly we make mistakes, and the law has a role to play in fostering good judgment and decision-making, but the case has not been made for wholesale changes to the law's assumption of rationality that many legal theorists now advocate."
Mitchell knows that he is bucking current trends in scholarship; he just wants to get it right. Using his Ph.D. in psychology from Berkeley, Mitchell gathers information about real-world phenomena and applies it to the law. Developments at the intersection of law and psychology and the prospect of greater use of social science by the legal system excite Mitchell, despite his concerns that some scholars oversell the negative portrait of human behavior.
"Virginia has been one of the leaders for years with respect to the use of empirical research in legal theory," he said. Law School professors John Monahan and Larry Walkerare longtime advocates for greater use of social science within the law, "And they do it in a very sophisticated way," Mitchell added.
The respect is mutual. "I am delighted to have another social scientist on the faculty," said Monahan, who is also a professor of psychology and psychiatric medicine with the University. "Greg Mitchell is one of the nation's most astute and creative scholars of the role that empirical research can play in legal scholarship and practice. We were very lucky to land him here."
After teaching at Virginia for a semester in 2005, Mitchell was happy to be recruited to the Law faculty. "Being a law professor is the best job within the law. Now I am lucky enough to be at Virginia and am delighted with that, because I have an amazing set of colleagues."
Mitchell appreciates the intellectual challenges he's faced at each juncture in his career. As an undergraduate at the University of Arkansas, he was intrigued by the "Tragedy of the Commons," an essay by ecologist Garrett Hardin that explored social dilemmas. In that 1968 essay, Hardin posed a hypothetical: A community has a commons area on which animals may graze. While community members are motivated to add to their flocks for personal gain, every animal added to the commons degrades the land slightly. Although the reward is clear for the individual (the rational actor) at each stage, if all individuals follow this pattern the commons will be destroyed—therein the tragedy.
How people manage social dilemmas where group and individual interests diverge became an ongoing interest for Mitchell, and the question motivated him to start graduate studies in topics at the intersection of psychology, law, and politics. While working on his Ph.D. at Berkeley, he decided attending law school there would help him understand the law and legal systems better.
Here again, a path emerged; "I wound up enjoying the law much more than I expected. I decided I would clerk for a year and then resolve what to do next, thinking I would go back into academia right after clerking." But Mitchell met his future wife while clerking in Nashville and chose to practice while she finished law school at Vanderbilt.
Most graduates with a J.D. and Ph.D. head directly to academia, but Mitchell valued his practice and said experiencing the realities of civil litigation made him a better teacher. "You understand the rules in concrete ways. From my practice I appreciate the importance of the rules." He brings those rules and realities to his classes on Civil Procedure, Evidence, and Law and Psychology.
After six years in practice and wanting to return to scholarship, Mitchell began his teaching career at Michigan State. "I had been away from academia for so many years. I'm grateful Michigan State took a gamble on me," he said. He was teaching and conducting research at Florida State when Virginia called.
"Greg Mitchell is doing foundational work in the area of behavioral law and economics. The field is exciting and important, and the Appointments Committee spent a couple of years reading the scholarship, looking for the most thoughtful and innovative authors," said Professor Anne Coughlin, who chaired the Law School's Tenured Appointments Committee last year. "When we read Greg Mitchell's work, we knew we had found the real deal. His research is meticulous, and his insights are significant and sophisticated."
Mitchell believes that those who understand social science can answer a lot of questions about the law. He knows he's in good company at Virginia. "The work here on the appropriate role of social science and the law is the most important work done in this area in years. It's an honor to join this faculty."
Founded in 1819, the University of Virginia School of Law is the second-oldest continuously operating law school in the nation. Consistently ranked among the top law schools, Virginia is a world-renowned training ground for distinguished lawyers and public servants, instilling in them a commitment to leadership, integrity and community service.