Public Service Auction Grosses $65,000
Posted Nov. 20, 2006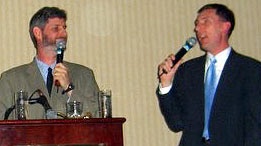 Professors Dan Nagin, left, and Tom Nachbar
hosted PILA's Las Vegas-themed auction.
Photo courtesy: Kelly Voss '07
More than 800 attendees helped push this year's Public Interest Law Association (PILA) auction towards $65,100 in gross receipts, including a record $20,500 in ticket sales. The auction is PILA's biggest fund-raiser of the year; proceeds support students who work in public service positions during the summers after their first and second years of law school.
"More than 40 professors donated items this year," said auction co-director Vera Gerrity. "We also had a lot of student donations this year—they offered things like babysitting and cooking classes."
After expenses, auction organizers expect to make close to $50,000, which will be matched dollar for dollar by the Law School Foundation. Last year PILA financed a record 59 fellowships costing more than $238,000.
The Las Vegas-themed auction was hosted by law professors Tom Nachbar and Dan Nagin. "A lot of the professors came to the auction this year, which was great," Gerrity said.
This year's top bid went to Professor Anne Coughlin's graduation dinner for up to six students and their families and friends. The item is a perennial auction favorite.
"It ended up going for $3,000, which is more than it's ever gone for before," Gerrity said—enough to fund two fellowships when matching funds are included. The silent auction, which accounted for $22,000, included items like golf with professors Ken Abraham andVince Blasi and dinner with Professor Graham Lilly, which rang in at $450 and $550, respectively. Barbri reviews and journal cite checks also sold well.
Students paid full price for a month of free rent at Ivy Gardens apartments in order to fill PILA's coffers, and "at the last minute Professor Stephen Smith ended up donating a quail-hunting trip, which ended up going for $600."
Other items included a week's stay at a house in Hilton Head, South Carolina, donated by a 1L section ($1,800); a once-lost painting by Sen. John Warner '53 ($75); a student who auctioned a date with himself; and baseball tickets to the Washington Nationals, donated by law firms.
"We're really happy with how it turned out," Gerrity said.
Founded in 1819, the University of Virginia School of Law is the second-oldest continuously operating law school in the nation. Consistently ranked among the top law schools, Virginia is a world-renowned training ground for distinguished lawyers and public servants, instilling in them a commitment to leadership, integrity and community service.