Pucci Wins Rowe Scholarship
Posted May 9, 2005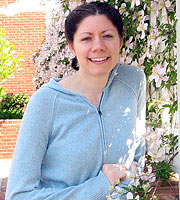 The Alumni Association presented the
award to Pucci in a ceremony April 29.
First-year law student and Boston-area native Jennifer Pucci has won the Dana H. Rowe Memorial Scholarship, a $4,000 award presented annually by the U.Va. Alumni Association to a University student from New England.
Pucci, a West Newbury, Mass., resident who graduated from Cornell University with a degree in government and international relations, will be working at the U.S. Attorney's office in Boston this summer, where she hopes to learn firsthand about the workings of the federal criminal justice system and how prosecutors practice in the field.
The Rowe Scholarship was created by family members to honor the memory of Dana Rowe, who was tragically killed in an automobile accident in the early 1980s.
"The scholarship enables me to return home to Boston this summer to work in a public interest job which I know will be an amazing summer experience," Pucci said.
During her first year of law school, Pucci was selected for the editorial board of the Virginia Journal of International Law and volunteered for Virginia's Election Protection Program in Charlottesville, where she monitored polls and answered questions about voters' rights on election day.
Pucci is a member of the Young Women's Task Force, a Washington, D.C.-based organization of young women who focus on how to bridge the feminist movement's past and future. She has been involved in founding a New England branch of the Task Force.
Pucci pursued her passion for debate by joining an extramural moot court team, and competed in the Prince Evidence Moot Court Competition April 7-9 at Brooklyn Law School. During her junior year in college, Pucci studied at the London School of Economics, where she became chair of the debate society and founded their first annual debate tournament, which drew students from across Scotland and England. She also volunteered to teach debating skills to underprivileged high school students in London through a program run by the English-Speaking Union, a British charity.
Founded in 1819, the University of Virginia School of Law is the second-oldest continuously operating law school in the nation. Consistently ranked among the top law schools, Virginia is a world-renowned training ground for distinguished lawyers and public servants, instilling in them a commitment to leadership, integrity and community service.