Sen. Ted Kennedy to Keynote Public Service Conference
Posted March 1, 2006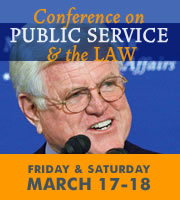 Sen. Edward M. "Ted" Kennedy, a 1959 graduate of the University of Virginia School of Law, will deliver the keynote address at this year's Conference on Public Service & the Law, to be held Friday and Saturday, March 17-18 at the Law School. Founded by law students seven years ago, the conference brings together students, citizens, and attorneys to discuss current public interest legal issues. Sen. Kennedy will deliver his address, "Public Service, the Constitution, and the Rule of Law," Saturday, March 18, at 11 a.m. in Caplin Auditorium.
This year's conference will feature an opening address by David Walker, Comptroller General of the U.S. Government Accountability Office. Friday's panel events focus on the aftermath of Hurricane Katrina and feature U.S. Rep. Virgil H. Goode Jr., who will participate in a panel on rebuilding New Orleans. Saturday's panels will cover topics such as law and the public health response to the bird flu, the parental rights of gays and lesbians, public funding of day labor centers, voluntary desegregation in K-12 public schools, corporate responsibility, and the federalization of anti-gang law enforcement. Harry Martin, Chief Justice of the Eastern Band of Cherokee Indians, will speak at a Saturday luncheon for panelists and invited guests.
The conference, which has hosted more than 1,200 participants and 200 panelists since its inception, draws students and speakers from across the country. There is no cost to register and students attending from other law schools are offered free housing with Law School students during their stay. Workshops on Saturday are designed to help students get into public service law careers.
Registration has closed. Panel events do not require registration.
Schedule
FRIDAY, MARCH 17, 2006
2:00-7:00 pm

Registration Opens (Clay Hall)

 

GOVERNMENT DISASTER RELIEF: THE AFTERMATH OF HURRICANE KATRINA

3:00-4:15 pm
Urban Law and Policy: Rebuilding New Orleans (WB 154)
4:15-4:45 pm
Symposium Reception (WB Lounge)
4:45-6:00 pm
Race and Law: Life After Katrina - the Racial and Economic Implications of Natural Disasters (WB 154)
Closing Remarks by Prof. Brandon Garrett
7:00-9:00 pm
CONFERENCE DINNER (Caplin Pavilion)
Keynote Speaker: 
The Honorable David Walker, Comptroller General of the United States Government Accountability Office
SATURDAY, MARCH 18, 2006
7:45-10:45 am
Registration Continued (Clay Hall)
8:00-10:30 am
Breakfast (Caplin Pavilion)
9:00-10:15 am

PANELS

Criminal Law: The Federalization of Anti-Gang Law Enforcement (WB 154)
Gender Law: Defining the Parental Rights of Gays and Lesbians (WB 152)
Environmental Law: Water with a Price? Culture, Environment, and the King William Reservoir (WB 126)

10:15-11:00 am
Break
10:15-10:45 am
Seating for the Keynote Address (Closes at 10:45 am)
11:00-11:45 am
KEYNOTE ADDRESS (Caplin Auditorium)
U.S. Sen Edward "Ted" Kennedy
"Public Service, the Constitution, and the Rule of Law," 
Registration required
11:45 am-12:15 pm
Keynote Reception (Caplin Pavilion)
11:45 am-12:30 pm
Registration Continued (Clay Hall)
12:30-1:45 pm

WORKSHOPS AND STUDENT LUNCH

Alternative Legal Careers - Is the Grass Greener off the Beaten Path? (WB 154)
Careers in International Public Interest Law (WB 152)
Careers in the Federal Government: Being a Legal Eagle for Uncle Sam (WB 128)
Law and Order: Careers in Prosecution and Defense (WB 126)
Careers in Lobbying (WB 101)

12:30-1:45 pm

PANELISTS' LUNCHEON

 (Class of 1950 Dining Room)
The Honorable Harry Martin, Chief Justice of the Eastern Band of Cherokee Indians
Invited guests only
2:00-3:15 pm

PANELS

Education Law: Considering Voluntary Desegregation in K-12 Public Schools (WB 154)
Health Law: Law and the Public Health Response to Bird Flu (WB 152)

2:00-3:15PM

WORKSHOPS

Careers in Impact Litigation: Making a Splash While Making a Difference (WB 128)
Serving the Public in the Private Sector: Unique Pro Bono Work In Law Firms Today (WB 126)

3:15-3:30 pm
Break
3:30-4:45 pm

PANELS

Corporate Responsibility: Emerging Issues Among Corporate Counsel (WB 154)

 

International Law: Justice and Reconciliation - The Role of the International Community and the Law (WB 152)
Poverty Law: The Day Labor Dilemma - Should Public Money Fund Centers Where Illegal Immigrants Find Work? (WB 128)

4:45-5:30 pm
Closing Reception (WB Lounge)
Founded in 1819, the University of Virginia School of Law is the second-oldest continuously operating law school in the nation. Consistently ranked among the top law schools, Virginia is a world-renowned training ground for distinguished lawyers and public servants, instilling in them a commitment to leadership, integrity and community service.