Students Research Labor, Employment in Jordan
Posted August 17, 2004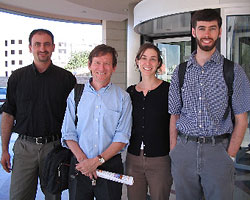 Third-year law students Pat Lavelle (far right)
and Gwen Seznec with Solidarity Center staff.
For law student Gwen Seznec, seeing a boy lug a heavy tire through a mechanic's shop brought home the labor problems Jordan faces—high unemployment, low wages, and an influx of legal foreign workers. Seznec and fellow rising third-year Pat Lavelle began compiling information from existing reports on the Mideast nation's adherence to international core labor standards during the spring semester's International Human Rights Law Clinic, and continued their work when the semester ended by gathering first-hand accounts in Jordan for a report to be published in December by the Solidarity Center, an NGO affiliated with the AFL-CIO that also funded their trip.
"It was really important to go there to get real people to talk to us—people who face problems every day," said Seznec, who spent her first 10 years in the Middle East, including one year in Jordan, because her father had business there.
"You sort of expect to find horrible conditions with regard to labor standards and in a lot of cases that was true.…[but] it really ended up being a dialogue," Lavelle said, particularly when talking to government officials about the regulation of labor.
They assessed Jordan, like other countries the Solidarity Center has reported on, according to adherence to standards such as prohibitions against forced labor, progress on child labor, progress on reducing discrimination, and the freedom of workers to associate and organize. "With all of the standards, it's a work in progress," said Lavelle. The reports, part of the Center's Justice For All country series, are designed to inform U.S. policy and generally raise awareness among the public. They focus on countries where the United States is trying to increase trade, like Mexico and Sri Lanka.
Even with the help of Egyptian workers (on
truck), farming is a tough business in Jordan,
according to this eggplant farmer (right).
With the help of a translator and Solidarity Center staff in Amman, Seznec and Lavelle interviewed a variety of employees—construction workers, hospital janitors, domestic workers, cement-factory engineers, day laborers, farmers, and textile workers. They showed the pair there were more nuanced issues than they thought, and it turned out to be important to see what was happening in present-day Jordan. "It does provide something real for me to grasp as I'm reading the reports…. Making the connection between people is the most important thing to me," Seznec said. When you see a child carrying an enormous tire, "you understand a little bit more, culturally, what the norms are for working, and for human rights."
While child labor and abuses against foreign workers have been problems for Jordan, Lavelle and Seznec found that in some ways their laws are more stringent than those of the United States. So what's the problem?
"They have a great legal structure but not much in particular in the way of enforcement or inspections," Seznec said. The pair met the Ministry of Labor's head of the inspections department and the head of the child labor unit, a relatively new group. The officials acknowledged they don't have enough inspectors, but "when they see violations, they fine companies," Lavelle said. "I got the sense that given the resources they have, they're more genuine about wanting to enforce labor violations than some agencies in the United States, at least in some cases."
Jordan, they discovered, has a better family leave policy than the United States, and with the passage of recent legislation, more protection for domestic workers. "Looking at weaknesses of labor conditions in Jordan gave me an opportunity to also recognize similar weaknesses in labor legislation and conditions confronting workers in the United States," Lavelle said, noting that protection for domestic workers in the United States is inadequate. While Jordan is making strides with domestic labor, government workers aren't officially allowed to organize, and anti-union retaliation still runs strong.
Seznec met with a domestic worker who had positive experiences working hourly with different customers, but told stories of other Sri Lankans who faced horrendous conditions as live-in workers. Domestic workers in Jordan are overwhelmingly foreign Sri Lankans or Filipinos because domestic work is thought lowly, Seznec explained, due to the exploitation and abuse they historically have faced.
"When they have a good situation in Jordan, it's quite good," Seznec said, and workers can send money home or save for an eventual return home. However, real problems arise when uneducated people come to Jordan, need to learn the language, have no bargaining power, and don't realize it's not right to get paid only at the end of their two-year contract, she said. Some foreign domestic workers have been locked inside houses or beaten, in effect being treated like slaves, Lavelle noted. Spurred on by such reports, the United Nations Development Fund for Women worked with Jordan's Ministry of Labor on a plan, implemented in 2003, requiring domestic workers to be employed by a contract with a set salary and regulating agents who recruit workers. The new law is not applied retroactively, however, so many domestic workers are still unprotected.
A family of Shi'a Muslims from southern Iraq
worked illegally for a Turkish construction
company near the Dead Sea.
On top of such historic hardships workers have faced in Jordan, the war in Iraq has added to unemployment. A 2001 CIA estimate puts Jordan's unemployment rate at 25 to 30 percent, but Seznec said that with the war's impact the rate may be as high as 40 percent now. "Generally business is slack because there's a war next door," she said. Tourism has plummeted in the constitutional monarchy and Iraq no longer provides subsidized oil to its neighbor, making gas prices skyrocket. Some Iraqis have entered the country to find work, but they don't have legal status and work permits, making them vulnerable to abusive situations. Sometimes they are not paid at all for their work. Lavelle and Seznec interviewed a family of Iraqis working alongside a road who told them, "take our words and use them" in the report, Lavelle said. "They made it clear that at least to them, that was pretty important."
Children sold postcards in Jerash, Jordan.
Some of the students' experiences in Jordan revealed differences with prior reports by groups such as Amnesty International. "There was a little bit more of child labor than what was written in reports, primarily because the economy was doing badly," Seznec said. Children are under pressure to work, Lavelle added, because "families need income for lack of sufficient wages." However, Seznec found that "in some ways we saw more positive things in terms of women's rights than the reports generally say." She spoke to several women happy with their jobs and the respect they receive at work. "It was also encouraging to see the strength of the unions in certain sectors," she added.
Some companies with factories in Jordan, such as Levi's and Victoria's Secret, have corporate codes of conduct, although adherence and frequency of inspections varies, Lavelle said. On the flip side, corporations pressure factories to keep costs down. One factory manager confessed he forced employees to work overtime if they didn't meet their daily quota, Lavelle said, and he got the impression that happened frequently.
Garment workers at this factory included
a mix of Jordanians and foreign workers.
Although the textile factories' conditions have improved, "It seems that the U.S. Free Trade Agreement isn't as beneficial as people hope it would have been," Seznec said. Business people in Jordan understand that free trade is a positive step, but they're having difficulty competing with countries like Bahrain and Morocco. Many Jordanian factories are in Qualified Industrial Zones (QIZs), which require a specific amount of the end product to be Israeli-made. But the factories will probably find it too expensive to move out of the QIZs to be able to take advantage of the terms of the U.S.-Jordan Free Trade Agreement.
Egyptian workers served in the most
dangerous jobs at a stonecutter shop
Lavelle and Seznec visited.
The trade agreements have provided job growth for Jordan, but employers are importing workers from other countries—Bangladeshis, Sri Lankans, and Chinese, among others—instead of hiring Jordanians. "A lot of the worst violations happen with those imported populations because they don't have much of a voice," Seznec said. Employers pay a government fee for each worker to have a permit as well as paying for foreign workers' food and lodging, all of which is viewed as cheaper than hiring and training a Jordanian. There is a perception that "Jordanians will not do certain types of work," Seznec said. At a stonecutter's shop, Lavelle and Seznec were told the Egyptians were doing the most dangerous work, while Jordanians had jobs that were less strenuous. "Jordanians do hard work, but certain sectors are still very focused on foreign workers doing the labor," Seznec said. "This is a problem because a lot of Jordanians don't find work."
Frequently Egyptian workers will live in awful conditions voluntarily to save money for when they return to their homeland. The Egyptian guards of the office building in which Solidarity Center's Amman office is located chose to live on their employer's roof in a makeshift home. "All the Jordanians kept saying that [Egyptians] have it so good because of the exchange rate," Seznec said. "And somehow that seems to make it better." There are 145,000 registered foreign workers in Jordan—2.5 percent of the 5 million-plus population.
Palestinian laborers "need work like you
wouldn't believe."
Seznec said the Palestinian Jordanians seemed to face particular hardships; those they met seemed hungry, and "need to work like you wouldn't believe." Displaced from the wars between Israelis and Palestinians in 1948 or 1967, or descended from those refugees, they were frustrated and—with their passports expired—desperate. "They could not get a break," she said. "They are competing ferociously with the Egyptians because they need the jobs too."
After returning to the United States, Lavelle worked for the Legal Aid Society Employment Law Center in San Francisco, focusing on race discrimination cases from the area and as far away as Pascagoula, Mississippi, while Seznec spent the summer in New York City interning for the firm Curtis, Mallet-Prevost, which specializes in international arbitration and securities work.
Their Solidarity Center report will be available at www.solidaritycenter.org in December. 
E-mail suggestions for summer stories to webmaster@law.virginia.edu
Founded in 1819, the University of Virginia School of Law is the second-oldest continuously operating law school in the nation. Consistently ranked among the top law schools, Virginia is a world-renowned training ground for distinguished lawyers and public servants, instilling in them a commitment to leadership, integrity and community service.