Thurston R. Moore '74: Pro Bono Service
Posted June 18, 2007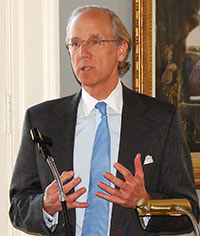 Thurston Moore '74 spoke at a
ceremony honoring student
volunteers participating in the
Hunton & Williams-Law School
Pro Bono Partnership.
This article originally appeared on Law.com
The following remarks were made by Thurston R. Moore, chairman of the executive committee of Hunton & Williams, at a Charlottesville reception on April 12 in honor of the student volunteers who participated in the Hunton & Williams-University of Virginia School of Law Pro Bono Partnership during the 2006-07 school term. The students assisted Hunton & Williams pro bono lawyers in the representation of victims of domestic violence as well as immigrants seeking asylum from persecution in their countries of origin.
It would be difficult to be in Charlottesville and not think of Thomas Jefferson. It would be equally difficult not at least to mention his name when talking about the subject of our reception this afternoon, namely, service by lawyers.
For Jefferson held the conviction that lawyers have a special obligation to serve the public interest. "A lawyer," Mr. Jefferson said, "must aspire to be a public citizen." He believed that lawyers, who have the benefit of not only education but excellent legal education, can make a difference, and therefore we must strive to make a difference, in the world.
Jefferson wanted this ideal of public citizenship to be carried forward in the traditions of his beloved University of Virginia—and so they have. The School of Law at the University of Virginia has always been committed to the ideal of public responsibility and to nurturing the civic virtues that support it: the virtues of integrity, civility and service—or, what we call at Hunton & Williams our "core values."
We built our firm around this same Jeffersonian conviction—stating in the opening line of our Partnership Agreement that, "The practice of the law is a service to society. While an aid to business, it is concerned also with the public welfare."
And there is no more suitable way for a lawyer—or law student—to show concern for the public welfare than by making sure that those less fortunate than we in life have access to our system of laws and jurisprudence and appreciate the role of the law and the value of the rule of law in society.
So, community representation and pro bono publico service have become a passion in our firm and a foundation of our core values. 
Now, it is easy for me to state the philosophical principle of pro bono service and point to it as a part of our firm's constitution; but why do our folks—lawyers and staff alike—so readily embrace this noble pursuit on an organic and daily basis and do so on their own initiative?
Well, for starters, we simply have great folks at Hunton & Williams, and they just intuitively do the right thing.
But that intuition is reinforced by some logical and philosophical realities.
Our people recognize that pro bono service—both substantively and symbolically—reinforces the rule of law on which our profession—and, indeed, our societies—are based; and to have and maintain a society based on the rule of law, you need to be as inclusive as possible in providing access to and use of the justice system by all strata of society.
To borrow a phrase used much more eloquently by Dr. Martin Luther King Jr. in the context of racial diversity: For our society to work, it must work for everyone, since "[w]e are caught in an inescapable network of mutuality ... Whatever affects one of us directly, affects [all of us] indirectly." So, for society to work and not come asunder, we need to perpetuate the availability and the mutuality of the rule of law for all.
Moreover, pro bono and community service reinforce basic, decent, human tendencies and traits—they further our spiritual needs. Psychologists now brilliantly tell us what we have always known deep down: that doing good deeds for others makes us feel better than just accumulating and consuming more and more and more. As an aside, I have always believed that service is consistent with economic needs as well, as there is a very high correlation between the better performing pro bono firms and the firms that are strong economic performers.
So, service makes us feel better about ourselves, as well as making our law school deans (and, of course, our mothers) proud of us; and lawyers and other colleagues who are proud and feel good about themselves and their firm tend to be happier and more productive.
Our firm is convinced that we are one of the best places to work in America. Indeed, we have launched a formal program to be recognized as such. A key facet of that program has been the demonstration of the breadth and quality of our community and pro bono services.
In turn, our firm, and our lawyers and staff, have received great and well-deserved recognition for our community and pro bono service from our clients; from state and local bar associations; from The American Lawyer, where we have always had an A-rating; from the ABA, from whom we received the ABA Pro Bono Publico Award; and even from the White House.
This favorable publicity reinforces our image as leaders at the bar and as citizen lawyers, which is not only important to us but is increasingly important to decision-makers at major institutional clients who also want to make their contribution as good corporate citizens and be recognized accordingly, particularly in the post-Enron world, and, in turn, want to work with professional service providers who are viewed as stand-out and stand-up citizens.
But, the expectation of favorable publicity, or the popularity of a case or a cause, should not be the litmus test for your pro bono work. Sometimes, the most important pro bono work is with cases that may not be popular in some quarters—such as in death row cases—or with the Guantanamo detainees, where some have said that law firms involved in such cases, including our firm, are aiding terrorists. Nothing, of course, could be further from the truth, since the efforts of these lawyers are to maintain the integrity of the rule of law, which is anathema and not an aid, to terrorists.
If good lawyers were intimidated from taking on engagements fundamental to our constitutional and societal rights, our rights would become meaningless. So, recognition can be a good thing, but do not let recognition in the context of criticism or a heated diversity of views chill your pursuit.
Obviously, the spirit of pro bono service and the management of pro bono cases reinforce the broader core values of a firm such as ours:
Our tradition of affection and respect for each other;
Our sense of collegiality and teamwork;
The unwaivable standard of integrity; and
Our promotion and support of leadership.
There is another reason, of course, and of particular note here in the neighborhood of one of the great law schools in America: We believe that our dedication to pro bono service—and the creative and expansive menu of service activities that George Hettrick and others at the firm are always developing—will help us in recruiting. In today's competitive world we often have a sense of wanting to give something back (something other than just the interest and principal on our student loans!), and many of us may be looking for a change of pace in our hectic commercial workload. So, offering our lawyers and staff the opportunity to take on these engaging and fulfilling matters makes us distinguishable to many prospective young lawyers and helps with recruiting and retaining the best and the brightest of future generations of excellent citizen lawyers.
So, we are believers. I know that each of you are as well. On behalf of our firm and our profession, we thank you for your interest, your dedication and, most importantly, your service.
Thurston Moore is chairman of the executive committee of Hunton & Williams. He can be reached at tmoore@hunton.com. 
Founded in 1819, the University of Virginia School of Law is the second-oldest continuously operating law school in the nation. Consistently ranked among the top law schools, Virginia is a world-renowned training ground for distinguished lawyers and public servants, instilling in them a commitment to leadership, integrity and community service.