Media Tip Sheets
gyin@virginia.edu
(434) 924-7025 
From 2003-05, UVA Law Professor George Yin served as chief of staff of the U.S. Congress' Joint Committee on Taxation, one of the most influential tax positions in the country.
"The Jeb Bush proposals are drawn from exactly the same playbook as President Reagan's tax changes in 1981 and President George W. Bush's in 2001. Like the earlier changes, the current Bush proposal would provide an across-the-board tax cut, but with benefits tilted towards the very wealthy, and is intended to spur economic growth. Unfortunately, similar growth projections made at the time of the earlier tax changes never materialized largely because they were paid for with massive new borrowing, which essentially crushed the growth potential out of the underlying bills. Reagan's changes (along with his military commitments) ushered in the age of deficits in which we are still mired, and George W. Bush's changes (along with even greater military commitments) reversed in less than one year the brief shining moment in recent history when it appeared we might be achieving some balance in our fiscal situation. The current proposals are also 35 years closer than the Reagan changes to the truly frightening deficit projections occasioned by the retirement of the baby boom generation. If they are also paid for with large amounts of additional borrowing, the proposed tax cuts would make those projections worse and more immediate.
"An alternate way to pay for the tax cuts, which mightresult in some economic growth that would serve as a partial 'silver bullet' for our fiscal woes, would be to pair them with significant cuts in entitlement programs. Perhaps this idea is what Jeb Bush and his advisers intend to do if he is elected president. But if Mr. Bush is not brave enough to campaign on that promise and receive the country's mandate, would we really expect the American people to accept the idea once he is in office? Obviously, the specter of large tax cuts for the wealthy paid for by low- and middle-income seniors on fixed incomes does not seem like a very popular idea.
"Bottom line: although Jeb Bush's proposal is not as absurd as some tax ideas currently being bandied about on the campaign trail, it is not yet a proper prescription for our country's fiscal needs."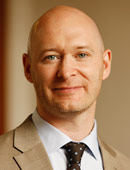 Contact: Professor Michael Livermore
mlivermore@virginia.ed
(434) 982-6224
University of Virginia School of Law professor Michael Livermore , an expert in environmental law and cost-benefit analysis, is available to comment on President Obama's expected plan to cut carbon emissions from the nation's coal-fired power plants. Obama will announce his plans on Monday through a new regulation written by the Environmental Protection Agency.
"This is arguably the most important environmental rule ever written," Livermore said. "As President Obama's bid to return the United States to a position of leadership in addressing climate change, it will inevitably be subject to a punishing round of legal and political attacks. If it survives, its effects will benefit the global environment for generations."
Livermore was the founding executive director of the Institute for Policy Integrity at New York University School of Law, a think tank dedicated to improving the quality of government decision-making through advocacy and scholarship in the areas of administrative law, cost-benefit analysis and regulation. During his time there, the institute participated in dozens of regulatory proceedings on a diverse set of issues ranging from climate change to prison safety.
Founded in 1819, the University of Virginia School of Law is the second-oldest continuously operating law school in the nation. Consistently ranked among the top law schools, Virginia is a world-renowned training ground for distinguished lawyers and public servants, instilling in them a commitment to leadership, integrity and community service.