U.S. Court of Appeals for the Fourth Circuit to Hold Oral Arguments at UVA Law
Posted March 16, 2012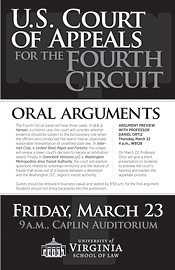 A panel of the U.S. Court of Appeals for the Fourth Circuit will hear oral arguments on March 23 at the University of Virginia School of Law in Caplin Auditorium.
"Seeing a panel of the Fourth Circuit in session will contribute to our student's understanding of appellate advocacy," said Law School Dean Paul Mahoney. "We are grateful to the court for its willingness to travel to Charlottesville to hear argument."
The Fourth Circuit panel will hear three cases. In U.S. v. Hansen, a criminal case, the court will consider whether evidence should be subject to the exclusionary rule when the officers who conducted the search had an objectively reasonable interpretation of unsettled state law. In Intermet Corp. v. United Steel, Paper and Forestry, the judges will review a lower court's decision to vacate an arbitration award. Finally, in Greenbelt Ventures LLC v. Washington Metropolitan Area Transit Authority, the court will explore questions related to sovereign immunity and the statute of frauds that arose out of a dispute between a developer and the Washington, D.C., region's transit authority.
The court will convene at 9 a.m. and arguments are expected to conclude at about 11:45 a.m. Guests should be seated by 8:50 a.m. for the first argument, but can come and go between cases.
Attendees are asked to dress in business casual, and students should not bring backpacks into the auditorium.
On March 22, Professor Dan Ortiz will give a short presentation to students to preview the court's hearing and explain the appellate process. Ortiz's talk will be held at 4 p.m. in WB128.
Founded in 1819, the University of Virginia School of Law is the second-oldest continuously operating law school in the nation. Consistently ranked among the top law schools, Virginia is a world-renowned training ground for distinguished lawyers and public servants, instilling in them a commitment to leadership, integrity and community service.