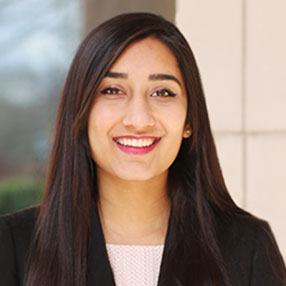 Hometown: Sharon, Massachusetts
Education: B.A. in political science, minor in cognitive sciences, Tufts University
Student organizations/extracurricular activities: Virginia Law Women, Law and Public Service,  Minority Rights Coalition, Peer Advisor, Virginia Journal of International Law, Trial Advocacy Team
What does diversity mean to you? Diversity is a step in a long journey toward equity. It is not about having a few shining examples of "diversity." It demands creating a society and removing the filters so that all walks of life become valued parts in the mosaic of our community. Diversity is not tolerance, but acceptance, inclusion, respect, and understanding of the unique qualities and lived experiences. It is disrupting conformity and becoming aware of the nuances of our intersectional characters. It is where people do not have to speak for others but where voices are represented as their own, and heard.
My voice at UVA Law was heard when… I met with the counselors at the Public Service Center to discuss my career path. The counselors are committed to ensuring that students find a career that marries up nicely to your scheme of values, interests and personality. Every time, I am astounded by the time and effort they take — beyond the job description — to consider my hopes, background and fears in supporting and advising me. With PSC, I feel confident that as I take the next step in my legal career, I will be in a place where I can grow and do right by my profession. 
Advice for those considering applying to, or attending, UVALaw: Make your own litmus test of success. You know what drives you to the legal profession: Wear it and live it. Your boundaries will be pushed, but do not let the challenge curve your dreams. One of the best pieces of advice I've gotten here at UVA is not to compare your inside with other people's outside. Imagine that feeling when you're wearing a sock and it's slipping off your foot as you're walking. Outwards, you seem perfect with those boots, but inside it's chaos. Comparing your journey to that of others is not fair to you or to them. Sharing your journey, on the other hand, with the UVA community is probably the best decision you'll make. When you're on the other end, pass along the goodwill, kindness and generosity shown to you.
The community spirit: Undoubtedly, my favorite part of UVA Law is the community. Every time I interact with my Peer Advisors, section-mates, other students, professors, staff and any person associated with this law school, I feel humbled and at the same time irrevocably welcomed in their presence. The aptitudes presented by this community in valuing people — their voices, experiences and beliefs — are unmatched. I feel honored to grow as a lawyer in this community. The UVA Law community is caring, helpful and full of role models.