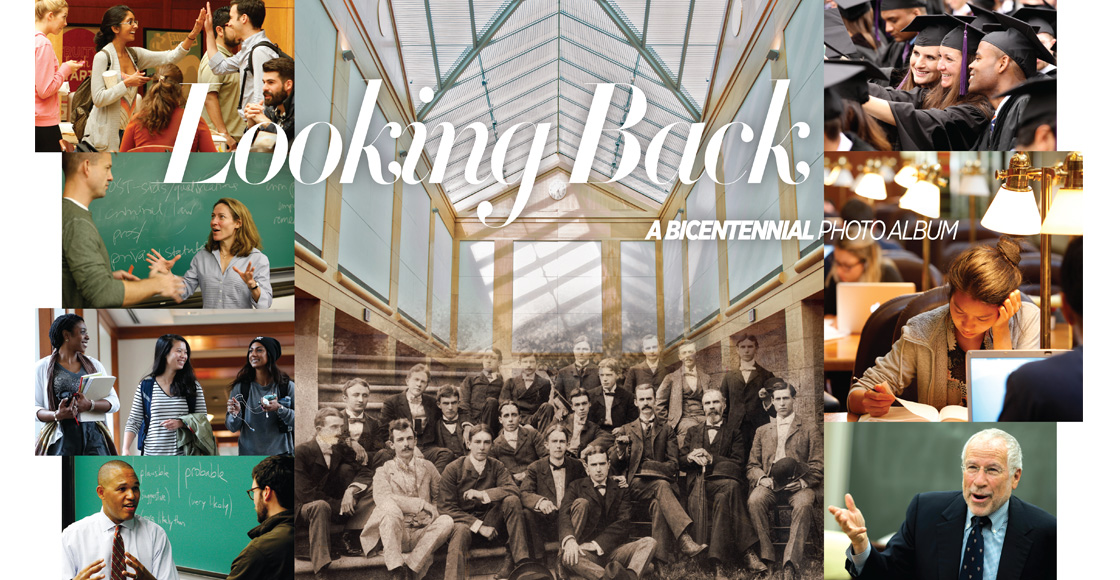 Photos courtesy UVA Law Special Collections, Virginia Law Weekly, Barrister, Student Legal Forum, Law School Foundation, Communications Office, Bill Bergen, Amber Randolph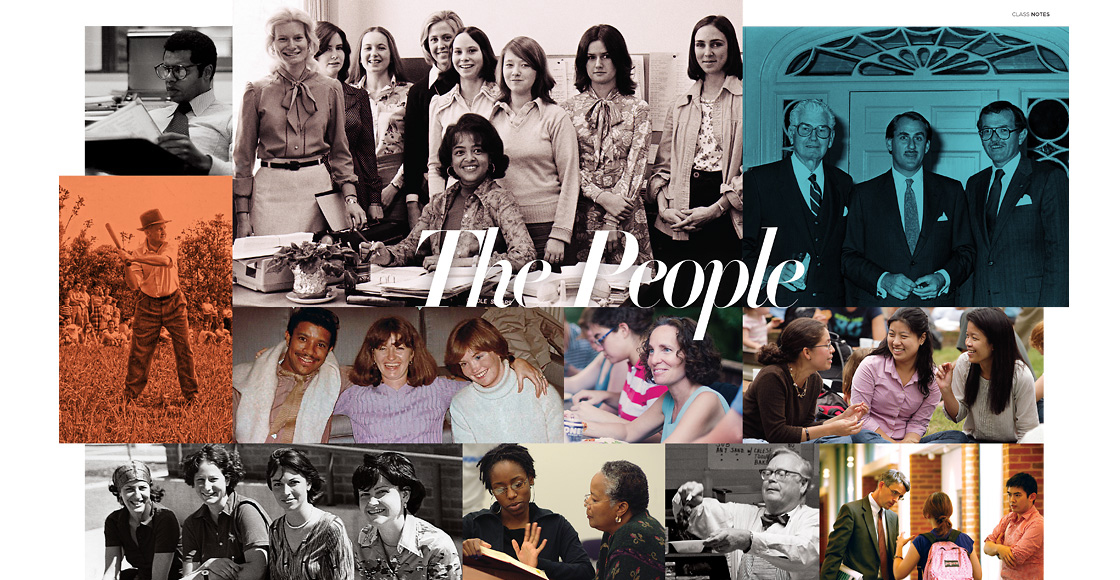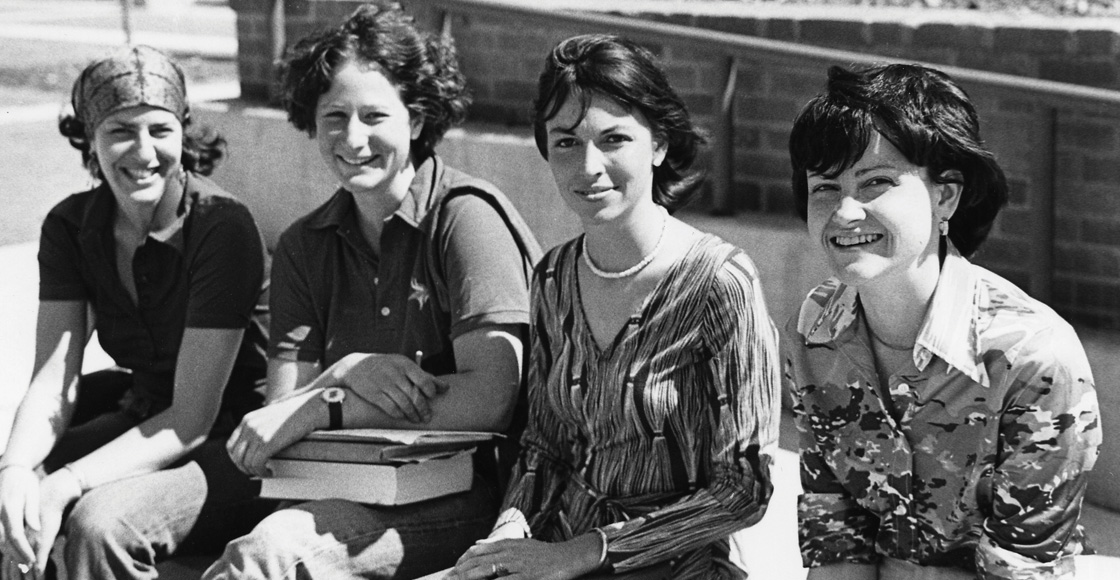 Members of Virginia Law Women in 1977 included Nancy Ehrenreich '79, Steph Ridder '77, Gloria Cordes Larson '77 and Cathy Garcia-Patterson '78.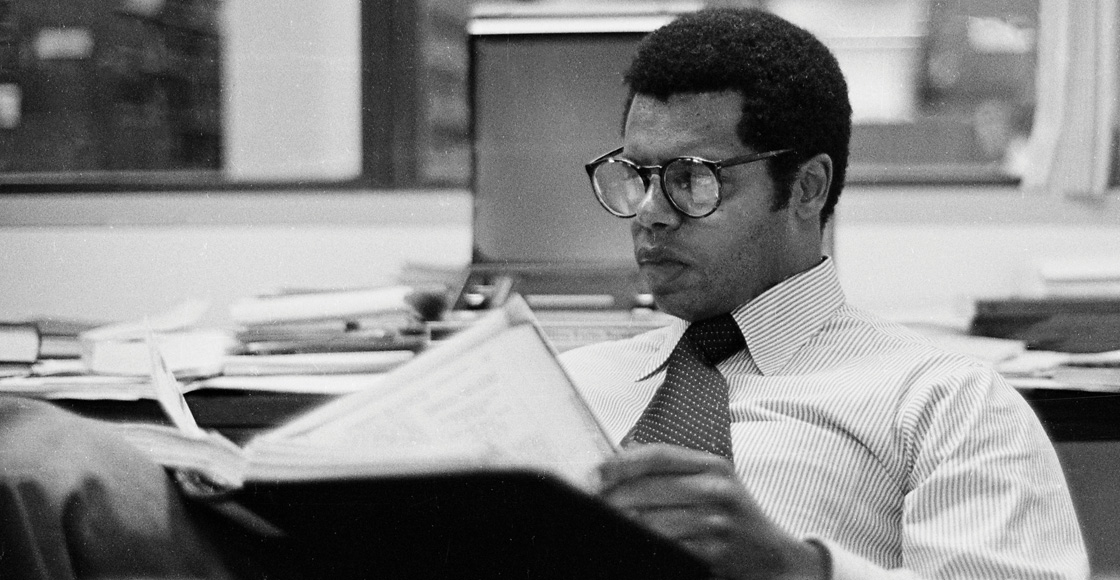 Professor Samuel Thompson in 1977.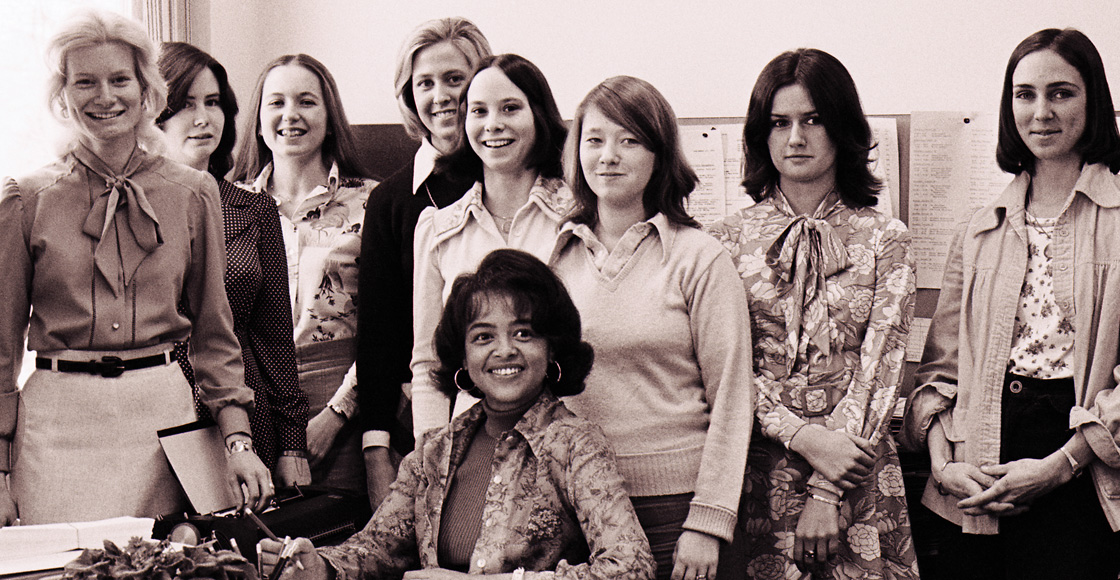 Admissions Director Carole Spears (seated) poses with the staff of the Law School Admissions Office, circa 1976.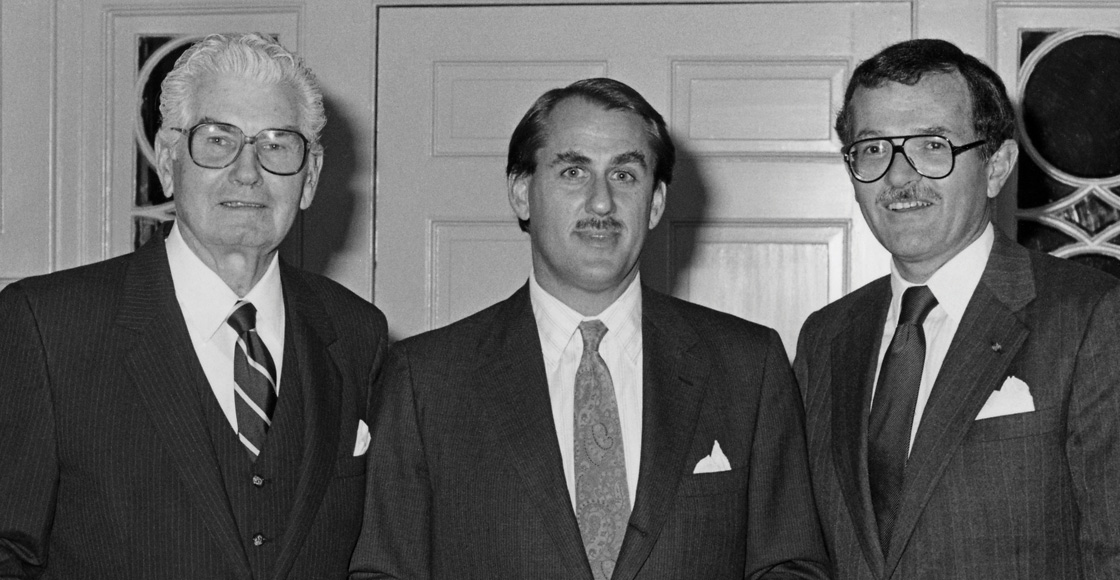 Once and future deans: Emerson Spies, John C. Jeffries Jr. '73 and Richard Merrill pose in an undated photograph.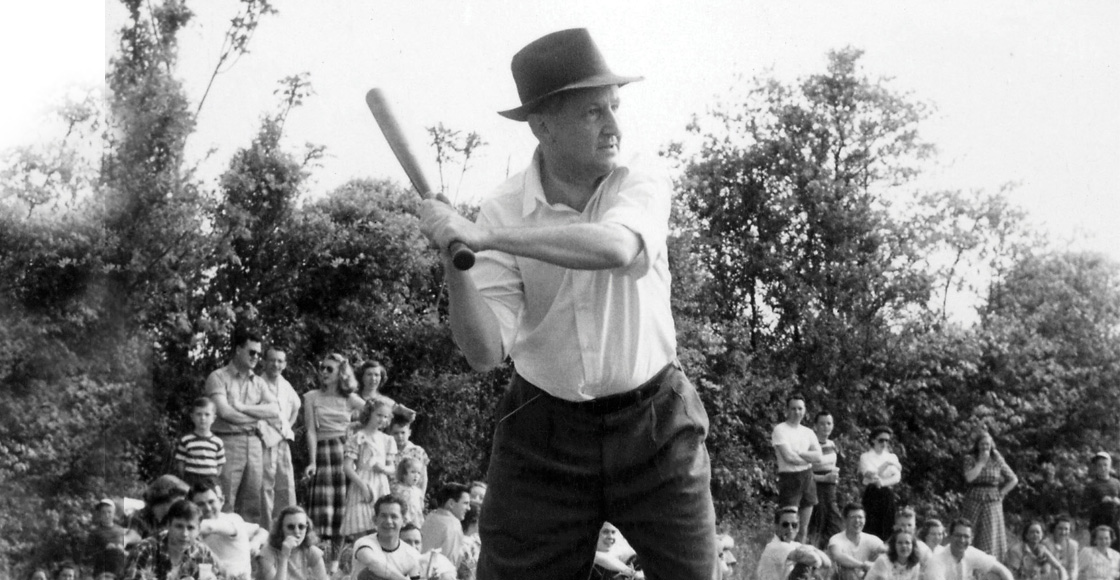 Dean F.D.G. Ribble '21 plays softball with students and faculty in the early 1950s.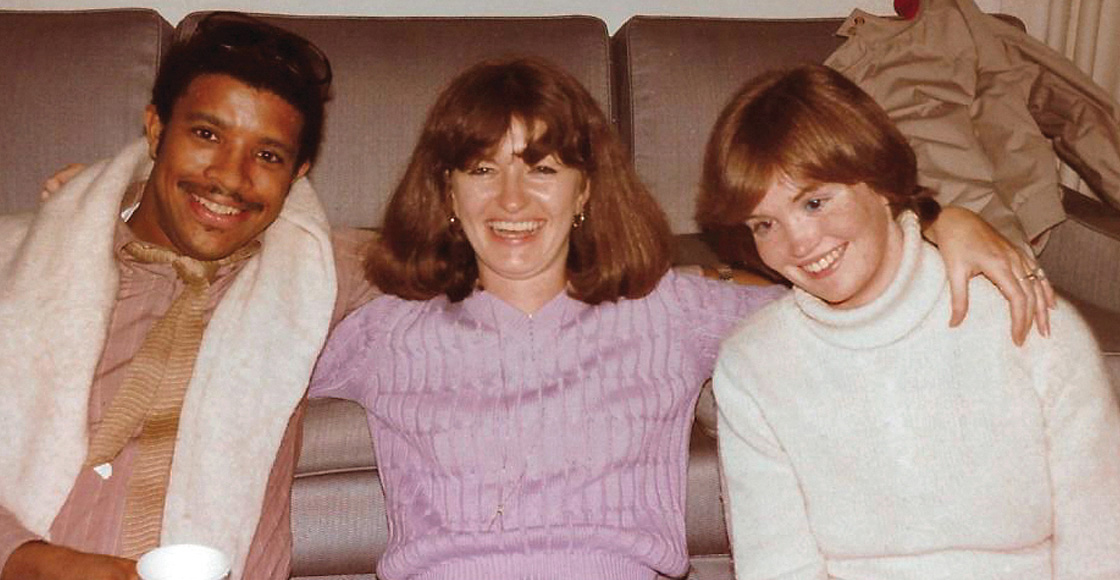 Class of 1986 members David Hicks, Deb Lambert Dean and Mary Beth Sullivan at a party held at Professor Thomas Bergin's house in 1984.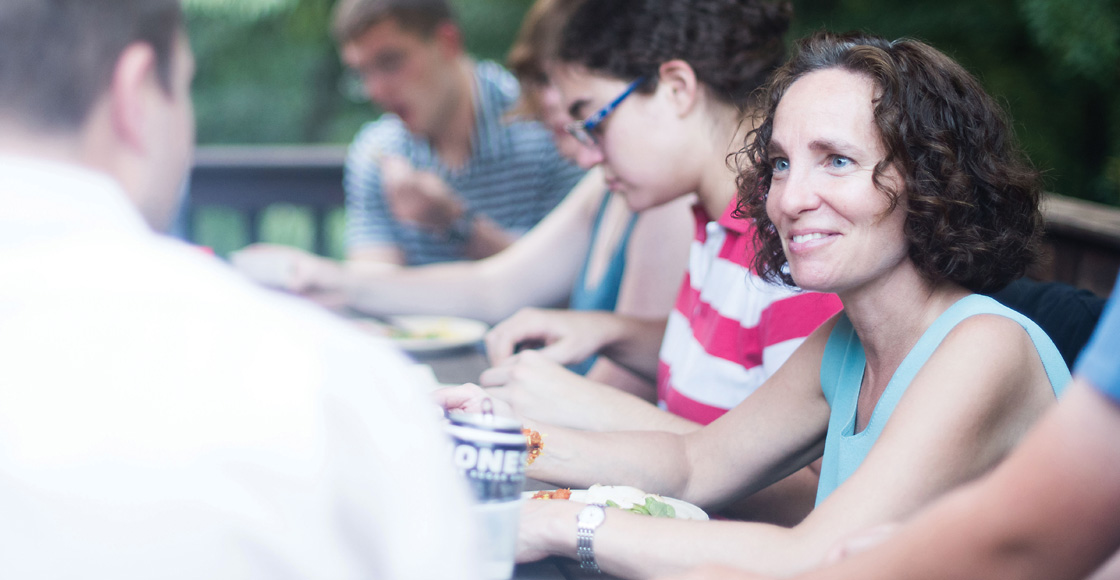 Dean Risa Goluboff hosts a dinner for first-year law students serving as Community Fellows in 2017.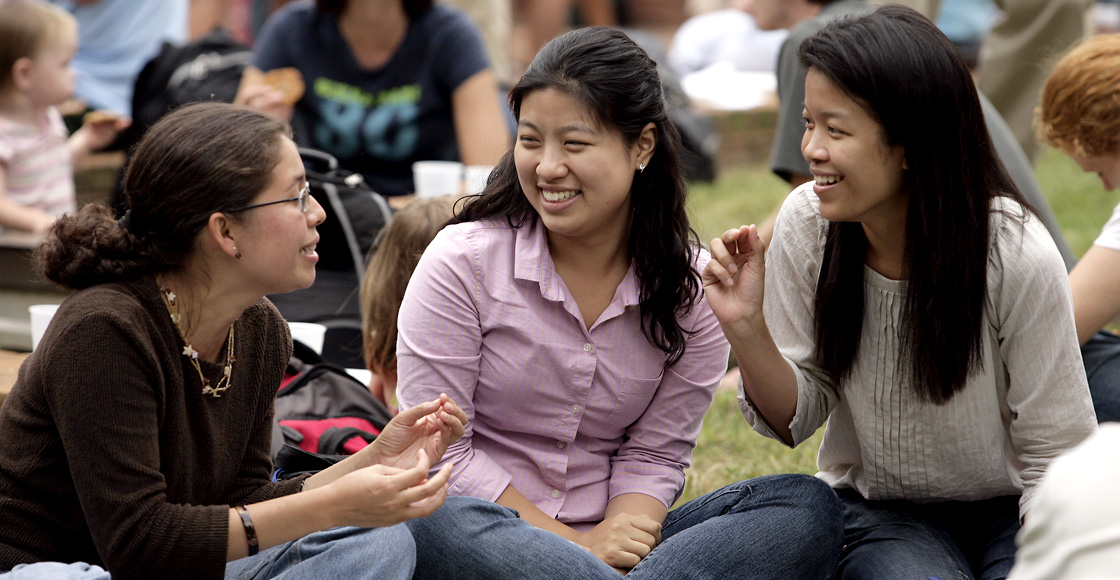 LL.M. Class of 2006 graduates Isabel "Priscilla" Vera Hernandez of Peru, and Napatporn "Napat" Tongbai and Thidaporn "Tida" Sirithaporn of Thailand enjoy a picnic.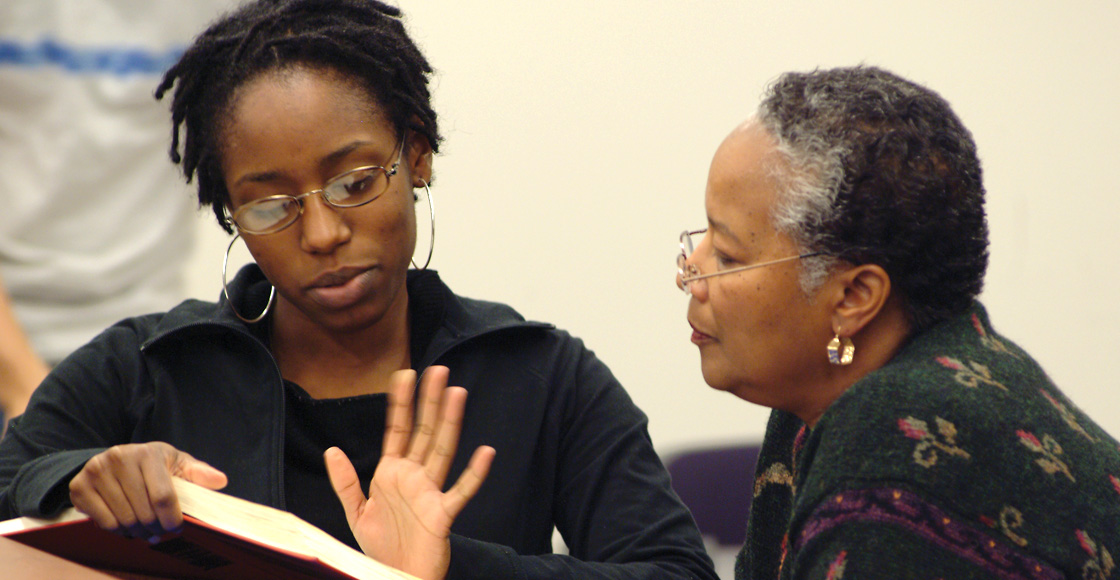 Professor Mildred Robinson talks with Gigi Parris '06 after class.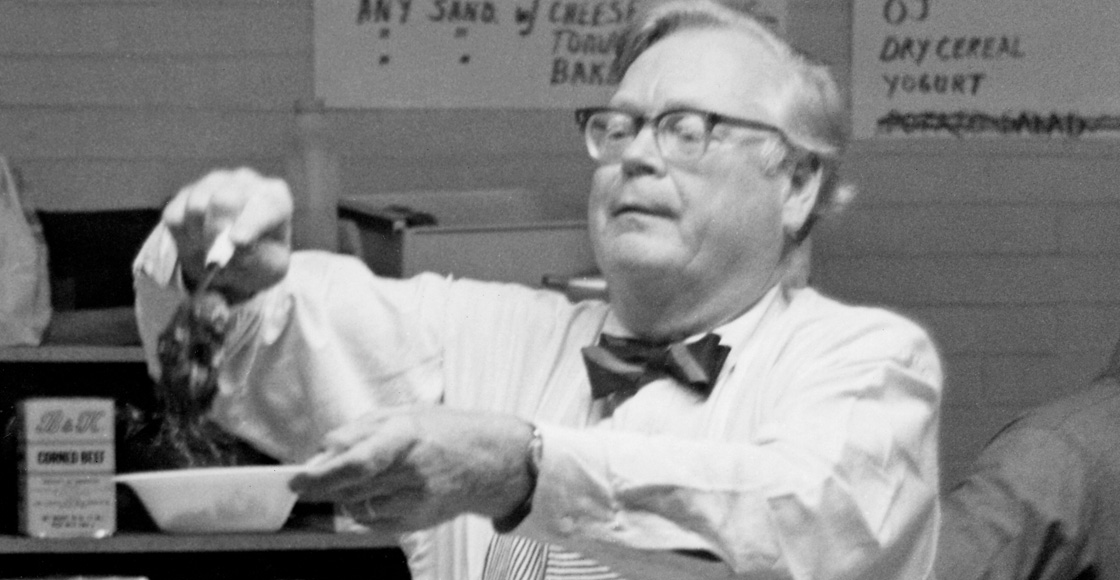 Then-Dean Monrad Paulsen '38 serves "The Dean's Beans" — his home-cooked baked beans — at Tony's Café for 50 cents a bowl in 1973.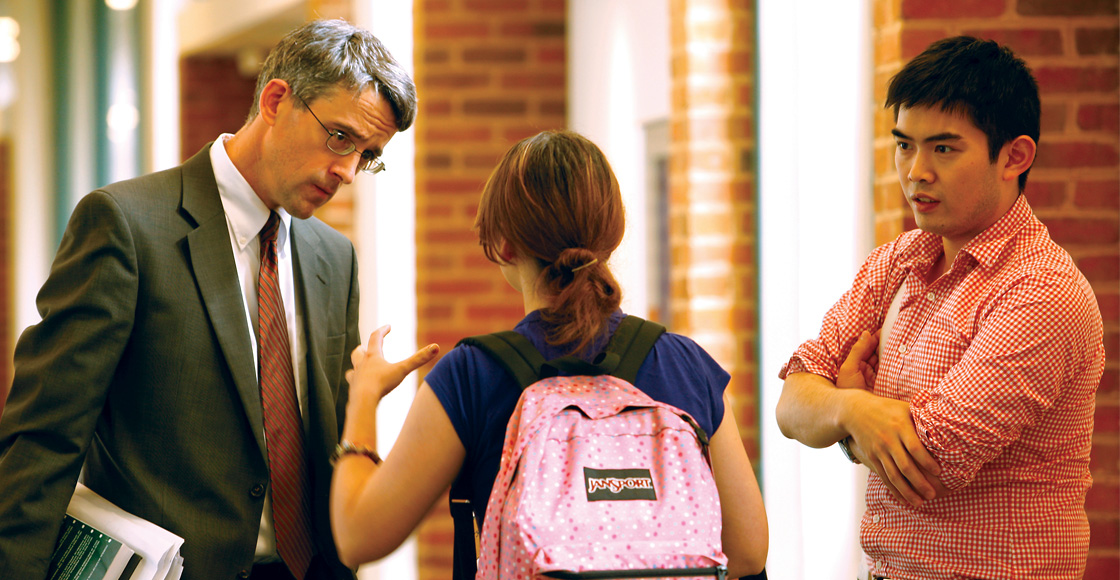 Professor Caleb Nelson talks to two law students after class in the fall of 2011.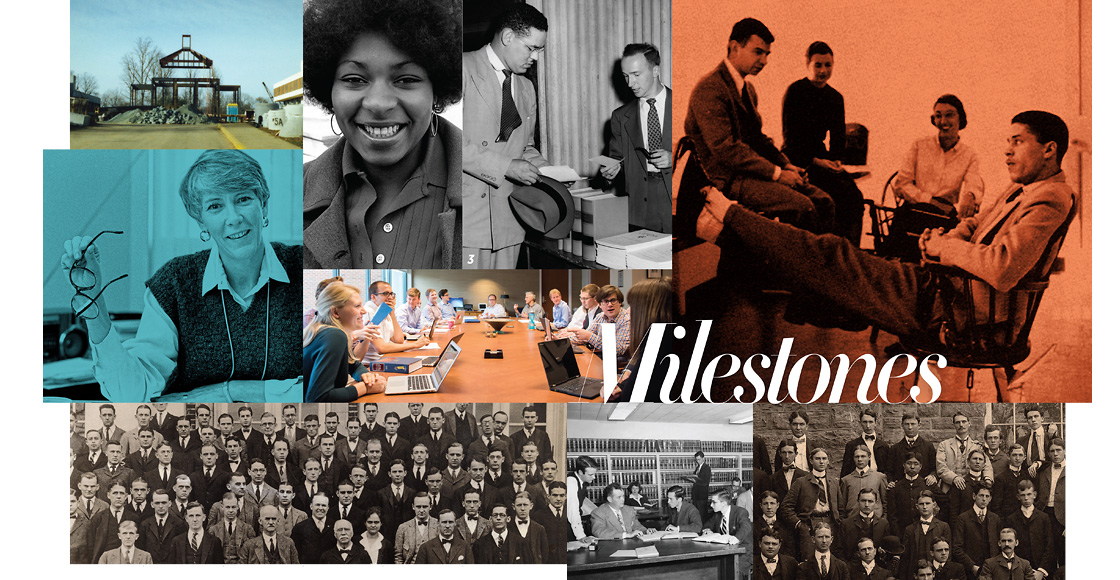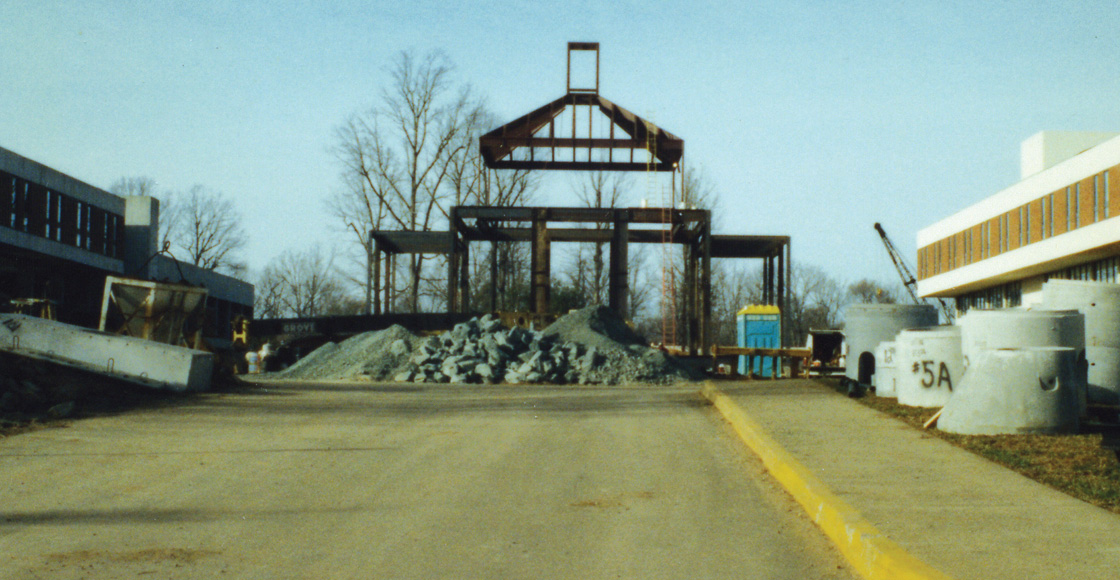 The steel foundation of Caplin Pavilion, which would change the face of the Law School, takes form circa 1996.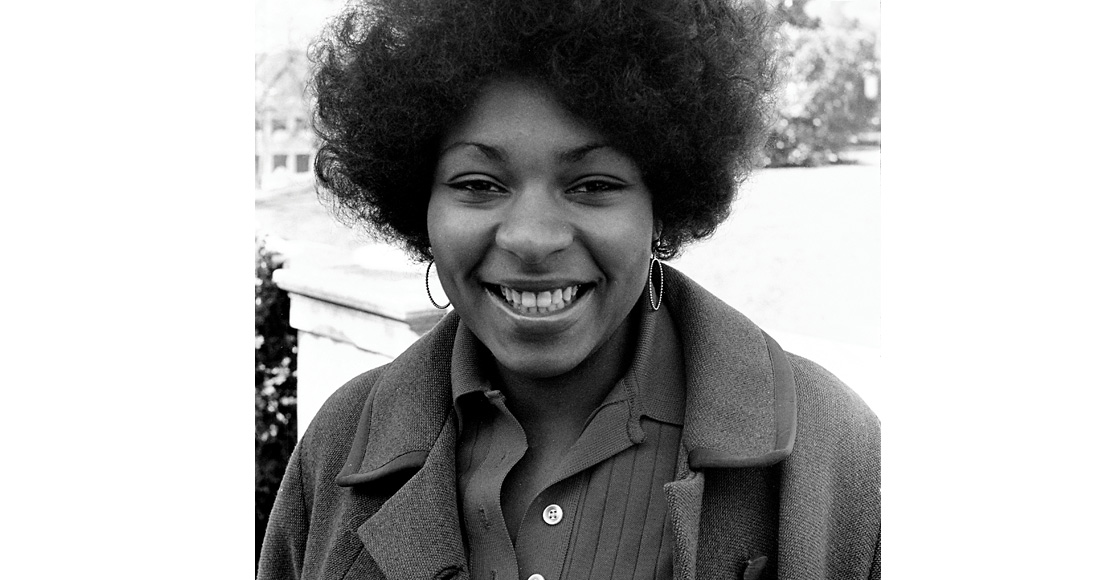 Linda Howard '73, who was the first female and first black student to serve as Law School president, is the 2019 graduation speaker.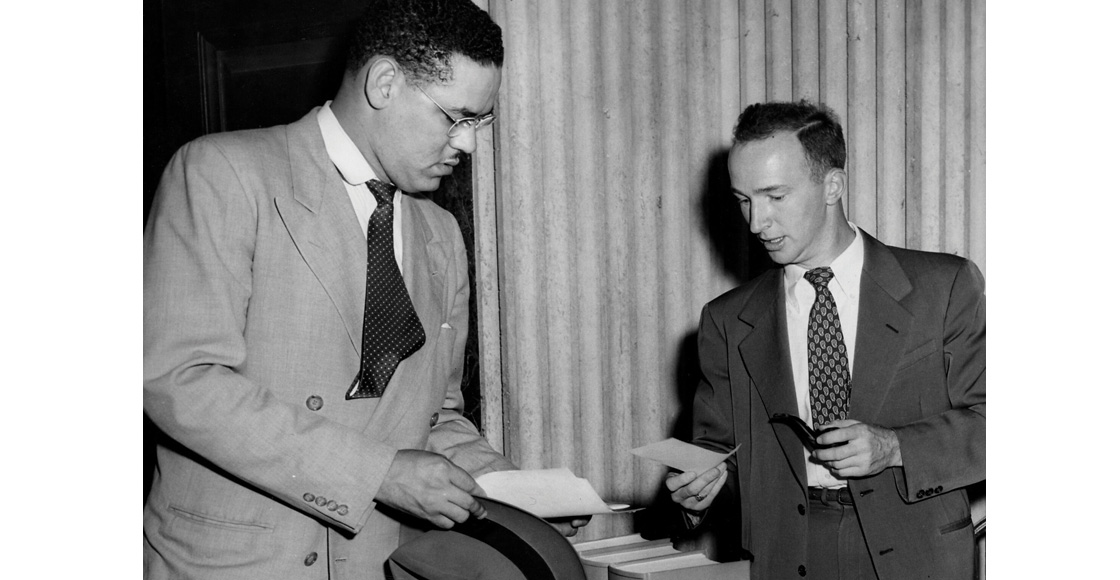 Gregory H. Swanson '51 consults with Assistant Law Dean Charles Woltz after registration on Sept. 15, 1950.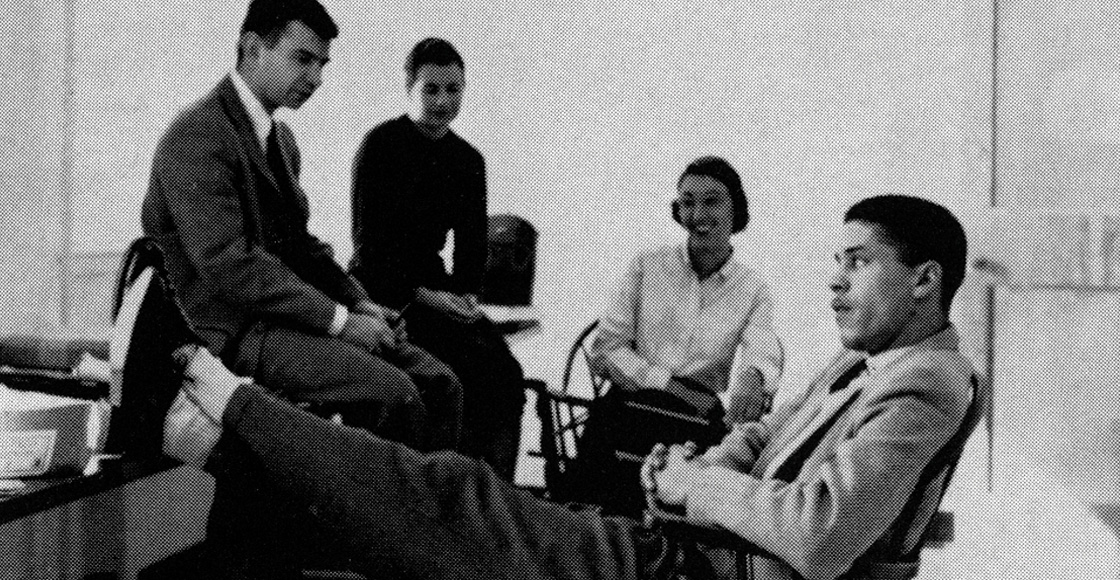 John Merchant '58, the first black student to graduate from the Law School, is pictured with fellow officers of the Barrister, the Law School's yearbook, in 1958.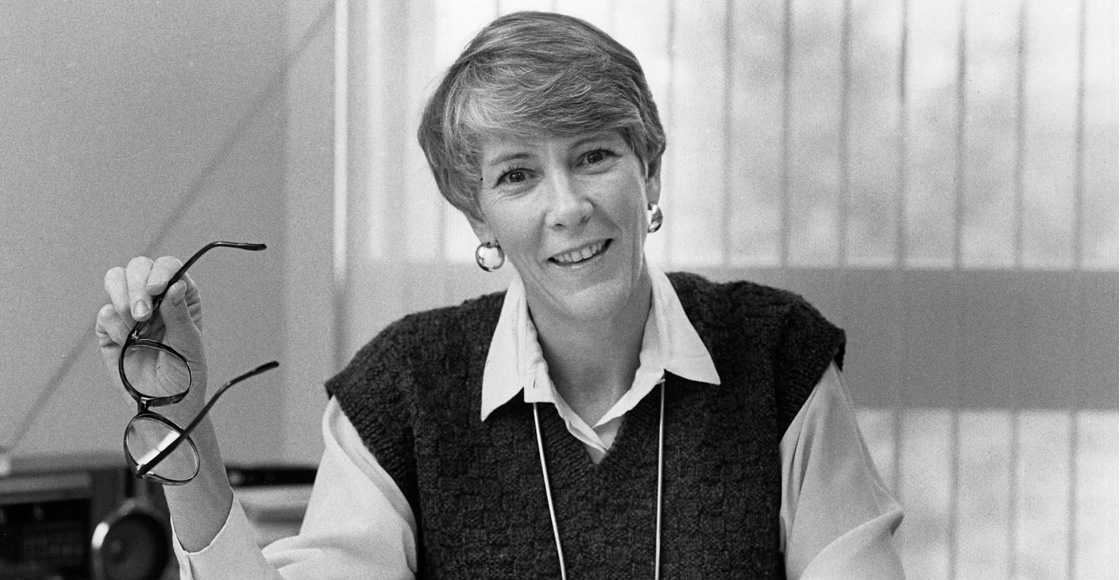 Professor Lillian R. BeVier, who joined the faculty in 1973, was the school's first tenured female law professor (pictured in 1985).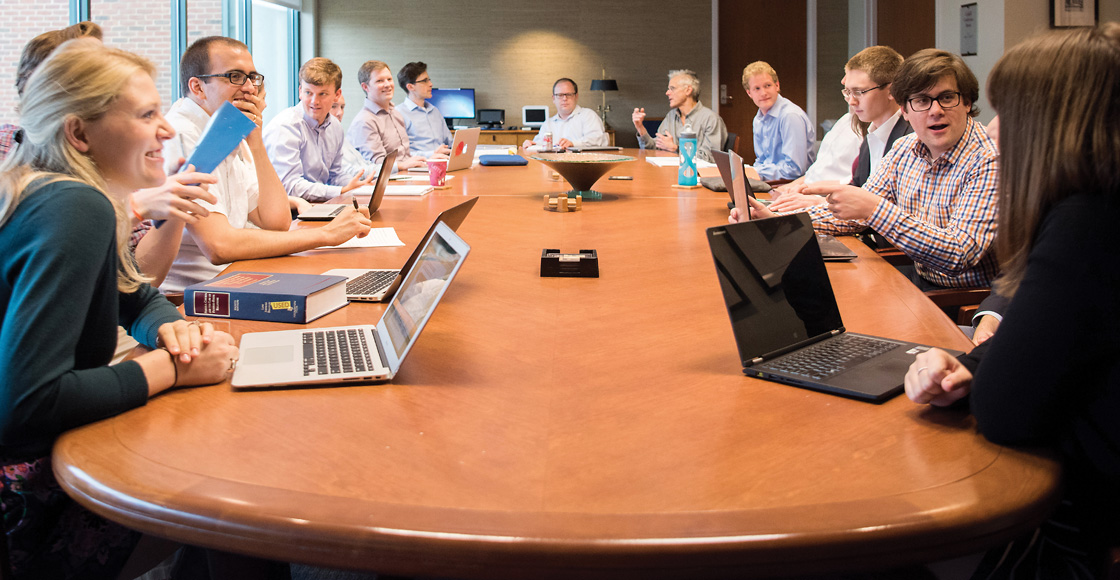 The Law School's Supreme Court Litigation Clinic, launched in 2006, has become one of the nation's top groups to bring cases to the court.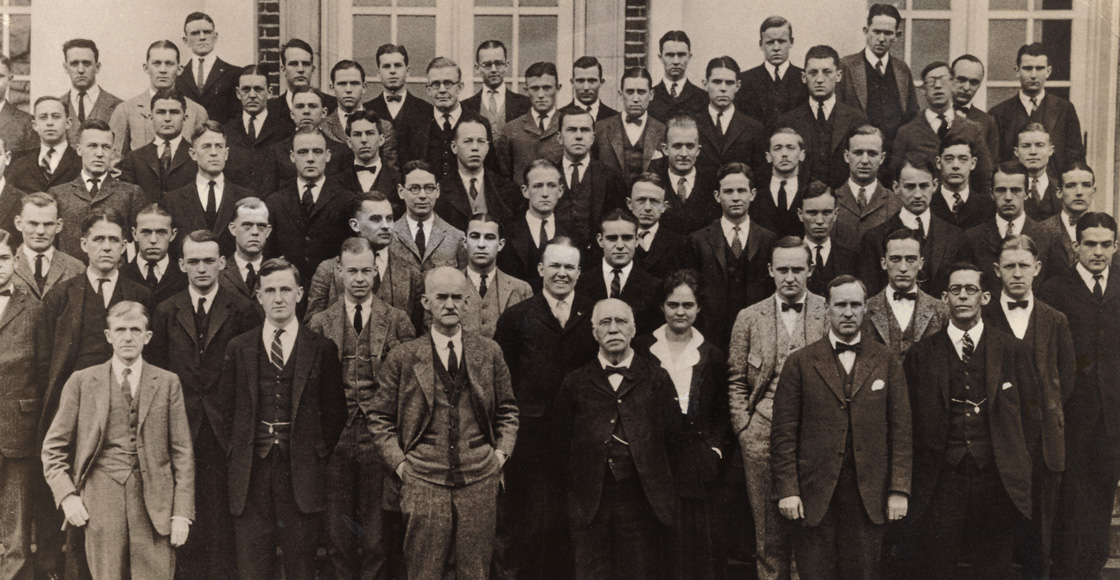 Elizabeth N. Tompkins '23 (bottom row, center), the first woman to graduate from the Law School, is pictured with her class in 1923.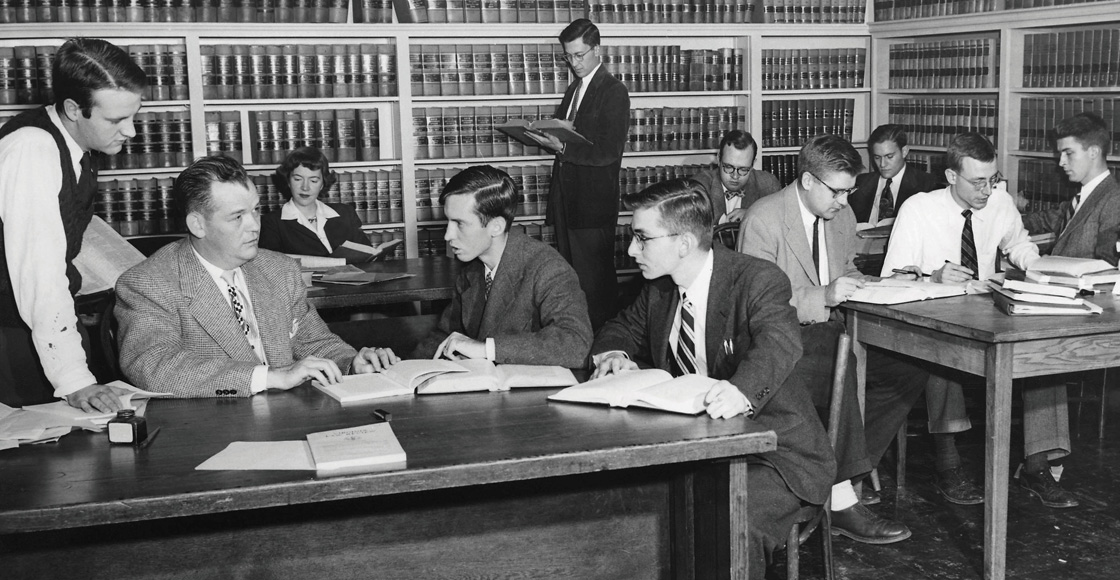 Margaret G. "Peggy" Seiler '51 (back row) was the first female board member of the Virginia Law Review, pictured in 1951.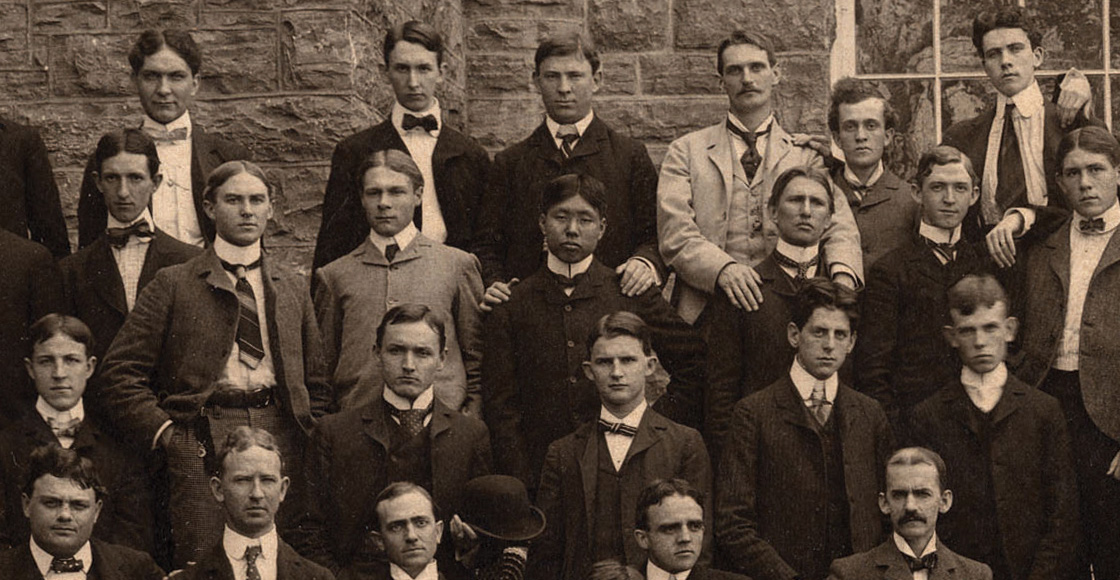 Hiraoaka Ryosuke of Hakate, Japan (second row, center), studied law with the Class of 1900, along with W.W. Yen (not pictured), UVA's first Chinese graduate.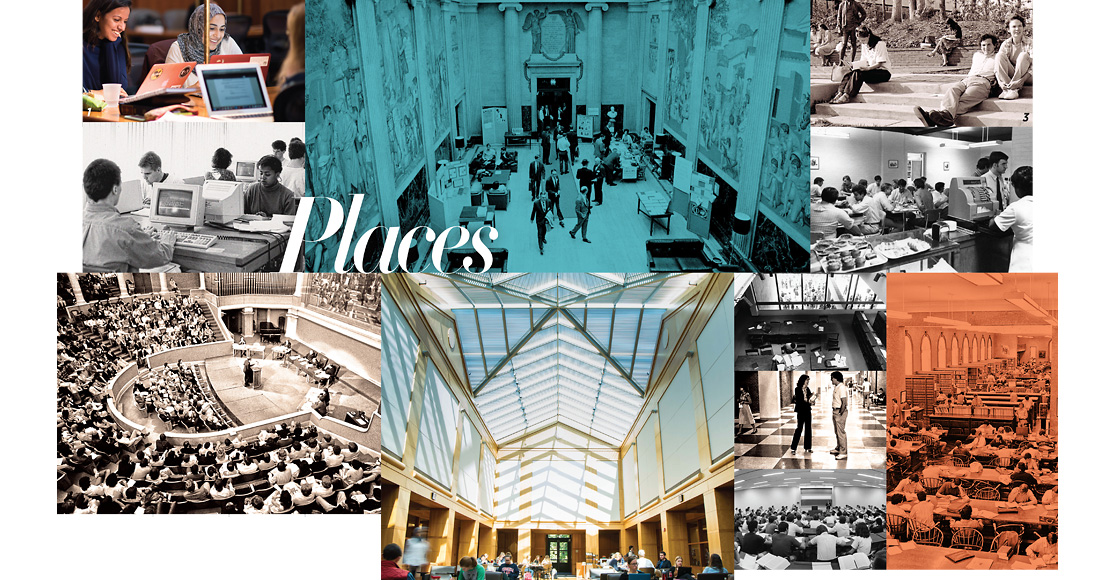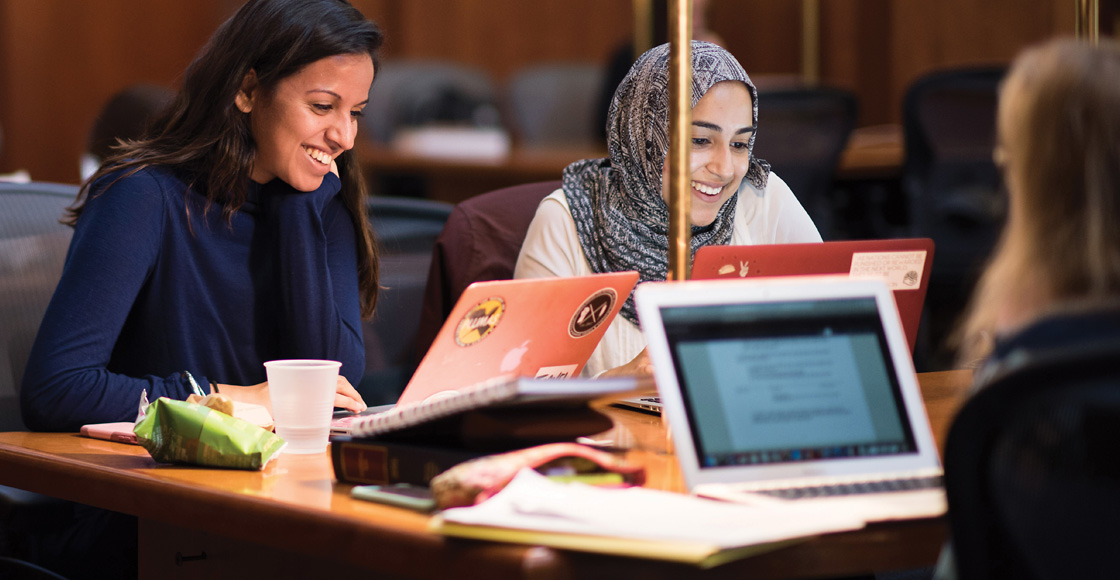 Students study in the Arthur J. Morris Law Library in 2018.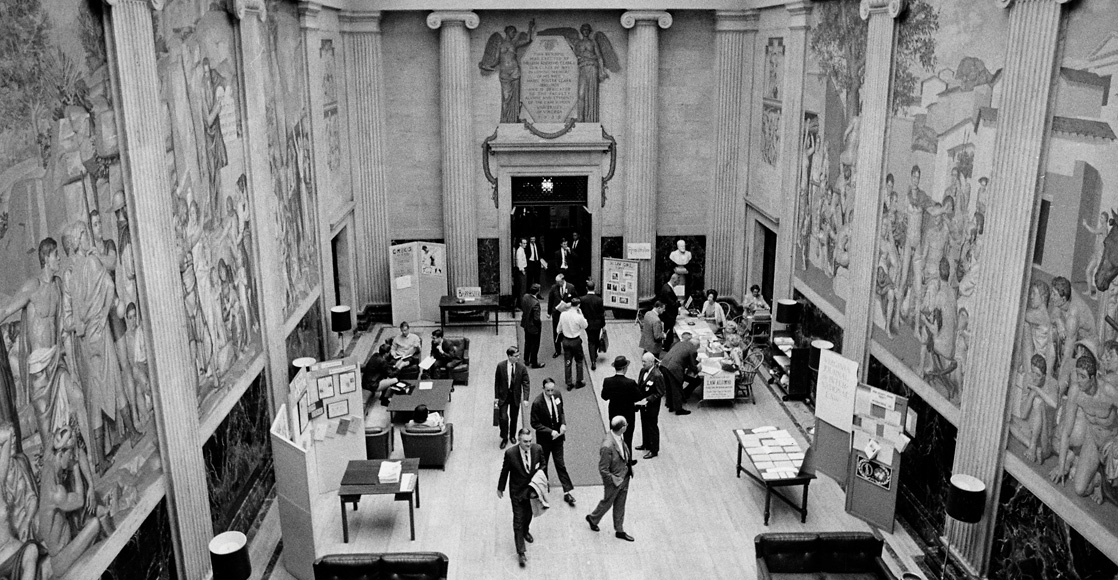 The Clark Memorial Hall entrance atrium, in an undated photo.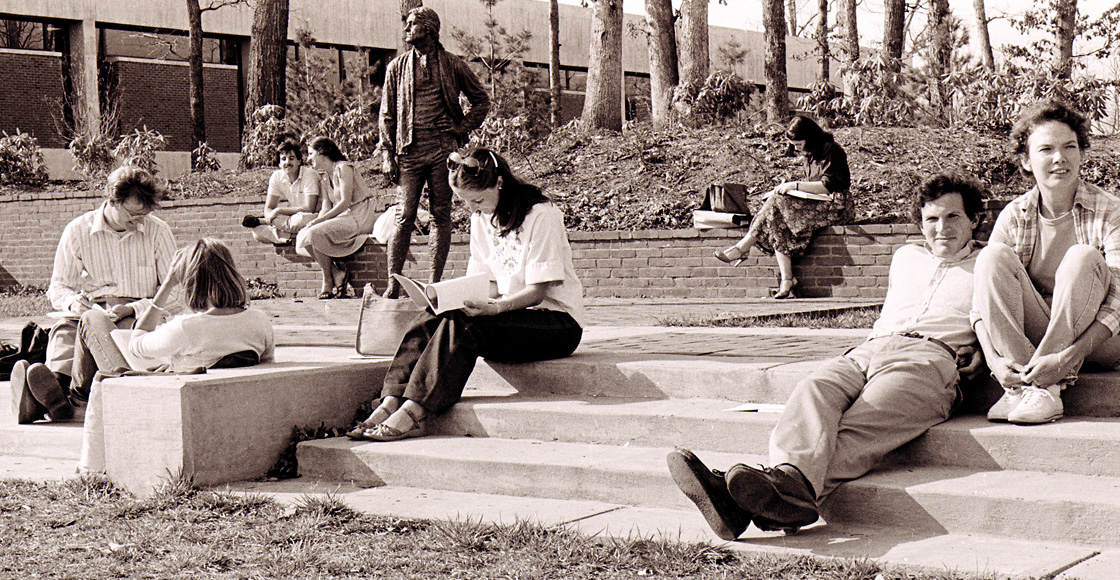 Moyston Court, between the Law School and Darden, was affectionately known as "Red Square." 
Remember the computer lab?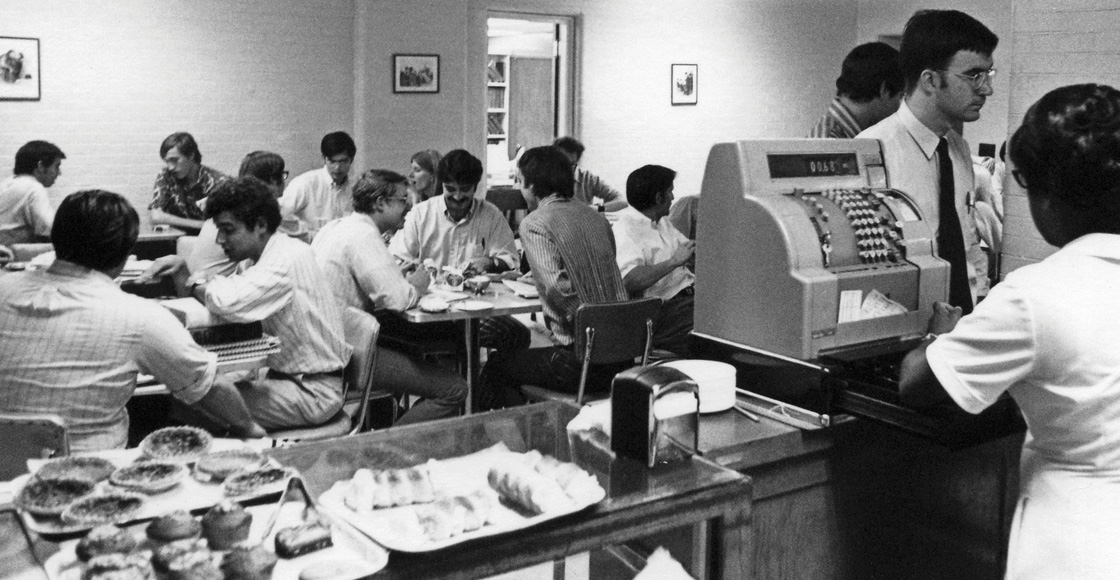 Tony's Café, here in 1971, served as a lunch spot before the school moved to North Grounds. 
In 1975, the William Minor Lile Moot Court competition took place in Old Cabell Hall on Main Grounds.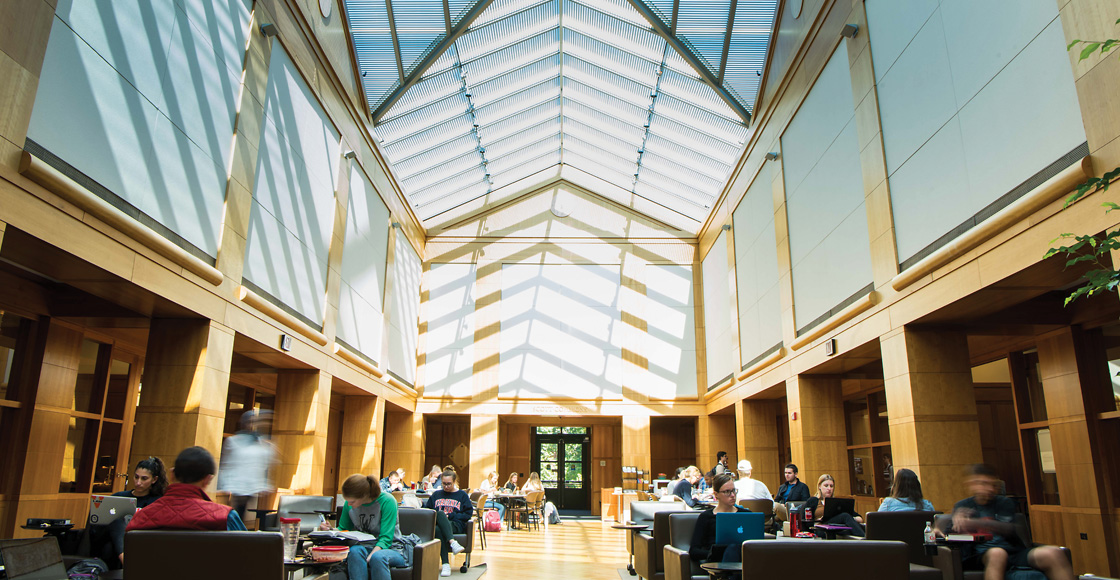 The HMZ | Class of 1975 Student-Faculty Center also houses Scott Commons.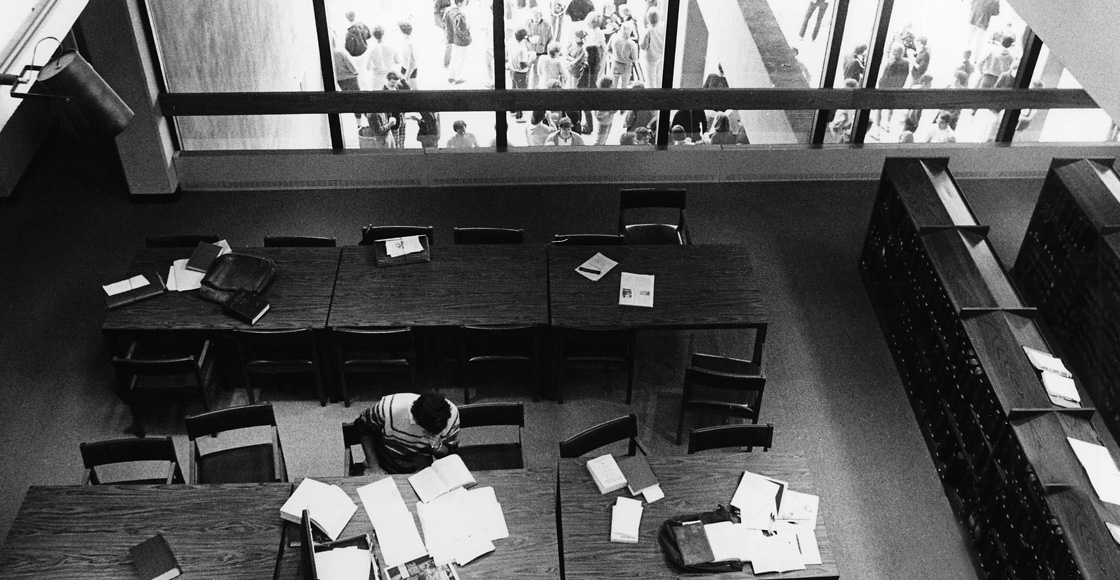 A student studies in the original library on North Grounds.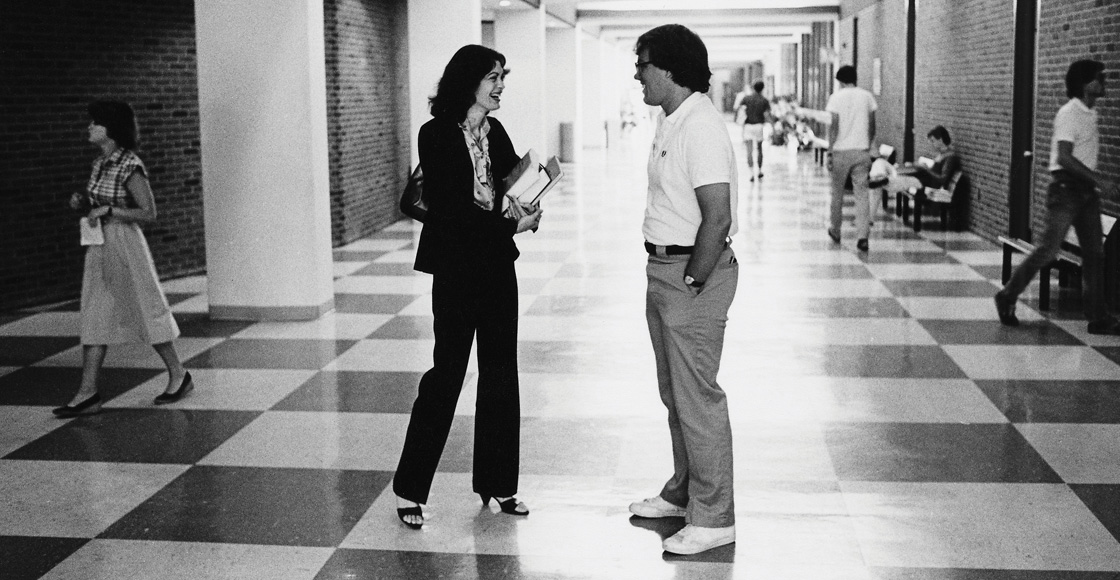 Students stand in the original hallway of Withers-Brown, before it was carpeted.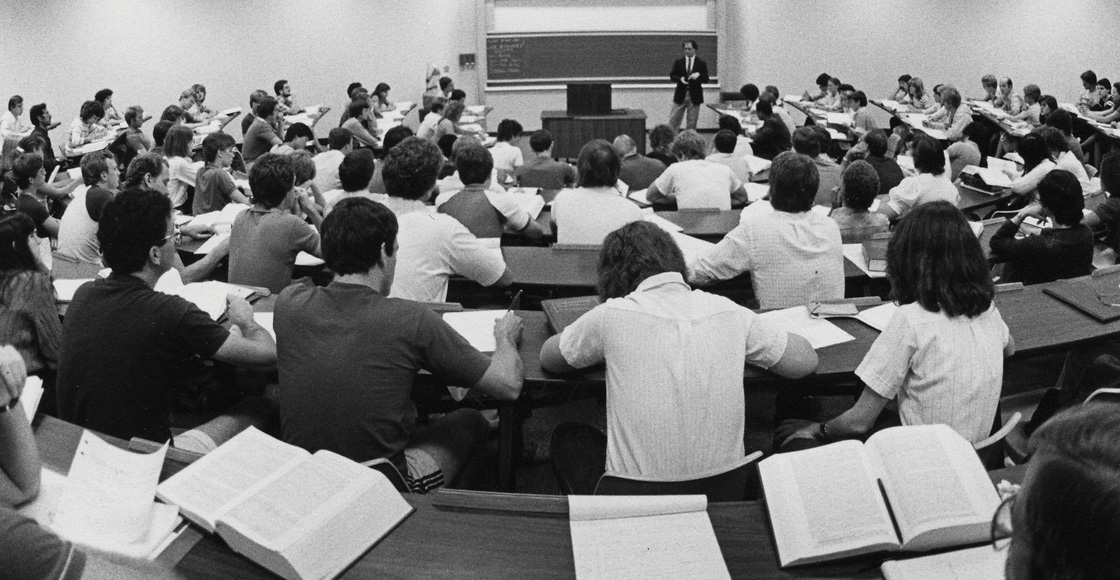 A classroom in 1983.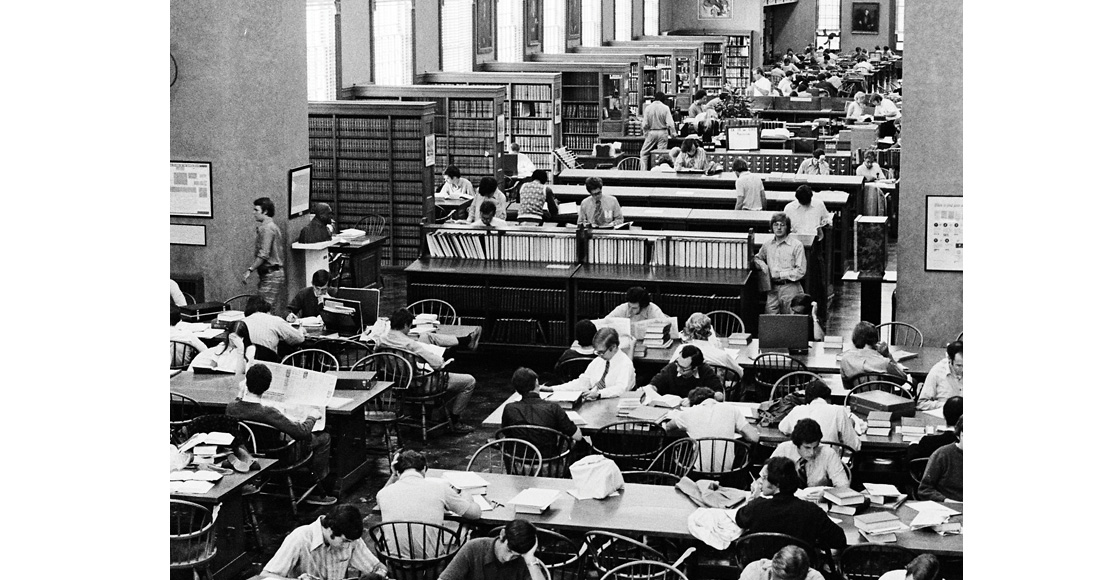 Clark Hall Memorial Library.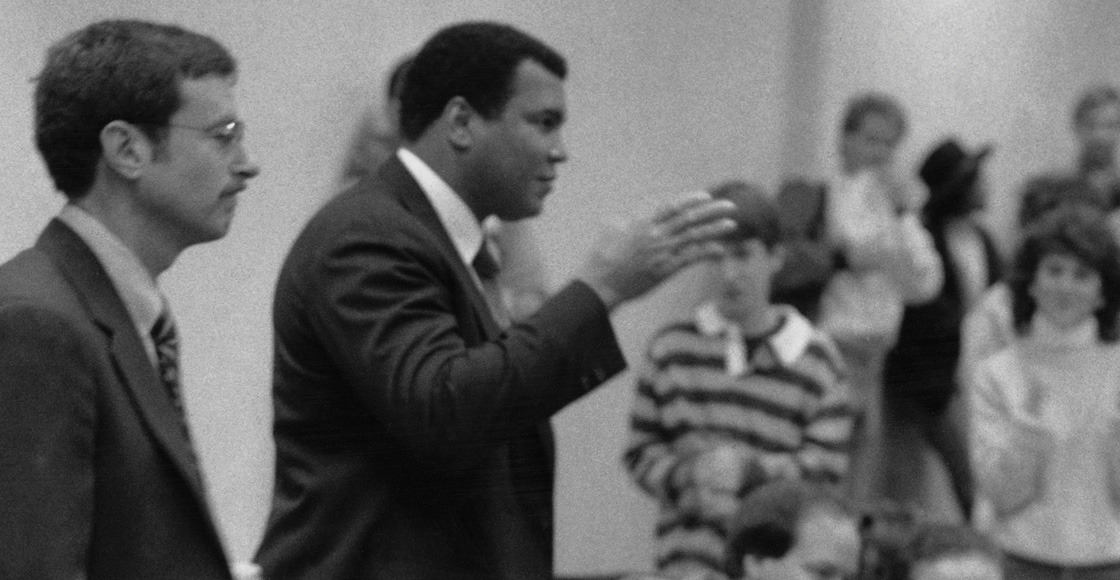 Boxing legend Muhammad Ali visits then-Professor Stephen A. Saltzburg's Criminal Procedure class in 1988 to discuss U.S. v. Clay. The Supreme Court case centered on Ali, formerly known as Cassius Clay, and his failure to report for military service during the Vietnam War on conscientious objector grounds.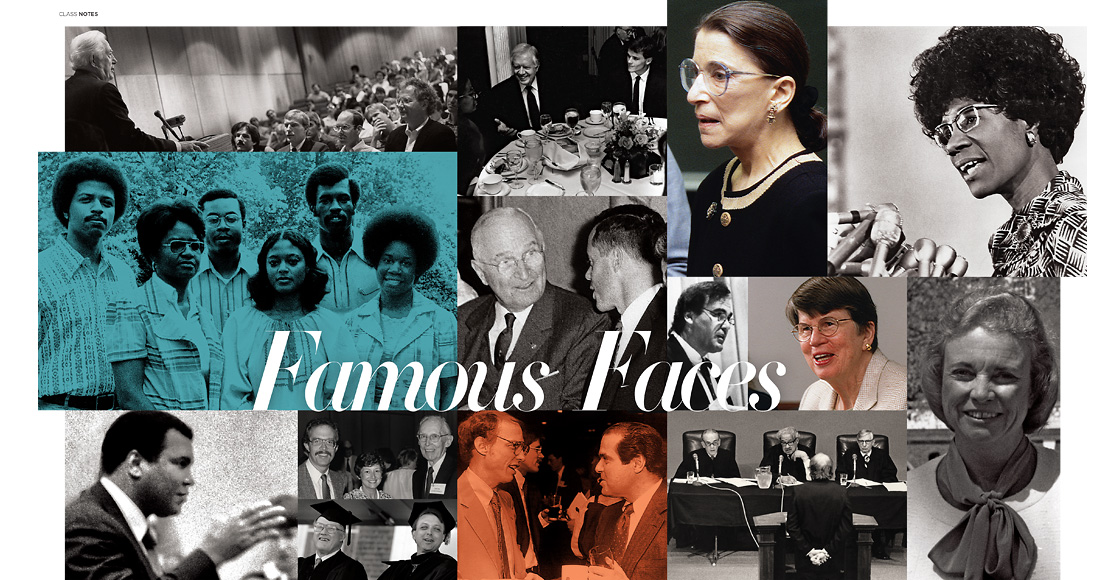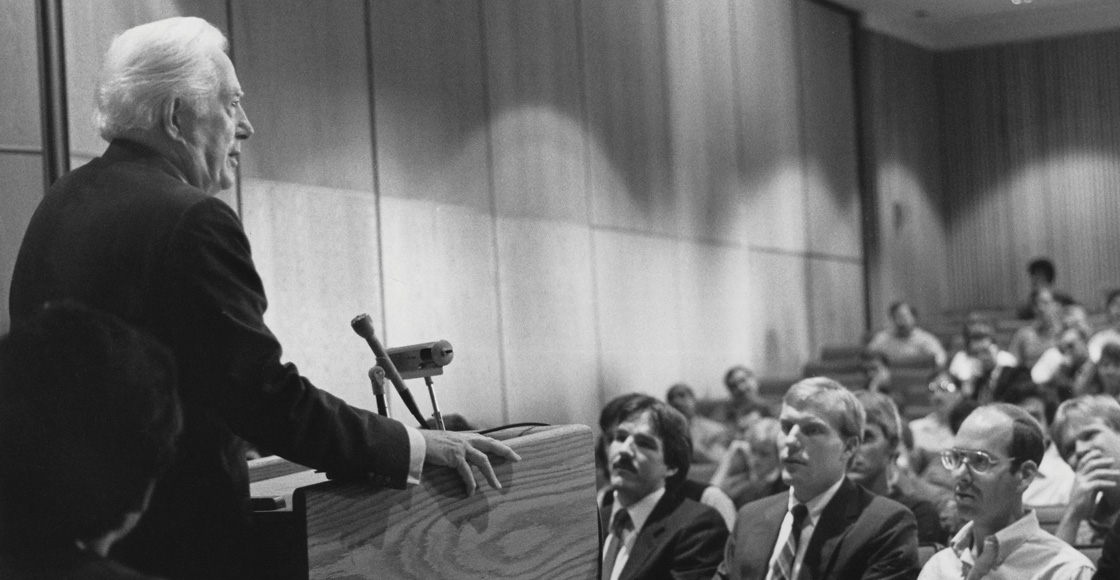 Chief Justice Warren Burger speaks at the Law School in 1985, a year before taking senior status on the court. 
In 1991, then-law student Jim Ryan '92, now president of UVA, meets former President Jimmy Carter at the inaugural Dillard Scholars' Lecture.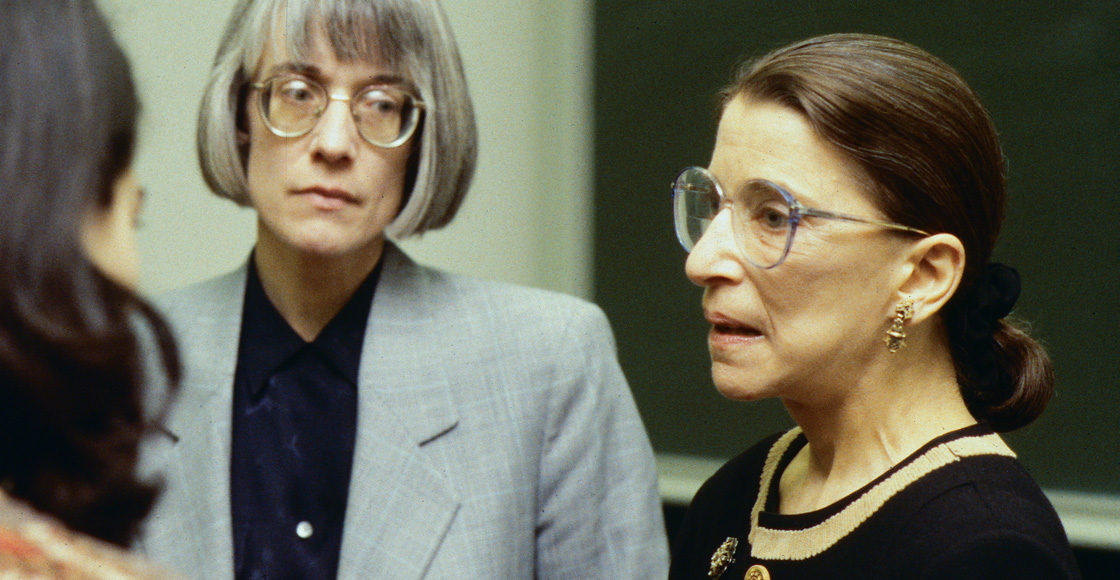 U.S. Supreme Court Justice Ruth Bader Ginsburg speaks to Professor Anne Coughlin's class before receiving the Thomas Jefferson Memorial Foundation Award in Law in 1997 (now the Thomas Jefferson Foundation Medal in Law).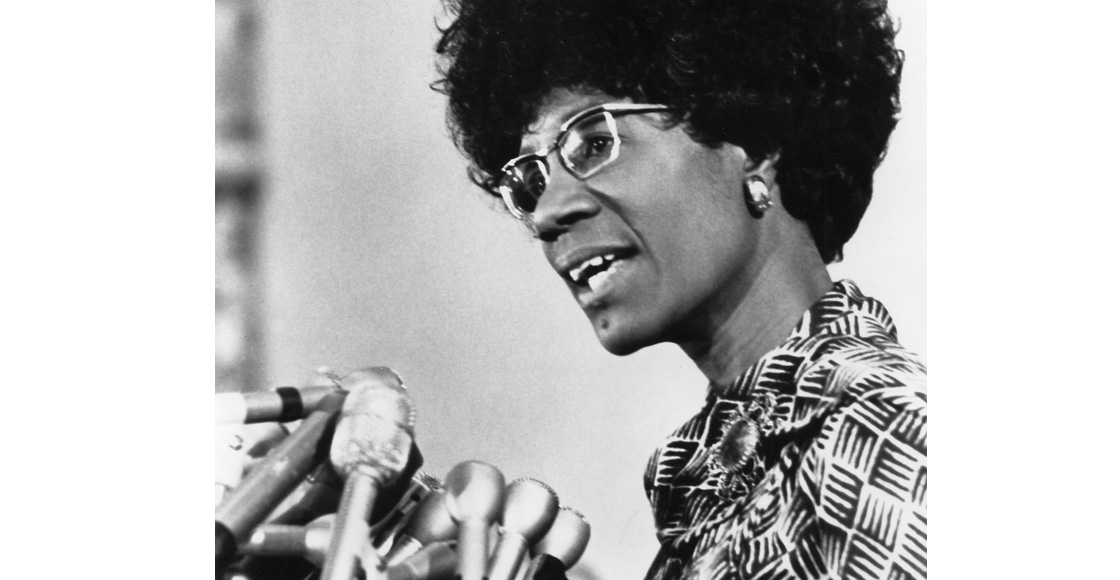 U.S. Rep. Shirley Chisholm, the first black woman elected to Congress, speaks at a Student Legal Forum event in 1973.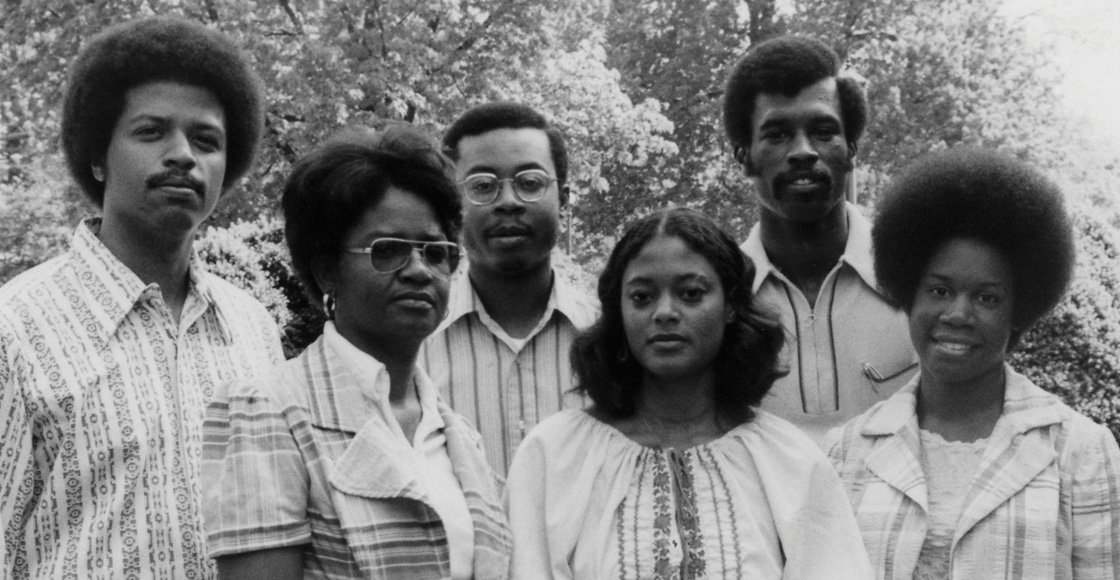 Members of the Law School's Black American Law Students Association in 1974 included Ronald Reynolds Wesley '75, Delores R. Boyd '75, Kester I. Crosse '75, Jan Freeman '75, Dennis L. Montgomery '75 and Sheila Jackson Lee '75. Reynolds is currently a principal at Reynolds Wesley and a commissioner in chancery of the Circuit Court of the city of Richmond, Virginia. Boyd is a retired U.S. magistrate judge in Alabama. Cross went on to practice in Delaware. Jackson Lee is currently the U.S. representative for Texas' 18th congressional district.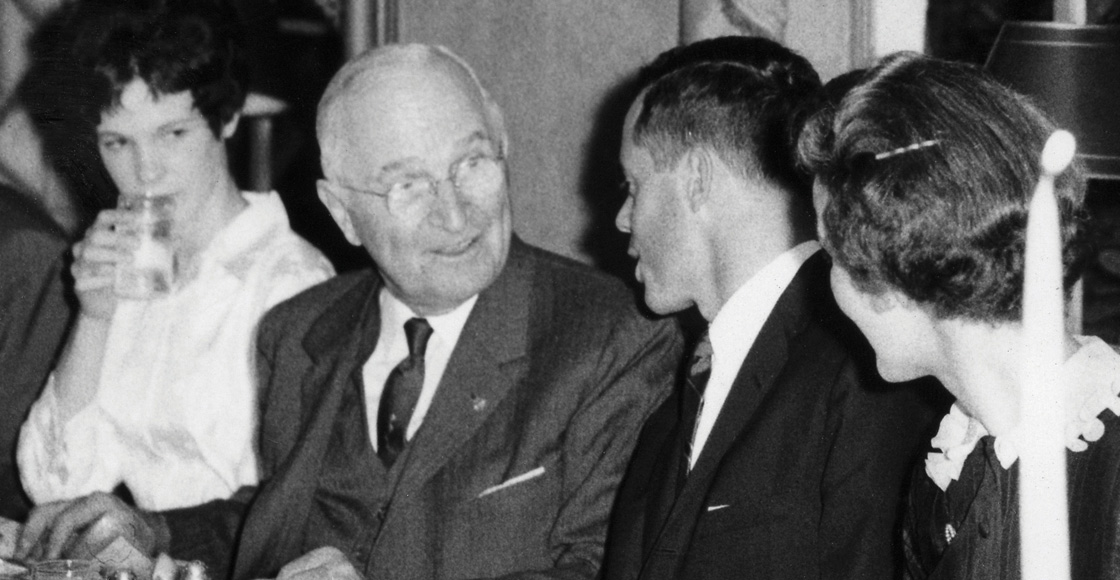 Former President Harry Truman speaks at the Student Legal Forum banquet in May 1960.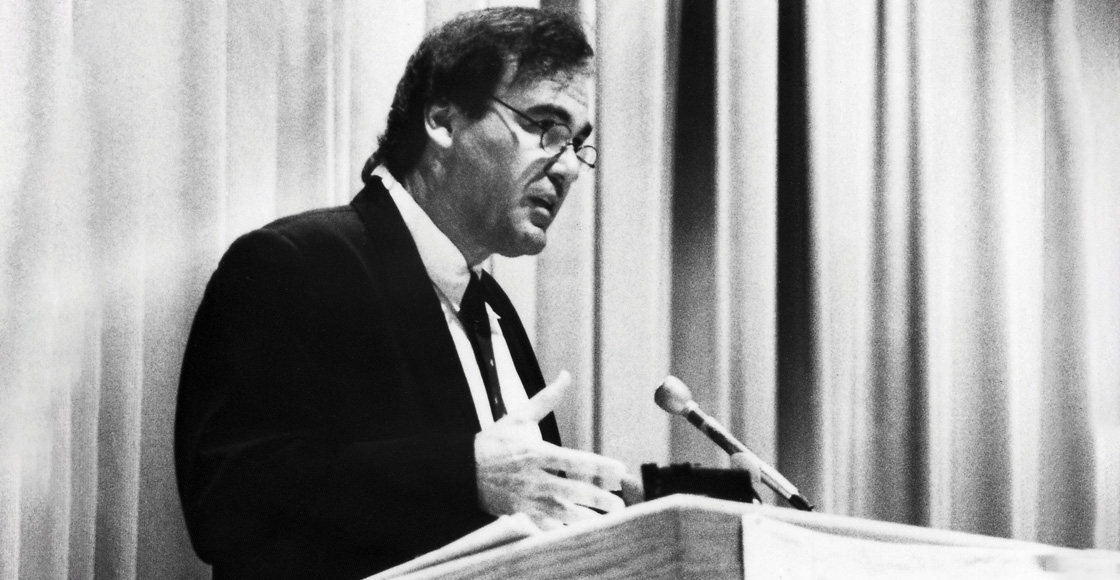 Academy Award-winning writer and director Oliver Stone lectures on "Culture in America in the Twentieth Century" at a Student Legal Forum event in 1993.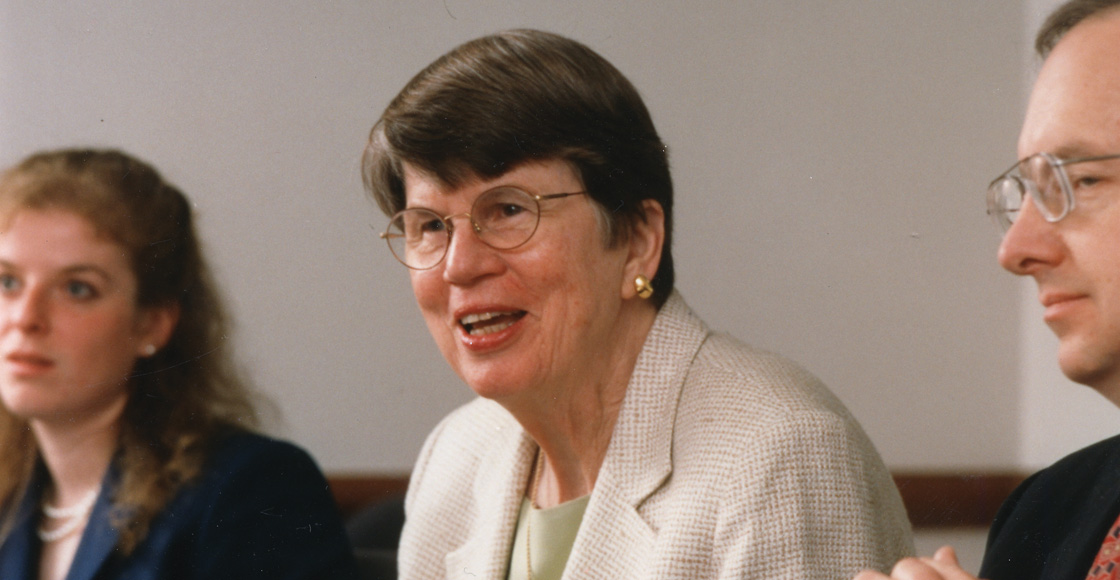 U.S. Attorney General Janet Reno speaks at the 40th anniversary celebration of the Virginia Journal of International Law in 2000.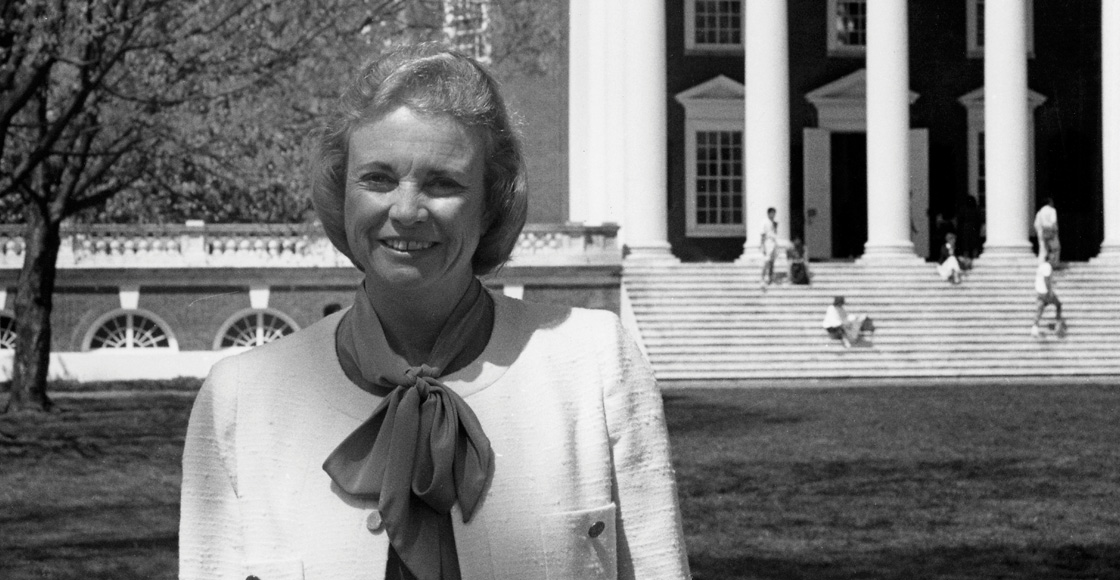 The first female U.S. Supreme Court justice, Sandra Day O'Connor, was also the first woman to receive the Thomas Jefferson Memorial Foundation Award in Law, in 1987.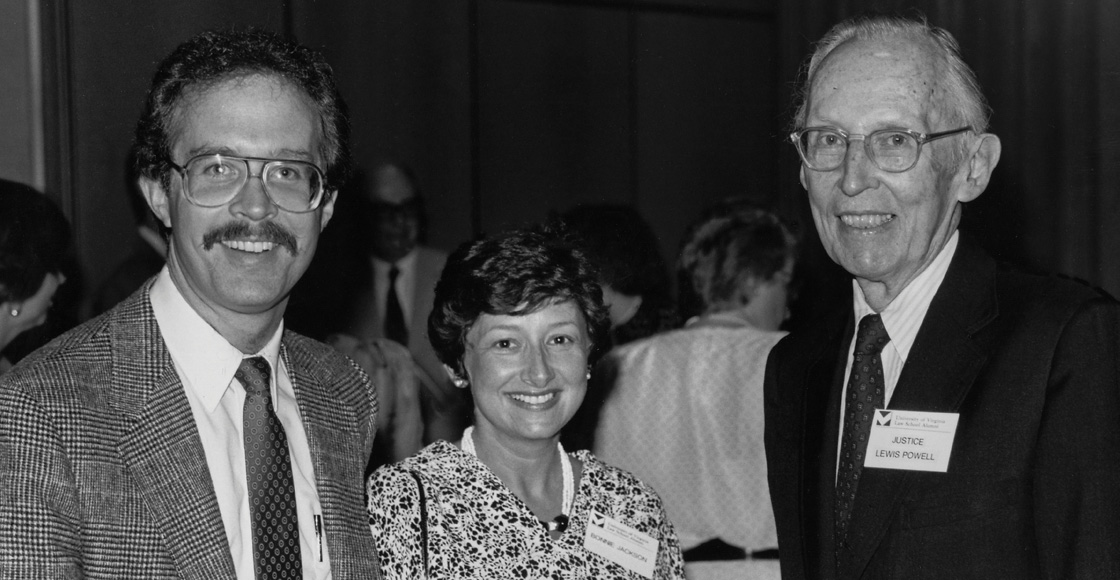 Dean Thomas A. Jackson, Bonnie Jackson and U.S. Supreme Court Justice Lewis F. Powell Jr. at a UVA Law alumni event, circa 1989.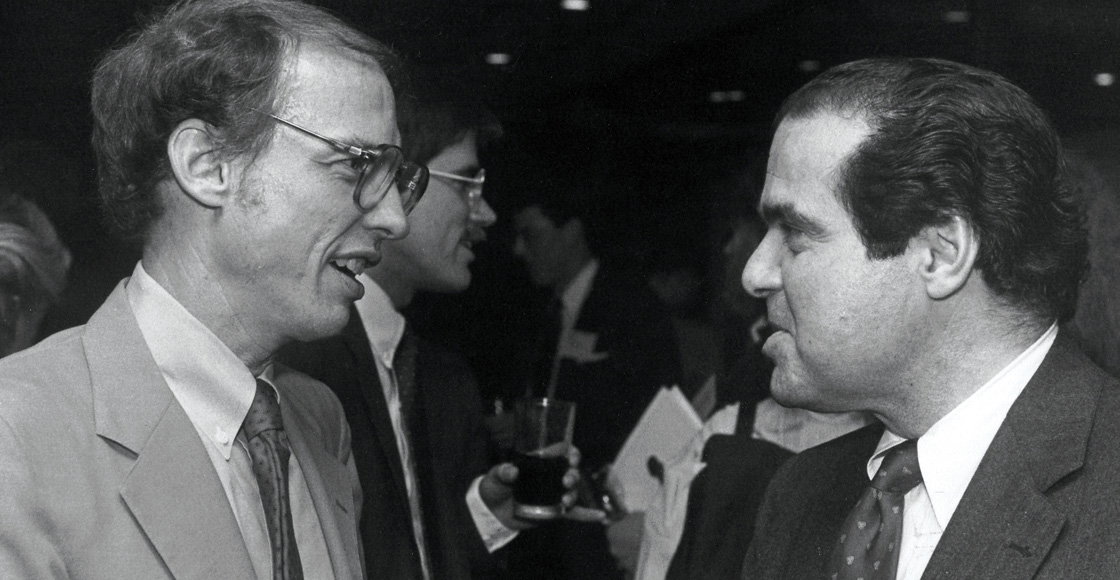 J. Harvie Wilkinson III '72 of the U.S. Court of Appeals for the Fourth Circuit chats with U.S. Supreme Court Justice Antonin Scalia at the Federalist Society symposium in 1988. Perhaps they were comparing notes as former UVA Law professors?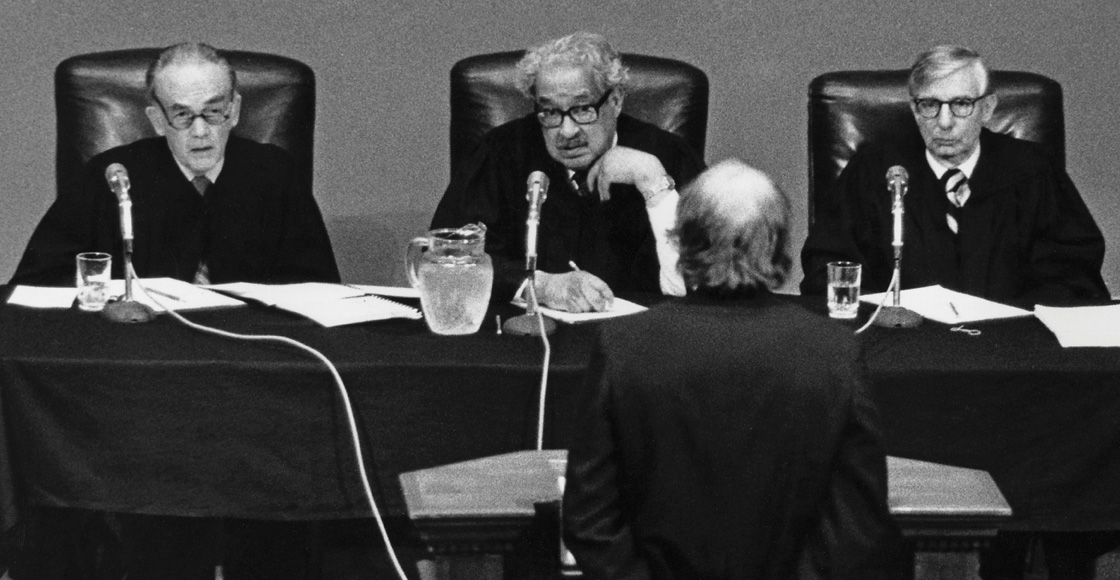 Peter W. Morgan '78 argues before Frank M. Coffin, chief judge of the U.S. Court of Appeals for the First Circuit; Thurgood Marshall, U.S. Supreme Court justice; and John D. Butzner Jr. of the U.S. Court of Appeals for the Fourth Circuit, during the 50th anniversary of the William Minor Lile Moot Court competition, in 1978.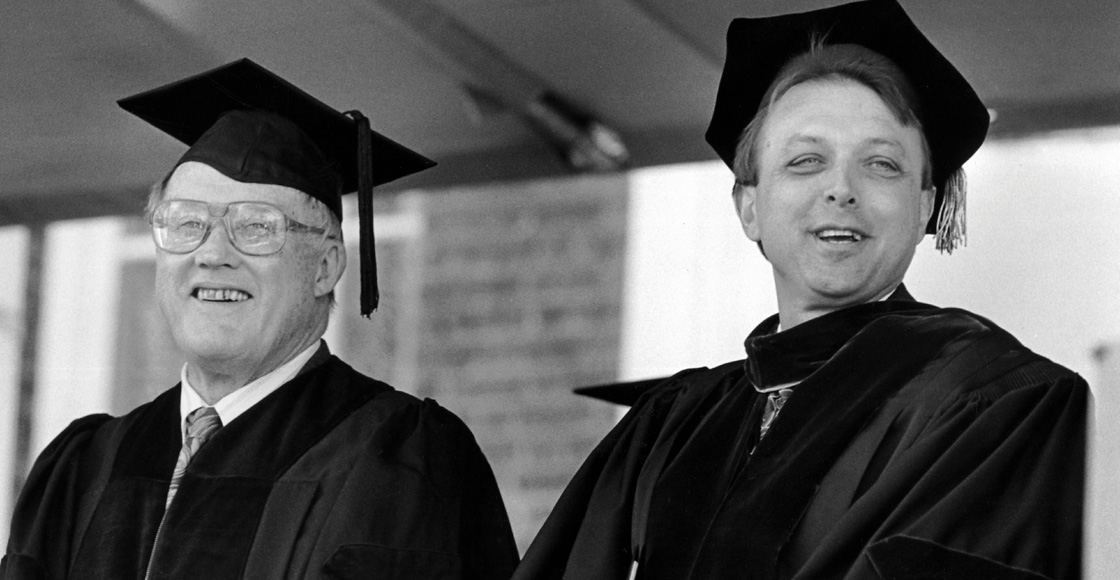 Chief Justice William H. Rehnquist and Dean Robert C. Scott celebrate the 250th anniversary of Thomas Jefferson's birthday in 1993.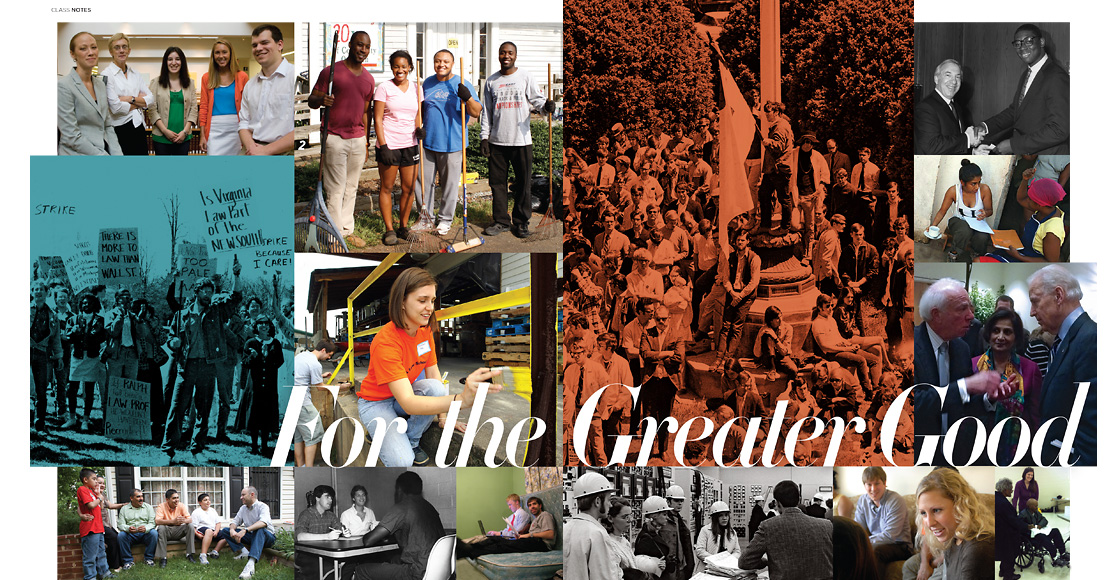 Formed in 2011, the Molly Pitcher Project advocated for women in the military to be eligible for combat roles by laying the groundwork for a federal discrimination lawsuit. By January 2013, the Defense Department lifted the ban on women in combat. Members included Helen O'Beirne '13, professor Anne Coughlin, Ariel Linet '13, Rebecca Cohn '13 and Kyle Mallinak '13.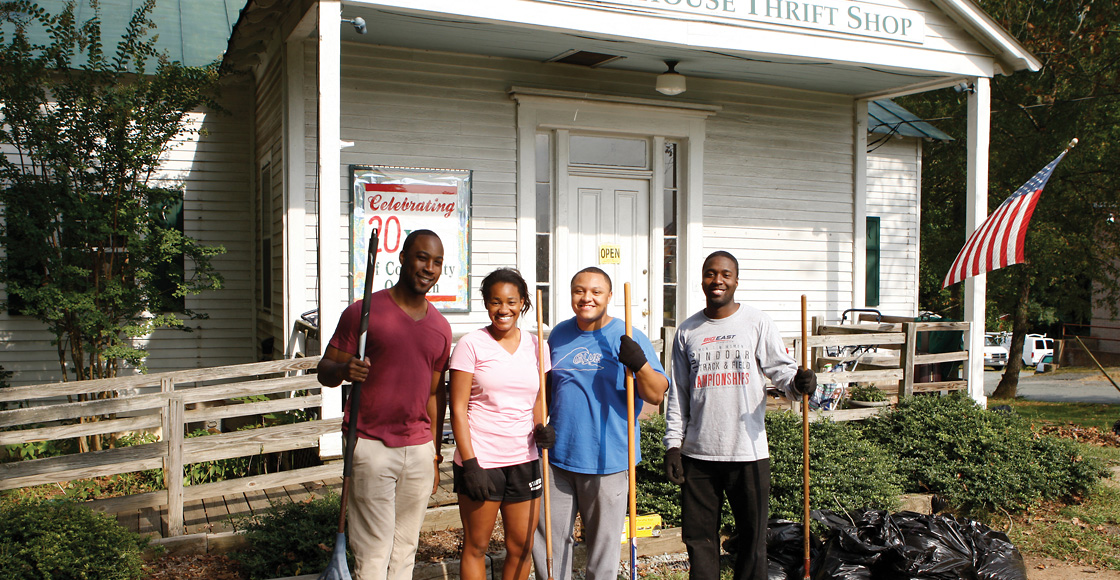 Black Law Students Association members and 2014 classmates Andrew Person, Andrea Canfield, Andrew Thebaud, and Sean Suber clean up outside the Schoolhouse Thrift Shop in Charlottesville as part of the organization's community service week in 2012.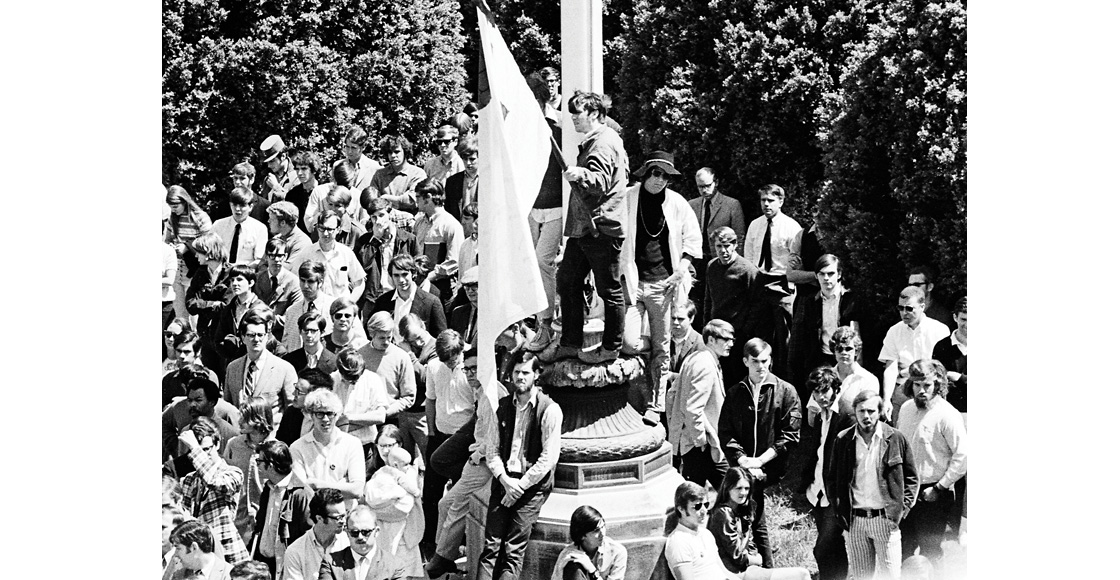 In May 1970, the American invasion of Cambodia and the slaying of students by National Guardsmen at Kent State University led to strikes and protests by students on college campuses across the country, including at UVA. During a May 6 rally at the Rotunda, law students served as marshals and attempted to control the strike chaos, protect people and property, and advise students as needed on their rights. Later, Donald Santarelli '62 and Thomas M. Boyd '71 helped rewrite the UVA student code of conduct to be more specific and fair in addressing misconduct.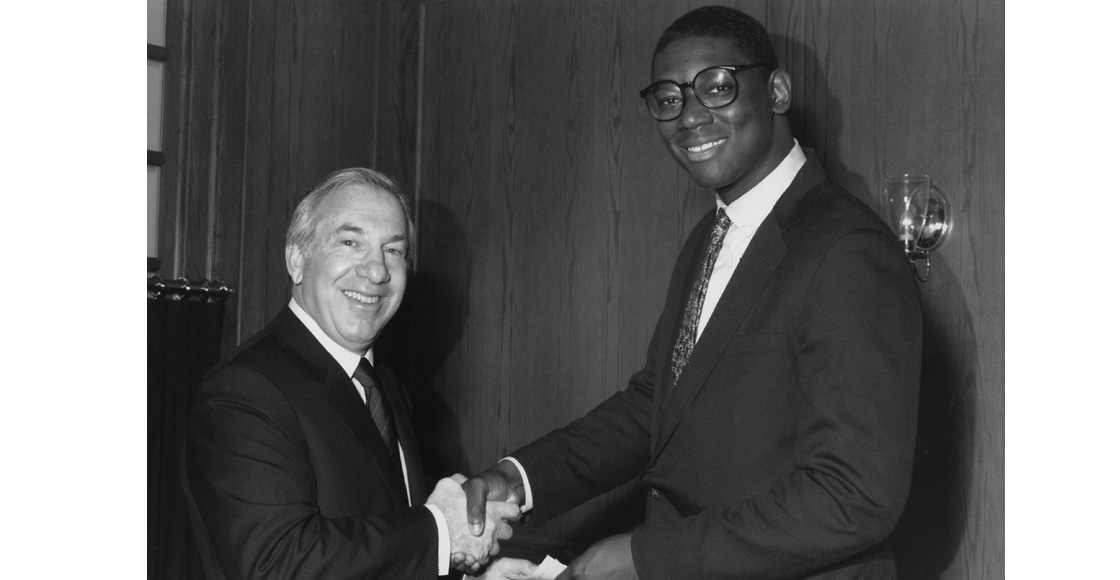 Daniel Rosenbloom '54 shakes hands with Stephen F. Smith '92, the first recipient of the Rosenbloom Award, given to a student with a strong academic record who supports or assists other students. Smith later became the John V. Ray Research Professor at UVA Law, and has been a professor at Notre Dame Law School since 2009.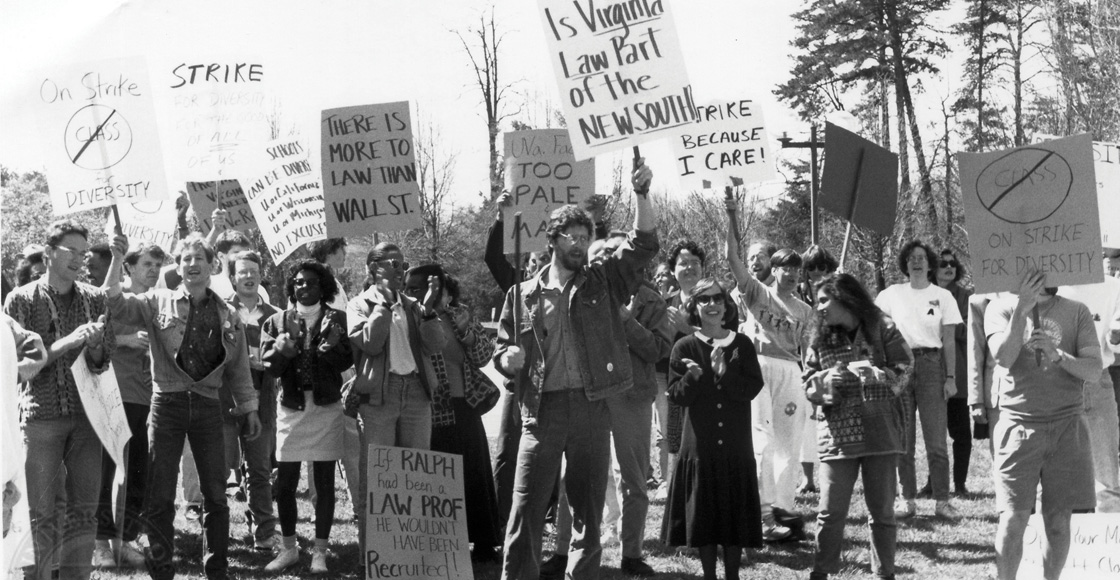 Students protest the lack of diversity among the Law School faculty by boycotting classes during the early 1980s.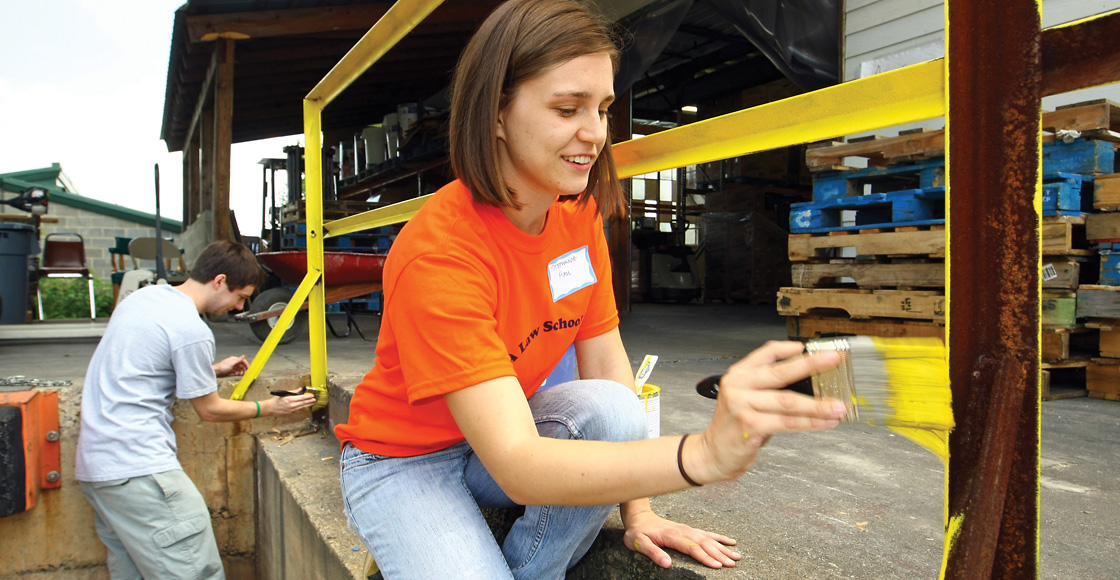 Members of the Class of 2012 paint at the Blue Ridge Food Bank during the annual New Students Public Service Day in 2009.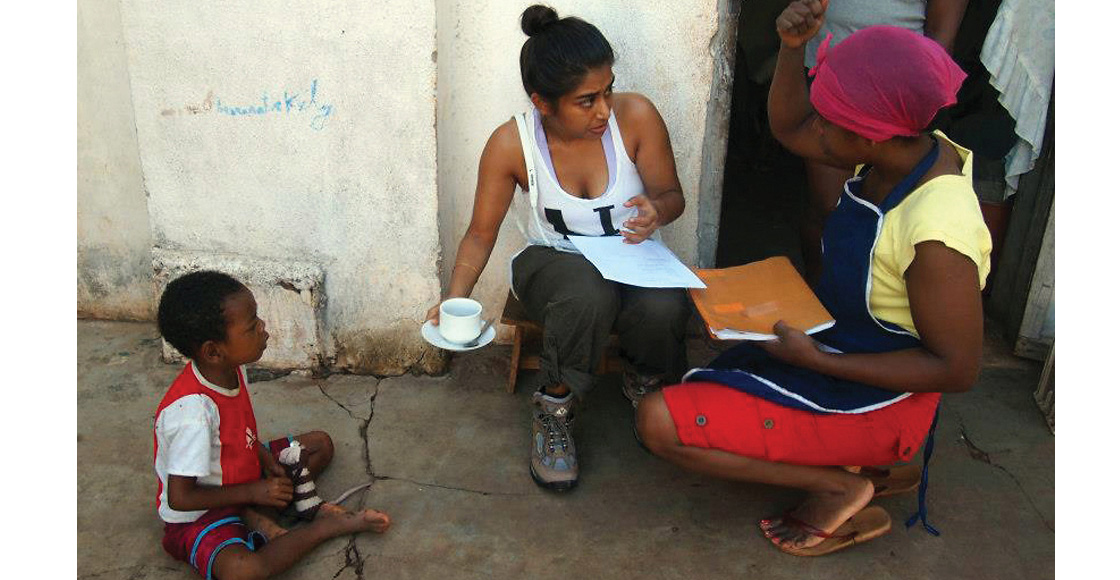 Sabrina Talukder '14 (left) interviews a hotel owner about her personal experience with sex trafficking during a 2013 Human Rights Study Project trip to Madagascar.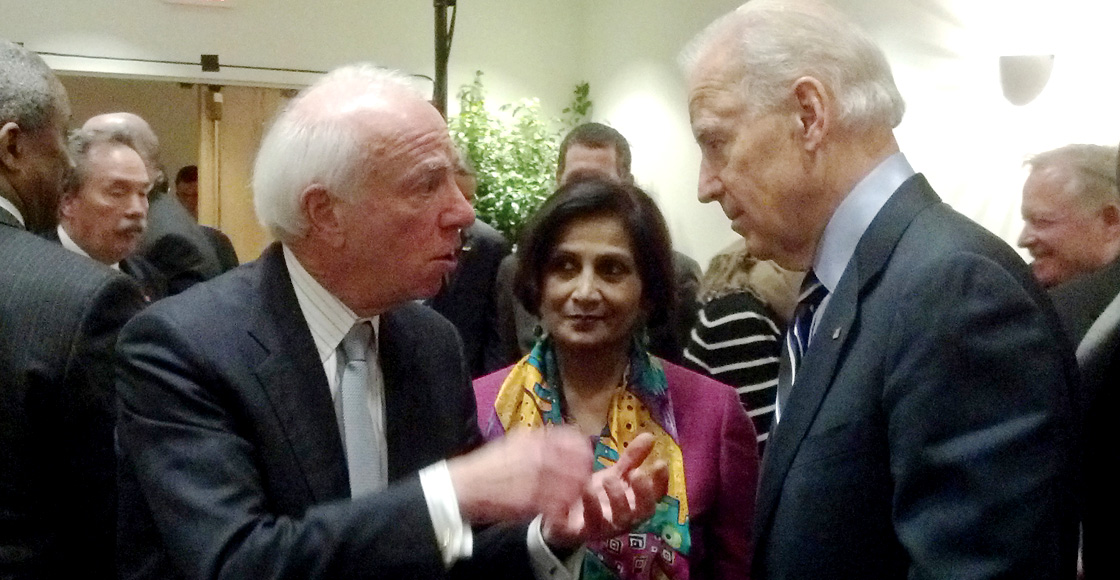 Professor Richard Bonnie takes part in a roundtable discussion on gun violence and possible reforms with Vice President Joe Biden in 2013, spurred by the Sandy Hook shooting.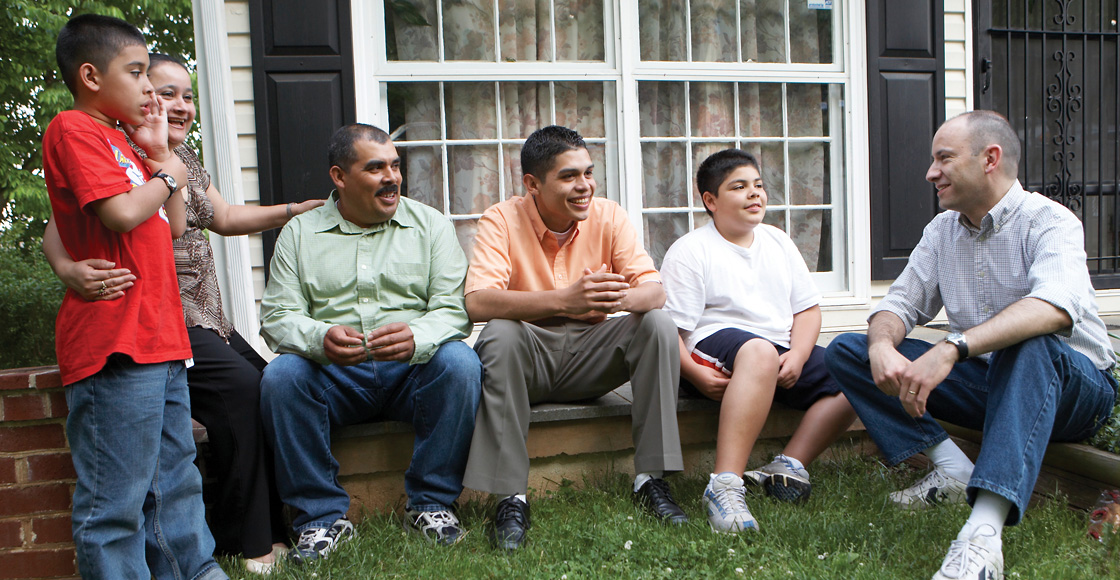 Phil Storey '09 helped Gabriel Rivas (third from left) become naturalized through the Immigration Law Clinic.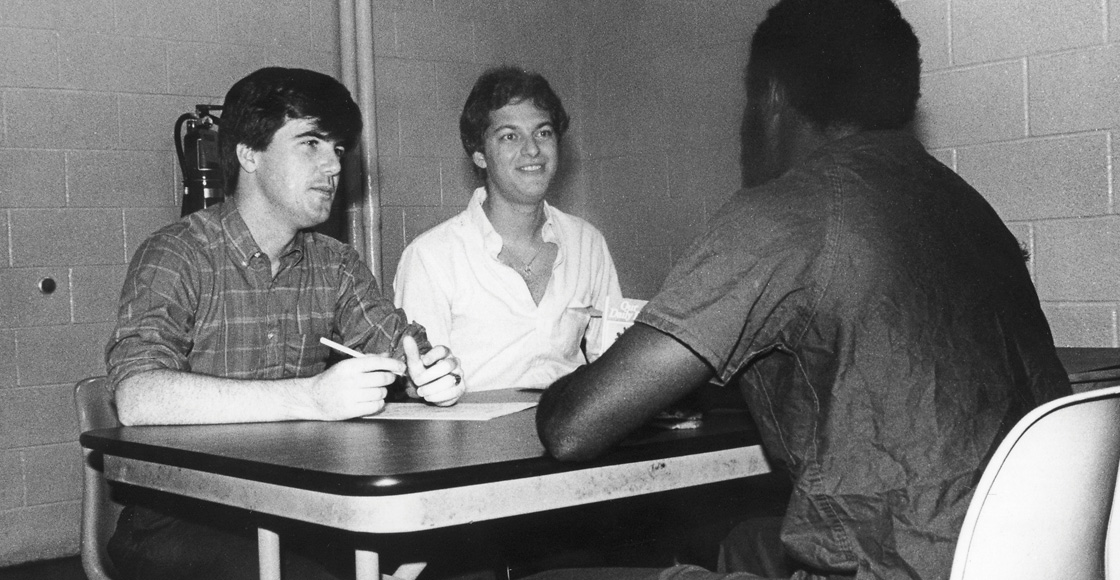 Post-Conviction Assistance Project members Tom Walls '87 and Norman Cherner '86 interview an inmate as part of a bail project. 
John White '11 and David Smith '10 volunteered in Kentucky during the first Public Interest Law Association alternative spring break in 2009.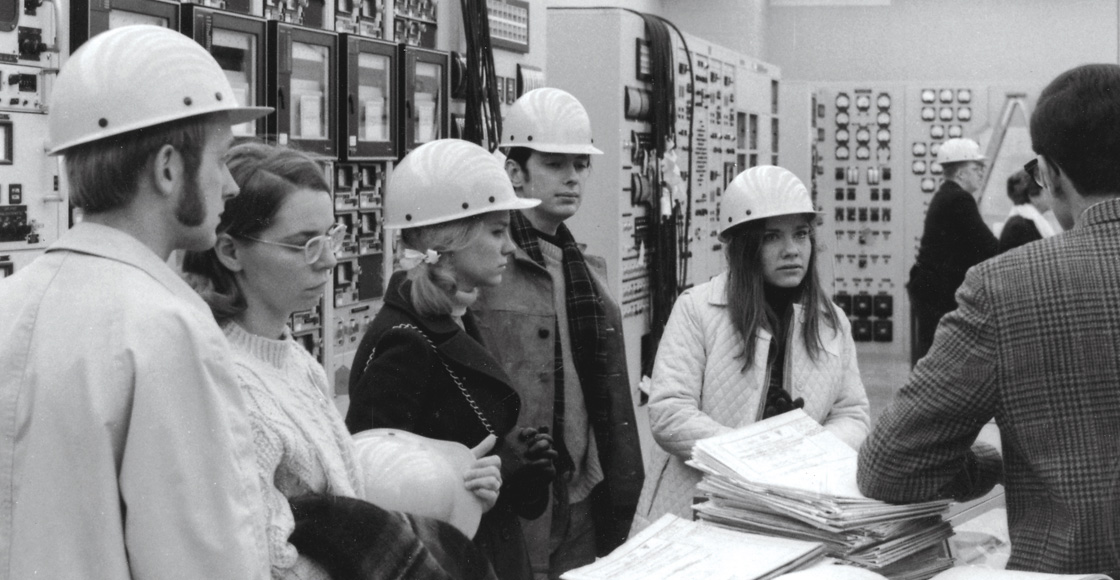 Students from the Legal Environment Group, a precursor to the Virginia Environmental Law Forum, tour the nuclear Surry Power Station in Virginia in 1971.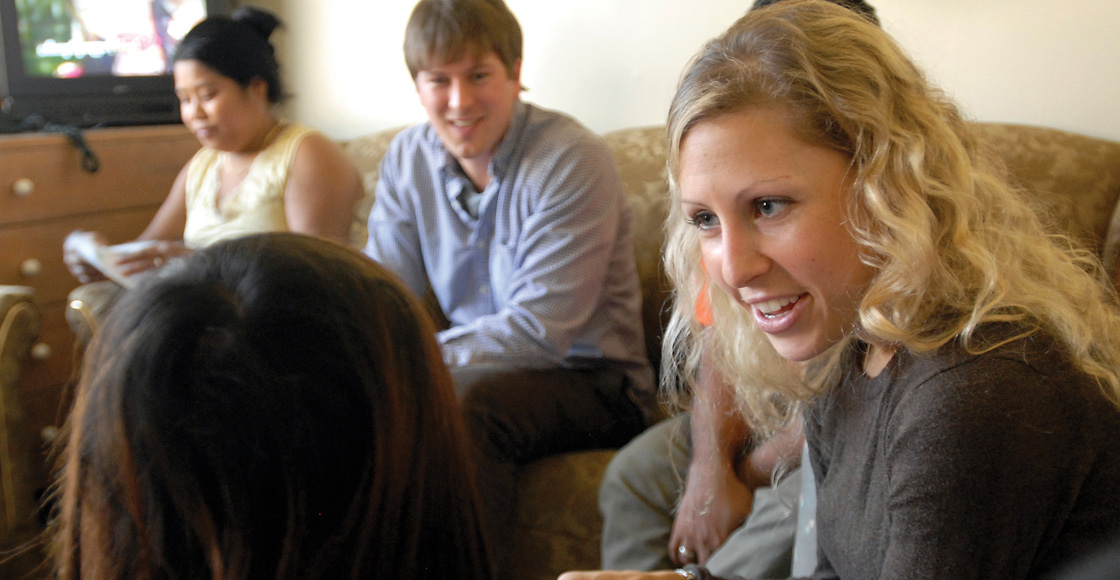 Rebecca Vallas '09, who served as president of the Public Interest Law Association and as a Skadden Fellow after graduation, talks with clients in 2009.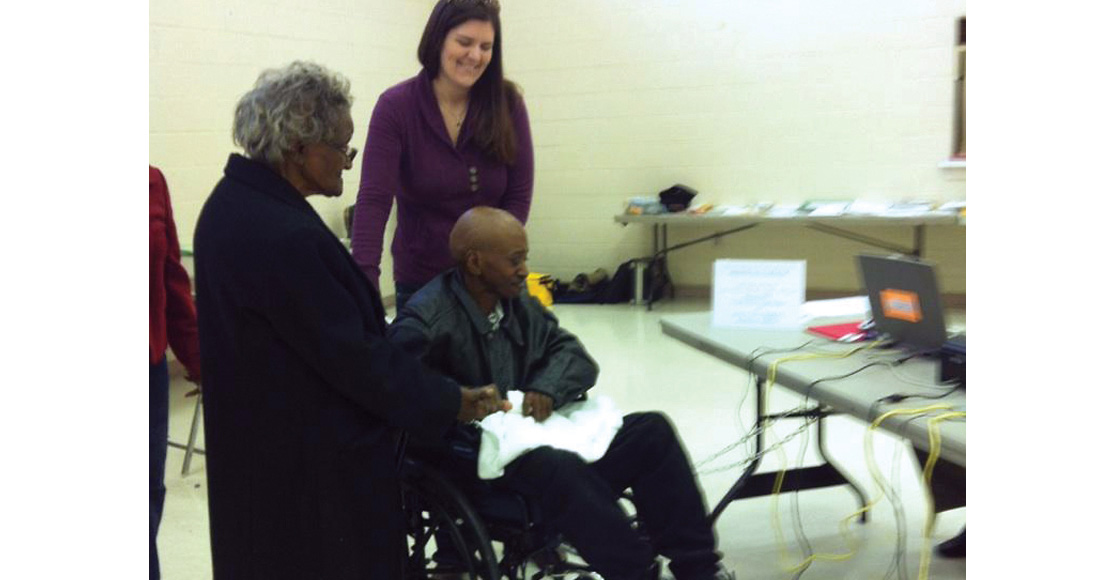 Innocence Project Clinic student Alexandra Meador '14 accompanies client Bennett Barbour to the polls in November 2012 as he votes for the first time, after he was exonerated with help from the clinic. Barbour died just two months later of bone cancer.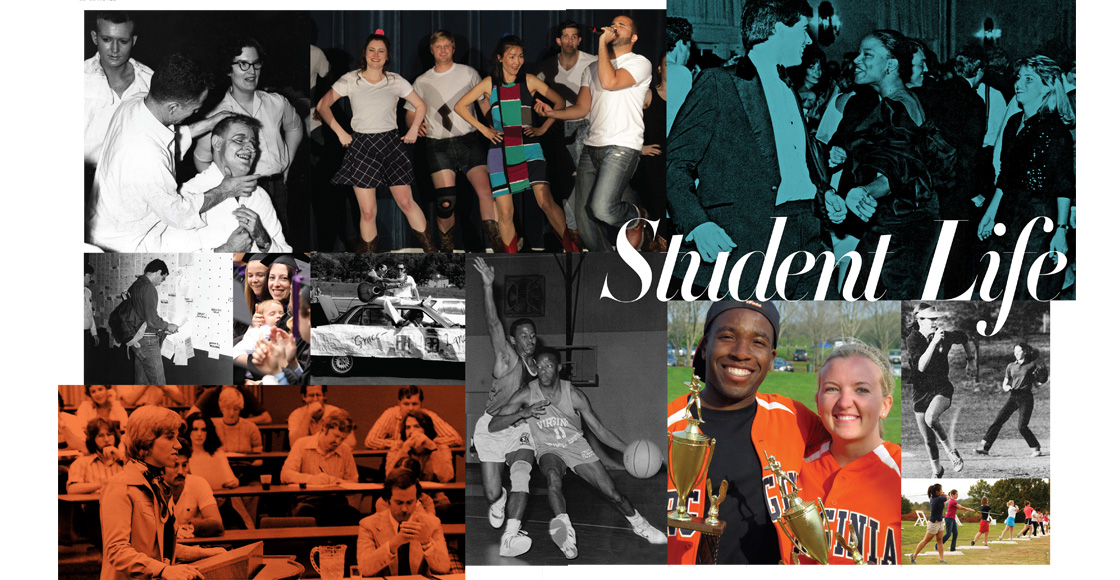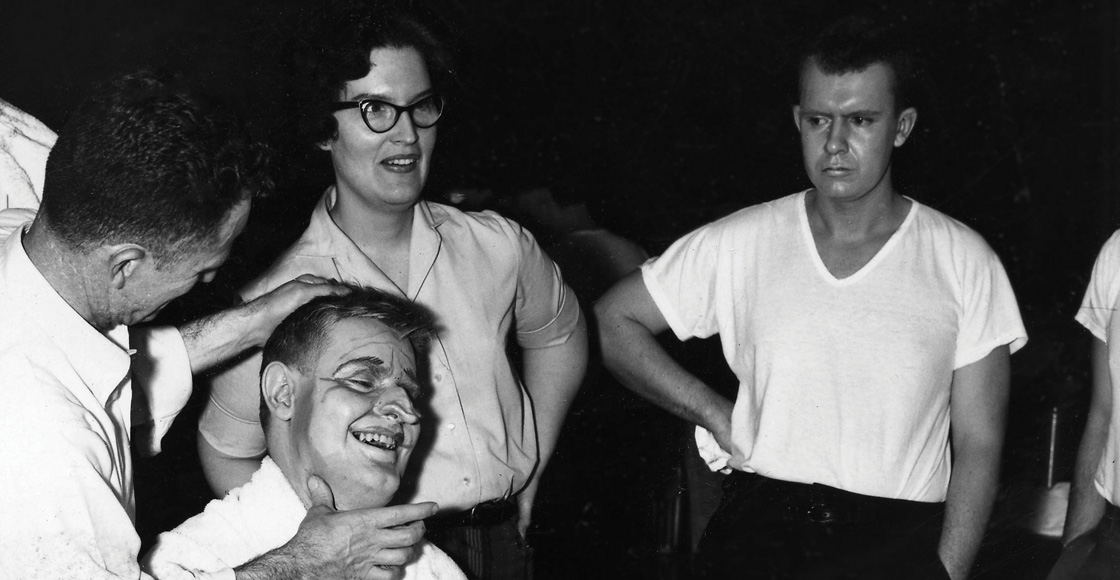 A student puts makeup on for the Libel Show in 1961.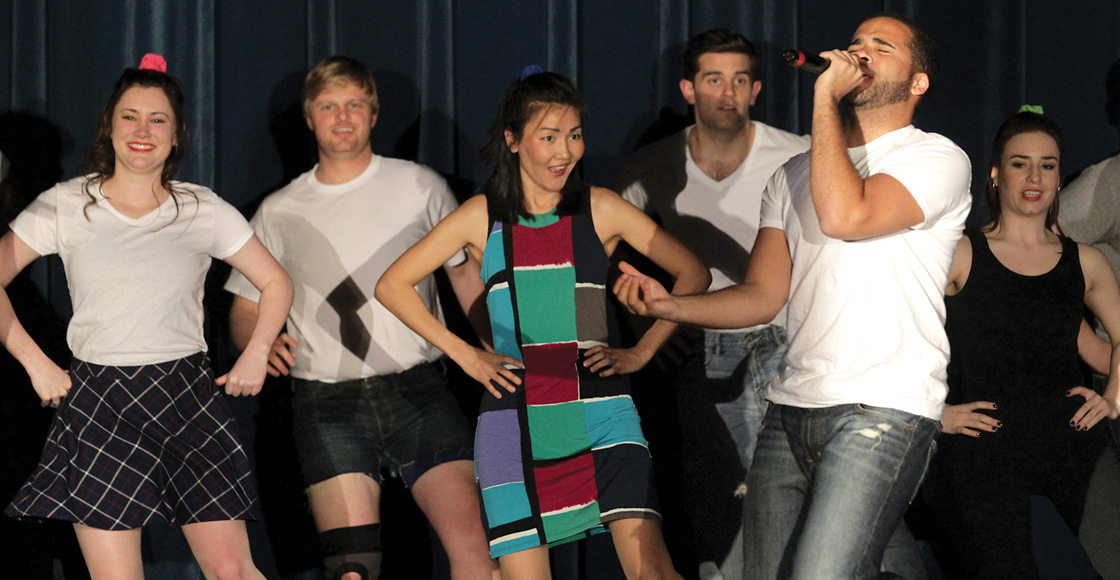 Chris Knight '15 leads a number in the 107th Libel Show in 2015. The musical-sketch-comedy show today involves a cast and crew of more than 100.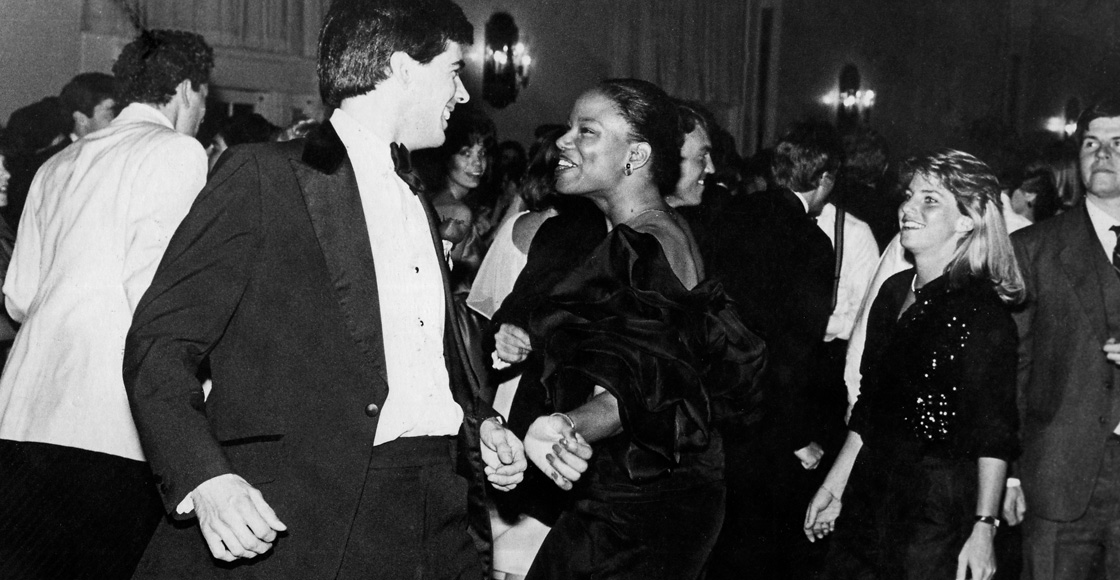 Students dance at Barristers' Ball in Newcomb Hall Ballroom in 1984.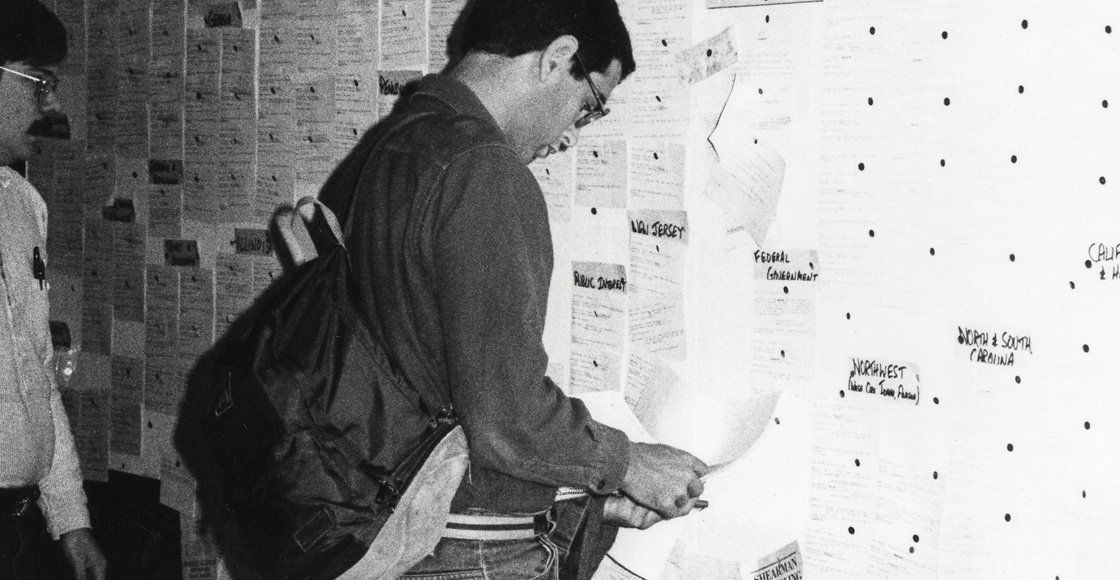 A student examines a list of possible job opportunities with the federal government in 1985.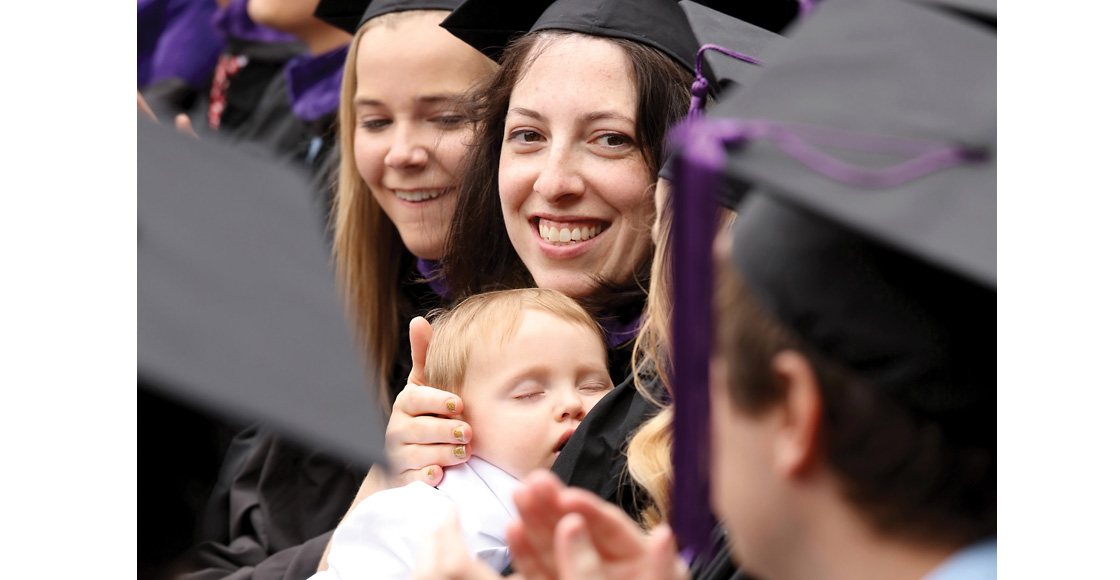 Casey T.S. Jonas '17 and her son, Coplan, at graduation.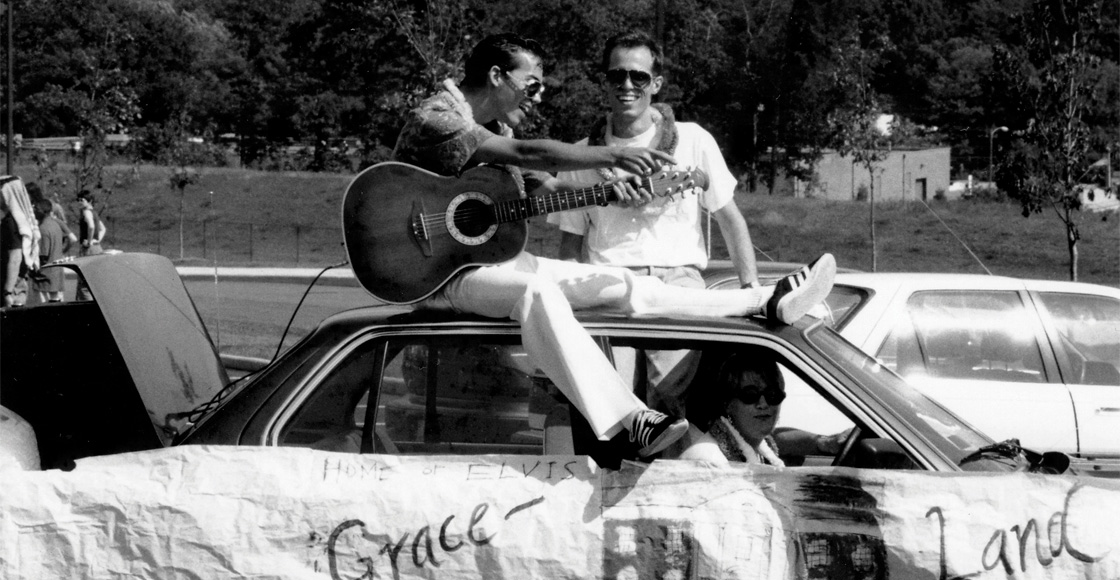 First-year students participate in the Dandelion Parade circa 1996.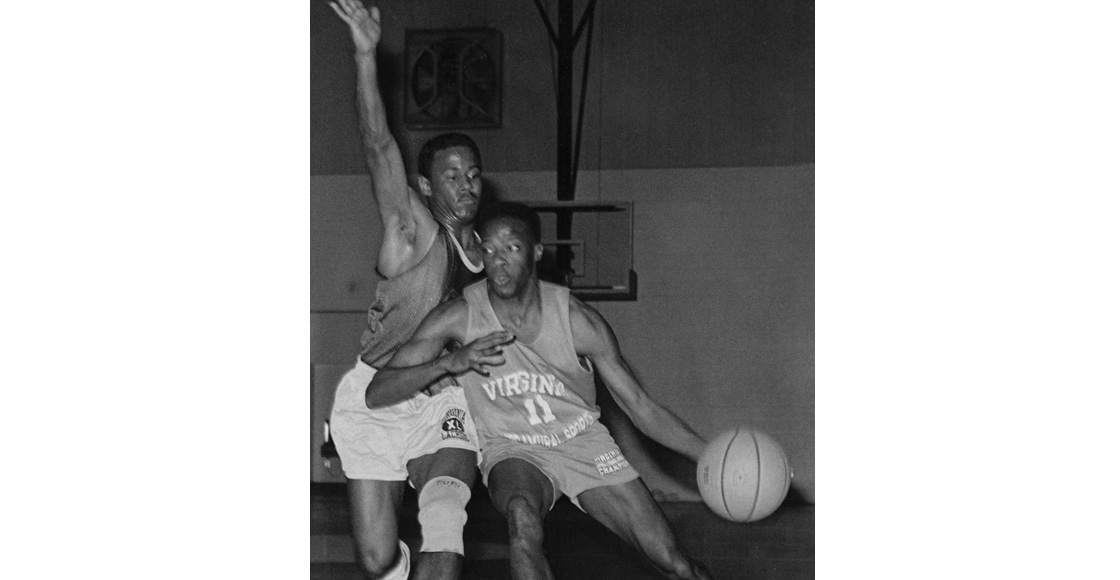 In the 1989 finals of the Law School Section Basketball Tournament, Ken Wheeler '91 (11) attempts to drive past Julian Brown '91.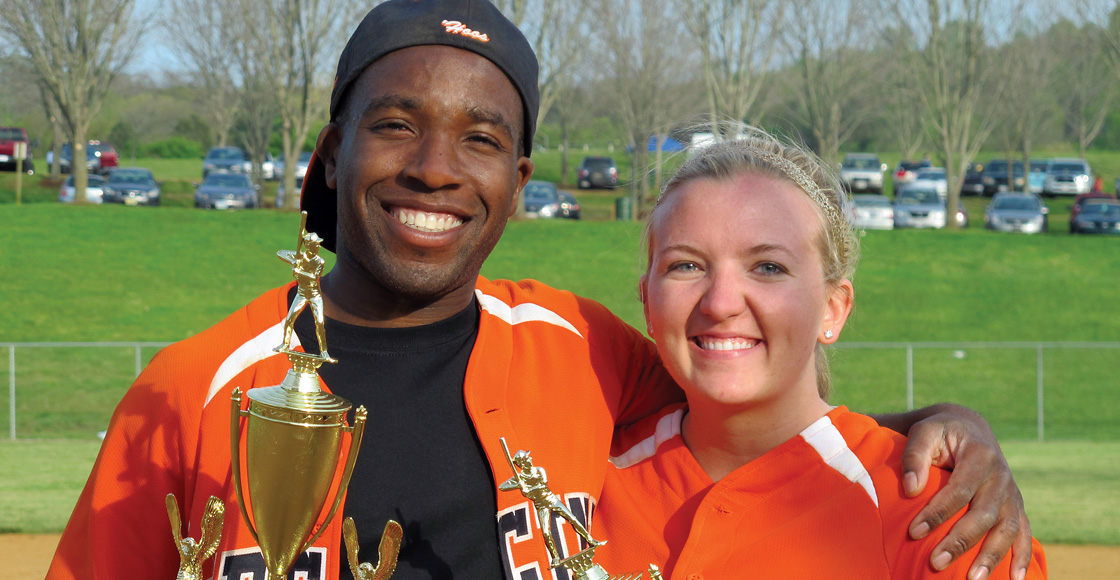 Ikenna Adams '12 and Kristen Bromberek '12 celebrate after their victories at the annual North Grounds Softball League invitational in 2012.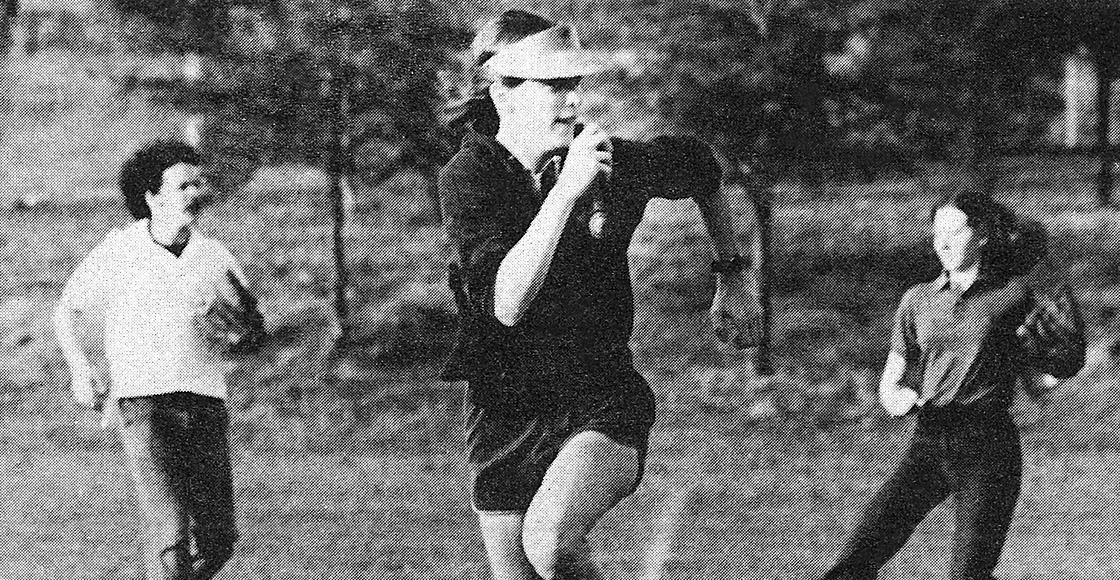 A North Grounds Softball League game in 1979.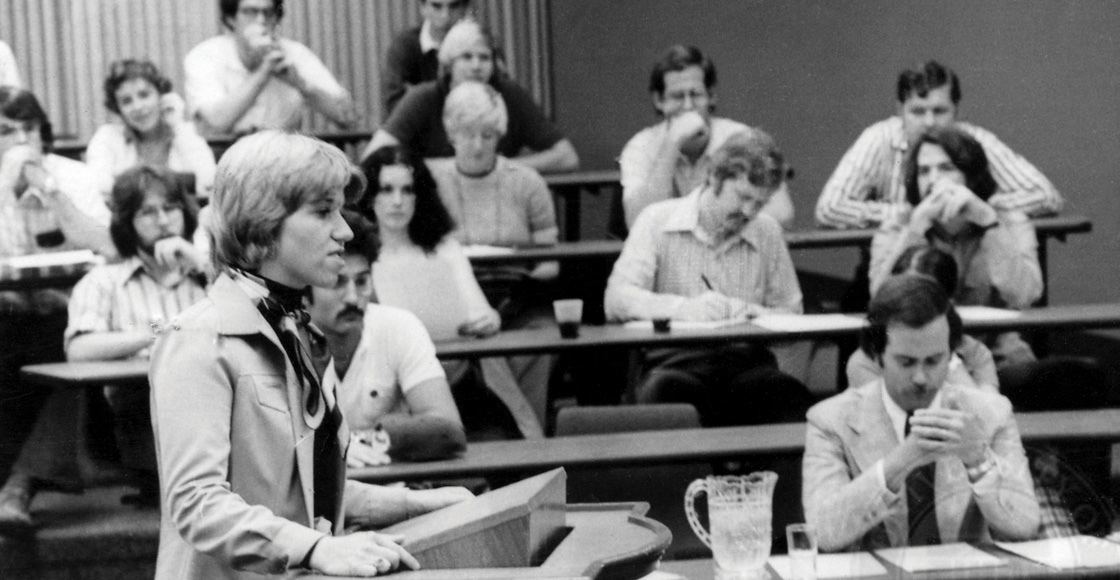 Petitioner Nancy Sparks '76 presents her argument during the William Minor Lile Moot Court quarterfinal round.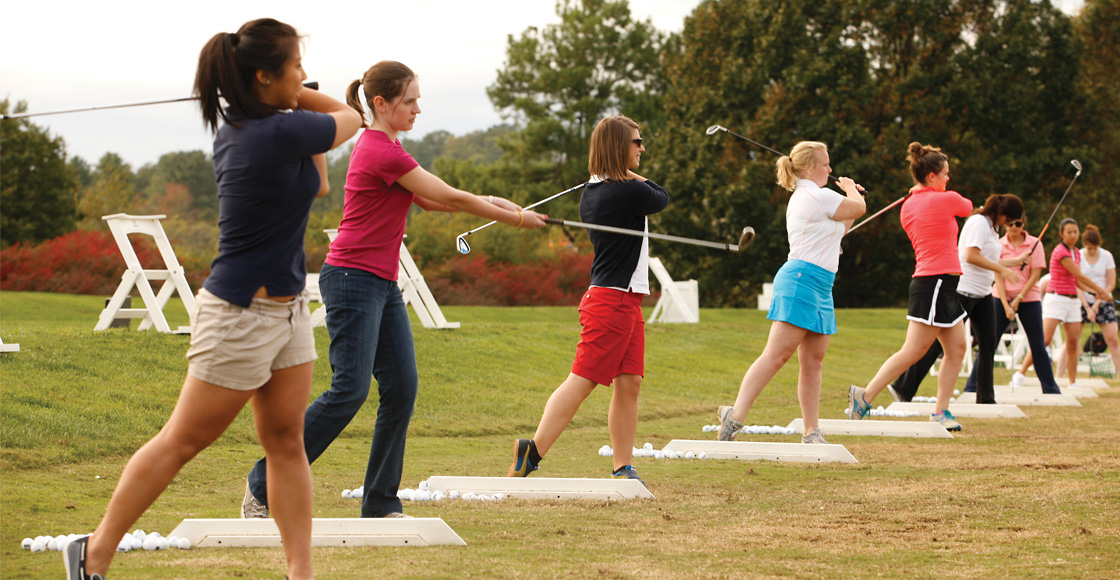 Members of Virginia Law Women golf in 2012.
UVA Law Bicentennial Issue: 100 Change Agents, 200 Years of Change