Established in 2000, the Law School's annual Pro Bono Award is granted to a graduating J.D. student who demonstrates an "extraordinary commitment" to pro bono service and who exemplifies pro bono leadership through delivery of essential volunteer legal services to underserved communities. Award recipients are selected, not only on the basis of the number of hours of service performed, but also on the substance and scope of their work. Those honored with the pro bono award volunteer well in excess of the 75 hours required to meet the Pro Bono Challenge. In honor of their achievement, the award recipient is recognized at the Law School's graduation ceremony and receives an award commemorating their pro bono contributions.
2020 Pro Bono Award Recipient
Miranda K. Russell '20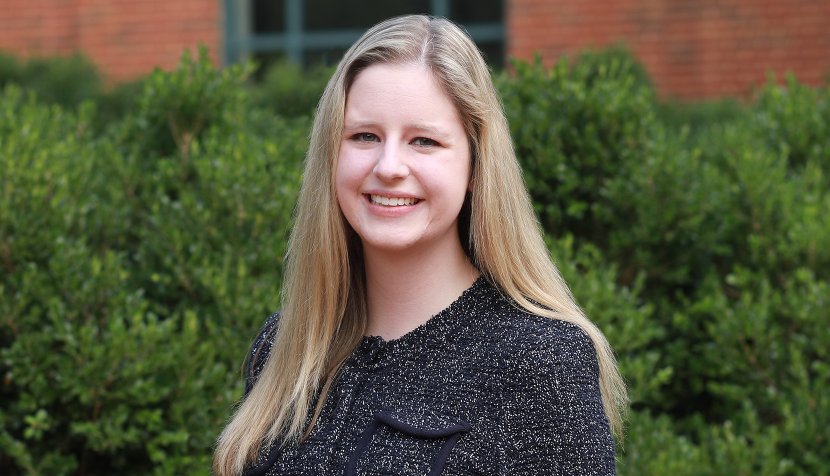 Miranda Russell '20 was awarded this year's Pro Bono Award. She was recognized for providing more than 325 hours of pro bono service volunteering with numerous organizations including Migrant Farmworkers Project, Charlottesville Commonwealth's Attorney's Office, Atlanta Legal Aid Society, Atlanta Volunteer Lawyers Foundation, and Legal Aid Justice Center.  Russell was also honored for her leadership as the Public Interest Law Association's (PILA) Alternative Spring Break Director for 2019 and 2020, coordinating projects for over 130 students with 34 organizations and, under the guidance of Law School officials, efficiently managing the program during the onset of the COVID-19 pandemic.
While an undergraduate student at the University of Georgia, Russell honed her commitment to volunteering through her involvement with the UGA's service breaks program. During her 1L year at the Law School, Russell joined the Migrant Farmworker Program, a student service organization, because she had "been passionate about farmworker justice since college, and  chose to come to UVA Law partially because of the Migrant Farmworker Project." Russell also helped to prepare petitions for protective orders for domestic violence and stalking survivors while volunteering at the Atlanta Legal Aid Society. She participated in a variety of pro bono projects related to immigration, employment, housing, family and criminal law.  The summer after her 1L year, Russell was an intern with the Legal Aid Justice Center's Farmworker and Immigrant Advocacy Program in Charlottesville.
After graduation, Russell plans to work at the New York law firm where she spent her 2L summer. She hopes to continue to find ways to provide pro bono services to those in need." It can be easy to divorce law from the idea of it being a labor of love, but pro bono work reminds me what it means emotionally to represent another human being's interests." More
Previous Pro Bono Award Recipients
Megan C. Keenan '18 (co-winner)
Cory K. Sagduyu '18 (co-winner)
Clayton Read Pasley '17 (co-winner)
Rachel Ellen Simon '17 (co-winner)
Jacob Edward Aronson '16
Madeline J. Starbranch '15
Carolyn Jean Rumer '14
Thomas Samuel Silverstein '13
Evan Grant Didier '12
Erin Colleen Houlihan '11 (co-winner)
Rachel Lauren Paul '11 (co-winner)
Daniel Aaron Grossman '10 (co-winner)
Kristin Jo Uicker '10 (co-winner)
Rebecca Dopkins Vallas '09
Ryan Scott Faulconer '08 (co-winner)
Amy Lynn Woolard '08 (co-winner)
Rachel Elizabeth Cella '07
Ryan Tharen Almstead '06
Heather Schroeder Eastwood '05
Areshini Pather '04
Angela Adair Ciolfi '03
Maria Monique Mlynar '02
Amy Julia Collins '01
Jason Mark Zuckerman '00 (inaugural recipient)