Established in 2000, the Law School's annual Pro Bono Award is granted to a graduating J.D. student who demonstrates an "extraordinary commitment" to pro bono service and who exemplifies pro bono leadership through delivery of essential volunteer legal services to underserved communities. Award recipients are selected, not only on the basis of the number of hours of service performed, but also on the substance and scope of their work. Those honored with the pro bono award volunteer well in excess of the 75 hours required to meet the Pro Bono Challenge. In honor of their achievement, the award recipient is recognized at the Law School's graduation ceremony and receives an award commemorating their pro bono contributions.
2021 Pro Bono Award Recipient
Kolleen Gladden '21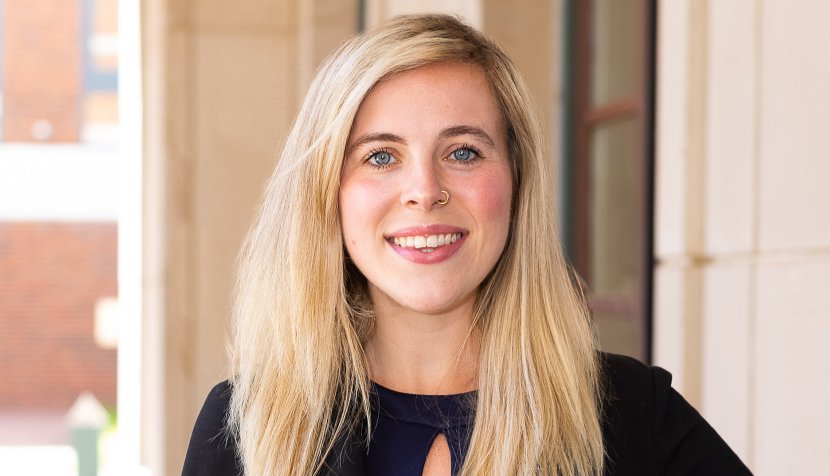 Kolleen Gladden '21 is the recipient of the annual Pro Bono Award, which honors the graduate who best demonstrates an "extraordinary commitment to pro bono service." She was commended for providing more than 316 hours of pro bono service with numerous organizations including the U.S. Department of Justice, Civil Rights Division, Federal Public Defender for the Northern District of Texas, Madison County Commonwealth's Attorney's Office, Rutherford Institute, Physicians Committee for Responsible Medicine, and the Justice Collaborative.  Gladden's exceptional commitment to public service was also recognized with the 2020 Claire M. Corcoran Award.
While a teenager in Joplin, Missouri, Gladden developed her commitment to public service by partnering with local churches and nonprofits to provide disaster relief after a tornado devastated the local area. Serving as the vice president of community for the Law Christian Fellowship, Gladden continued her commitment to helping others by working with several attorneys to start a legal aid clinic designed to close the gap in critical legal services for low-income clients.  Volunteering with a wide variety of organizations during her three years at the law school, Gladden gained exposure to many different areas of law, but she believes that the most rewarding part of pro bono is the interaction with clients and the joy that comes helping someone in need.
After graduation, Gladden will move to New York City to work for Housing Works as a Robert F. Kennedy '51 Public Service Fellow, an organization that working to end the twin crises of AIDS and homelessness. More
Previous Pro Bono Award Recipients
Megan C. Keenan '18 (co-winner)
Cory K. Sagduyu '18 (co-winner)
Clayton Read Pasley '17 (co-winner)
Rachel Ellen Simon '17 (co-winner)
Jacob Edward Aronson '16
Madeline J. Starbranch '15
Carolyn Jean Rumer '14
Thomas Samuel Silverstein '13
Evan Grant Didier '12
Erin Colleen Houlihan '11 (co-winner)
Rachel Lauren Paul '11 (co-winner)
Daniel Aaron Grossman '10 (co-winner)
Kristin Jo Uicker '10 (co-winner)
Rebecca Dopkins Vallas '09
Ryan Scott Faulconer '08 (co-winner)
Amy Lynn Woolard '08 (co-winner)
Rachel Elizabeth Cella '07
Ryan Tharen Almstead '06
Heather Schroeder Eastwood '05
Areshini Pather '04
Angela Adair Ciolfi '03
Maria Monique Mlynar '02
Amy Julia Collins '01
Jason Mark Zuckerman '00 (inaugural recipient)