The Pro Bono Program identifies current unmet legal needs and coordinates with governmental agencies, nonprofit organizations, legal services organizations, pro bono attorneys, law alumni, and faculty to develop a wide range of volunteer opportunities. We strive to ensure that every law student can find a pro bono project that meets their personal and professional goals. Students can choose from opportunities such as assisting victims of domestic violence, counseling immigrants seeking asylum, developing impact litigation strategies for civil rights cases, or advocating for a client wrongly convicted of a crime.  All pro bono projects must meet the criteria to qualify for the Pro Bono Challenge.
How to find a project:
Check your e-mail for weekly announcements from probono@law.virginia.edu of new pro bono projects;
Log into GoodWorks to apply to a currently posted project;
Join a student organization that offers supervised pro bono opportunities for its members;
Set up your free student account on PSJD to locate potential host organizations; or
Contact your professors or law alums to ask about assisting with their pro bono work.
Types of projects:
In-House projects coordinated by the Pro Bono Program are semester or year-long opportunities with a weekly time commitment of 5-8 hours. These established placements allow student volunteers to engage in complex legal work with ongoing training, mentoring, and supervision. The number of these projects is limited and the application process can be competitive. Examples of in house projects are listed below.
Ad hoc projects with shorter and more flexible time commitments are continuously posted on GoodWorks. Weekly emails from probono@law.virginia.edu are sent to students to highlight new postings.  Sample ad hoc host organizations include: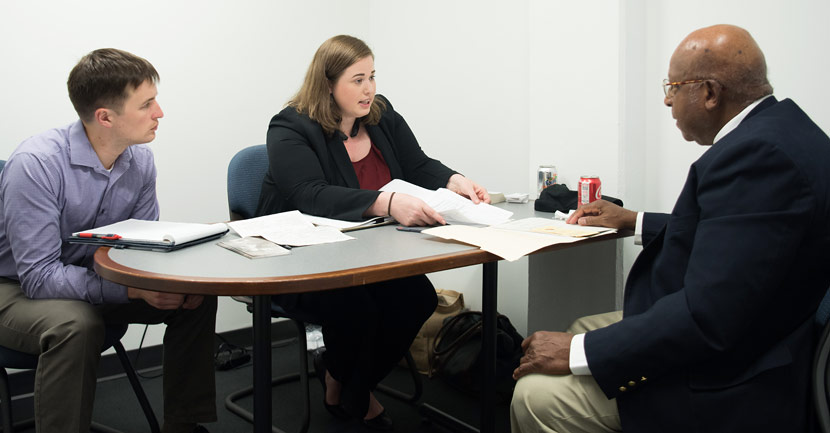 UVA Law student Michael Gwinn assists attorney Erin Ralston in answering a local veteran's questions regarding disability claims — part of a Veteran's Pro Bono Clinic partnership between the Law School, Goodman Allen Donnelly and the UVA Women's Center.
Student organizations are another way law students can engage in pro bono legal service.  For example, the Migrant Farm Workers Project (MFP) recruits student volunteers to visit farm workers in local camps to discuss their legal rights, the Domestic Violence Project places volunteers in local Commonwealth Attorney's offices to assist victims of domestic violence obtain court protection from abuse, and the Street Law Program visits public schools to teach students about constitutional law and to practice oral advocacy skills through mock trial events.
Other student organizations at UVA Law that offer pro bono work include:
Consider joining a student organization that focuses on an area of interest to you and then volunteer for an existing pro bono project or create your own.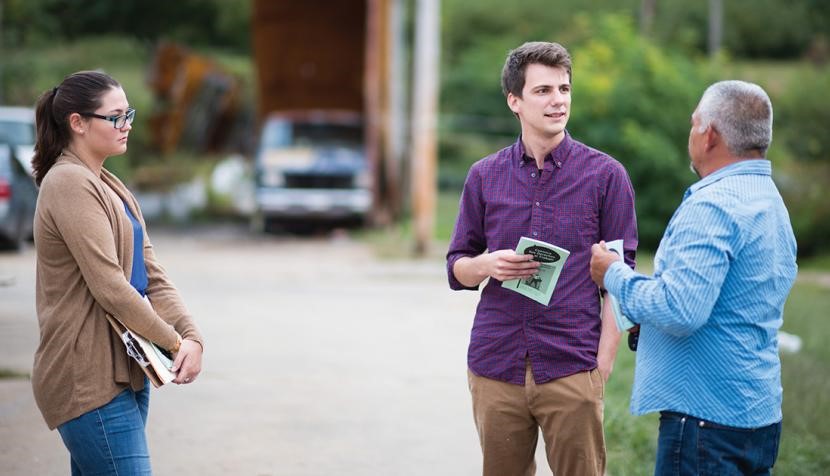 Pro Bono Databases - PSJD is a searchable database of more than 12,000 international and domestic public service organizations. PSJD allows students to access information and contacts for thousands of potential host organizations.  In addition, the database can be used to search for organizations geographically or by practice area. Register for a free student account at psjd.org.
Although GoodWorks and other databases, like PSJD, are a source of possible projects, many public service organizations don't actively recruit pro bono volunteers. Nevertheless, these organizations are often excited to host a student volunteer who takes the initiative to reach out to them. If you are passionate about a cause and want to volunteer, don't hesitate to contact an organization directly. In addition, the staff of the Pro Bono Program has an array of contacts, including public service alumni. For assistance with finding or developing a pro bono project, contact us at probono@law.virginia.edu.
Winter and Spring Break Pro Bono - many law students choose to volunteer over their winter or spring break. Winter break pro bono projects, developed in conjunction with the staff of the Pro Bono Program, offer the opportunity to volunteer full-time over the course of one or two weeks.
In 2022, 194 students participated in the Winter Break Pro Bono Program, volunteering over 6,500 hours at 101 organizations across the country.
Winter Pro Bono Project Host Organizations - 2014-2022
Coordinated by the Public Interest Law Association (PILA), the Alternative Spring Break program (ASB) offers a number of pro bono trips during the Law School's spring break in March. These trips provide students with the opportunity to volunteer for projects with legal services providers, nonprofit organizations and governmental agencies across the country often in rural or inner city locations. Past trips have included: Richmond, Virginia; Washington, D.C.; Bronx, NY; Charlotte, Durham, and Greensboro, North Carolina; Whitesburg, KY; and New Orleans, Louisiana. More
Alternative Spring Break Host Organizations - 2014-2022