What Can You Do in Public Service?
Civil Legal Aid and Nonprofit Attorneys
Legal aid attorneys help individuals who can't afford legal services solve their most vital legal problems.  Whether suing a landlord on behalf of a family that was unlawfully evicted, negotiating with a payday lender, appealing the denial of Medicaid benefits, or educating immigrant workers about their wage rights, these attorneys work closely with individual clients to seek justice. 
Many legal services attorneys also dedicate time to larger-scale initiatives to change the law.  This could mean pushing a bill through a state legislature to strengthen the economic rights of domestic violence survivors, negotiating with government agencies to provide educational services to juveniles in detention, or partnering with mental health agencies to serve veterans in need. 
Examples of legal services organizations include the Legal Aid Justice Center, Community Legal Services of Philadelphia, Legal Aid Society of the District of Columbia, and Public Counsel. 
Other types of nonprofits, based in the U.S. and abroad, focus all their resources on advocating for a wide spectrum of legal causes and clients.  Rather than representing clients one at a time in individual cases, these attorneys use strategies such as impact or class action litigation, legislative advocacy, policy proposals, and educational outreach.  Some organizations focus on a specific area of law or client group, such as fighting employment practices that discriminate against LGBTQ individuals or suing an agency to close down power plants polluting a water basin.  Others tackle a broad set of causes and clients.
Examples of nonprofit organizations include the American Civil Liberties Union, EarthRights International, NAACP Legal Defense Fund, the Institute for Justice, and the Lawyers' Committee for Civil Rights Under Law. 
Nonprofits also engage in diverse forms of human rights work.  Some organizations, such as the Women's Justice Initiative in Guatemala or +Section 27 in South Africa, operate internationally, while others work primarily in the United States to litigate under international law theories, such as Human Rights Watch, the Robert F. Kennedy Center for Justice & Human Rights, and the Center for Constitutional Rights.
Government Attorneys (Civil)
At every level of government, attorneys play a pivotal role as legal advisors, litigators, and legal experts guiding investigative and enforcement actions.  Except for a thin tier of political appointees at the senior levels, government attorneys are nonpartisan, career employees. 
Most government attorneys practice law at executive agencies in offices of general counsel or chief counsel.  Like lawyers working in-house for corporations, government attorneys handle all the daily legal needs of their institutional clients.  Unlike their private counterparts, however, government attorneys at regulatory agencies such as the Securities and Exchange Commission and the Federal Trade Commission advise clients on enforcement proceedings that probe corporate and individual conduct.  And attorneys at all agencies practice in areas unique to government, such as administrative law, fiscal and procurement law, public safety, and ethics.
Within the federal government, U.S. Department of Justice attorneys take the lead on most litigation matters. At many other federal agencies—for example, the State Department, Department of Homeland Security, and Department of Labor—attorneys focus primarily on non-litigation practices, gaining expertise in fields such as national security, intelligence, immigration, and labor law.  At the state government level, the 56 attorney general's offices provide a full spectrum of legal services to state agencies and boards, doing everything from appellate litigation to negotiating technology and real estate contracts.  Local government attorneys engage in the same broad range of practice areas, while also taking leadership roles in legislative drafting, land use planning, and policy review.
Government attorneys also work within the legislative branches, such as counsel to the U.S. Senate Judiciary Committee, and serve in high-level policy and leadership roles.  Others serve as Judge Advocates General in the five branches of the U.S. Armed Forces. 
Prosecutors
Prosecutors perform a unique role within the criminal justice system.  While they can and do seek individual justice for victims of crime, prosecutors owe their highest legal duty to seeking justice on behalf of the state.  This can lead to prosecutorial decisions that conflict at times with the expressed interests of victims, law-enforcement officers, and defendants. 
Every locality has a prosecutor's office, typically called a District Attorney's Office, State's Attorney's Office, or Commonwealth's Attorney's Office. Chief prosecutors tend to be elected officials, but the vast majority of assistant district attorneys are non-political, career government employees.  On the federal side, the criminal divisions of the 93 United States Attorney's Offices (USAOs) prosecute federal offenses that implicate a substantial federal interest. 
Prosecutors, especially state prosecutors, handle a wide range of cases.  From traffic offenses and adult and juvenile misdemeanors to felonies involving narcotics, organized crime (such as gangs and human trafficking), violent and property crimes of all kinds, financial/white collar crimes, and appeals, prosecutors work with law-enforcement agencies to investigate cases and present them in court.  Larger urban offices, such as the New York County District Attorney's Office, the Harris County District Attorney's Office and the San Diego County District Attorney's Office, tend to be organized into multiple bureaus that specialize in different types of crimes or stages of litigation.
Public Defenders
Public defenders stand in the frontlines to protect the rights of individuals accused of crimes who can't afford to hire an attorney. Defenders investigate their clients' cases, negotiate plea agreements, and represent their clients vigorously in trial and appellate courts.  They handle a wide variety of criminal cases—juvenile delinquency, adult misdemeanors and felonies, violent, organized and economic crimes, appeals, and capital cases.  At many agencies—The Bronx Defenders, the Public Defender Service for the District of Columbia, and Metropolitan Public Defender Services in Oregon, for example—public defenders also collaborate with social workers and civil attorneys to help clients and their families with the host of emergency, non-criminal legal issues that result from criminal charges. 
Most large cities have public defender's offices.  Many states, including Colorado and New Hampshire, operate statewide defender offices.  In large jurisdictions, more than one defender agency may serve indigent clients, as the nonprofits Legal Aid Society and Brooklyn Defender Services do in New York City. In less populated parts of the country, indigent defense representation may be handled by court-appointed private defense attorneys.
At the federal level, federal public defender's offices, such as the Office of the Federal Public Defender, Northern District of California, represent individuals accused of serious federal crimes.  In addition, specialty offices focus exclusively on the defense of capital murder or juvenile cases, such as the Council for Children's Rights, or handle appeals, like the Office of the Appellate Defender.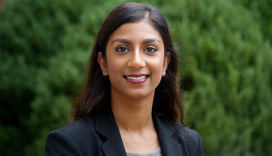 Supporting Students
"Career counseling with UVA's Public Service Center has truly been incredible. The center's dedication to helping students find not just internships but their career goals is readily apparent. They are consistently available to answer any questions or concerns public interest-minded students may have through email, phone, and in-person meetings. Pursuing a public interest career path is not easy, but the Public Service Center and all its staff have helped ease any stress I may have felt and have helped me obtain awesome opportunities that fulfill my career goals."
—Shanthi Rajagopalan '18