1990-2002 Class Notes

---
1990
H. Bryan Cunningham writes that his second daughter, Faith Renee, arrived in August 2000. He took a new position as deputy legal adviser to the National Security Council in May 2002.
Ted Davis, Jr., recently was awarded the Ladas Memorial Award for his article, "Directing TrafFix: A Comment on the Construction and Application of Utility Patent Claims in Trade Dress Litigation," which appeared earlier this year in the Florida Law Review. Brand Names Education Foundation announced the award at the 2002 International Trademark Association's annual meeting in Washington, D.C., in June. This marks the third time that Davis has received the award in the last ten years. Davis, a partner in Kilpatrick Stockton LLP's Atlanta office, divides his time between client counseling and litigation in trademark, copyright, false advertising, and unfair competition law.
Timothy Davis recently became a shareholder in the office of Sirote & Permutt PC in Birmingham, AL. Lisa B. Singer continues to practice part-time at Smith & Ely LLP. The couple has two children, Emma, 6, and Will, 2.
Mary Beth Bailey Fahrney and her husband, Brian, welcomed a new daughter, Megan Bailey, in September 2001. She joins big brother, Nick. Fahrney continues to enjoy being a full-time mom.
Troy P. Laws joined Hidebrandt International in Washington, D.C., as a consultant in the company's strategy implementation group. He advises law firms on strategic planning financial analysis, mergers, and infrastructure projects. Laws previously served as manager of the law firm and law department consulting group at PricewaterhouseCoopers.
Jennifer C. McGarey has been promoted to vice-president, deputy general counsel, and secretary at U.S. Airways, Inc. She and her husband, Tim McGarey '88, have two daughters-Kelly, 10, and Emily, 4.
Ronald V. Minionis and his wife, Felicita, welcomed their first child, Gabriella Rose, on February 9. Minionis reports that Gabriella likes colorful things, being in motion, and keeping dad up at night.

David Restaino was elected to the board of directors of the New Jersey State Bar Association's environmental law section in August. Restaino serves as special counsel with Fox Rothschild O'Brien & Frankel LLP in Princeton. A former deputy attorney general with the New Jersey Department of Law & Public Safety, he is active in several environmental advocacy groups.
Todd L. Schleifstein and his wife, Eliza, announce the birth of their daughter, Darcy Erica, on March 16 in New York City. Schleifstein joined six of his partners from Coblence & Warner and formed a new firm, Hanly & Conroy LLP, in February 2002. The eleven-lawyer firm specializes in litigation and product liability defense work.
Jonathan L. Thornton and his wife Kelly now have two daughters. Gabrielle was born on October 3, 2000. Jessica, 4, is a "great big sister."
1991

Tom Amico joined the newly opened office of McKee Nelson LLP on Times Square in New York City as a partner in the securitization group in June.
Andre Hollis, U.S. deputy assistant secretary of defense, writes, "Even though my office was destroyed, my immediate staff and I avoided serious injury at the Pentagon on September 11. Since then, we have been busy working to combat narco-terrorism-my classes in National Security Law have been put to good use! All who come through are welcome."
Ethan K. Knowlden recently became corporate counsel for Chiron Corporation, a biotechnology company located in the San Francisco Bay area. In April 2001 he and his wife Amy welcomed their son Cole into the world.
James Lovely has been promoted to managing director at Bank of America in its global structured products group. James, his wife Suzanne, and their two children, Connor and Elizabeth, live in North Berkeley, CA.
Steve Miklus is a partner at Bingham Dana LLP in Boston, while Wendy Adams Miklus is currently at home full-time with the couple's four children: Katie, 7, Matt, 5, Tim, 3, and Annie, 2. The Miklus family lives in Wellesley, MA.
Mark T. Smith has joined Sherrard & Roe PLC in Nashville, TN, where his practice focuses on health care and litigation. He was previously a partner at Strasburger & Price LLP in Dallas, TX.
1992

In March Brian Chilton completed his tenure as senior counsel in the Office of the Independent Counsel (OIC), under Robert W. Ray, releasing the office's final reports on the Whitewater/Madison Guaranty and Lewinsky investigation. During his two years with the OIC he served as primary author for the Travel Office firings final report and as lead editor and co-author of the Whitewater and Lewinsky final reports. He now practices with Foley & Larder in the corporate compliance/ government enforcement practice group under Martin Weinsten '84, specializing in Foreign Corrupt Practice Act investigations. Chilton and his wife, Lori, are the proud parents of Lindsay, 5, Jackson, 2, and Christian, born in March.
Patricia Spencer Favreau is vice-president and chief marketing officer for New York Life's life and annuity operations, the company's largest business unit, with headquarters in New York City. She is responsible for product marketing and strategy, marketing and communications services, and business development efforts that support New York Life's core lines of business. Favreau previously served as vice president in charge of the communications division of New York Life's agency department.
Mark Malveaux reports that he is a "happy family man," husband to Dawn and father to Jordan, 5, and Dillon, 2. His kids "keep me sane and drive me crazy at the same time," he writes. He misses Charlottesville, but was not able to make it to reunion. He has been practicing in public finance with McCall, Parkhurst & Horton LLP in Dallas since 1993 and has been a partner in the firm since January 2000. He also serves on the board of Texas C-BAR, a nonprofit organization that finds pro-bono work for transactional lawyers.
Jeffrey Naness, his wife, Meg, and their son, Jonathan, welcomed a new son, Michael James, into their family on December 24, 2001. Naness represents management in labor relations and employment matters as a partner with Naness, Chaiet & Naness LLC in Jericho, NY.
1993

Jay Anderson and his wife, Sarah, announce the birth of James Thomas Anderson V on April 23. The family lives in Columbia, VA, where Jay serves as mayor of the smallest incorporated town in Virginia. His mayoral duties include working to preserve and revitalize the historic town that legend claims came within one vote of becoming the state capital. Anderson works as a legal analyst at LexisNexis in Charlottesville.
Lisa Baer married Jeffrey Fuerst on May 26 in Atlanta, GA.
John Faust is a partner at Vinson & Elkins LLP in Washington, D.C. He lives in Bethesda, MD, with his wife, Cate Stetson '94, and their daughter, Lucy Stetson Faust.
Anthony Miscioscia recently became a partner at the Philadelphia office of White and Williams LLP, where he practices in the commercial litigation department and the business insurance and environmental coverage practice groups. He and his family reside in Gloucester Township, NJ.
Sara Stadler Nelson is an assistant professor of law at the University of Cincinnati College of Law, where she teaches intellectual property courses.
Jeffrey F. Swiatek became a partner of Hodgson Russ LLP, a top firm in Buffalo, NY, last summer. Swiatek counsels municipal clients on employment law and labor relations, competitive bidding, and municipal policies.
Nelson Thomas and his wife Mary Gail announce the birth of their son, Nathaniel Andrew, born July 30. The couple lives in Rochester, NY, where Thomas practices employment law as a founding partner with Dolin, Thomas & Solomon PC.
C. Stewart Verdery, Jr., has accepted a public policy post in Vivendi Universal's Washington, D.C., office. He represents the company's media and communications interests-focusing on e-commerce, telecommunications and related technologies-before U.S. legislative and regulatory bodies. Verdery previously served as general counsel to Don Nickles, assistant Republican leader to the U.S. Senate. He and his wife Jenny live in Arlington, VA, with their children, Isabelle and Chase.
1994

Lorie Almon Bompey and Mitch Bompey welcomed their son Wilton into the world in April. Lorie is a partner with Seyfarth Shaw in New York City, while Mitch works in the Morgan Stanley legal department. The Bompey family enjoys their TriBeCa home and life in Manhattan.
Lois T. Casaleggi has left private practice and entered the realm of academic administration at the law school of her undergraduate alma mater. She now serves as director for Career Services at the University of Illinois College of Law.
Cyane B. Crump was admitted as a partner in Hunton & Williams in Washington, D.C., on April 1. Her practice focuses on general corporate and securities law, mergers and acquisitions, and corporate finance.
James P. Ellison recently became an associate in the Washington, D.C., office of Nixon Peabody LLP, where he is a member of the firm's government investigations and white collar defense group. He previously served as a trial attorney on the U.S. Justice Department's tobacco litigation team.
Michael Girard recently became a partner with Klarquist Sparkman LLP in Portland, OR. To celebrate the promotion, he writes that he "fooled two native winter steelheads into taking his fly on the Sandy River just east of Portland" in January.
Marci B. Norton and her husband Howard R. Philips happily announce the birth of their daughter, Zoe Gillian Philips, on June 21. Norton will return to her position as associate chief counsel at the Food and Drug Administration in November.
In August Todd Peppers left his position as an attorney with the Atlanta-based firm of Hawkins & Parnell to begin teaching at Roanoke College in Salem, VA. He is an assistant professor of political science. Joining him in the move back to the mountains of Virginia are his wife Michele and daughter Gabby.

In January Nancy Anderson Robertson became a partner with Groff & Murphy PLLC in Seattle, WA, where her practice focuses on commercial, government contract, and construction litigation.
Cate Stetson focuses her practice on appellate litigation as a partner at Hogan & Hartson LLP in Washington, D.C. She lives in Bethesda, MD, with her husband, John Faust '93, and their daughter, Lucy Stetson Faust.

Daniel F. Vaughn joined Lane Powell Spears Lubersky LLP in Seattle, WA, as an associate in March. His practice concentrates on corporate finance and securities.
Eric Weinstock and Toby Unger '96 celebrated their fifth wedding anniversary in August. They are the proud parents of Zachary Dylan Weinstock, born May 1. Weinstock has a private practice as an endodontist. Unger serves as a litigation associate at Nixon Peabody LLP in Boston, MA.
1995

Chris Baradel lives in Atlanta, GA, working for a marketing consulting company. He has been in Atlanta for about a year and frequently sees Sean Coleman around town. Baradel recently completed the Anchorage (AK) Midnight Sun marathon and is training for the New York City marathon in early November. He's hoping to break the four-hour mark on the streets of New York.
Brad Handler's new business, Technology Policy Associates, provides specialized consulting services to companies facing political, policy, or regulatory risks. He writes that eBay, for whom he served as associate general counsel and director of law and public policy, is his first client. Handler taught a two-week course on law and technology policy at the Law School last spring. He and his wife Emeri have two children. The family lives in Menlo Park, CA.
William Merone has joined Downs Rachlin & Martin PLLC in Burlington, VT, where he is a member of the intellectual property practice group. He was previously employed by Kenyon & Kenyon.
Julia Moore and her husband Stephen Koch announce the birth of their first child, Max Koch, on January 9. Moore is an associate in the Washington, D.C. office of Swidler Berlin Shereff Friedman LLP.
Jim and Julia Rasnake Morse welcomed their second daughter, Rebecca Elizabeth, into the world on April 24.
Doug Timmer became a partner of Kirkland & Ellis in Chicago, IL, in October 2001. His practice focuses on private equity, mergers and acquisitions, securities, and fund formation.
Jodi Wilkof and her husband Greg Munson are pleased to welcome their first child, Grant Wilkof Munson, born February 22. Wilkof serves as senior staff attorney for Florida Supreme Court Justice Barbara J. Pariente.
1996

Marcia McGratty Douglas and her husband Matt welcome their son, Matthew Edward, born on January 5. The family lives in Summit, NJ. Douglas recently decided to leave her position as a labor and employment associate at Pitney, Hardin, Kipp & Szuch LLP to become a full-time mom.
In February Laura Flippin was appointed deputy assistant attorney general in the civil division of the U.S. Department of Justice. She previously served in the Office of Counsel to the President at the White House. She lives in Arlington, VA.
Don Long and Valerie Wagner Long '98 announce the birth of their son, Davis Dale, on June 19. Both Longs work as associates with law firms in Charlottesville, VA, Don with Feil, Pettit & Williams PLC and Valerie with McGuireWoods LLP.
In June Scott Surovell founded Surovell Markle Isaacs & Levy PLC with Robert J. Surovell '69, David M. Levy '70, and two other members. He reports that David J. Fudala '79 and Thomas P. Dugan '66 also practice in the firm, which focuses on all types of litigation, including family law and business transactions. Surovell concentrates his practice on civil, commercial, and criminal litigation. Surovell and his wife, Erinn M. Madden, welcomed a second daughter, Leia M. Surovell, to the world on July 24.
Toby Unger and Eric Weinstock '94 celebrated their fifth wedding anniversary in August. They are the proud parents of Zachary Dylan Weinstock, born May 1. Unger serves as a litigation associate at Nixon Peabody LLP in Boston. Weinstock has a private practice as an endodontist.
1997

Eric R. Bradley recently began working as in-house counsel with the IBM Corporation. He previously practiced with Akin, Gump, Strauss, Hauer & Feld LLP in Dallas, TX.
Laura Deddish Burton announces the birth of her daughter, Sarah Wyeth, on May 7, 2001.
Silvia F. Ferroni works as an attorney in the U.S. Attorney's Office in Alexandria, VA.
Jennifer McClellan was recently appointed by Virginia Governor Mark Warner to the Board of the Virginia College Building Authority. In June McClellan received the R. Edwin Burnette Jr. Young Lawyer of the Year Award at the Virginia State Bar Young Lawyers Conference in Virginia Beach. The award, which also went to McClellan's sister Julie D. McClellan in 1995, recognized McClellan's involvement in the conference and the community. It is the first time siblings have won the award. Among other things, McClellan chaired the committee for women and minorities in the profession, planned the Minority Pre-Law Conference for minority college students for four years, and helped establish the first Oliver Hill/ Samuel Tucker Minority Pre-Law Institute, a week-long summer law camp for minority high school students. She practices as an associate in the Richmond office of Hunton & Williams.
R. Latane Montague IV married Patricia Mattingly on June 30, 2001.
Salmon A. Shomade now lives in Houston, TX, where he is employed by King & Spalding. His practice focuses on global transactions and projects in the oil and gas industry.
Scott B. Townsend has been practicing with Hale and Dorr LLP in Reston, VA, since 2000, and was recently elevated to junior partner. He focuses on corporate transactional work, primarily venture capital financing, mergers and acquisitions, and securities. His wife, Anastasia, and he are staying very busy with their two sons, Alexander, 4, and Robert Flynn, 2. They love living in Northern Virginia, but recently traveled to Paris for a two-week vacation. Townsend reports seeing Melissa Mather, Eileen Cole, and Cathy Ziobro in the past year.
Sidney L. Williams recently became the assistant dean of students and director of the Academic Excellence Program at the University of Dayton School of Law in Dayton, OH. Prior to returning to academia Williams practiced commercial litigation at Porter, Wright, Morris & Arthur LLP and at Hahn Loeser & Parks LLP in Columbus for five years.
1998

Ned Cox and Sharon Thaler Cox '99 announce their first child, Edwin Carr Cox, Jr., called Carr, on December 6, 2001.
Eric Fletcher recently returned to Charlottesville to become an in-house attorney for the Law School's neighbor, UVA's Darden School of Business. He left behind a position in Washington, D.C., with Kirkland & Ellis.
Jonathan C. Hamilton lives in Mexico City, Mexico, where he works in the international law firm of White & Case. He travels extensively in Latin America for his practice in international dispute resolution and cross-border transactions. He previously worked in the New York City office of his firm and as a federal law clerk. Hamilton remains active in political affairs and public service, and served as an international election observer with the delegation of former President Jimmy Carter in the historic 2000 elections in Mexico. He and his wife, Andrea, a 1998 UVA graduate in Latin American studies, have a son, Joaquin, who was born in Mexico on December 6, 2001.
Valerie Wagner Long and Don Long '96 announce the birth of their son, Davis Dale, on June 19. Both Longs work as associates with law firms in Charlottesville, VA, Valerie with McGuireWoods LLP and Don with Feil, Pettit & Williams PLC.
Mark W. Saltzburg recently joined Morris, James, Hitchens & Williams LLP in Wilmington, DE, as an associate in the corporate group. He concentrates his practice on corporate litigation, including corporate law issues, corporate governance and shareholder actions, and corporate transactional work.
1999
Janell Ahnert and her husband Craig welcomed a daughter, Grace Madden, on April 2.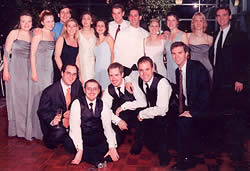 Many of the bride and groom's former classmates enjoyed the Tave and Aldock wedding: (top row) Kristin Cline, Kristi Singleton, Todd Ellinwood, Francesca Ugolini, Virginia Quale, Wendy Pizer, Ryan Clinton, groom Steven Tave '00 and bride Jessica Aldock Tave '99, Carrie Nixon, Valerie Bruce, Shawn McDonald, (bottom row) Ben Eggert, Rich Gardner, Kit Crumbley, Jason Kirkham, and Matt Lahey. Not pictured is Tina Papagiannopoulos '99.
Jessica L. Aldock married Steven J. Tave '00 on May 26, 2001. Among the guests at the wedding were Valerie Bruce, Kristen Cline, Matt Lahey, Shawn McDonald, and Kristi Singleton.
Jordan Backman serves as employee benefits counsel to PepsiCo, Inc., in Purchase, NY. He previously practiced at Proskauer Rose LLP in New York City.
Sharon Thaler Cox and Ned Cox '98 welcomed their first child, Edwin Carr Cox, Jr., called Carr, to the world on December 6, 2001.
Conor F. Farley practices intellectual property law and complex commercial litigation with the Denver office of Holland & Hart LLP, which he joined in 2001. Prior to entering private practice Farley clerked for Lewis T. Babcock, chief judge of the U.S. District Court of the District of Colorado.
Galina Kolomietz married Matthew Frank, a tax partner with Caplin & Drysdale on May 25. The couple lives in Washington, D.C., where Kolomietz is an associate with Steptoe & Johnson LLP.
Lisa M. Moran married Thomas M. McMurdo on October 13, 2001, at the UVA Chapel in Charlottesville, VA.
Scott Spence began the LLM in Public International Law program at Leiden University in Leiden, the Netherlands, in September. He formerly practiced in the New York office of Freshfields Bruckhaus Deringer.
2000

Carlos Cruz-Abrams (formerly Cruz Munoz) and his wife, Hilary Cruz-Abrams, announce the birth of their daughter, Robin Sage, on June 4. Cruz-Abrams works as a trial attorney for the Immigration and Naturalization Service in New York City.
Steven J. Tave married Jessica L. Aldock '99 on May 26, 2001. Among the guests at the wedding were Ryan Clinton, Kit Crumbley, Ben Eggert, Todd Ellinwood, Rich Gardner, Jason Kirkham, Carrie Nixon, Wendy Pizer, Virginia Quale, and Francesca Ugolini.
Matt Wilson recently joined Jones Day as an associate in the general litigation practice in Columbus, OH. He formerly worked as an associate at Vorys, Sater, Seymour & Pease LLP, also in Columbus.
2001

Nina Allen writes that, after a brief stint pursuing an alternative career, she has returned "to the dusty books and failing eyesight that are the hallmarks of a law career." She is currently clerking at the Delaware Superior Court.
Andrew Bell married Betsy Jordan in Lake Junaluska, NC, on September 2, 2001. Bell graduated from Air Force Intelligence School in June. He is currently assigned as an intelligence officer in a fighter wing at Misawa Air Base in northern Japan.
Paul D. Flynn and his wife, Kate, announce the birth of their daughter, Natalie Porter, on November 19, 2001.
Jason W. Trujillo serves as an assistant Bergen County prosecutor in the Bergen County Prosecutor's Office in Hackensack, NJ. He is currently assigned to the appellate and law section. Trujillo is in engaged to Lauren Abate, a kindergarten teacher. The couple is planning an April 2003 wedding.
2002

Gregory R. Clouser joined the litigation department of Holland & Hart LLP in Denver, CO, in May.


Send Us Your News
Tell us the important things that happen in your life! We welcome submissions for inclusion in Class Notes. Submit them online; E-mail them to lawalum@virginia.edu; mail them to UVA Lawyer, University of Virginia School of Law, 580 Massie Road, Charlottesville, VA 22903; or fax them to 434/296-4838. Please send your submissions by February 1, 2003 for inclusion in the spring issue.
Pre-1960
1960s
1970s
1980s
1990-2002
LL.M.