Class Notes
Send Us Your News
Tell us the important things that happen in your life! We welcome submissions for inclusion in Class Notes. Submit them online; E-mail them to lawalum@virginia.edu; mail them to UVA Lawyer, University of Virginia School of Law, 580 Massie Road, Charlottesville, VA 22903; or fax them to 434/296-4838. Please send your submissions by February 1, 2003 for inclusion in the spring issue.
Note:
This was a class note under the photo of the bricks so named:
Former clerks of Stanley S. Harris '53 had Law School bricks engraved in honor of his retirement from the bench. The commissioned text states: "In honor of Stanley S. Harris-Judge, U.S. Attorney, role model, mentor, and friend-from his law clerks." Harris's former colleagues listed the judge's accumulation of public service positions: U.S. Attorney, District of Columbia; Judge, District of Columbia Superior Court; Judge, District of Columbia Court of Appeals; Judge, U.S. District Court for the District of Columbia.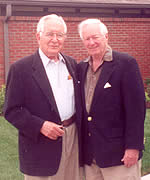 Foster Arnett '48 (left) and John Huffaker '48.
Earlier this year, Carolyn F. Olive had the difficult task of writing to the classmates of her husband, Frank Ward Olive, to tell them of his passing away. To honor her husband, Carolyn has kindly offered to continue on in the work Frank cared about very much-serving as annual giving chair for the Class of 1934. She writes "The Class of 1934 is special. It began as a unit of 89, and endured the Great Depression by graduating 43 members … Frank was proud of his association with the Law School and gave it a large measure of credit for the quality of life he lived for so many years. He also remembered that his tenure as annual giving chair … was made pleasurable by the association and cooperation he had with each of his classmates."
1941
Tom Mason has been a professional actor since his retirement from Norfolk Southern Corporation in 1983. He had a cameo role in the Civil War movie, Gods and Generals, starring Robert Duval.
1948
John B. Huffaker and his wife, Judy, visited Foster Arnett and his wife, Jean, in April. "Foster was delighted to get my news of events at the university and sends everyone his regards," Huffaker wrote.
1950
Edward M. Selfe reports that he is currently ranked number four in the country by the United States Tennis Association in men's singles for men eighty and over.
1951
James E. Coleman, Jr., was honored recently with the 2002 Dallas Bar Foundation Fellows Award for his outstanding contributions to the Dallas legal and civic community. According to the Dallas Bar Foundation's executive director, Coleman's peers call him the "dean" of Dallas trial lawyers. A partner and founding member of Carrington, Coleman, Sloman & Blumenthal LLP, Coleman has received numerous other honors in recent years, including the Lola Wright Foundation Award from the Texas Bar Foundation for his support of legal ethics in Texas, the President's Award from the State Bar of Texas, the Trial Lawyer of the Year Award from the Dallas Bar Association, and the Professionalism Award from the American Inns of Court Foundation for the Fifth Circuit. He is an honorary trustee of the Law School Foundation.
William Schock and his car were featured in an article by the St. Louis Post-Dispatch in January. Schock's 1989 Ford Festiva sports more than 100 bumper stickers, a wide variety of popular sayings and political statements, ranging from "Garbage kills bears," to Schock's personal favorite, "Don't steal-the government hates competition." "I'm not trying to do anything or run for office," Schock says in the article. "I'm just an extrovert. Even as a lawyer, I liked to get out of the office and into court." Schock reports he received wonderful response from the article and even more decals from friends.
1953
C. Pfeiffer Trowbridge reports that he is enjoying semi-retirement in Florida, where he serves as the state's senior judge. He says he will never regret his decision to live in Florida after military service, as he has long enjoyed the year-round outdoor activities that many of his classmates are only now retiring to Florida to pursue. He writes, "When the word gets around that sailfish or other gamefish are running, offices (and my court) still close for the day to partake in this more important activity."
1956
Maurice Richardson chairs the Massachusetts Ballot Law Commission. The board was in the news in June when Democrats challenged the residency status of Republican gubernatorial candidate Mitt Romney. On June 26 the board unanimously rejected the challenge, stating that Romney could remain on the ballot.
1958
Peter K. Leisure serves as a senior federal judge in New York City. He writes that in the last few years he has held trials that include the antitrust case brought by the United States Football League against the National Football League, an assault and battery case against actor Bill Cosby, and two companion trials against General Radovan Karadzic for Bosnian war crimes. He also presided over the trial of the Gambino crime family and members of the Sicilian mafia for a conspiracy to import heroin into the United States. "Because of the large number of defendants, three separate trials were conducted," Leisure writes. " 'Sammy the Bull' Gravano and two members of the Sicilian mafia testified as cooperating witnesses and admitted to participation in seventeen murders each. In the companion criminal case in Italy both the judge and prosecutor were assassinated."