Virginia Law Alumni Events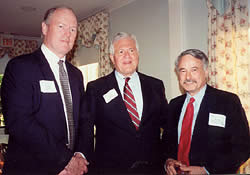 Steve Cardi '66 (center) hosted fellow alums Richard Glenn '70 (left) and Alden Harrington '69 (right) at the University Club in Providence.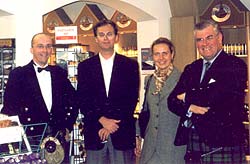 Left to right: Vannan McKellar (LLM '86), 2002 European Alumni Reunion organizer, Johannes (LLM '81) and Katharina Esterhazy and Lord Donald MacKay (LLM '69) at the reunion in Edinburgh.
Save the Date for Law Alumni Weekend 2003
May 2-4, 2003 for the classes of 1953, 1958, 1963, 1968, 1973, 1978, 1983, 1988, 1993, 1998 and the Lile Law Society in Charlottesville, VA.
Law School alumni gathered throughout the late spring, summer, and fall in locations across the country and in Europe.
Dean John Jeffries joined more than one hundred New York City-area alumni for a luncheon at the Yale Club in mid-April.
While on the West Coast in early-May, Dean Jeffries joined Los Angeles-area alumni for a luncheon in honor of Professor Stanley D. Henderson, F.D.G. Ribble Professor of Law, who, after more than thirty years of teaching at the Law School, reduced his teaching schedule this fall.
Since joining the faculty in 1970, Professor Henderson has taught Contracts, Labor Law, Labor Arbitration, and Remedies and has served as chair of the AALS Section on Contract Law and as an arbitrator on the National Labor and National Commercial Panels of the American Arbitration Association. He has won numerous teaching awards and has been a visiting professor at a number of law schools.
On the same day, May 9, alumni Edwin M. Baranowski '71 and Patricia R. Hatler '80 hosted a cocktail reception for Columbus-area alumni at the Rocky Fork Hunt & Country Club in Gahanna, Ohio.
The Alumni Association and Law School Foundation hosted a reception for Class of 2002 graduates and their families on Saturday, May 18. More than 1,000 people attended this annual event in Caplin Pavilion and Spies Garden.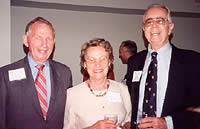 John Corse '57 (left) with Joan and Lee '57 Miller.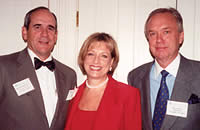 David Ibbeken '71 (left) and Karen and Richard '71 Fisher in Rhode Island.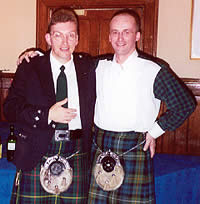 Detlev Oelfke (LLM '86) and Vannan McKellar (LLM '87) at the European reunion formal dinner in their Scottish finest.
The Dean and the Alumni Association hosted a Washington, D.C.-area alumni and summer associate luncheon at the Hotel Washington. More than 120 alumni and summer associates attended the May 29 event.
Dean Jeffries joined Boston alumni and summer associates for a luncheon at the Union Club on June 4, and later that evening joined alumni and friends at a cocktail reception hosted by Steve Cardi '66 at the University Club in Providence, RI.
W. Stevenson Hopson IV, Senior Assistant Dean for Career Services and a member of the Class of 1969, addressed the annual alumni breakfast at the Virginia State Bar meeting in Virginia Beach, VA on June 15.
Roanoke-area alumni gathered at the Shenandoah Club for a cocktail reception with John Jeffries in mid-July.
European alumni gathered in Edinburgh, Scotland, August 1-4, for several days of reunion activities including tours of Edinburgh, a day trip to Inchcolm Island on Firth of Forth, an annual alumni meeting of the European Chapter, and an academic session.
On August 8, Professor A. E. Dick Howard, White Burkett Miller Professor of Law and Public Affairs and Roy L. and Rosamond Woodruff Morgan Research Professor, spoke at a cocktail reception for alumni from the Washington, D.C.-area and those attending the annual meeting of the American Bar Association at the Army and Navy Club in Washington, D.C.
Twenty-two members of the Law School Foundation's Business Advisory Council and forty-five annual giving volunteers gathered in Charlottesville the weekend of September 20. Members of the BAC met with faculty from the Law School and the Darden School on Friday and heard about the new Law & Business Program. Alumni and their guests had the chance to meet with faculty and student leaders on Friday night. On Saturday, the volunteers heard from Chris Kennedy '76, Chair of the National Appeals Committee, Susan Palmer, Associate Dean for Admissions, and Dean John Jeffries '73.