1980s Class Notes
---

James May was ranked among Alabama's leading individual attorneys in the employment and labor law category and his firm Bradley Arant Rose & White LLP was ranked as the state's top law firm by ChambersUSA.
George Somerville married Elizabeth "Betsy" Sale on June 19. Both are from Richmond, VA. Somerville is a partner with Troutman Sanders LLP, and the father of four sons. Betsy has two daughters.
F. Blair Wimbush has moved from Norfolk Southern Corporation's law department to the corporation's marketing division, where he heads the real estate department.
1981
Jim Browning, nominated by President George W. Bush as District Judge for the District of New Mexico, was sworn in August 6, 2003.
Warren David Harless, a partner with Christian & Barton, LLP in Richmond, VA, has been inducted as a Fellow of the American College of Trial Lawyers. The induction ceremony took place during the Spring Meeting of the College in Boca Raton, FL. The College strives to improve the standards of trial practice, the administration of justice, and the ethics, civility, and collegiality of the trial profession. Lawyers must have a minimum of 15 years trial experience before they can be considered for fellowship, and membership in the College cannot exceed one percent of the total lawyer population of any state or province. There are currently 5,200 Fellows of the College in the U. S. and Canada.
William R. Van Buren III was chosen to chair the Virginia Bar Association Board of Governors. He is a partner at Kaufman & Canoles in Norfolk, VA, practicing in the areas of commercial law, health care, mergers and acquisitions, and venture capital. Van Buren is a past president and fellow of the Virginia Law Foundation and is involved in numerous professional and civic organizations.
1982
Robert A. Harris of Zeldes, Needle & Cooper, PC, was presented the 2004 Honorable Robert C. Zampano Award for Excellence in Mediation in June. The award, named after the late U.S. District Court Judge Robert Zampano, a renowned mediator, recognizes leadership, initiative and creativity in the field of mediation in Connecticut. Harris currently serves as co-chair of the Connecticut Bar Association Section on Alternative Dispute Resolution. This annual award ceremony, a benefit for Community Mediation, was sponsored by one local bank, one local foundation, one local university law school, and 20 state law firms, including Bai, Pollock, Blueweiss & Mulcahey, PC, Koskoff, Koskoff & Bieder, PC, NewAlliance Bank, Pullman & Comley, LLC, Tremont & Sheldon, PC, Zeldes, Needle & Cooper, PC.
Keith Hemmerling reports he has published his second book, Whorehound, and will publish a collection of screenplays under the title of Walkin' on the Wild Side this fall. Find these at xlibris.com. Hemmerling's films, Any Witch Way, Mermaid from Malibu, and Manic Depression Interview are being distributed worldwide. Hemmerling's nine CDs are available at tower.com. In addition, West 47th St, and The Infinite Mind, each in part underwritten by the Hemmerling Foundation, received Gracie Awards.
Finis "Fess" St. John was inducted as a fellow of the American College of Trial Lawyers in October of 2003. In 2002 he was elected to the board of trustees of the University of Alabama System, which is responsible for the management and control of three state universities. St. John practices in the firm of St. John & St. John in Cullman, AL, with his wife Gaynor. He also serves as chairman of the board of Southern Community Bankshares and First Federal Savings & Loan. In addition, he is chairman of Cullman Environmental, Inc. Son Finis V entered UVA in August as a first-year student in the College of Arts and Sciences, and Jack is a senior at Cullman High School.
1983
Brad Bailey joined Boston's Denner Associates as a partner in May. He specializes in white collar criminal defense and securities litigation.
Robert J. Conrad, Jr., joined the Charlotte office of Mayer, Brown, Rowe & Maw LLP as a partner, after serving as U.S. Attorney for the Western District of North Carolina from March 2001 to May 2004. Conrad's nomination by President Bush to the federal bench for the Western District of North Carolina is still pending Senate confirmation.
Julie Green's law firm, Salem & Green, in Sacramento, CA, celebrated its fifth anniversary in August. The firm has five attorneys and five staff members and specializes in securities, business transactions, and health care regulatory matters.
James R. Hart has been appointed to a four-year term as an at-large member of the Fairfax County Planning Commission. He has served on the Fairfax County Board of Zoning Appeals since 2000, and is a former chair of the Construction Law and Public Contracts Section of the Virginia State Bar. Hart is a member of the Fairfax, VA, firm of Hart & Horan, PC, practicing in the areas of construction and real property litigation.
Chrisopher Knopik, Joseph Varner, and Robert Wilkins were recently selected by their peers and Florida Trend Magazine as members of " Florida's Legal Elite." In addition, Knopik was named the 2004 recipient of the Hillsborough County Bar Association's Michael Fogarty Award for Excellence and Integrity in Civil Trial Practice.
Neil Rose completed eight years of service on the Virginia Beach School Board, the last three as vice chair. After winning two city-wide elections, Rose chose not to run for a third term and will spend more time "billing hours and in other charity work."
1984

Jory Hingson Fisher is a charter faculty member of the Liberty University School of Law in Lynchburg, VA, which welcomes its inaugural class this fall. Fisher serves as director of the Center for Lawyering Skills and chair of the committee for student affairs. Before entering academia, Fisher's career included service in orthern Virginia as a county attorney, court interpreter, ministry director for troubled youth, and solo practitioner. After moving to Lynchburg in 1993, Fisher was appointed executive director of the regional Child Abuse Prevention Center. She later became a certified family mediator and guardian ad litem, senior legal aid attorney, and assistant public defender. Fisher is a long-time member of the Virginia Bar Association's Commission on Needs of Children, and a current faculty member of the Virginia State Bar course on professionalism. Fisher relishes time with her family (husband Dave, three daughters, three stepdaughters, and one stepson), but remains committed to teaching street law to youths in Central Virginia's regional juvenile detention center and to singing in her church choir. For fun, Fisher takes ballroom dancing and jhembe drumming lessons and enjoys daily Frisbee matches with her three dogs.
Paul Hudnut received a special appointment to the College of Business at Colorado State University in August 2003. Hudnut spends half of his time teaching undergraduate entrepreneurship courses and the other half helping commercialize university-based technologies. As an example, he is a founder of EnviroFit International which is developing a technology to retrofit two-stroke motorcycles so they are fuel efficient and cleaner (www.envirofit.org). His wife Annie keeps busy tap dancing, playing the piano, and launching a new business as a professional organizer. Their eldest child, Peter, born while Hudnut was at the Law School, is now a junior at Colorado College. He reports that his next door neighbor is classmate Gary Amato—"small world!"
David B. Irvin continues to work as chief of the Virginia Attorney General's Antitrust and Consumer Litigation Section. He has been with the office for 15 years. Irvin lives in Richmond with his wife Ann Watson and two sons, Taylor (15) and Jack (12).
David Massey has released a CD featuring 13 original songs in the Americana vein. Available at cdbaby.com, the record features a who's who of Washington, D.C.-area musicians. David is contributing 50 percent of his proceeds to the National Council for the Traditional Arts (www.ncta.net) and Stars for Stripes (www.starsforstripes.com).
Walter D. Rabin is now President and CEO of All Points Capital, a New York-based specialty finance company with $1 billion in assets. Rabin lives in Oceanside, NY, with his wife Debbie and children, Andrew (16) and Laurie (12).

David Rosenberg received an honorary life member award from the ChildCareGroup in Dallas, TX. The Thompson & Knight partner was selected for the award due to more than 12 years of service to the agency. He served two consecutive terms on the group's board of trustees from 1990–2003 (with a one-year absence due to consecutive service limits) and was the chair in 2001. Rosenberg assisted the ChildCareGroup with its search for a new CEO in 2000 and was active in fund-raising efforts. The ChildCareGroup, a nonprofit agency, was founded in 1901 to care for the children of women who worked in the cotton mills of Dallas. On June 9, Harvard Law School Professor
William Stuntz received the 2004 Sacks-Freund Teaching Award. Stuntz has been on the faculty of Harvard Law School since 2000. The award was established in 1992 in honor of the late Harvard Law School Professors Albert Sacks and Paul Freund.
Jeffery M. Blumenthal is a director for Hartford Life's group life and specialty life claims operations. He lives in Simsbury, CT, with his wife Catherine and two children,Matthew and Scott.
Philip Goodpasture has joined the Richmond, VA, office of Williams Mullen as a partner in the business section. Goodpasture's work focuses on business issues related to music, entertainment, and Internet commerce businesses.
John H. "Chip" Grayson, Jr., is the head of investment banking at Morgan Keegan in Memphis, TN. Grayson oversees mergers and acquisitions, public equity financing, funds management, and private placements.

Charles Joseph is now general counsel and corporate secretary of Blue Cross and Blue Shield of Florida (BCBSF). In his new role, Joseph will provide executive leadership and management of BCBSF's Legal Affairs Department and the Corporate Audit, Risk Management and Compliance Division. Joseph joined BCBSF in 1994 and has served as vice president and senior litigation counsel. He has been involved in numerous health litigation, managed care- and risk management-related matters. Joseph also has provided legal support to the BCBSF board of directors' governance and nominating committee, and most recently, served on the board of directors of Incepture, Inc., a BCBSF subsidiary. Prior to joining BCBSF, Joseph was a commercial litigator for Fulbright & Jaworski LLP in New York City. Throughout his career, Joseph has been active in community and civic organizations. While living in New York City, he volunteered with the Make-A-Wish Foundation. In Jacksonville, Joseph is serving as a member of the board of the River Garden Hebrew Home. He also has worked with The Blue Foundation for a Healthy Florida and has been actively involved in coaching youth basketball for a number of years.
Rey Ramsey is the chief executive officer of One Economy Corporation, a national nonprofit organization in Washington, D.C., that helps bring technology into affordable housing, and the chairman of the board of Habitat for Humanity International. Ramsey is co-author, with Ben Hecht, of Managing Nonprofits.org: Dynamic Management for the Digital Age.
In November of 2002, Bob Vance, Jr., was appointed a circuit court judge in Jefferson County, Al. Several weeks later, he and his wife, Joyce White Vance, had their fourth child, William Oliver, who joints Robert Smith III, Edward Rodman, and Eleanor Rainey.
1986
Robin Carnahan is campaigning to become Missouri's next Secretary of State. In the 1990s Carnahan worked on efforts to promote democracy and free elections in six countries. She also served as a special assistant to the chairman of the Export-Import Bank of the United States. Currently Carnahan runs her own consulting business and manages her family's 800-acre farm and angus cattle operation. Keep up with the race at: carnahanformissouri.com.
Tom Denison and his family are in Connecticut, where Denison continues his job as a managing director in the Greenwich office of First Reserve Corporation. He writes that he "really misses the big square states."

John Hagefstration was ranked among Alabama's leading individual attorneys in the real estate area and his firm Bradley Arant Rose & White LLP was ranked as the state's top law firm by ChambersUSA.
Debbie Holloman is an attorney with the U.S. District Court for the Eastern District of Virginia in Richmond. She recently embarked on an adventure to help WetBird Productions create the documentary, Thank You, Eddie Hart, which has aired on public television stations since May. The documentary is the story of Debbie's uncle, U.S. Army Private First Class Eddie Hart, who was killed in the final weeks of World War II.
Rod Hunter has been working at the National Security Council at the White House since August of 2003.
In May, Brenda C. Karickhoff was promoted to senior vice president and associate general counsel of Time Warner, Inc., in New York City.

William M. Ragland, Jr., was installed as the 2004-2005 President of the Atlanta Bar Association at its annual meeting. Ragland is a partner in Hunton & Williams' Atlanta office.
1987
Bryan T. Camp reports that after nine years of trying, (eight of them spent working in the IRS Chief Counsel's National Office in D.C.) he "finally" landed a teaching job at Texas Tech University School of Law. He and his family moved to Lubbock in the summer of 2001. In so doing Camp joined an impressive number—ten—of fellow'87 graduates in the halls of academe. He is happy to report that in the fall semester of 2003 the faculty voted to grant him tenure. "It was a long, but not particularly strange journey". He would be happy to share more details of his experience with anyone contemplating such a career move.
Phil Comerford, Jr., joined ING Capital LLC in New York, as managing director and head of U.S. mergers and acquisitions. Comerford is building a team focused on middle market transactions across a broad spectrum of industries, including food and beverage, packaging, auto parts, specialty chemicals, and others. His team supports both American and international clients, thus the majority of his activities involve cross-border transactions.
Craig Fishman is going on ten years of marriage to Shari D. Comins. The couple has a two-year-old son, Jamie. Fishman is an attorney at Orrick, Herrington & Sutcliffe LLP, practicing in Washington, D.C.
David C. Keesler was sworn in as U. S. Magistrate Judge for the Western District of North Carolina in Charlotte on April 30. Keesler had worked as both a state and federal prosecutor and as a partner at Moore & Van Allen. He and his wife Susan are proud parents of two daughters, ages six and three.

Michele A. Masucci has joined Nixon Peabody as counsel in its Health Services Law Practice, in Garden City, NY.

Tennessee attorney Richard Spore has just released the new edition of Business Organizations in Tennessee, a comprehensive resource guide for all business organizations and corporate lawyers in the state. Spore, a business lawyer with Bass Berry & Sims, has been actively involved in developing Tennessee business law legislation through the state bar and the State Tax Task Force. In addition to his practice and committee work, Spore has taught business law to undergraduate and graduate business students, and is a frequent speaker on business and commercial law topics for lawyers and other professionals throughout the state.
After serving as deputy commissioner for the Virginia Workers' Compensation Commission for two years, Jim Szablewicz was promoted to the office of chief deputy commissioner, supervising all judicial functions of the agency state-wide.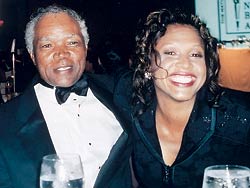 Kim Keenan '87 of Washington, D.C., and her father, Charles Keenan, during the 79th Annual Awards Banquet of the National Bar Association in Charlotte, NC. Kim was installed as President of the NBA at their August 13, 2004 banquet. Kim served as President-Elect for the past year and oversaw the planning of bar events for the 2004-2005 bar year.
1988
Peter Briton Busch, son of Philip Busch and Carey E. Hagan, was born May 27, 2003.
Glenn T. Reynolds works for BellSouth, handling their federal regulatory relations in Washington, D.C. Before BellSouth, Reynolds spent five years at the Federal Trade Commission in different positions, including deputy chief of the Common Carrier Bureau. During this period, Reynolds crossed paths with many Law School graduates, including Bill Wiltshire, Maria Olsen, and Chris Olsen'89. Reynolds reports that he and his wife Sarah have been fighting exhaustion trying to keep up with their two boys, Jack and Will.
Peter Fish has joined PEC Solutions, Inc., an information technology service company headquartered in Fairfax, VA, as vice president and general counsel. Fish lives in Oak Hill, with his wife Karen and their three children, Amanda (15), Kristen (13), and David (8).
John Storella serves as vice president of intellectual property at Ciphergen Biosystems, a biotechnology company in Fremont, CA. He and his wife, Lisa Aliferis, welcomed a second child, Dominic, on January 7.
Eric C. Taylor was elected president of the California Judges Association in the fall of 2003. He was installed by the state's Chief Justice on November 2.
1989
Patrick Capuano finished his second year as middle school teacher of religion in a Catholic school outside of Washington, D.C. He reports it to be the hardest job he has ever had. Capuano hopes to become an inner-city principal and build beneficial learning communities for kids in difficult circumstances.
Robert Hupe and his wife of 12 years, Susan, had a baby boy on April 24. Preston Robert joins three-year-old sister Emily Louise. The family lives in San Dimas, CA. Hupe works for Virco Manufacturing Corporation as associate corporate counsel. He handles all non-employee-related litigation, environmental and real estate matters, acquisitions, and intellectual property work. He has tried plaintiff and defense cases to successful verdicts in California and other states. Since graduation he has lived and practiced law in Southern California. Hupe says his family loves to travel both inside and outside the United States, and are involved with their local church in Glendora.
Steven P. Lynch was appointed a Commissioner with the Maricopa County Superior Court in Phoenix, AZ, in February. He becomes the third youngest commissioner to serve on the bench. His first assignment is in the initial appearance court of the criminal division.
Kimberly A. Newman announces her adoption of a baby boy from Russia on June 21. Her son's name is Beau Benjamin, and was born November 23, 2003. Newman is now a partner at O'Melveny & Meyers in Washington, D.C., and she and Beau reside in Alexandria, VA.
Scott Tilley is the general counsel of STIHL Incorporated in Virginia Beach. STIHL manufactures the world's largest-selling brand of chain saws and cut-off saws, as well as a full line of powerful, lightweight outdoor power equipment.
Atlanta, Jackson, and Birmingham Alumni Events
| | |
| --- | --- |
| | Clockwise from top: Carlton Reeves '89 (left) and Joshua Metcalf '01 at the Jackson, MS, event on March 17. Left to right, Dennis Zakas'82, Tom Bever '82, and Glenn Patton '96 in Atlanta, GA, on March 16. Rob Masri '96 (left) and Mark Wiggs '84 in Jackson. Classmates John Hagefstration '86 (left) and Randall Nichols '86 catch up in Birmingham, AL, on March 16. Classmates Tom Jamerson '03 and Meredith Aden '03 in Jackson. |
| | |
| | |