1990s Class Notes
---
Edward Burley is currently finishing two years of active duty with the U.S. Army Reserve. His tour included 15 months in Iraq investigating mass grave sites and genocide by the former Iraqi regime.
Steven E. Christoffersen and his wife Laura welcomed daughter Maria Ann into the world, on June 2, 2003. Christoffersen reports their older child, Erik (born December 11, 2001 ), "has been a great big brother most of the time."
John Clancy received the 2004 Leader in Law award from the Wisconsin Law Journal for his representation of the Forest County Potawatomi Community in its opposition to the proposed Crandon Mine. Efforts to site this 55-million ton underground zinc and copper mine in northern Wisconsin have been ongoing for more than three decades. The mine, which was proposed originally by Exxon, would have been located near the head waters of the Wolf River and within the traditional cultural lands of the Forest County Potawatomi Community and the Sokaogon Chippewa Community's Mole Lake Band. After the Forest County Potawatomi Community raised numerous environmental, cultural, and other impact-issues related to the mine, the applicant agreed to sell all of its interests, including its rights to the ore body and to more than 5,000 acres of forest land, to the tribes for a fraction of their expected value.
Annette Hughes, a former partner at Sedgwick, Detert,Maran & Arnold, moved to Australia in 1997, where she founded an office for Shook, Hardy & Bacon. In 2001, Hughes became a partner with Allens Arthur Robinson (www.aar.com.au). Hughes recently accepted an invitation to join the International Association of Defense Counsel. She says she would love to hear from any alumni in Australia.
Ronald V. Minionis was promoted to managing attorney of the Alexandria office of Legal Services of Northern Virginia, and chair of the housing group. Minionis's daughter Gabriella is 2 years old. "She is talking up a storm and doing great." He proudly states that "she already wants to play softball!" On December 19 Joshua Prober and his wife Melissa welcomed their son, Jonah Alexander Prober. He notes, "It was a wonderful end to 2003 for the family."
Charles Sullivan and Marc Benson ( Boston University'90) "rushed to San Francisco's beautiful City Hall to get married on Friday, February 13, after 22 years together." Due to the lack of advanced planning, no Virginia friends were in attendance—but the couple was surrounded by a few of Sullivan's friends from work (Charles works in City Hall as a deputy city attorney) and "lots of friendly strangers."
1991
Jennifer Slye Aniskovich was appointed executive director of the Connecticut Commission on Culture and Tourism by then-Governor John G. Rowland. Aniskovich is responsible for overseeing all state cultural activities and for developing and implementing Connecticut's strategic tourism plan.
After completing her clerkship at the Superior Court of Guam in 1993, Dr. Robin Douglas remained on the island for a period, became involved in animal welfare and humane society work, and decided to become a veterinarian. Douglas graduated from the University of Wisconsin School of Veterinary Medicine in 2003, receiving several leadership and animal welfare awards. She resides in Madison, WI, specializing in spay/neuter surgeries and rescue work.
David J. Duquette, Jr., has joined Greenberg Traurig, LLP as counsel in the corporate and securities department of the firm's New Jersey office. Prior to joining Greenberg Traurig, Duquette was a partner in the securities transactions group, the technology, emerging companies, and capital group, and the life sciences group at Saul Ewing LLP. Duquette has extensive experience representing domestic and international corporations in on- and off- shore mergers and acquisitions, leveraged buyouts, and securities and venture capital transactions, with a special emphasis on catalyzing the growth of private, technology intensive businesses.
Ann Bowman Hoover, her husband Chuck, and daughter Katie, (4), welcomed a son and baby brother named Joseph Evans, on March 4. Ann reports, "Everyone is sleep-deprived still, but thrilled to have Joseph around."
Mike Lincoln and his wife Wendy welcomed their fourth child, Sofia Walker, on October 28. Siblings are Wesley, Sarah, and William.
Steven R. Okun is vice president for public affairs for UPS in the Asia Pacific Region. Okun represents UPS to the 40 governments of that region. For the past three years, while working throughout Asia, Okun has focused his efforts extensively on China. In April 2004, he was a distinguished speaker at Peking University on the subject of the emerging role of government affairs in China. In further recognition of his work on Chinese matters, Okun was named as one of 24 inaugural delegates to the National Committee on U.S.-China Relation's Young Leaders' Forum in 2002. Steve, his wife Paige, and their sons Bennett and Mason reside in Singapore.
1992
D. Forrest Brumbaugh has joined Fulbright & Jaworski LLP as partner in the firm's Corporate Section in Dallas, TX.
Dana Clark has just published Demanding Accountability: Civil-Society Claims and the World Bank Inspection Panel. The role of the inspection panel is to investigate and resolve complaints brought by indigenous groups who are adversely affected by World Bank projects. (See In Print.)
Holly Blewer Farmer and husband Jeff welcomed their first child, Avery-Estelle Allison on November 3.
The Boston Bar Association has named Paul G. Lannon, Jr., co-chair of its college & university law section. Lannon is a partner in the litigation department of the Boston office of Holland & Knight LLP, representing public and private companies in complex civil litigation and management in employment disputes, and counseling management on employment and personnel issues. He devotes a large part of his practice to advising private educational institutions.
Jeffrey Naness's CD of original progressive electronic rock is available, with samples of each piece, at www.cdbaby.com/naness.
Carrie McIntyre was married to Jim Panetta in September of 2003. Guests included UVA Law School alumni Cathy (Yates) Carlson, Frank Golding'93, Jim Moore, Conrad Rippy, Brian Seward, Andrew Shoemaker,Mitch Zamoff and Erin Mulhollan'96.
Jonathan Perkel is vice president & associate general counsel of Travelocity. Perkel joined Travelocity when it acquired Site59 (the last-minute travel site) in March of 2002. He says that since that time "the Site59 management team has risen to the top leadership positions at Travelocity and has been having a blast helping reinvent the company from within." Perkel also remains vice president and general counsel of Site59. He can be contacted at http://www.jonathanperkel.com.
Brandon Peters has been named managing partner of the Goldwater firm in Scottsdale, AZ. He practices exclusively in the areas of nursing home abuse, medical negligence, and personal injury. Melissa Robertson welcomes her daughter Emma Caroline Robertson, born June 13, 2003.
Kendal and Natasha Perdew Silas continue to work together at the Atlanta Federal Defender's Office. On July 5, 2003, they welcomed a new addition to their family, daughter Nina Nikole. She was born premature at 3 pounds, 9 ounces, on July 5, 2003, and is now doing well. She was also welcomed by big brother, Korey, (6).
Reunions
Law Alumni Weekend 2004 was a weekend to remember for the more than 800 alumni and their families who came to Charlottesville. From CLE courses, to softball and barbeque, to dinner and dancing with classmates and friends, the weekend's activities made for good times. Alumni from the Classes of 1949, 1954, 1959, 1964, 1969, 1974, 1979, 1984, 1989, 1994, and 1999 returned for LAW 2004.
More Reunion Photos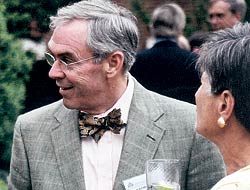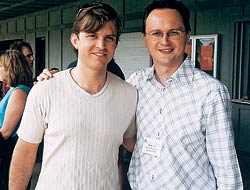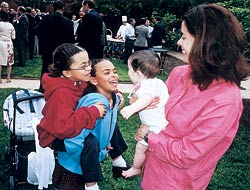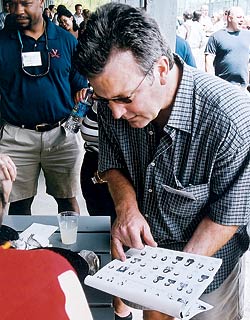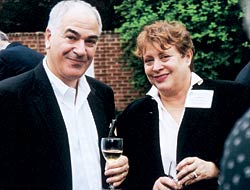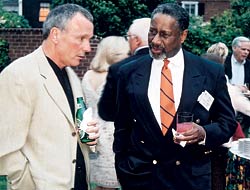 1993
Christopher R. Bowen is working for the Contra Costa County Alternate Defender Office in Martinez, CA. Patrick Crawford has decided to return to practice in Southern California. He says all is well and he would love to hear from classmates.
William A. "Biff" Pusey, Jr., has joined the private wealth management firm of Michael Joyce & Associates, PC in the Richmond, VA, office. Pusey leads the family office advisory practice, working with families on wealth enhancement, estate and tax planning, and preparation of subsequent generations for inheritance. Pusey and wife Sonya welcomed the arrival of Jonathan Edward in April 2003, which brings the child count to six. They still enjoy their home in horse country, outside of Richmond, but miss living in Charlottesville.
1994
On October 30, Fiona and Gavin Corn had their first child, Liam Robert. Corn continues to work as a prosecutor in the criminal division of the Department of Justice, handling mostly international cases. Fiona closed her antique shop to pursue her art career full time.

Malcolm Henderson was appointed partner at Foley Hoag LLP in Boston, MA. As a member of the firm's business department, Henderson concentrates in the areas of corporate finance, mergers and acquisitions, and high technology, with a special focus on bank debt financings.
Dave Higley and his wife Bridget are proud to announce the birth of Jack Strong. Jack joins big brother Owen (18 months) and big sister Bronwen (3). Dave is a managing director in the technology investment banking group of UBS Securities LLC, in Los Angeles, CA.
James V. Kelsh is a solo practitioner in Charleston, WV, focusing on representing public utilities and local governments. He and his wife Linda have three children, Katie (11), Shannon (8), and Jody (3). They are working on restoring their 1912 home in Charleston's east end historic district. Jim returns to Charlottesville every summer to participate in the Multiple Sclerosis- 150 bike ride, for which he raised more than $3,000 last year.
Brian C. Purcell and his wife Stacy announce the birth of their first child, Connor Ross, on December 1. The couple resides in Virginia Beach, where Purcell is a partner with Williams Mullen, focusing on mergers, acquisitions, and divestitures, as well as federal tax matters.
Shanti (Fishman) Ariker gave birth to twins Alex and Kyra on April 2. The family currently resides in Tokyo, Japan. Shanti can be reached at shanti100@yahoo.com.

Jonathan Blank (left) has been elected to partner in McGuire Woods' Baltimore office.
Paul Caron moved to the West Coast to work for Microsoft Corporation's law & corporate affairs department.
Katherine Harman-Stokes received special honors during the annual meeting of the Virginia Bar Association for her outstanding contributions to the work of the VBA Young Lawyers Division. She is assistant general counsel of the Graduate Management Admission Council.
Andrea Bailey Macgill and her husband Gordon welcomed their first child, Zoë Grace, on August 24, 2003. Andrea is with the law firm of Wright, Robinson, Osthimer and Tatum in Richmond, VA, where she practices medical malpractice defense litigation.
Julia and Jim Morse celebrated the birth of their third daughter, Clara Reagan, in May.
Christopher D. Ray and his wife Kathy welcomed their first child, Donovan, on January 27. Mom and baby are doing well. The family lives in Dallas, TX, where Chris is a principal in the private equity firm Natural Gas Partners.

P. Kevin Trautner (left) was elected partner at Bracewell & Patterson LLP. Trautner represents clients in debt and equity securities offerings and other corporate and securities matters in Houston, TX.
Peter S. Vincent is an assistant chief counsel with the U.S. Department of Homeland Security in San Francisco, where he concentrates on national security cases. He was previously in the legal department of Bechtel Corporation.
1996
Bianca Bennett will marry Michael Alexander in Los Angeles in October. She reports her new firm, Bennett Entertainment, is booming. She represents producers, directors, actors, and production companies. She also does production counsel work, "which is a fun way to be a legal eagle—on set," she says. Bennett has jumped in front of the camera to host her own makeover show, "Kick Off Your Shoes Across America," airing on Lifetime since July.
John Chapas II wrote "The Art of Business Acquisitions: Know Exactly What You Are Buying," for the Pittsburgh Business Times May 14–20 edition.
Charles Frankenhoff reports that although law is not the career field for him, he still feels loyalty to the Law School and hopes it continues to maintain its traditions of treating students kindly and with a gentle hand. Virginia's competitive advantage, to his mind, "is that it doesn't (or at least didn't) try to grind its students down." Also, he thinks the Law School's success thus far, and the success of those it sends out, shows that this strategy works.
Don Haddock has started his own law firm in Old Town Alexandria, VA. Donald M. Haddock, Jr., PLLC is a general practice firm with an emphasis on real estate and civil litigation.
Michael C. Kerrigan was elected to partnership at Hunton & Williams, where he has a financial institutions practice. He and wife Devin Schaumburg Kerrigan live in Charlotte, NC, with their two children, Joe (3) and Molly (18 months).
Eric and Chrissie Perkins of Richmond, VA, proudly announce the birth of their daughter, Alexandra Marie, who was born on January 1, 2004.
After almost seven years, Mary Rackmales left Legal Services of Northern Virginia and retired to Northport, ME, with her husband. She expects to do pro bono work for children with special education needs there. She hopes classmates who are in the mid-coastal area of Maine will give her a call. She says it would be fun to see them again.
1997
Amy Hackney Blackwell has been writing actively. Blackwell has published three books: The Essential Dictionary of Law; The Everything Irish History and Heritage Book; and Mythology for Dummies, and is soon to publish a fourth: LSAT for Dummies, which will appear in bookstores in November. She and her husband, Christopher, chair of the department of classics at Furman University, also keep busy raising Will (5) and Zoe (3).
Benkai Bouey has joined Los Angeles-based Triton Pacific Capital Partners as director. In addition he has been selected to sit on the finance advisory board to the city council in Rancho Palos Verdes, CA.
Katharine Lawrence Calderazzi and husband Anthony welcome their second daughter, Charlotte Grace. Big sister Zoe is three years old now.
Yost Conner received an award from Mi Casa for supporting affordable housing in the District of Columbia through pro bono legal services.
Eric Easley completed his Ph.D. from the London School of Economics. His thesis, "The War Over Immanuel Kant's Perpetual Peace: An Exploration into the History of a Foundational International Relations Text," will be published by Palgrave- MacMillan in the fall. He currently works in the Foreign Service for the U.S. State Department.
Laryn Ivy married Alan Gardner on September 13, 2003 in Newport, RI. The couple lives in Boston, MA. Jamie Leary and husband Brendan announce the arrival of their second child and first son, Owen Tolson, on February 7. Jamie is continuing her ERISA and employee benefits practice with Steptoe & Johnson PLLC in its Martinsburg, WV office.
Christine Gregorski Rolph and her husband Harold welcomed their first child on April 23—a girl named Michaela Catherine.
Salmon A. Shomade and his wife of almost 7 years, Beretta, had a "loving and handsome baby boy on March 3." Salmon Leopaul Smith- Shomade was born weighing 7 pounds, 9 ounces and weighed almost 15 pounds at 3-1/2 months. Shomade continues to pursue his Ph.D. in management at the Eller College of Management at the University of Arizona.
In January, Lori D. Thompson was elected secretary-treasurer of the Virginia Bar Association Young Lawyers Division. She is a partner at Gentry Locke Rakes & Moore LLP in Roanoke. Thompson, husband Mark, and their 4-year-old daughter Sidney Madison, welcomed their son and baby brother Caleb William, born March 5.
1998
Chris Gregory Baugher and his wife Dorothy welcomed Charlotte Nance to the world on October 9, 2003.
In January, Beth Frackleton Colling was elected to the executive committee of the Virginia Bar Association Young Lawyers Division. She is an associate at Petty Livingston Dawson and Richards in Lynchburg.
James Jones and his wife are proud to announce the birth of their second child, Julie, on May 24. The family has moved to Evansville, IN, where Jones will work as an associate at Fine & Hatfield.
Craig Morgan has been a police officer in Portland, OR, for four years. He says he "particularly enjoys criminals who think they are Perry Mason!"
Greg Phillips recently joined Calfee, Halter & Griswold LLP as a litigator in the Cleveland office. Phillips, a resident of Shaker Heights, Ohio, focuses on complex commercial litigation. He has represented and advised public and private companies, and their officers and directors, in class actions, corporate governance, securities, accounting fraud, products liability, real estate, antitrust, environmental crimes and civil RICO. Before attending the Law School, he participated for two years in the antitrust investigation of Microsoft Corporation at the U.S. Department of Justice. Prior to joining Calfee, Phillips was with the law firm of Shaw Pittman LLP in Washington, D.C., and before that served as a law clerk to U.S. District Judge Albert V. Bryan, Jr., of the Eastern District of Virginia.
Curtis J. Romig and Jennifer Murphy Romig live in Decatur, GA, with their 14-month-old daughter, Laura. Curtis is a member of the business litigation and arbitration practice group at Powell, Goldstein, Frazer and Murphy LLP and focuses his practice on construction and energy law. Jennifer teaches legal research and writing at Emory University School of Law.
Holly Angela Royce has left her job at Nabors Industries and is moving to Wichita, KS, with her fiancé Brad Cole, who has taken a job there with Koch Industries. Michael Solecki and his wife Katherine welcomed their second daughter, Lauren Elizabeth, on September 4, 2003.
James Wilson III married Michele Benoit on May 14. David S. Chung was one of his groomsmen. The couple resides in Cherry Hill, NJ.
1999
Sara L. Berg has joined the Virginia Beach office of Williams Mullen as an associate in the Labor & Employment Section. Her practice focuses on labor and employment law, including the representation of management in wrongful termination litigation.
Kristen Cain and her husband David Baldwin announce the birth of their daughter Evelyn Paige Cain Baldwin on November 3, 2003.
Darren Dragovich and Parker Whitfield Dragovich welcomed their first child, Reese Helena, in July of 2003. Darren is associate counsel at First Data Corporation, and Parker continues to practice ERISA and employment litigation at Holland & Hart LLP. The family resides in Denver, CO.
Laura Webb Khatcheressian and her husband Jim celebrated the birth of their son, Jake Krikor, on February 25. Khatcheressian has returned to work part-time with the business immigration group of Reed Smith LLP, in Richmond, VA.
Eric Merriam currently is a captain in the U.S. Air Force. He is the chief of military justice at Spangdahlem Air Base, Germany.
David Patton left Sullivan & Cromwell to become a staff attorney in the Federal Defender's Office in the Southern District of New York. He is also teaching a federal defender clinic and seminar at NYU Law School.
John Russell has joined the Richmond, VA office of Williams Mullen as an associate in the real estate practice, focusing on business and real estate law.

Jessica Aldock Tave and Steve Tave '00 are delighted to introduce their daughter, Samantha Danielle, born October 19, 2003. Samantha weighed 8 pounds, 7 ounces, and was 21.5 inches long at birth, and has been growing steadily ever since. She is a happy, loving baby, and her parents are thoroughly enjoying her and her constant smiles.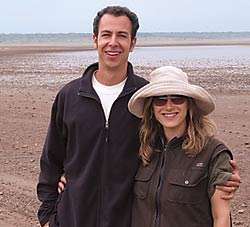 Michael Rakower and Sali Qaragholi Rakower, both Class of 1999, sent an extended class note on their varied and vast experiences over the past few years. In September of 2000 the couple married and six months later embarked on a year-long journey through Southern and East Africa. They lived on the proverbial shoestring budget, but were able to travel through South Africa, Lesotho, Zimbabwe, Zambia, Malawi, Mozambique, Tanzania and Rwanda, confronting language and cultural barriers and enduring oppressive heat and the scarcity of all resources. Rakower says life is so different over there that it is difficult to describe the conditions without being overwhelmed with thoughts. "Simply put, most Africans are unimaginably poor, intensely kind and gentle. The extremes of life are difficult for Westerners to fathom. Disease and famine reek havoc on populations, yet joy and enthusiasm is everywhere. Land is plentiful and all things grow in it, yet creatures, large and small, fight for every resource." In the final three months of their trip, the couple worked in the prosecutor's office of the International Criminal Tribunal for Rwanda ("ICTR"), where they assisted in the prosecution of the perpetrators of the Rwandan genocide and learned first-hand of the horrors that befell Rwanda in 1994. They returned to the States in March of 2003. Sali returned to her job at White & Case with redefined goals. Michael chose to leave the corporate world and enter the realm of litigation. While searching for an opportunity, he obtained a prisoner's rights case from The Legal Aid Society and threw himself into it with passion and fury. In December of 2003, he was mentioned on the front page of the New York Law Journal for obtaining a $20,000 sanctions award against the City of New York. Later, the case was settled for $105,000. In mid-December, he began a clerkship with Second Circuit Judge Richard Wesley. After their return, Rakower embraced the tragic story of Rwanda's people and teamed up with an organization called the American Friends for the Kigali Public Library. Their goal is to build Rwanda's first public library. Information about their efforts can be found on http://kigalilibrary.com and an article he wrote about Rwanda can be found at www.globetrotters.co.uk/newsletter/2003/august2003.php#_Toc50297945. Rakower is always encountering former classmates in his journey. While in Dar Es Salaam, Tanzania, he eagerly read Klinton Alexander's election results. After setting up an exchange program for U.S. attorneys to work at the ICTR, he consulted with Kristen Cain about the candidacy of one of her fellow co-workers. Judge Wesley recently published his opinion in Swedenburg, a case involving the shipment of wine into New York, bringing to mind Vijay Shanker's journal article.