A strong Law School presence at the annual conference of the American Law & Economics Association this past May confirmed the premier role that the Law School plays in the field of Law and Economics. The conference program included five papers by Virginia faculty members Robert Scott and George Triantis, Tim Wu, Anup Malani, Paul Mahoney, and Rip Verkerke. Jody Kraus, Paul Mahoney, Anup Malani, and Albert Choi also served as panel chairs. The Law School is also represented in the leadership of the institution (Mahoney is on the Board of Directors of ALEA).
In April 2004, Kenneth S. Abraham presented a paper entitled "Liability Insurance and Accident Prevention: The Evolution of an Idea," at a conference at the University of Maryland School of Law celebrating the 35th anniversary of the publication of Guido Calabresi's The Costs of Accidents. On June 24, he presented a paper entitled "The Influence of Liability Insurance on Tort Law," at a conference in Munich, Germany, sponsored by the European Center on Tort Law and Insurance.

During 2004, Rosa Brooks was elected to the Executive Council of the American Society of International Law. She also became Director of the Alliance for American Leadership Task Force on Human Rights, Democracy & Development. In April, Brooks spoke at a conference at the University of Georgia Law School on prospects for rule of law in Iraq. Also in April, she spoke at the American Society of International Law annual conference on the centennial panel about ASIL's centennial theme, A Just World Under Law (forthcoming in the next issue of ASIL Proceedings). In May, Brooks presented a paper in New York at an Expert's Meeting on International Humanitarian Law, sponsored by the Open Society Institute. Her article entitled "War Everywhere: Rights, National Security Law, and the Law of Armed Conflict in the Age of Terror," will be forthcoming in vol. 153 of the University of Pennsylvania Law Review. Brooks is currently working on a book on building rule of law in post-conflict societies, with Jane Stromseth of Georgetown and David Wippman of Cornell (publication scheduled for January of 2005).
Anne Coughlin and Jennifer Mnookin have been working on putting a conference together for the fall. The focus of the conference will be on law and literature. In a prospectus for the conference written by Coughlin and Mnookin, they note the phrase "'law and literature' seems to presuppose that its parts—'law' and 'literature'—are separate and distinct disciplines or fields of inquiry. Law does one thing, and literature does another. Legal texts are separate from literary texts; they are written by distinct sets of people; readers use them for utterly different purposes. Judges draft opinions and legislators write statutes, while novelists tell stories and poets compose verse. Students of law, of course, rarely rub elbows with students of literature. The phrase also implies that, when we bring law and literature together, we are opening up a new discursive space, identifying a range of new pragmatic interventions, methodological possibilities, and theoretical explanations."
The conference will bring together a group of scholars and writers for a conversation about law and literature, how they define it, where they do it, how they do it, and what they do it for. The conference question is designed to provide the basis for a conversation that is theoretical (what is law and literature?) yet deeply practical (how do you do it?) The format of the conference is designed to foster an intense and dynamic conversation among the participants. The group, made up of 12 or so participants, will be small, and the conference will be run in seminar-style, with attendance limited to the participants alone.

Risa Goluboff received the Law and Society Association Dissertation Prize for 2004 at the LSA annual meeting in Chicago on May 29. Goluboff's dissertation was on "The Work of Civil Rights in the 1940s: The Department of Justice, the NAACP, and African American Agricultural Labor" (see related story) At present, she is in the process of talking to publishers about publishing the dissertation as a book.
During 2004, Goluboff also gave a series of talks which included "The Work of Civil Rights in the 1940s: Purging Labor-Related Cases from the NAACP'S Legal Strategy" at the Yale Legal History Forum. She gave a talk on the same subject at "The May Gathering" in Washington, D.C. (See note on Richard Schragger.) She spoke about "Brown and the Historical Imagination" at the Law and Society Association Annual Meeting in Chicago, and "Paving the Road to Brown" at a Conference on Brown v. Board of Education's 50th Anniversary at the University of Virginia 's Miller Center of Public Affairs. Goluboff also plans to present a paper entitled "The Work of Civil Rights in the 1940s," at the American Society for Legal History Annual Meeting in Austin, TX in late October.

In May, Deena Hurwitz, Director of the Human Rights Program and International Human Rights Law Clinic, participated in a panel at a Workshop on Immigration-Asylum and International Human Rights Clinics at an AALS Conference on Clinical Education in San Diego, CA. She also traveled to Kabul, Afghanistan, in July to work with staff and local partners of (D.C.-based non-governmental organization) Global Rights-Partners for Justice, doing capacity building and strategic planning on transitional justice and human rights documentation. In addition, Hurwitz is writing a review of International Law From Below, Development, Social Movements, and Third World Resistance, by Balakrishnan Rajagopal (Cambridge University Press, 2003) for The George Washington International Law Review (forthcoming in the fall of 2004). She is also writing a chapter on "Ethical Globalization and Educating Relevant Lawyers" for a forthcoming book by Northeastern University School of Law Progressive Lawyering Project (tentatively titled Progressive Lawyering, Globalization and Markets: Rethinking Ideology and Strategy).

Given Michael J. Klarman's expertise in constitutional law (see related story, page 52), he has been in great demand throughout the country this spring for his perspective on the 50th anniversary of Brown v. Board of Education. Klarman has attended conferences commemorating the anniversary of Brown at Yale Law School ; Harvard Law School ; Hood College ; the University of Minnesota School of Law; Chicago-Kent College of Law (in a panel discussion with Professor Gerald Rosenberg); the Federal Judicial Conference, National Workshop for U.S. District Judges in Philadelphia ; Northwestern University School of Law (faculty workshop); Wooster College in Ohio ; the Organization of American Historians; the Jepson School of Leadership Studies, University of Richmond ; the Brevard County ( Florida) Bar Association; the Miller Center for Public Affairs; and the University of Illinois College of Law. At these conferences, he has presented in various formats. "Brown at 50," "What Brown Should Have Said," "Why Brown was a Hard Case," "Brown and Lawrence, " and "Race and the Constitution from the Civil War to the Present."
At Georgetown University Law Center, Klarman attended a conference on Bolling v. Sharpe and presented a paper entitled "Why Bolling was Hard but Desegregation in D.C. was (Relatively) Easy."
In May, Klarman launched his new book From Jim Crow to Civil Rights: The Supreme Court and the Struggle for Racial Equality, published in December 2003, at the Wilson Center for International Affairs in Washington D.C. Klarman was on National Public Radio's Talk of the Nation, where he participated in a panel discussion commemorating the 50th anniversary of Brown. He also appeared on Virginia Tonight, a PBS-affiliate show, for a program on the same subject. Klarman also spent a week in June at a state of Indiana judges' program teaching a short course entitled "Race and the Constitution from the Civil War to Brown."

In February, Clarisa Long presented her paper, "The Patent/Copyright Interface," at Case Western Reserve University Law School. In March, she presented her paper "Information Costs in Patent and Copyright," at Yale Law School. In September, Long is scheduled to present her paper "Dilution" at the Canadian Law and Economics Association conference, and in November, she has been invited to present her paper "Intellectual Property Privileges," at the University of California Berkeley School of Law.
In April, Elizabeth Magill presented a paper at a Conference at Northwestern entitled "The Revolution that Wasn't." Magill argues in her paper that a principal legacy of the Rehnquist Court is its revitalization of doctrines associated with federalism.
Using the federalism decisions as a point of comparison, the paper asks why there has been no "revolution" (using the term loosely) in separation of powers jurisprudence during the Rehnquist Court. The paper argues that internal and external factors that drive separation of powers jurisprudence diverge from the factors that drive federalism jurisprudence. The paper focuses on four factors: judicial incentives; the positive law that the Court is applying; the external factors that influence doctrinal developments; and the likely results of shifts in doctrine.
At the end of June, Magill and co-author, Professor Steve Croley of the University of Michigan School of Law, were awarded a grant from the Milton and Miriam Handler Foundation to study the particular legal instruments agencies have available to implement their statutory mandates, and to examine when and why agencies employ one legal instrument instead of others.

Paul Mahoney was a commentator at a conference entitled "Law, Finance and Political Economy" at Columbia Law School on April 23–24. In May, he presented a paper entitled "The Value of Judicial Independence: Evidence from Eighteenth-Century England" (coauthored with Professor Dan Klerman of the University of Southern California) at the American Law & Economics Association annual conference. He also presented this paper in June at the Max Planck Institute for Research on Collective Goods in Bonn, Germany. At a Max Planck Institute conference held in Marienbad in the Czech Republic on June 17–18, Mahoney presented a paper entitled "General and Specific Rules: A Mechanism Design Approach" (co-authored with Chris Sanchirico of the University of Pennsylvania).
The second edition of the book Criminal Law by Richard Bonnie '69, Anne Coughlin, John C. Jeffries, Jr. '73, and Peter Low '63 was published in June (Foundation Press). Also published in June by Low and Jeffries was Federal Courts and the Law of Federal State Relations (5th edition, Foundation Press). Both books are in use in numerous law schools.

Anup Malani has presented a number of papers this year beginning with two at the Law School entitled "Habeas Bargaining" and "The Effect of Joint and Several Liability on the Bankruptcy Rate of Defendants: Evidence from Asbestos Litigation." These were followed by "Habeas Bargaining," presented at UNC Law School, "Testing for Placebo Effects Using Data from Blinded, Randomized Controlled Trials," presented at George Mason University Interdisciplinary Center for Economic Science, "The Effect of Joint and Several Liability on the Bankruptcy Rate of Defendants: Evidence from Asbestos Litigation," presented at the American Law and Economics Association Meetings, Northwestern Law School, and "Testing for Placebo Effects Using Data from Blinded, Randomized Controlled Trials" presented at the North American Summer Meeting of the Econometric Society at Brown University.
In February, Malani organized the Olin Program Conference on Empirical Advances in Corporate, Securities, and Bankruptcy Law. The program is available on www.law.virginia.edu. Speakers at the conference included Lucian Bebchuk of Harvard Law School, Michael Klausner of Stanford Law School, and Anup Agrawal of the University of Alabama.
Early in the year, Malani arranged for speakers to visit the Law School to participate in the Sadie Lewis Webb Program in Law & Biomedicine. They were David Cutler, Department of Economics, Harvard University ; Darius Lakdawalla, RAND; and Ramanan Laxminarayan of Resources for the Future. He also arranged for Ahmed Saeed of NextCom Ventures, D.C.; Andy Nussbaum, partner/mergers and acquisitions at Wachtell Lipton, New York ; Mark Trevino, partner/ executive compensation at Sullivan & Cromwell, New York ; and Mark Haefele, Sonic Funds, Charlottesville, to speak at the Law & Business Programs held throughout the year.
Malani has completed research projects on "Habeas bargaining and settlement," "Domino effects of bankruptcy with joint and several liability: the case of asbestos liabilities," "Drivers of executive compensation at non-profit firms," "Detecting placebo effects with data from clinical trials: application to anti-ulcer medications, statins," and "Do non-profit firms signal their status to consumers?" Malani's research in progress includes "Hidden aspects of executive compensation: SERPS and CIC payments," "Valuing mass tort liabilities in bankruptcy," "Effect of joint and several liability for asbestos on capital costs: the case of private commercial loans," "Detecting placebo effects with data from clinical trials: application to caffeine, nicotine patch/gum, impotence therapies, analgesics, and anti-depressants," and "Determining the option value of therapeutics."
On May 7, at the FDA's annual awards program, Richard A. Merrill was given the agency's Distinguished Alumnus Award for his work as agency counsel, service as a consultant to the FDA and other agencies, and his teaching and writing about food and drug regulation. Later that day, at the annual FDA awards ceremony, Merrill was given a crystal bowl in recognition of his selection. The event was presided over and the bowl presented by Lester Crawford, FDA's Acting Commissioner.
Jennifer Mnookin was a visiting professor at Harvard Law School for the past academic year. She gave a talk at UCLA last fall and a workshop at Florida State in January 2004. In March, Mnookin gave a presentation at the Law, Culture and Humanities Workshop, a workshop at Stanford Law School, and a workshop at Harvard Law School.

Jeffrey O'Connell is writing a piece on how tort law has betrayed its hopes for aiding injury victims and, on the whole, instead has rewarded lawyers and insurers. The piece, edited by Duke Law Professor Paul D. Carrington, will appear in a volume published by NYU Press in 2005. He is also working on a piece on malfunctioning U.S. tort law to appear in a volume honoring Swedish insurance law scholar Bill Defwa on his retirement from Stockholm University. The volume will be edited by insurance scholar, Malcolm Clarke of Cambridge. Along with two economists, O'Connell is working on a theoretical economic study costing a reform he has proposed to allow health care providers to foreclose full-scale tort claims against themselves by promptly offering to pay any claimants' net economic losses, i.e., medical expenses and wage losses beyond other applicable coverages.

On April 13, Robert M. O'Neil did a segment on NPR's Morning Edition (one of Bob Edwards' last) on his Center's Jefferson Muzzles, followed by many other radio interviews with stations from Charlottesville to Vancouver. In May, Johns Hopkins Press published Competing Conceptions of Academic Governance containing O'Neil's chapter "University Governance and Academic Freedom." O'Neil's article on the 40th anniversary of The New York Times v. Sullivan appeared in a recent issue of Communication Law & Policy, and his article on commercial speech appeared in the Case- Western Reserve University Law Review.
On June 12 in Washington, D.C., O'Neil gave a keynote speech at the annual meeting of the American Association of University Professors on Academic Freedom and National Security. On August 17, he was the speaker for the College of Fine and Performing Arts Fall Convocation at the University of Nebraska- Lincoln. On September 11, O'Neil spoke at the Center for the Study of Citizenship, a new entity at Wayne State University in Detroit, and on October 26, he will be giving the Catherine N. Stratton Lecture on Critical Issues at MIT, along with Georgetown 's Viet Dinh.

In early April, Dan Ortiz argued the summary judgment motion in the Virginia wine and beer distribution case before the U.S. District Court. Virginia, like some other states, allowed Virginia wineries and breweries, but not out-of-state wineries and breweries, to sell and ship directly to Virginia consumers. This was challenged in court and the state legislature changed the law to permit direct shipment from out-of-state, but under conditions that Ortiz claims unfairly discriminate. He said "we're now back in the district court attacking the burdensome new rules."
Ortiz is currently finishing a piece called "Got Theory?" for the University of Pennsylvania Law Review. The article is based on the role of democratic theory in election law cases. He is also finishing up a piece called "Nice Legal Studies" which criticizes the movement in some contemporary legal theory to submerge or avoid disagreement and conflict.
Mildred Robinson was a presenter at the 26th Annual Foulston & Siefkin Lecture. Her presentation "Fulfilling Brown's Legacy: Bearing the Costs of Realizing Equality," was delivered at Washburn University School of Law, Topeka, KS, on February 20. Publication will be forthcoming in the Washburn Law Journal. On February 23, she was panelist and moderator on "Commemorating the 50th Anniversary of Brown v. Board of Education at Clemons Library at the University of Virginia. On February 24, she moderated a panel on "Desegregation of UVA Law: The Alumni Experience" at the Law School.
On March 26, Robinson gave a Keynote Address entitled "To You Who Are The Keepers of the Brown Dream …" at a University of Kentucky Commemoration of the 50th Anniversary of Brown v. Board of Education in Lexington, KY. (The speech will be published as part of the proceedings.)
On April 2, Robinson gave a symposium presentation entitled "Voices of the Brown Generation: Description of a Project" at the University of Arkansas in Little Rock. The presentation described the project and discussed how the realities confronted by the responders were handled by the courts of that period. The Journal of Appellate Practice and Process plans to publish the presentation. Also during April, Robinson gave a Keynote Address entitled "Brown:Why We Must Remember" at Marquette University as well as at the Law School, discussing the comparative experiences of the Brown generation, Wisconsin 's Amos generation, and of present-day high schoolers from the standpoint of students in a Washington, D.C. area high school. (Publication forthcoming, Marquette Law Review). At the end of April, Robinson gave a presentation entitled "Voices of the Brown Generation" at the Stillwater Institute for Social Justice in Charlottesville.

James Ryan '92 gave a talk entitled "Brown, School Choice, and the Suburban Veto" at the Brown Conference held at the Law School in February, and an essay of the same name will also be published by the Virginia Law Review in the fall. An article by Ryan entitled "The Perverse Incentives of the "No Child Left Behind Act" was published in the NYU Law Review this summer. A chapter written by Ryan entitled "The Legal Boundaries of Educational Governance," will be published in the fall by Brookings in a collection of essays on educational governance. Ryan has also written a chapter entitled "Federalism as Libertarian Fantasy," which will be published in a book entitled Redefining Federalism, due out next winter, and has been writing an article tentatively entitled "A Constitutional Right to Preschool?" Ryan is also working with Dean John Jeffries on a book tentatively entitled The Law and Politics of Church and State: The Making of a Constitutional Revolution.
Ryan, who became Academic Associate Dean on July 1, has also been working on a pro bono case, representing a Tibetan Monk who is seeking political asylum.
Richard C. Schragger had an article published in April in the Harvard Law Review entitled "The Role of the Local in the Doctrine and Discourse of Religious Liberty." In May, another article of his appeared in the Michigan Law Review entitled "Consuming Government" (reviewing William Fischel, The Homevoter Hypothesis: How Home Values Influence Local Government Taxation, School Finance, and Land Use Policies (2001)).
Schragger's other activites this year included a presentation entitled "The Anti- Chain Store Movement and the Ideology of Localism" given at the January meeting of the Association of American Law Schools, State and Local Government Section. He was also a participant in the City Powers Project. Organized through Harvard Law School and sponsored by the Boston Foundation, the City Powers Project compares the economic, political, and legal structures of six major cities: Boston, Chicago, Atlanta, Portland, Denver, and New York. The final report should appear in the fall.
In addition, Schragger organized "The May Gathering," an annual examination of the purpose and nature of legal scholarship for junior faculty. The event was held at the Georgetown Law Center on May 17, and attracted almost 20 participants from law schools around the country.
Elizabeth S. Scott '77 will be participating in a conference and symposium at Harvard in October on the ALI Domestic Partnership Principles.
At the end of March, Robert E. Scott delivered the Cecil A. Wright Memorial Lecture at the University of Toronto. The lecture, entitled "The Death of Contract Law," will be published in volume 54 of the University of Toronto Law Journal. In April, Scott presented a paper that he is co-authoring with George Triantis at faculty workshops at Columbia Law School and the University of Southern California Law School. The paper, entitled "Embedded Options and the Case Against Compensation in Contract Law," will be published in the October 2004 issue of the Columbia Law Review. On May 16, Scott delivered the graduation address at the University of Illinois Law School in Champaign, IL. His address was entitled "The Lawyer as a Public Citizen."

In May, Paul Stephan '77 presented a paper titled "Process Values, International Law and Justice" to a conference on international organizations and regimes hosted by the Wharton School of the University of Pennsylvania. He also presented this paper at a Law School faculty workshop this summer and plans to do the same at a conference organized by the Philosophy Department of Bowling Green University in the fall. In June, Stephan presented a paper on the legal aspects of energy development and distribution at a conference in St. Petersburg, Russia, organized by the Law School 's Center for Oceans Law and Policy. During July and August, Stephan taught a course on U.S. corporate and international taxation in the graduate program of Melbourne University, delivered a lecture on the Supreme Court decision in Sosa v. Alvarez-Machain at the Australian National University ( Canberra), and talked about legal development in badly stressed societies, namely Russia and Iraq, at Sydney University. During the fall, Stephan will be a visiting professor at University of Paris 2–Pantheon-Assas. He will also give a course on international business regulation in the master's program conducted by Science Po and Paris 1–Pantheon-Sorbonne.

April Triantis has coauthored two new case studies and a note on Early Stage Termsheets to be published by the Darden Case Collection at the Darden School. The case studies, SecureNet, Inc. and ConciergeClub.com, help students explore the issues surrounding early stage venture financings. In addition, Triantis has also co-authored a Termsheet Exercise which covers an early stage venture financing term sheet and which is being formatted into both a web-enabled version and a CD-ROM version. These case studies and termsheets are the first designed specifically to be used in both law and business classrooms. Triantis expects to publish several more in the upcoming year.

This year, George Triantis LL.M. '86 completed his term as co-editor of the Journal of Law & Economics. He was also elected to the board of directors of the American Law & Economics Association. His article, "Organizations as Internal Capital Markets: The Boundaries of Firms, Collateral, and Trusts" was published in the February issue of the Harvard Law Review, and his co-authored work (with Robert Scott) entitled "Embedded Options and the Case Against Compensation in Contract Law" will appear in the October issue of the Columbia Law Review. Triantis presented the latter article at a faculty workshop at Yale Law School in late February, and at the annual meetings of the American Law & Economics Association in May. He and Scott are also completing a reader for Foundation Press entitled Foundations of Commercial Law.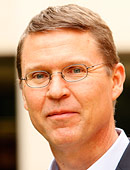 Rip Verkerke was a visiting scholar at the University of Utrecht School of Economics in The Netherlands in April. He met with labor law faculty for a Dutch-American meeting on labor and employment law and with economics faculty and graduate students to discuss issues connected to their research on the economics of labor law and contract law. In addition, Verkerke presented a paper on "Legal Ignorance and Information-Forcing Rules" at a workshop at the School of Economics.
From April 30 to May 2, working under the auspices of the National Academics Committee on National Statistics, Verkerke was appointed to the Oversight Committee for a Workshop on the Utilization of Women-Owned Small Businesses in Federal Contracting. He participated in a public session and a deliberation session in Los Angeles, CA. Verkerke is a contributor to a forthcoming report on methods of assessing utilization of women-owned small businesses by federal contractors. On May 7, Verkerke presented a paper on Legal Ignorance and Information-Forcing Rules at the American Law and Economics Association Annual Meeting in Chicago, IL. In June, he served as panel organizer and commentator for the Labor and Social Welfare panel of the 2004 Stanford-Yale Junior Faculty Forum in New Haven, CT.

G. Edward White's book on Alger Hiss entitled Alger Hiss's Looking-Glass Wars: The Covert Life of a Soviet Spy, published in March, received many favorable reviews. Among them, Michael Ybarra of The Wall Street Journal says "with his portrait of the man himself—as well as supporters, for whom almost no evidence was convincing—Mr. White has written the best book ever about Alger Hiss. Let us hope that it will be the last." Terry Teachout of The Baltimore Sun says that "White … can't make Hiss more interesting than he was, but he can and does describe in rich and fascinating detail his half-century-long crusade for vindication." John Monagan of The Washington Times calls White's book an "inclusive, impressive, deeply pondered and finely spun study." The New York Law Journal calls it "an inspired portrayal of a man's life and a dispassionate analysis of the forces that motivated that life." Bruce Ramsey of the Seattle Times writes "White's book retells the story of Hiss' life with the ambiguity stripped away."