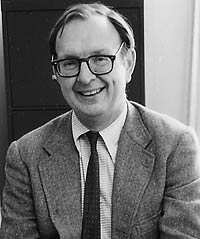 Professor Woodard in late 1981.
Professor Woodard Remembered
Calvin Woodard, Professor Emeritus of the Law School, died August 29 at his home in Charlottesville after a long illness.
Born May 5, 1927, in Wilson, NC, he was the son of the late William W. Woodard and Grace Harper Woodard. He attended Virginia Military Institute and served in the U.S. Navy before graduating from the University of North Carolina at Chapel Hill.
Professor Woodard graduated from Yale Law School in 1953. After practicing law in New York with Sullivan & Cromwell for several years, he embarked on a distinguished academic career, beginning with graduate study at Cambridge University where he received a Ph.D. in history in 1961. He joined the Law School faculty in 1965, teaching primarily legal history and legal philosophy and was appointed the Henry L. and Grace Doherty Charitable Foundation Professor of Law, a position he held until his retirement in 1994.
Professor Woodard held visiting professorships at the law schools of Stanford University, Washington and Lee University, The College of William and Mary, the University of Hanover in Germany, Fudan University in Shanghai, and National Chengchi University in Taipei. He was awarded fellowships from the Fulbright Program, the Guggenheim Foundation, and the National Endowment for the Humanities for postdoctoral study in England and Germany and at Yale University.
During the latter part of his career, Professor Woodard helped develop the Law School 's Graduate Program for Judges, and was a frequent lecturer for the American Bar Foundation Conferences of Appellate Judges and at seminars for judges. He was an avid hiker, jogger, and skier.
Professor Woodard is survived by his wife of 31 years, Elizabeth Henneman Woodard '73; three children; and four grandchildren. He was preceded in death by his first wife, Brooks Parkman Woodard, and a brother, William W. Woodard, Jr.