Teaching the Narrative Power of the Law
Program in Law and Humanities Sets Legal Study in Broad Context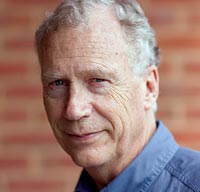 U.VA. NEWS SERVICES/DAN ADDISON
Peter Brooks
Cullen Couch
ECHOING THE APPROACH
but not the conclusions of the realist movement in the legal academy of the 1930s, the Law School's
Program in Law and Humanities
under director and University Professor Peter Brooks is looking at fields outside the profession to learn more about its own. By studying law relative to other disciplines that are centrally concerned with interpretation, evidence, and persuasion, Brooks hopes to build a program that unlocks and applies to the practice of law the conscious and subconscious power of good storytelling.
In a recent article profiling Brooks, he describes himself as a "restless scholar" who was first lured to the law in 1990 by Yale colleague Paul Gewirtz, the Potter Stewart Professor of Law. "We had lunch weekly," Brooks said. "He knew of my interest in narrative analysis, so he fed me court cases." From that came the courses that Brooks now teaches at UVA where he holds a dual appointment at the Law School and the College of Arts & Sciences' English department, teaching 19th century comparative literature and literary theory. Brooks has published a number of books, including Reading for the Plot, Troubling Confessions: Speaking Guilt in Law and Literature, and (as co-editor with Paul Gewirtz) Law's Stories: Narrative and Rhetoric in the Law.
"One of the interesting things about narrative is that it is universal. It's not a language, but it is a UNIVERSAL GRAMMAR of how people put things together with beginnings, middles, and ends. I think that has something to do with our mortality, the fact that OUR LIVES HAVE BEGINNINGS, MIDDLES, AND ENDS and we have to operate within those constraints."
"Our primary interest is to set the study of law in a broad cultural and critical context," says Brooks. "We want to step outside of the law where we can look at it and make students more aware of some of its problematic issues in interpretation and storytelling. You can look at court cases not just for their doctrine, but also for what they're doing to you, for their rhetoric and narrative structure."
Dan Ortiz, John Allan Love Professor of Law, who will team with Brooks to teach law and humanities, says that Brooks is "catalytic for us. We get blinkered by disciplinary constraints," he said. "It is hard to get distance from these constraints if you are working within them." Working with Brooks will "expand my way of thinking."
Anne Coughlin, O.M. Vicars Professor of Law, organized with Brooks a weekend seminar last October with about a dozen professors from around the country that explored the dynamics and goals of the emerging program. Coughlin said the conference was also meant "to signal to the world that Peter Brooks is here and that the UVA Law School intends to be, and is delighted to be, a serious participant in his law and literature movement."
Law Tells a Story
Essentially everything a lawyer produces is a story. Whether it's a contract, legal memorandum, or brief, the lawyer marshals its critical elements into a narrative that a reader must interpret, understand, and ultimately agree with. It's not a work of fiction, certainly, but the writer is making choices that tell a story about that reality. The real question, then, is what conscious or subconscious devices drive those choices?
"They come out of a common canon of stories, a cultural collection of narratives or metastories that we have had since biblical times," says Coughlin. She believes the Program will teach students that good lawyering necessarily means good storytelling. "There is some reality that we must capture but we also want our students to understand that there are competing ways to understand that reality. We want to teach them to be really thoughtful about the source of these competing narratives and why they work. It makes them better lawyers. And whoever tells the best story wins."
Brooks wrote an article scheduled to appear in the Yale Journal of Law & the Humanities suggesting "if the law paid more attention to the narrative analysis of what it's up to it might learn something from that. It would learn that—first of all—storytelling is not innocent. The way you go about it makes a lot of difference to the result you come up with. One example of that is in cases of rape where the majority opinion and the dissent tell very different narratives of what you know are the same incident. The facts basically aren't in dispute. The question is how you line up the facts so that in one case they mean consensual sex and in the other case they mean forcible rape. You can analyze the judges' preconceptions through the way they tell the story. Both stories, the majority and dissent, are interpretations of the facts on the ground."
Brooks uses Bakke, the affirmative action case, as another good example of shifting perspectives in a story. "Most of the justices, and there were something like five different opinions in that case, are writing about 200 years of constitutional adjudication," he says. "Then Thurgood Marshall begins his opinion: 'Three hundred and fifty years ago, the Negro was dragged to this country in chains to be sold into slavery.' He just suddenly alters the whole time frame, the whole perspective on the story and you've got to say, 'Wow, this is a story that the others are not telling.' It makes you reconceptualize what the story is all about."
On the other side of telling a story is the reading and interpreting of narratives—indeed of texts of all kinds. The Program will explore the methodologies of literary criticism and the other interpretative humanities disciplines to study how a lawyer might interpret a text. Brooks "can put these questions for us in a historical context," says Coughlin. "He can tell us about the history of rhetoric and about the way prior generations of scholars have understood the uses, the purposes, of rhetoric. He can explain to us what literary methodology is."
The continuing debate surrounding "judicial activism" and constitutional interpretation lends itself well to this sort of analysis. "We hear from Justice Scalia that he has a particular way of reading the Constitution," says Coughlin. "We hear from him that there is only one way to read the Constitution. When he reads a novel, does he read it the way he reads the Constitution?"
Conference Sketches Outline of Program
The October conference allowed faculty who have an interest in law and literature the opportunity to spend a couple of days having a sustained conversation about the discipline. Coughlin credits Dean John Jeffries for having the foresight to establish and fund such conferences to give "space for much more intense conversations among scholars who are committed to having an open conversation, rolling up their sleeves, doing the work and doing it alone. Part of the great results we get comes from the fact that you're not performing for a large audience. You're just talking to each other and it's a pretty unusual thing. A number of other law schools have adopted this format because it's so rewarding for the people who participate."
Participants explored what lawyers can learn from literature, literary critics, and other humanities disciplines and what it should mean for the Law School now and for decades to come. They also asked the larger questions about the law and literature movement, such as why not teach law as one of the number of disciplines in the humanities, and why should professors specialize in law. The conference then probed more deeply into the connections between law school and the arts and sciences as separate entities, asking what literary theory can teach about law, what legal methodology can teach about reading literature, and how to employ literature as a tool within law teaching.
Using ideas derived from the conference, the Program in Law and Humanities will illuminate legal problems through comparison to issues and interpretive methods in such related fields as literature, philosophy, anthropology, and cultural criticism, supplementing the instrumental teaching of the law with more speculative explorations of the language, rhetoric, presuppositions, and cultural rituals associated with the law. Finally, it will encourage cross-disciplinary teaching and research on all topics that might enhance the understanding of law, and the law's contribution to other scholarly disciplines.
The Program includes an introductory course, Law and Humanities: Reading and Interpretation, taught by Brooks and Ortiz; a colloquium, Marriage in Law, Culture, and the Imagination, conceived by new faculty member Karen Abrams, and co-taught with Brooks; and a short course, Punishment in Law and Culture, taught by visiting Professor Austin Sarat. Other courses relevant to the Program include Sex, Drugs, and Lies: Regulation and Representation (Anne Coughlin and Barbara Armacost); and Environmentalism and the Supreme Court (Jonathan Cannon). Further interdisciplinary courses will be available in the future, including Crime and Punishment and Evidence Law and Narrative.