Commencement 2006
Best-selling author David Baldacci '86 told the graduating class in his commencement address on May 21 that it faces tough challenges ahead and should "go out and shake up the world." He said "no generation can be great unless all members realize that sacrifice, compromise, and altruism are not failings or signs of weakness, and they don't constitute a consolation prize for being second-best—they comprise honor and a duty collectively held.
"And remember this: the core strength of greatness is and always will be the human desire to show compassion and understanding to others, regardless ofwhat they look like, what language they speak, or what God they believe in, if any."
Following Baldacci's remarks, the Law School conferred 376 Juris Doctor degrees, 30 Masters of Laws degrees, and one S.J.D (Doctor of Juridical Science) degree.
Before introducing Baldacci, Student Bar Association President Hill Hardman and his identical twin and SBA Vice President John Hardman delivered an address jointly,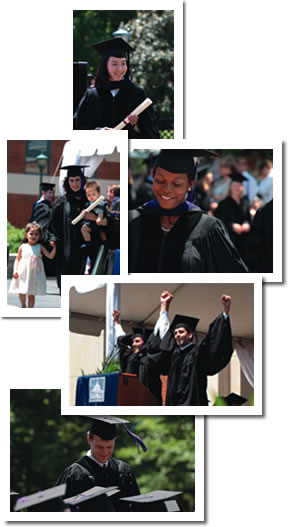 risingtothe podium to the sounds of a famous inspirational tune. "Today we realized our life-longdream of walking on stage in front of 2,000 people to the blaring sound of the 'Rocky' theme song. UVA Law makes dreams come true," John joked.
Both praised the accomplishments of the Class of 2006, including breaking school records for fundraising for
public-interest activities and charities and the formation of the Virginia Law & Business Review.
"Nothing better illustrates the magnitude of our impact than our class gift," Hill said. "Over 92 percent of you made five-year pledges to the Law School—the highest participation rate of any graduating law school class in the nation."
Dean John C. Jeffries, Jr., warmly praised the Class of 2006.
"You leave here as you came—a collection of kind and concerned and motivated individuals, you leave as you came with gifts of intelligence and personality that few can match, you leave as you came with a commitment to achievement, to excellence, to service, but you leave here today with more than talent and commitment, you leave with opportunity and power, with a vastly increased capacity to influence the world around you," said Jeffries. "The lawyer's abilities to reason carefully, to argue cogently, to explain persuasively, requires others to pay attention."
Jennifer Lynn Attrep '06
The Honorable Richard J. Leon
U.S. District Court for the District of Columbia
Thomas Bednar '04
The Honorable Royce Lamberth
U.S. District Court for the District of Columbia
Janna Ione Berke '06
The Honorable Berle M. Schiller
U.S. District Court for the Eastern District of Pennsylvania
Jason Binder '05
The Honorable Diane Kroupa
U.S. Tax Court
Pamela Karten Bookman '06
The Honorable Robert D. Sack
U.S. Court of Appeals for the Second Circuit
Jason Robert Brege '06
The Honorable Douglas O. Tice Jr.
U.S. District Court for the Eastern District of Virginia
Pauletta Jean Brown '06
The Honorable Louise W. Flanagan '88
U.S. District Court for the Eastern District of North Carolina
Lindsay Blair Buchanan '06
The Honorable Leonie M. Brinkema
U.S. District Court for the Eastern District of Virginia
Michael Franklyn Buchwald '06
The Honorable George P. Schiavelli
U.S. District Court for the Central District of California
John Washington Burke '06
Staff Clerkship
U.S. District Court for the Eastern District of Virginia
Adam C. Calinger '06
The Honorable James E. Seibert
U.S. District Court for the Northern District of West Virginia
William Paul Childress '06
The Honorable James P. Jones '65
U.S. District Court for the Western District of Virginia
Catherine Danielle Cockerham '06
The Honorable Samuel G. Wilson
U.S. District Court for the Western District of Virginia
Clayton Andrew DeArment '06
The Honorable Glen M. Williams '48
U.S. District Court for the Western District of Virginia
William Lassiter Doffermyre '06
The Honorable D. Brock Hornby
U.S. District Court for the District of Maine
Ewell Patrick Eagan '06
The Honorable Sarah S. Vance
U.S. District Court for the Eastern District of Louisiana
Bradley Keith Ervin '06
The Honorable Karen L. Henderson
U.S. Court of Appeals for the D.C. Circuit
Michael Jacob Ewart '06
The Honorable Robert E. Payne
U.S. District Court for the Eastern District of Virginia
Linda Fang '06
The Honorable Legrome D. Davis
U.S. District Court for the Eastern District of Pennsylvania
David Lee Feinberg '06
The Honorable Benson Everett Legg
U.S. District Court for the District of Maryland
Erin Cavan Fitzpatrick '06
The Honorable Loretta A. Preska
U.S. District Court for the Southern District of New York
Patricia Jean Freshwater '06
The Honorable J. Frederick Motz '67
U.S. District Court for the District of Maryland
Richard Gardner '06
The Honorable Gerald F. Schroeder
Idaho Supreme Court
Andrew Evan Gelfand '06
The Honorable James L. Ryan
U.S. Court of Appeals for the Sixth Circuit
Scott David Goodwin '06
Staff Clerkship
Delaware Court of Common Pleas
Thomas Bryan Weatherly Hall '06
The Honorable John G. Heyburn, II
U.S. District Court for the Western District of Kentucky
Jamey Harris '05
The Honorable Susan P. Graber
U.S. Court of Appeals for the Ninth Circuit
Edward Shih-Tong Jou '06
The Honorable Tu M. Pham
U.S. District Court for the Western District of Tennessee
Christopher Robert Kavanaugh '06
The Honorable James C. Cacheris
U.S. District Court for the Eastern District of Virginia
Leslie Carolyn Kendrick '06
The Honorable J. Harvie Wilkinson, III '72
U.S. Court of Appeals for the Fourth Circuit
Lindsey Anne Lewis '06
Staff Clerkship
Fairfax County (Virginia) Circuit Court
David Joseph Lienhart '06
Staff Clerkship
U.S. Bankruptcy Court for the Middle District of Florida
Roy Edward Litland '06
The Honorable Ann D. Montgomery
U.S. District Court for the District of Minnesota
Robert Neale Lyman '06
The Honorable Norman K. Moon '62, (LL.M.) '88
U.S. District Court for the Western District of Virginia
Aaron Christopher Mahler '06
The Honorable Daniel A. Barker (LL.M.) '04
Arizona Court of Appeals
Jonathan Richard Marx '06
The Honorable Thomas S. Ellis III
U.S. District Court for the Eastern District of Virginia
Kimbery Mccalmont Mattingly '06
Staff Clerkship
Manassas (Virginia) Circuit Court
Trevor Neil McFadden '06
The Honorable Steven M. Colloton
U.S. Court of Appeals for the Eighth Circuit
James McKinley '05
Staff Clerkship
U.S. District Court for the Western District of Virginia
Jason Webley Melvin '06
The Honorable Sharon Prost
U.S. Court of Appeals for the Federal Circuit
Monique Kareem Moore '03
The Honorable Reggie B. Walton
U.S. District Court, District of Columbia
Michael Nephi Nemelka '06
The Honorable Paul V. Niemeyer
U.S. Court of Appeals for the Fourth Circuit
Stephen Michael Ng '06
The Honorable Margaret C. Rodgers
U.S. District Court for the Northern District of Florida
Paul S Nicklas '06
The Honorable George P. Kazen
U.S. District Court for the Southern District of Texas
Thomas Dennis Nolan '05
The Honorable Milan D. Smith, Jr.
U.S. Court of Appeals for the Ninth Circuit
Tonya Noldon '04
The Honorable Diana Saldana
U.S. District Court for the Southern District of Texas
Patrick Robert Noonan '06
The Honorable Robert R. Beezer '56
U.S. Court of Appeals for the Ninth Circuit
Frederick Nicholas Noyes '06
Staff Clerkship
Portsmouth (Virginia) Circuit Court
Joseph Christian Obenshain '06
The Honorable James W. Haley Jr. '67
Virginia Court of Appeals
Nicole Marie O'Brien '06
The Honorable James W. Haley Jr. '67
Virginia Court of Appeals
Kristi O'Malley '05
The Honorable Emmet G. Sullivan
U.S. District Court, District of Columbia
George Pence '05
The Honorable J. Clifford Wallace
U.S. Court of Appeals for the Ninth Circuit
Justin John Peterson '06
The Honorable Rhesa H. Barksdale
U.S. Court of Appeals for the Fifth Circuit
Kristen Rae Olvera Riemenschneider '06
The Honorable Francis M. Allegra
U.S. Court of Claims
Kendra Purcell Robins '06
The Honorable Alvin A. Schall
U.S. Court of Appeals for the Federal Circuit
Ann Steward Robinson '06
The Honorable Diana G. Motz '68
U.S. Court of Appeals for the Fourth Circuit
Neil N. B. Rowe '92
The Honorable Daniel P. Jordan, III '93
U.S. District Court for the Southern District of Mississippi
Paul Francis Rugani '06
The Honorable Cormac J. Carney
U.S. District Court for the Central District of California
Edward Sackman '04
The Honorable Thomas Golden
U.S. District Court for the Eastern District of Pennsylvania
Andrew A. Schmidt '06
The Honorable Carol Lowinsky
Boulder (Colorado) District Court
Ashley Campbell Short '06
The Honorable Benson Everett Legg '73
U.S. District Court for the District of Maryland
Sarah F Teich '06
The Honorable Kermit V. Lipez (LL.M.) '90
U.S. Court of Appeals for the First Circuit
Christopher John Termini '06
The Honorable Robert G. Doumar '53, (LL.M.) '88
U.S. District Court for the Eastern District of Virginia
Martin V. Totaro '06
The Honorable D. Brooks Smith
U.S. Court of Appeals for the Third Circuit
Alan Marshall Trammell '06
The Honorable Stephen F. Williams
U.S. Court of Appeals for the D.C. Circuit
James Edward Tysse '06
The Honorable Beverly B. Martin
U.S. District Court for the Northern District of Georgia
Clara Angelica Vondrich '06
The Honorable Timothy M. Tymkovich
U.S. Court of Appeals for the Tenth Circuit
Thomas Hoelder Wintner '06
The Honorable Boyce F. Martin, Jr. '63
U.S. Court of Appeals for the Sixth Circuit
Monifa Fela Wright '06
The Honorable Phyllis A. Kravitch
U.S. Court of Appeals for the Eleventh Circuit
Jessica Yates '06
The Honorable David M. Ebel
U.S. Court of Appeals for the Tenth Circuit
Jerry Tongwei Yen '06
The Honorable T. John Ward
U.S. District Court for the Eastern District of Texas

Supreme Court Clerkships 2006–2007 Term
John Adams '03
Justice Clarence Thomas
David Bragdon '02
Justice Clarence Thomas
Dan Bress '05
Justice Antonin Scalia
Gordon Todd '00
Justice Samuel Alito
2006 Graduation Awards

Margaret G. Hyde Award
Leslie Carolyn Kendrick

James C. Slaughter Honor Award
Lindsay Blair Buchanan

Thomas Marshall Miller Prize
Herbert Timothy Lovelace, Jr.

Z Society Shannon Award
David Farley Reid

Law School Alumni Association Best Note Award
Leslie Carolyn Kendrick

Robert E. Goldsten Award for Distinction in the Classroom
Robert Charles Richards, Jr.

Roger and Madeleine Traynor Prize
Tam Quang Dinh
Jonathan Richard Marx

Herbert Kramer/Herbert Bangel Community Service Award
Tiffany Marie Marshall

Mortimer Caplin Public Service Award
Cristin Gunther Head

Robert F. Kennedy Award for Public Service
Sarah Louise Conant

Edwin S. Cohen Tax Prize
Benjamin Joseph Angelette

Earle K. Shawe Labor Relations Award
Anthony Augustus Orlandi

John M. Olin Prize in Law and Economics Eric Andrew Reitman

Eppa Hunton IV Memorial Book Award
Paul Francis Rugani

Virginia Trial Lawyers Trial Advocacy Award
Christopher Robert Kavanaugh

Virginia State Bar Family Law Book Award
Leslie Carolyn Kendrick

Stephen Pierre Traynor Award
Kristen Rae Olvera Riemenschneider

Daniel Rosenbloom Award
Pamela Karten Bookman