International Deal-Maker of the Year Offers Tips on Project Finance

Emily Williams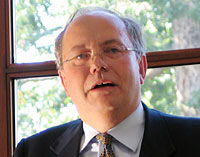 Philip Stopford LL.M. '78






MP3 (right-click to download)
Streaming audio


E-mail
Print
Philip Stopford LL.M. '78 didn't go to law school with his eye on ending up as an international "deal-maker," but afterwards he found himself involved in projects that prepared him for a career making multibillion dollar transactions all over the globe. In 2005, Stopford earned the moniker "Philip of Arabia" when he was recognized by American Lawyer magazine as its project finance deal-maker of the year.
Stopford began his legal education in England and always thought he would return to practice law there. After receiving Britain's Harkness Scholarship to fund his study of law in the United States for two-years, Stopford earned his LL.M. at the University of Virginia and ultimately took a position in New York with White & Case. After one year, he began to build his argument to return to London, an arrangement that he promised to fulfill when he accepted the Harkness.
"I had originally planned, I thought, to go to England and I kept on badgering the relevant partners and they said no, we haven't got any vacancies in the London office, but we do have a vacancy in the Hong Kong office. What they hadn't told me was that the Hong Kong office was a staging ground for servicing our practice in Indonesia."
Stopford had no idea that he had just begun a career in international deal-making and would get his first taste of the liquefied natural gas (LNG) industry in Indonesia, the world's largest exporter of LNG. "I didn't plan any of this and I've got no idea where the rest of my career will go. I certainly didn't expect to spend seven years of my life in Indonesia with White & Case. I actually thought I was going to Hong Kong," he said.
In Indonesia Stopford worked primarily with government-owned companies restructuring their debt and advised other developing nations on debt-related issues. The lessons he learned while working on these cases carried over into all of Stopford's international projects. In one memorable case, a state-owned telephone company attempted to launch a satellite into orbit. The satellite became space junk when one of the booster engines failed. NASA wanted to capture it and bring it back to earth. Stopford was engaged in negotiations for six months to determine the obligations of the insurance company that insured the satellite and what the company should do to get the satellite back and what to do with it once it was returned.
"The legal skills were basically contract [law], that's all it was. It was reading the insurance policy, working out the risks, and then trying to see how you could get to what your client wanted and at the same time deal with a set of circumstances where there was no precedent. Nobody had ever done this before."
Stopford eventually arrived in London, where one of his first projects was to advise a group of banks on LNG in Qatar. The $7.5 billion deal resulted in Qatargas II, which provides the United Kingdom with 20 percent of its gas supply.
Project financing, Stopford explained, is essentially the borrowing of money off balance sheet, enabling a company to finance large sums of money and separate themselves from their liabilities and assets.
"[It was] an extraordinary project, but one which you'll see is very complicated when you first look at it, but if you break it down it's actually a manageable thing to deal with.
"The key issue" he said, "is that nobody is providing any guarantees, but the debt's going to get paid back." In other words, the lender takes on all of the risk, but can ensure the job will get done and it will get paid. If one of the contractors involved in the deal does not perform its task, the lender has the power to replace the contractor with another that can perform the task. "It is a very document intensive exercise and once again comes back to the joys of contract and your direct damages and your limitations of liabilities," he added.
To initiate Qatargas II, the government of Qatar entered into a development fiscal agreement with Exxon Mobil and Qatar Petroleum allowing them to exploit a certain amount of gas for a certain period of time. The project then went through a series of agreements that established the building of offshore platforms to pump the gas, pipelines to bring it ashore, liquefaction plants to convert the gas to a liquid form, agreements to use the sea ports, and land, and related technical services. Next the project had to establish agreements for the sale of the gas and crude oil that was harvested from the oil fields. Qatar Petroleum then formed an entity called South Hook Gas to transport the LNG to the United Kingdom.
South Hook Gas had to arrange for the construction of LNG ships, which are massive refrigeration vessels that can transport liquefied gas. Each vessel costs $200 to $300 million. To finance this part, "you get someone to lend you the money to build them on the basis that Qatargas II will pay a charter lease to lease the vessel," Stopford said.
South Hook Gas began to buy the LNG and had it shipped from Qatar to Milford Haven, Wales. In Milford Haven, the LNG had to be reheated to return it to a gaseous state. At that point, South Hook Gas entered into an agreement with South Hook Terminal. South Hook Terminal built the re-gasification plant and processed the LNG for a fee. "The key here is the title never passes to South Hook Terminal. South Hook Gas always owns the LNG and the [liquefied] gas as it becomes gas so that a creditor at South Hook Terminal can never get hold of the gas," he said. South Hook Terminal could now borrow money for the re-gasification facility based on the credit of South Hook Gas with the assurance that a specified amount of gas would be processed and South Hook Terminal could re-pay the lender.
Finally the gas was purchased by Exxon Mobil Gas Marketing Europe, which distributed the gas.
In all it took seven months to structure the financing and one year to raise the money for Qatargas II, Stopford said.
Stopford has already completed Qatargas III and is finishing up Qatargas IV for two different clients. The financing structure model from Qatargas II was used in both subsequent projects and the time frame has been reduced from 19 months to just 10.
"I doubt if I'll ever see anything like this again," he said. "We built in huge flexibility into Qatargas II so that it could expand, it could borrow more money, all the things that otherwise lenders try to restrict."