Faculty Briefs

In July in Beijing, China, Ken Abraham conducted a seminar on U.S. accident law for the staff of Legislative Drafting Committee of the Peoples Congress of the Peoples Republic of China. On September 15th, he presented "The Uses of Accident Law's Past," at Columbia Law School's Conference on Tort Law and the Modern State.

In late September, Barbara Armacost '89 participated on a panel and presented a paper at Boston University Law School's conference, Ordinary Powers in Extraordinary Times. Armacost presented her work, "Abu Ghraib: The Role of Culture and the 'Rule of Law.'" Armacost recently gave a short address at the Virginia Law Review luncheon welcoming the new editorial board members and kicking off the year for the Law Review.
Margo Bagley published "Academic Discourse and Proprietary Rights: Putting Patents in Their Proper Place" earlier this year in the Boston College Law Review.
In September, Bagley presented "Approaches to Patents on Morally Controversial Biotech Subject Matter: Lessons from the U.S. and Europe," at the Property Regulation in European Science, Ethics and Law (PropEur) Conference, sponsored by the Centre for Global Ethics, University of Birmingham, Birmingham, United Kingdom.
In October, she moderated a panel on recent developments in interpretations of the Patent Act's Written Description Requirement at the American Intellectual Property Law Association Annual Meeting in Washington, D.C., and spoke at a conference on "Patent Policy in the Supreme Court and Congress" co-sponsored by the Berkeley Center for Law and Technology, Boalt Hall School of Law and The High Tech Law Institute, Santa Clara University School of Law.
Earlier this year, Bagley presented "Straining Out a Gnat While Swallowing a Camel: The USPTO and Patents on Humans," Munich Intellectual Property Law Center Colloquium Series, Munich, Germany. She was also a panelist on "The Future of Biotechnology Patent Law" at the Biotechnology Industry Organization Annual Meeting in Chicago. And, in July, she taught a course in International Patent Law & Policy at the Max Planck Institute's Munich Intellectual Property Law Center.

Michal Barzuza has published "The Market for Corporate Law," (with Oren Bar-Gill and Lucian A. Bebchuk). She also has working papers on "Delaware's Compensation;" "Cross Listing as a Signal of Low Private Benefits of Control;" "Signaling a Lemon: The Decision Not to Cross-List and High Private Benefits of Control" (with David C. Smith & Elio Valladares).
Barzuza delivered several presentations earlier this year: at a faculty workshop ("Cross Listing as a Signaling of Low Private Benefits of Control"); an incubator lunch ("Delaware's Compensation"); at the annual conference of the European Law and Economics Association ("Cross Listing as a Signal of Low Private Benefits of Control") and at the Canadian Law and Economics Association ("Delaware's Compensation").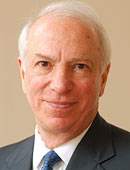 At the request of the Chief Justice Leroy Hassell of the Virginia Supreme Court, Richard Bonnie '69 agreed to chair the Commission on Mental Health Law Reform. The Commission, announced in October, has 25 members drawn from all three branches of government and various constituencies affected by mental health services. The Commission's charge includes redesigning the state's involuntary treatment laws and laying the legal foundation for a modern system of recovery-oriented, consumer-directed mental health services. It is anticipated that the Commission will issue its report in the fall of 2007 in advance of the 2008 session of the General Assembly.
During this period, Bonnie published articles on withdrawing artificial nutrition and hydration from patients in persistent vegetative states (in Neurology) on a reciprocity-based social contract approach to increasing the rate of organ donation (in the Journal of Law, Medicine and Ethics), on judicially mandated use of naltrexone by opiate-addicted offenders (in the Journal of Substance Abuse Treatment) and on the need for policies relating to voting in long-term care facilities (in Alzheimer's and Dementia).
Bonnie and colleagues in the UVA Departments of Sociology and Politics received a grant from the Alzheimer's and Related Diseases Research Foundation to conduct a survey of voting practices in long-term care facilities. The survey will be conducted after the 2006 Congressional elections.
In June, Bonnie addressed a conference of Virginia Circuit Court Judges in Richmond on issues relating to mental health and mental retardation in capital sentencing.
In September, Bonnie addressed the Fifth Annual Virginia Drug Court Association Conference in Charlottesville on the legal aspects of requiring addicted offenders to use naltrexone, a long-acting narcotic antagonist that blocks the effects of heroin. Also in September, Bonnie presented a paper on "Adolescence and Criminal Blameworthiness" at a Conference in Washington, D.C. sponsored by the MacArthur Foundation Network on Adolescent Development and Juvenile Justice, and spoke on "Physician Participation in Torture and Interrogation" at the UVA Medical Center.

The Virginia Society of Certified Public Accountants Board of Directors honored Whitfield Broome in April, issuing a resolution that expressed gratitude for his dedication to the protection of the public interest, and his positive influence on thousands of students and CPAs now in the accounting profession. The resolution noted Broome's 42 years of teaching, his more than 28 years of membership in the society, his distinguished service as the educator member of the Virginia Board of Accountancy, his six years of service as the Executive Director and Trustee of the Institute of Chartered Financial Analysts, and his service as chair of the CPA Examination Review Board and member of the national CPA Board of Examiners, among other accomplishments. The resolution quoted administrators and students describing Broome as "a master teacher … knowledgeable, enthusiastic, approachable, friendly, humorous, and caring."

Tomiko Brown-Nagin has published "Missouri v. Jenkins," in Civil Rights Stories (forthcoming, Foundation Press); "Robert L. Carter," in Yale Biographical Dictionary of American Law (forthcoming, Yale University Press). She will also be a panelist at the American Society of Legal History Annual Meeting in November discussing "Black Lawyers in Twentieth Century American History."
Brown-Nagin authored an amicus brief on behalf of Civil Rights Historians in a pair of cases that the Supreme Court will hear this term. The cases are Meredith v. Jefferson County Board of Education and Parents Involved in Community Schools v. Seattle School District No. 1.

Michael Doran is publishing the article "Legislative Compromise and Tax Transition Policy" in the spring issue of the University of Chicago Law Review.

Several of Brandon Garrett's articles are forthcoming: "Structural Reform Prosecution," in the Virginia Law Review, "Aggregation in Criminal Law" in the California Law Review, and "Criminal Justice Collapse: The Constitution After Hurricane Katrina" (with Tania Tetlow) in the Duke Law Journal. Garrett also hosted best selling author John Grisham when he addressed the Law School in September as part of an ongoing Criminal Law Colloquium.

Risa Goluboff is chairing a panel on the early twentieth-century Supreme Court at the American Society for Legal History Annual Meeting in Baltimore in November; she is also on the program committee for that annual meeting. Goluboff is presenting "The Thirteenth Amendment and a New Deal for Civil Rights," at "A New Birth of Freedom: The Thirteenth Amendment—Past, Present and Future," a symposium at the University of Toledo College of Law.

A. E. Dick Howard '61 has been reelected by the Governing Body of Christ Church, Oxford, as an honorary member of the college's High Table and as a member of the Senior Commons Room.
Howard has also been elected as a member of the Washington Literary Society. The Society limits its membership at any one time to 40 members. Founded in 1874, the Society has included among its members Alexander Graham Bell, President Theodore Roosevelt, Joseph Henry (first secretary of the Smithsonian), Supreme Court historian Charles Warren, and Supreme Court Justice David Brewer.
Howard delivered the James Madison Lecture on Virginia and the Constitution at the Capitol Building in Washington, D.C., at the invitation of Virginia's congressional delegation. He was also consulted by, and did interviews for a forthcoming four-part PBS series on the Supreme Court. His interviews focused in particular on Felix Frankfurter, Hugo L. Black, Sandra Day O'Connor, and William H. Rehnquist.
Howard continues to be administrator of the Governor's Legal Fellows program for Virginia Governor Tim Kaine. He chooses Law School students who spend a day a week working with the Counselor to the Governor on a range of legal matters. Howard was also appointed the Law School's Earle K. Shawe Research Professor, while remaining the White Burkett Miller Professor of Law and Public Affairs.

Deena Hurwitz went on a seven day mission to Kabul in June. She consulted for the Open Society Institute-Europe and Open Society Justice Initiative in Afghanistan on establishing criminal defense clinics in Herat Law School and Kabul Law Faculty.
In October, she was a panelist at a conference in New York on "Holding Officials Accountable for Violations of Human Rights and Humanitarian Law: Is Universal Jurisdiction an Effective Tool?," organized by the Center for Constitutional Rights and the International Federation for Human Rights. Her topic was '"The Politics of Atrocity: What's Law Got To Do With It? Lessons from the Sabra and Shatila Case in Belgium."
In September, Hurwitz moderated "Hamdan and the Rights of Detainees, What's Next in Court and Congress?" at the Law School, co-sponsored by the UVA Human Rights Program, The Judge Advocate General's Legal Center and School, and J.B. Moore Society of International Law.
In the spring, Hurwitz was a panelist on "The Globalization of Human Rights Defence: A Call for Innovation" at the international colloquium on "Strengthening the Protection of Human Rights Through Clinical Legal Education" at the Centre for the Study of International Law and Globalisation, at the University of Quebec in Montreal
Hurwitz presented "Human Rights and Terrorism" to the World Affairs Council of Richmond, and at the Charlottesville Senior Center, this spring. Her article "Engaging Law School Students Through Human Rights Clinics: A Perspective From the United States," appeared in the Australian Journal of Human Rights.

Michael Klarman taught a two-week short course at Yale Law School in October on Race and the Constitution in American History. Having submitted to Oxford University Press this summer a book manuscript
(scheduled to publish summer 2007), Brown v. Board of Education and the Civil Rights Movement, which is an abridged and revised version of his award-winning book From Jim Crow to Civil Rights (2005 Bancroft Prize). Klarman is also finishing another book on racial equality in American history, which is part of a series Oxford University Press is publishing on "rights."
Klarman also gave numerous presentations and appeared on a variety of different panels (the "Backlash" project referred to in several of these presentations is a book he is working on describing and analyzing the political backlashes set in motion by certain high profile Supreme Court decisions, such as Brown v. Board, Roe v. Wade, Furman v. Georgia, and Miranda v. Arizona).
In November, Klarman presented "Backlash" to the College of William & Mary Law School's law and politics workshop and in October, to the University of Chicago School of Law faculty workshop. In addition, he was a panelist in September at the Law School, LAMBDA, LawDems, and ACLU event on state same-sex marriage amendment.
Also in September, Klarman gave a response to a presentation by Leonard Leo at the Law School's Federalist Society event on Supreme Court nominations, and presented "Backlash" at the University of North Carolina School of Law faculty workshop.
In June, he gave a book talk on From Jim Crow to Civil Rights at the New York Historical Society, and presented"Backlash" on a plenary panel at the Policy HistoryConference in Charlottesville.
In May, he presented a day-long seminar on "Judicial Independence in American History" to the Florida College of Advanced Judicial Studies in Sanibel, Fla., and "Why Brown was a Hard Case" to the Boston Social Law Library.
In April, Klarman presented "Powell v. Alabama: The Supreme Court Confronts 'Legal Lynchings,'" at a conference on Criminal Procedure Stories (Carole Steiker, Editor), at Harvard Law School, and at an event sponsored by American Constitution Society. He also participated on panel on litigation and social reform sponsored by Harvard Civil Rights-Civil Liberties Law Review at Harvard Law School.

This fall, Elizabeth Magill '95 presented a paper "Understanding the New Administrative Law" at Saint Louis University. The paper is related to a book she is writing about the health, safety, environmental, and consumers' rights regulatory revolution of the 1960s and 1970s. She presented the same paper to the History Department and in the Law and Public Affairs Workshop at Princeton University and at Virginia in the spring.
This summer at the University of Pennsylvania Law School Magill also presented another paper, "Agency Self- Regulation," which is about actions agencies take to limit their discretion when no source of law requires them to do so. In July, Magill also gave testimony to Congress on the need for more empirical work about the activities of federal agencies. In November, she will participate in a conference at Duke Law School on delegation and international institutions.

Greg Mitchell published "Government Regulation of Irrationality: Moral and Cognitive Hazards" (with Jonathan Klick) in the June 2006 Minnesota Law Review, and he has articles forthcoming in the Journal of Empirical Legal Studies ("An Empirical Inquiry into the Relation of Corrective Justice to Distributive Justice," with Philip Tetlock) and the Ohio State Law Journal ("Antidiscrimination Law and the Perils of Mindreading," with Philip Tetlock). In May, Mitchell participated in the third conference of the Max Planck International Research Network on Aging, organized by Richard Bonnie.

In June, Daniel Nagin argued a habeas corpus petition in the Circuit Court for the State of Missouri on behalf of a 76-yearold woman. The client, the oldest female inmate in the State prison system, had served nearly three decades in confinement for her involvement in the death of her abusive husband. The case challenged the Board of Probation and Parole's decision to deny her parole.
Nagin is also organizing and moderating a panel discussion to be held at the Law School this semester about government regulation of the payday lending industry in Virginia.

Caleb Nelson is visiting at Harvard Law School this semester. Earlier this year he presented an early version of his paper "Adjudication in the Political Branches" at Northwestern's Constitutional Theory Colloquium. In October, he presented the current version of the paper at a faculty workshop at Harvard. The paper will appear in the April 2007 issue of the Columbia Law Review.

In September, Robert O'Neil was invited to make a presentation to the Eminent Jurists Panel of the International Commission of Jurists during their Washington stop on an around-the-world tour gathering information about the impact of anti-terror measures on civil rights and civil liberties. The board of syndics of the Harvard University Press approved for publication O'Neil's book tentatively entitled The Future of Academic Freedom, due to be released in fall 2007.
In August, O'Neil met with the Board of Trustees of the Association of Governing Boards of Universities and Colleges, the primary trustee-regent organization, and presented to them a proposed Statement on Trustee Accountability which he drafted, and which should be approved by AGB in November. Also in August, O'Neil chaired a meeting in New Orleans of the American Association of University Professors' Special Committee on the Effects of Hurricane Katrina, and met with a number of Louisiana higher education officials about public colleges and universities' response to the devastation of a year earlier.
In September, the Stanford University Press published Academic Freedom at the Dawn of a New Century, containing O'Neil's chapter "Academic Freedom in the Post- September 11 Era; An Old Game With New Rules," and the September-October issue of Change magazine contained his article, "Limits of Freedom: The Ward Churchill Case."

An article by Jeffrey O'Connell (with Kip Viscusi and Joni Hersch of Vanderbilt), reporting on a closed claim study reflecting the cost effects of an "early offers" proposal by O'Connell for reform of medical malpractice claims, will be published by the University of Chicago Law School's Journal of Legal Studies in 2006 or early 2007. He has also completed his own essay on the same project for a medical journal.
O'Connell is working on a book co-authored with Thomas E. O'Connell entitled Friendships in Law & Literature Across Ages: Johnson & Boswell; Holmes & Laski to be published by Lexington Books in 2007.
He is also working on a book of essays, also co-authored with Thomas E. O'Connell, for the Carolina Academic Press, entitled Lawyers, Leaders & Litigants: A Medley of Biographical Essays, covering such figures as Robert Hutchins, Benjamin Cohen, Thomas Corcoran, Joseph Tumulty (Chief of Staff to Woodrow Wilson), Daniel Patrick Moynihan, Michael Harrington (leader of the mid-century U.S. Socialist party), William Beveridge, Keith Joseph (key aide to Margaret Thatcher), Averell Harriman, Adlai Stevenson, Belle Moskowitz (key aide to Gov. Alfred E. Smith), Bayard Rustin, Edward Carson, and others. This book is based on revised versions of some previously published essays, as well as some new ones.
O'Connell is also working on a book co-authored with Christopher Robinette '96, urging a fundamental reexamination of the operation of personal injury law. He has also recently published two pieces co-authored with John Linehan '06: A chapter, "The Rise and Fall (and Rise Again?) of Accident Law," in Law and Class in America, New York University Press; and "Neo-No-Fault Early Offers: A Workable Compromise Between First and Third-Party Insurance" in the Gonzaga Law Review.

Dotan Oliar presented a working paper on "Copyright Law and Technological Innovation" at the annual conference of the European Association of Law and Economics in Madrid, Spain in September. He also presented a working paper examining alternatives to Congress's copyright power in a symposium on "Constitutional Challenges to Copyright" at Columbia Law School in October.

Dan Ortiz blogged on SCOTUSBlog on the Supreme Court's gerrymandering cases. He also published a short piece on recent changes in the Supreme Court's view of the Voting Rights Act in the First Impressions series of University of Michigan Law Review. Ortiz also finished a piece called "Nice Legal Theory," started work on a piece tentatively entitled "Double-Edged Diversity" which discusses how the Supreme Court's turn towards disaggregating social groups may affect law, and started up (with Mark Stancil) the Law School's new Supreme Court Litigation Clinic.

In October, Mimi Riley participated in a workshop/ symposium at the National Press Club sponsored by Michigan State University and the Pew Initiative on Food and Biotechnology entitled, "Avenues for Discussion of Animal Biotechnology and Ethics." Riley spoke on the ethical, moral, and policy issues concerning genetically engineered and cloned animals for food and pharmaceutical use.
In November, Riley spoke on a public health research ethics panel, with University of Virginia associate professor Ruth Gaare Bernheim '80 at the American Public Health Association Annual Meeting in Boston.

Mildred Robinson's essay, "State and Local Governments Are Depending More on Regressive Revenue Sources," is to be published in an upcoming State Tax Notes.

Christopher Sprigman has collaborated with UCLA law professor Kal Raustiala on a working paper, "The Piracy Paradox: Innovation and Intellectual Property in Fashion Design," which will be published in the Virginia Law Review and has already received coverage in ABC News and the Wall Street Journal. The paper describes the fashion industry and its dynamics and illustrates the prevalence of copying in the industry. It also advances an explanation for the piracy paradox that rests on two features: induced obsolescence and anchoring. Both phenomena reflect the status-conferring power of fashion, and both suggest that copying, rather than impeding innovation and investment, promotes them. The paper also considers, and rejects, alternative explanations of the endurance of the low-IP status quo. Finally, it considers extensions of its arguments to other fields. By examining copyright's negative space—those creative endeavors that copyright does not address—the paper argues that we can better understand the relationship between copyright and innovation.

In March, Richard Schragger attended a Yale Law Journal symposium on executive power, "The Most Dangerous Branch? Mayors, Governors, Presidents and the Rule of Law: A Symposium on Executive Power," and presented an article entitled "Can Strong Mayors Empower Weak Cities? On the Power of Local Executives in a Federal System," which is appearing in the October Yale Law Journal.

In September, Paul Stephan '77, discussed his recently published book (with Bob Scott), The Limits of Leviathan: Contract Theory and International Law Enforcement at a talk in September at Duke Law School and in October at Temple. Stephan has also begun working as Counselor on International Law to the Legal Advisor, U.S. Department of State. The part-time appointment becomes full time in January.

In March, Rip Verkerke presented a paper on "Legal Ignorance and Information-Forcing Rules" at a workshop sponsored by the Centre for Employment and Labour Relations Law at Melbourne Law School.
Also in March, he taught an intensive course called "New Directions in Law and Economics" at the Melbourne Law School. The course introduced students to recent scholarship in the field of behavioral economic analysis of law.
In June, Verkerke participated in a conference on the economics of wrongful dismissal law at the Utrecht School of Economics in The Netherlands. At that conference, he presented "Unjust Dismissal Law: Where Have We Been and Where Are We Going?" The paper assesses existing efforts to model wrongful discharge law and estimate its quantitative effects on employment outcomes and offers suggestions for future research in this area.
Also in June, he taught a short course on "U.S. Company Law" to students in the foreign language law program at the University of Muenster. While in Germany, Verkerke managed to watch several World Cup matches on outdoor screens set up around the city, and shared in the local celebration of German victories in the early rounds of the tournament.

Two books written by Ted White have been published this fall. The first book, History and the Constitution: Collected Essays (Carolina Academic Press), contains essays White published in law journals between 1999 and
2006, along with one essay written for the collection. The book addresses the recent revival of history and historically oriented methodologies in the Supreme Court's constitutional decisions.
The second book is the third edition of The American Judicial Tradition: Profiles of Leading American Judges (Oxford University Press). The first two editions of thebook appeared in 1976 and 1988. This edition represents arevision of the first two editions, including a new prefaceand a chapter on the Rehnquist Court.

George Yin delivered the keynote address, "The Evolving Legislative Process and What It May Portend for Budget Control and Tax Reform," to the plenary session of the ABA Tax Section mid-year meeting in San Diego. Yin also addressed the executive council of the Tax Section on President Bush's Tax Advisory Panel report on tax reform.
Yin delivered the 25th Annual Dunwody Lecture, "Is the Tax System Beyond Reform?" at the University of Florida College of Law in Gainesville. His paper will be published by the Florida Law Review. He also delivered the keynote address, "Prospects for Budget Control and Tax Reform," at the 25th Annual Federal Tax Institute sponsored by the Chicago-Kent College of Law in Chicago.
Yin participated as a commentator in a conference, "Is It Time for Fundamental Tax Reform: The Known, Unknown, and Unknowable," sponsored by the James A. Baker III Institute for Public Policy at Rice University in Houston, Texas. He also spoke on "International Tax Reform in the United States" at the 29th Annual Tax Congress of the European-American Tax Institute held in Cascais, Portugal.
This fall, Yin delivered keynote address at the 58th Annual Virginia Tax Conference held in Charlottesville, and delivered the keynote address, "Enacting 'Tax Reform' in the Face of Fiscal Calamity," at the Dana Latham Memorial Award Program of the Los Angeles County Bar Association Tax Section in Los Angeles.
Yin will participate in a tax program sponsored by the National Tax Association, Washington, D.C. The program will compare and contrast the role of lawyers, economists, accountants, tax administrators, business persons, and journalists in the tax system and the formation of tax policy. He will also present the paper, "Is the Tax System Beyond Reform," at workshops and seminars at Harvard, Berkeley, and Washington & Lee Law Schools; and will deliver the keynote address at the 46th Annual Southwestern Ohio Tax Institute in Cincinnati.
Professor and JAG Lieutenant: Tom Nachbar Joins the Reserves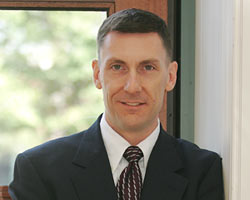 Last November, Tom Nachbar joined the U.S. Army Reserve as a First Lieutenant in the Judge Advocate General's Corps.
As a member of the 151st Legal Support Organization, which is based in Alexandria, Va., Nachbar serves two days every month, plus two weeks of annual training per year. This summer, Nachbar attended the month-long Officer Basic Course for new JAG officers, held at Fort Lee, Va., where he received his basic training. According to Nachbar, Army lawyers are frequently deployed forward with combat troops and need to have the same basic skills as all soldiers. "The JAG Corps' motto is: 'Soldiers First, Lawyers Always,'" he says.
Nachbar has been impressed with both the quality of the people and the quality of the lawyering in the Army. He says that it is a group that self-selects for the desire to perform national service, which makes serving with them particularly edifying. At the same time, his membership in the reserves has added new dimensions to his work at the Law School and his role as a member of the Law School community. "I've received nothing but the full support and encouragement of my colleagues here," he explains.
Nachbar had to start from the beginning in his military legal education. "I'm just another know-nothing lieutenant. It's been a good experience as a professor to spend a little time back on the student side of things, although it didn't feel that great when my entire training class had to do push-ups because one of our members had shown up late."
He says the Army demands new officers fundamentally change the way they think and approach problems, and that teamwork, which lawyers don't emphasize, is everything. Overall, "it's been a great educational experience, both legally and in other ways," says Nachbar. "One day I would study some of the fascinating legal issues the Army faces, on another I learned just how flat I could get to the ground while crawling toward an enemy position. It's a very different experience being in a job that has such a major physical component."
Nachbar could be activated and deployed, either to an Army facility in the states or abroad. In fact, this fall the Army activated twenty members in his unit, sending some to Texas and others to Iraq. Nachbar doesn't think it likely he will be activated any time in the near future, but he is ready if the call comes.
"People constantly ask me why I joined and I don't have any answer better than that I love my country and I wanted to find a way to serve at a time when so many others are being called upon to make such great sacrifices. I'm doing nothing compared to those who have had to leave their families for year-plus deployments."