2000s Class Notes

2000
Michelle C. Roberts has joined Stradley Ronon Stevens & Young as an associate in their investment management/mutual funds practice group.
Haramol "Neil" Sandhu has launched HireTrade, an online resource site devoted to hiring legal professionals, including lawyers, law firms, contract attorneys, and paralegals. The site, www.hiretrade.com, hopes to better competitors by employing its unique hourly value ratings system aimed at ensuring that clients get the best service for their money from the professionals they hire.
Jacqueline Yount and Christopher Ferrell were married on June 2, in Charlotte, N.C. Jacqueline practices employment law with Hunton & Williams in Charlotte.
2001
Nina Allen married Kenneth Blackshear in September 2006 in Philadelphia. After their honeymoon in Mexico, the couple "settled down to beautifying our new house and helping our (step)son survive third grade."
Joseph Asaro became an associate at Riker Danzig Scherer Hyland & Perretti. Asaro practices in Riker Danzig's labor and employment group as a commercial litigator.
Cordel Faulk has been named commentary editor of the Richmond Times-Dispatch.
David Sirolly and his wife, Kendra, announce the birth of twins—Caroline Joy and Brett William—on September 2.
McKenzie Webster was named one of 15 "Up and Coming Lawyers" for 2007 by Massachusetts Lawyers Weekly. Webster earned recognition for her successes in white-collar criminal defense, including one of Massachusetts' largest criminal health care fraud cases, U.S. v. Bruens, in which Webster defended a pharmaceutical sales executive accused of knowingly violating federal anti-kickback laws. In Massachusetts Lawyers Weekly, Webster likened her criminal defense work to the American civil rights movement, as she explained, "The criminal world as a defense attorney is civil rights in a way. You are trying to defend people from having their rights taken away." Webster currently works as an associate with Mintz, Levin, Cohn, Ferris, Glovsky and Popeo's litigation section.
2002
Elizabeth C. Curtin and her husband, Denis, welcomed their second son, Liam James, on November 2, 2006. Curtin is an associate in the products liability and mass tort litigation group at Sidley Austin's Chicago office.
Matt and Neely Fedde announce the birth of Jack Ethan on October 4, 2006. He joins brother Sam (6) and sister Natalie (4). Neely is a business and ERISA litigation associate at Shook, Hardy & Bacon in Kansas City, Mo.
Meltem Kodaman and her husband, Cameron Prell, welcomed their baby boy into the world on May 24. The couple named their son Aydin Rhys Prell.
Elisabeth Polzin Long is a legislative analyst for the research department of the Minnesota House of Representatives, where she drafts bills and amendments and engages in policy research for all 134 members of the Minnesota House. Long is currently on a leave of absence, following the birth of her daughter, Annabel Elisabeth, on November 22, 2006.
Michael McCann was hired as a columnist by SportsIllustrated.com, where he will be writing a regular column, "Sports and the Law." In addition, McCann will serve as a resident sports law expert for Sports Illustrated and SI.com stories.
William Poynter and Cameron Reeves Poynter had their first child, John "Jack" Bolling, on November 21, 2006. Jack already has a closet full of Virginia gear, and attended his first UVA football game this fall.
Nykia Jordan Wilson and Rai Wilson welcomed their first child, Jack Freeman, on July 28, 2006. The family resides in the San Diego area.
2003


President Bush recently named John D. Adams associate counsel to the president. Adams was formerly an associate at Hunton & Williams. He also served as clerk to Justice Clarence Thomas on the United States Supreme Court.
Scot Fishman was recently appointed by the chairman of LeBoeuf Lamb Greene & MacRae to serve as the firm's manager of corporate social responsibility. The responsibilities include administering the firm-wide pro bono efforts, community service projects, and an environmental awareness program.
Laura (White) Larkin and her husband, Joe, welcomed their daughter, Sydney Helen, on May 15. Larkin recently returned to her work part time as assistant counsel for the U.S. Navy's Office of General Counsel at Space and Naval Warfare Systems Command in San Diego. She works in the acquisitions section supporting the Navy's purchase of satellite and communications systems and enjoys afternoons with Sydney.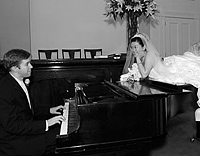 Ruth Ma married Benjamin Swilling at Park Street Church in Boston. The bride currently serves as vice-president and assistant general counsel in the innovation division of Cantor Fitzgerald, while the groom works as a robotics engineer for Boston Dynamics. The couple resides in Charlestown, Mass., and would love to hear from old friends!
Derek Schoenmann married Lisa Marie Allgaier on July 27 in Morristown, N.J. Allgaier is a school psychologist. Schoenmann is an associate at Willkie Farr & Gallagher in New York. The couple lives in Hoboken, N.J.
Kristoffer B. Shepard, an attorney with Robinson, Bradshaw & Hinson in Charlotte, N.C., was recently elected to a three-year term on the board of directors of Legal Aid of North Carolina. He will serve as representative from the 26th Judicial District, Mecklenburg County.
Shepard maintains a pro bono practice through the Volunteer Lawyers Program of the Mecklenburg County Bar and Legal Services of the Southern Piedmont. He serves on the Public Service Advisory Committee of the N.C. Bar Association and on the Bar 2010 Committee of the Mecklenburg County Bar. He also works on the exhibits programs and collections committee of the Levine Museum of the New South.
Craig Story has joined the mergers and acquisition investment banking group at Citi Global Investment Banking in New York. Prior to joining Citi, Story practiced law in the corporate finance and mergers and acquisitions groups at Skadden, Arps, Meagher & Flom, in both New York and London.

2004
Brian C. Barry has joined Choate Hall & Stewart's litigation department in Boston. Barry continues to focus his practice on major commercial and government-related litigation.
Tyler Kidd is corporate counsel at Carmax Auto Superstores in Richmond, Va. He completed the Boston Marathon in April.
Scott B. Luftglass joined the litigation department of Davis Polk & Wardwell in New York in February. He was formerly with Wachtell, Lipton, Rosen & Katz.
Zhuang Miao (LL.M.) has recently published a book on American corporation law through China Law Press, China's foremost law publishing house. Miao credits Law School Professor Michael Dooley as a major inspiration in writing the book. Miao is now teaching Chinese corporation law to foreign students at China's Qinghua Law School and is acting as an adjunct professor in three leading Chinese law schools.
Leland Miller has been elected a term member of the Council on Foreign Relations. Miller is currently a corporate associate with Sidley Austin in New York City.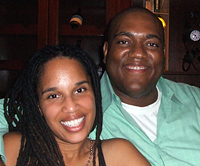 Tonya R. Noldon and Tshaka C. Randall are happy to announce that they became engaged May 31. They recently moved to Harrisburg, Pa., where Tshaka will teach property and education law at Widener Law School. Tonya completed a federal clerkship in the Southern District of Texas before moving to Harrisburg with Tshaka. The couple is planning a summer 2008 wedding.
Lieutenant Breier Scheetz is stationed in the Kingdom of Bahrain. Scheetz is serving in the Navy JAG Corps, and is the sole prosecutor for Navy Region Southwest Asia.

Allison Berger Tiller was hired in September to become the first full-time Hurricane Katrina project director for Appleseed, a nonprofit network of public interest law centers in the United States and Mexico. She will be based at the New Orleans office of Adams and Reese. Tiller will provide support for collaborative projects at Appleseed centers in Louisiana, Alabama, Texas, and Georgia, coordinating efforts to solve problems in housing, education, and finances that continue to trouble Katrina survivors.
Will Tysse and his wife, Jill, welcomed their daughter, Ella Rosemary, on November 22.
2005
Katie Bagley is finishing a detail as a special assistant U.S. attorney at the D.C. U.S. Attorney's Office, prosecuting domestic violence cases, after which she'll return to the criminal enforcement section at the U.S. Department of Justice tax division.
Jason Binder is joining Roberts & Holland as an associate in New York City. Roberts & Holland is the largest tax boutique in the country.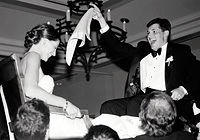 Adam J. Greene married Nicola Leventhal on May 12 in Charleston, S.C. Among the many fellow 'Hoos present were Paul Stroka, T.J. Voboril, Scott Pluta, Rob Boller, and Steve Kaplan. Also attending were Hill Hardman, John Hardman, John Hyman, and Chris Hayes '06. After a honeymoon in Bora Bora, Adam and Nicky will reside in Charlotte, N.C., where Adam is employed by Moore & Van Allen.

Joshua C. Johnson has joined Gentry Locke Rakes & Moore as an associate in the firm's commercial litigation practice group in Roanoke, Va.
Arthur Koski-Karell was commissioned a second lieutenant in the Marine Corps under the National Call to Service program and is serving as an infantry platoon commander with 2nd Battalion, 7th Marines, based in Twentynine Palms, Calif.
Alexandra H. Machinist writes that she has left her practice at Akin Gump Strauss Hauer & Feld to pursue her dream of becoming a literary agent and has since joined Linda Chester and Associates Literary Agency as the East Coast associate.
Pete Patterson is a second-year associate at White & Case in New York City. Patterson specializes in intellectual property and commercial litigation. He occasionally makes it back to Charlottesville and "finds it hard to leave."
2006
Lindsay Buchanan and Josh Burke were married September 8 at Kluge Estate Vineyard in Charlottesville. Mike Buchwald, Tom Lerdal, James Tysse, Andy Spital, Lee Kolber, Jen Cleary, Molly Cummins, and Sarah Marks were members of the wedding party.
Diego Blanco Carrillo (LL.M.) has joined Skadden, Arps, Slate, Meagher & Flom as a foreign associate in their New York office.
Molly Crall and Jonathan Light became engaged on December 18, and were married in the UVA Chapel in September.
Katherine and John Gowel's second son, Samuel Scott, was born on June 5. He has a big brother, Matty (3), "who was born during 1L year!"
Won Seok Kwak (LL.M.) and Leah Kwak were married at the Korean Church at Northbrook in Chicago on March 31. He finished his internship at Susman & Associates and joined Jay H. Chie Law Office in Chicago as a legal assistant in March.
Ignacio Salvarredi (LL.M.) finished his internship with Cleary Gottlieb Steen & Hamilton in May. In September, he joined Fortunati & Asociados, an Argentine law firm in Buenos Aires, as an associate, where his focus is on corporate and finance law.
Audrey Wagner has been working at Dechert in Washington, D.C., in the firm's financial services department. In November of 2006, she completed her first marathon, and in June ran her second. Helping Wagner train is a three-year-old black Labrador retriever, Maggie.