1980s Class Notes
1980
J. Bennett Clark has joined Bryan Cave's St. Louis office as a partner. As a nationally recognized intellectual property litigator, Clark joins the firm's Intellectual Property and Commercial Litigation practice groups.

Mark E. Ezell was named "Best of the Bar" in the Birmingham Business Journal, the city's top business publication. Ezell currently works in the public finance law section of Haskell Slaughter in Birmingham, Ala.

R. Peyton Mahaffey was elected president and managing principal of McCandlish & Lillard in Fairfax, Va. Mahaffey started with the firm as an associate in 1980 and became a principal in 1988. He was named to the "Legal Elite" by Virginia Business Magazine from 2000 to 2006, a "Top Lawyer" by Washingtonian magazine in 2004, and more recently has been named a Super Lawyer in the Washington, D.C., area for 2006 and 2007. Mahaffey continues to litigate business, corporate, and commercial matters. He is an avid golfer and serves as a member of the board of governors at International Country Club in Fairfax.

W. David Paxton was named a 2007 Virginia Super Lawyer. He focuses on employment and labor with Gentry Locke Rakes & Moore. Paxton was one of two Roanoke lawyers named to Virginia's Top 50 list.
1981


Jeff Bird was elected to a three-year term on the board of directors for Northwest Business for Culture and the Arts, a Portland-based nonprofit organization that works to support the arts and cultural heritage in Oregon and southwest Washington. Bird is a shareholder in the Portland office of Schwabe, Williamson & Wyatt, where he concentrates on mergers and acquisitions, securities offerings, tender offers, proxy contests, divestitures for public and private companies, corporate finance, securities law, and venture capital transactions.
On August 9, Lora Dunlap of Fisher, Rushmer, Werrenrath, Dickson, Talley & Dunlap gave a speech at a seminar entitled "Understanding the Current CGL Policy." The seminar, which included a range of insurance professionals, covered commercial general liability policies maintained by many Florida business owners. A founding shareholder of Fisher Rushmer, Dunlap is noted for her experience in professional liability defense for accountant and attorney malpractice.

William H. Herlihy was included in Chambers USA 2007, a guide series that ranks lawyers throughout the United States in various practice areas. Herlihy is a member of Spilman Thomas & Battle in Charleston, W.Va., where he practices environmental law.
Blaine A. Lucas was named a 2007 Pennsylvania Super Lawyer in the government, cities, and municipalities section. He practices with Babst, Calland, Clements and Zomnir in Pittsburgh.
Gary Slaiman was named head of Bingham McCutchen's government affairs group in Washington, D.C.
1982
Allen Boyer's recent publications include an essay, "Drama, Law, and Rhetoric in the Age of Coke and Shakespeare," in The Law in Shakespeare, edited by Constance Jordan and Karen Cunningham (Palgrave Macmillan, 2007) and "Sharper and Brighter: Focusing on Sanctions at the New York Stock Exchange," 3 NYU Journal of Law & Business, 155 (2006) (with Susan L. Merrill and Matthew Moore).
James Cooney of Womble Carlyle Sandridge & Rice was selected as one of the top ten attorneys in North Carolina by Super Lawyers magazine. He has been included in Best Lawyers in America since 2000, and is a fellow in the American College of Trial Lawyers and a permanent member, Fourth Circuit Judicial Conference. Cooney is in the firm's Charlotte, N.C., office.
Dan Dokos was awarded the Dealmaker of the Year Award by American Lawyer in the corporate debt category. Dokos received the prestigious award in recognition of an $18.5 billion loan that he secured for the Ford Motor Company, the largest corporate loan in history. American Lawyer attributed much of the deal's success to Dokos' negotiating savvy. Dokos currently is a partner and chair in the banking and finance practice of Weil, Gotshal & Manges in New York City.
Kevin F. Flynn had his book, Relentless Pursuit, published by Putnam on March 1. The book drew rave reviews from major publications including USAToday and the Washington Post. Flynn returned to Charlottesville on September 6 to address Law School students on issues discussed in the book. (see In Print)
Rebecca West Knowles recently joined LeClairRyan's Williamsburg office as a partner in the real estate group. Knowles; her husband, Brent; and children, Laura, Jessie, and Kenyon, moved to Williamsburg in 2004 from Montclair, N.J. She had practiced in New York City since 1988, including working in-house for Citigroup and Goldman, Sachs.
Jennifer Jordan McCall enjoys serving as head of the estates, trusts, and tax planning practice section at Pillsbury Winthrop Shaw Pittman. McCall has offices in Silicon Valley and Manhattan. Her oldest daughter, Caroline Clark, started at Princeton University this fall. She rowed crew at the U.S. Junior Invitational National Championships in June. McCall's other daughter, Hillary, loves appearing in dramatic productions at the Menlo School in Atherton, Calif.
Dan Ross practiced law for just one year after graduation and has since spent the bulk of his career in business, with 12 years each of investment banking and entrepreneurship experience. Ross, based in Westchester County, N.Y., is now looking to buy or invest in a services or professory company, perhaps in the general field of law. He writes, "Please call with ideas!" He enjoys seeing friends and Law School classmates.
J.B. Ruhl, the Matthews & Hawkins Professor of Property Law at Florida State University College of Law, will be a visiting professor at Harvard Law School in spring 2008. Ruhl is a nationally regarded expert in the fields of endangered species protection, regulation of wetlands, ecosystem management, environmental impact analysis, and related environmental and natural resources fields.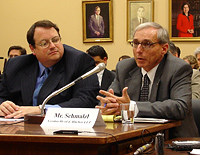 In June, Dick Schmalzl testified at a hearing of the U.S. House of Representatives Committee on Small Business titled "Sarbanes-Oxley Section 404: Will the SEC's and PCAOB's New Standards Lower Compliance Costs for Small Companies?" Schmalzl was invited to testify given his experience working with clients on Sarbanes-Oxley implementation, corporate governance issues, and SEC requirements. He is a partner at Graydon Head & Ritchey in Cincinnati.
Still with Jackson Walker in Dallas, Joan Sprince Sostek reports that she and her family live in the same (but newly remodeled) house.
1983


Robert J. Conrad, Jr., Chief Judge of the U.S. District Court for the Western District of North Carolina, has been nominated to the Fourth Circuit, which hears appeals from federal district courts of Maryland, North Carolina, South Carolina, Virginia, and West Virginia.

Thomas N. Griffin III was included in Chambers USA 2007: America's Leading Lawyers for Business. Griffin specializes in environmental law with Parker Poe Adams & Bernstein in Charlotte, N.C.
Joseph Guzinski is a bankruptcy attorney with the Office of the U.S. Trustee in Roanoke, Va. His older daughter, Claire, attends Virginia Tech. His younger daughter, Lauren, is in high school.
Christopher S. Knopik, along with his firm, Knopik Varner Moore, has been accepted into membership by the International Society of Primerus Law Firms, an alliance of small- to medium-size independent law firms. Knopik Varner Moore is headquartered in Tampa, Fla., and specializes in civil trial practice.
Paula Millian resides in McLean, Va., with her husband, John, and their three children. Millian works as a legal search consultant with Finn and Associates, one of the D.C. area's oldest legal search firms.
In May, Stanford Law School appointed Jay A. Mitchell director of its new Nonprofit and General Counsel Clinic. The clinic will offer students a range of hands-on projects to hone their skills, with a focus on working with nonprofits and small businesses. His task, he says, is to "encourage students to think like the client." Since 1992, Mitchell had been a legal executive with Levi Strauss & Co., where his work focused on corporate governance, financial disclosure, capital structure, and product sourcing matters.

Jeffrey E. Oleynik was recognized as one of North Carolina's Super Lawyers in the area of antitrust law in North Carolina Super Lawyers. Oleynik practices with Brooks, Pierce, McLendon, Humphrey & Leonard in Greensboro, N.C.

John E. Osborn was nominated by President George W. Bush to serve on the United States Advisory Commission on Public Diplomacy, a seven-member bipartisan panel that provides advice and oversight of all U.S. Government activities intended to understand, inform, and influence foreign publics. In addition, Osborn continues to serve as executive vice-president and general counsel of Cephalon, Inc.
Larry Richardson is senior vice president of RenaissanceRe Ventures, based in Bermuda. Richardson joined RenaissanceRe in 2001 as vice president of the company's ventures unit, which creates and manages RenaissanceRe's joint ventures and other managed vehicles, and makes strategic investments. The largest of these joint ventures currently include Top Layer Reinsurance Ltd., DaVinci Reinsurance Ltd., and Starbound I and II.

Neil L. Rose has joined Willcox & Savage as a partner in the Virginia Beach office. Rose will focus on estate planning, structuring of businesses and joint ventures, LLCs, real estate, and taxation. He was formerly a partner with Wolcott Rivers Gates.
Suzelle Smith delivered lectures at Oxford and Cambridge Universities in June on the legality of the Guantanamo detentions and tribunals.
Carol Summers is starting her sixth year as an employee relations specialist in the Virginia Beach City Schools' Department of Human Resources. Summers writes, "Many people will remember my mother, Becky Pullinger, who is in the terminal stages of Alzheimer's. We would appreciate your thoughts and prayers."

Joseph H. Varner III, along with his firm, Knopik Varner Moore, has been accepted into membership by the International Society of Primerus Law Firms, an alliance of small- to medium-size independent law firms. Knopik Varner Moore is headquartered in Tampa, Fla., and specializes in civil trial practice. Varner is one of only a small group of lawyers in the U.S. and Canada selected in the Best Lawyers in America Bet-the-Company Litigation category this year. Varner has been named in the Best Lawyers Commercial Litigation category since 2001. He was named a Florida Super Lawyer in the field of plaintiff's medical malpractice litigation and, for the second year in a row, stands among the top 100 lawyers in Florida in the Super Lawyers survey. Varner was also invited to become a fellow of the American Bar Foundation. However, the most important news, he reports, is that he and his wife, Monica, welcomed to the world their first child, Evan Joseph, on February 5.
Nicholas Wallwork was included in Chambers USA, along with his law firm, Steptoe & Johnson, for 2007. Wallwork, described by Chambers as "an imaginative strategist with diplomatic skills," practices environmental litigation in Steptoe & Johnson's Phoenix office.
Billy Webster and his family (Lindsay, Will, Lily, Vinnie, and Liza) moved to Barcelona, Spain, for a family sabbatical in August.
Craig Owen White, senior partner at Hahn Loeser & Parks in Cleveland, traveled to South Africa to participate in a training program organized through the International Senior Lawyers project. Attorneys from the United States teamed with South African business lawyers to teach practical aspects of commercial law to attorneys who have historically been denied opportunities to practice in this area. All instructors provided their time on a pro bono basis.
1984
Peter Brunstetter moved his practice to Womble Carlyle Sandridge & Rice in Winston-Salem, N.C., in February. In addition, Brunstetter is currently a member of the North Carolina State Senate, representing District 31 (Forsyth County).
In December, Susan Chetlin and her law partner opened the Denver office of Fennemore Craig, one of the oldest firms in Arizona. Chetlin is a registered patent attorney and finds her clients wonderfully innovative and creative, which makes her practice great fun.
Desiree Cooper recently became co-host of Weekend America, a two-hour weekly program on public radio about current issues, the arts, and public affairs. She'll work at American Public Media's St. Paul headquarters. For the past seven years, Cooper was a columnist with the Detroit Free Press.
Michael Crehan joined AvalonBay Communities, an apartment REIT with apartments in high barrier-to-entry markets of Northern and Southern California, Northeast, mid-Atlantic, Midwest, and Pacific Northwest, as senior director of legal affairs for construction, development, and investment.
1985
Stephen Bainbridge was named the William D. Warren Professor of Law at UCLA. Bainbridge teaches business law and is a prolific scholar whose work covers a variety of subjects, with an emphasis on the law and economics of public corporations. Bainbridge currently serves on the editorial advisory board of the Journal of Markets & Morality.

Mark M. Christopher was named Massachusetts State Chair of the American College of Trust and Estate Counsel. Christopher is a partner at Edwards Angell Palmer & Dodge in Boston, where he practices estate planning and trust and estate administration. Christopher also serves on the governing council of the Boston Bar Association, where he lectures frequently on estate planning and fiduciary matters.
Hal Hicks has joined Skadden, Arps, Slate, Meagher & Flom as a senior partner in the firm's Washington, D.C., office, where he specializes in international tax law. In addition, Hicks is an adjunct professor at Georgetown University School of Law. Hicks previously served as international tax counsel at the U.S. Department of Treasury and associate chief counsel at the IRS, where he received Treasury honor and chief counsel awards. Hicks currently resides in McLean, Va., with his wife, Nancy, and their three sons.
David Leitch was presented World Recognition of Distinguished General Counsel by the Directors Roundtable and National Law Journal. Leitch was honored for his personal accomplishments as general counsel of Ford Motor Company and, formerly, White House deputy counsel.
Richard H. McAdams is joining the faculty of the University of Chicago Law School as a professor of law. McAdams has spent the past eight years as a professor at the University of Illinois College of Law.
Kevin Ohlson, a veteran Department of Justice prosecutor and chief of staff to a former deputy attorney general, has been named director of the Executive Office for Immigration Review in Falls Church, Va. Ohlson became a federal prosecutor in 1989 and served as a military lawyer and paratrooper during Operation Desert Storm in Saudi Arabia and Iraq.
1986
Laura M. Barzilai was named partner at Sidley Austin. Barzilai works in the firm's New York office, where she focuses on federal income tax matters.
Thomas R. Denison retired from First Reserve Corporation, Greenwich, Conn., where he had been a managing director since 1998, and moved to Newport Coast, Calif., where he runs a small private equity firm called Next Step Investments. He will be teaching a short course in private equity at the Law School this spring.
M. Nan King recently accepted a new position as vice president and director of legal services for RBS Lynk, a former client. Her firm represented Lynk when it was sold to Royal Bank of Scotland in 2004 for $525 million.
William J. Roberts was appointed a copyright royalty judge in Washington, D.C. Roberts had previously served as senior attorney on the general counsel staff of the Copyright Office.
Liz Espin Stern and her husband, Michael, are enjoying watching their sons, Alex and David, grow up. Alex is a teenager now and David just turned eight. Stern heads Baker & McKenzie's global migration and executive transfers group in Washington, D.C.
Dwight Sullivan has co-authored a casebook with Eugene R. Fidell and Elizabeth Lutes Hillman titled Military Justice: Cases and Materials. Published by LexisNexis, the book covers U.S. courts martial and a wide range of other issues involving national and international military criminal law, with a depth of background information on judicial opinions, regulations, and statutes. (see In Print)
1987
Joe Baker was appointed as assistant deputy secretary for health and human services by New York's governor, Eliot Spitzer.
In May, James R. Billingsley became vice-president, general counsel, and secretary of Brand Energy & Infrastructure Services, a provider of access, insulation, painting, and other services to the energy industry. In February, the company was purchased by First Reserve Corporation, a private equity firm that focuses on the energy industry. He writes, "The work is demanding, exciting, and more fun than a lawyer should be allowed to have." Billingsley and his wife, Julia, continue to reside in Rye, N.Y., with their children, ages 4½ and 2½.
Kim M. Boyle was awarded the New Orleans Bar Association's Presidents' Award at a reception held in her honor on August 16. The Presidents' Award, the highest level of recognition given out by NOBA, commends attorneys who have dedicated themselves to community service. In her reception speech, Boyle accepted the award "on behalf of and in the spirit of all of us who love our city [New Orleans], our community, and who are determined to make its rebirth a reality." Boyle is currently a partner in the employment law practice group at Phelps Dunbar.
William L. Brooks has joined Edwards Angell Palmer & Dodge as partner in its new office in Washington, D.C. The firm's new location near the U.S. Patent Office enhances its increased role in the area of intellectual property. Brooks, formerly from Armstrong, Kratz, Quintos, Hanson & Brooks, focuses his practice in patent prosecution, expert opinion, and litigation. He has experience in many aspects of mechanical and electrical engineering, and has both undergraduate and master's degrees in the latter. Brooks is a member of the U.S. Patent and Trademark Bar. He resides in Vienna, Va.
Brooke Dickerson recently returned to practice at Arnall Golden Gregory in Atlanta, concentrating in environmental matters.
Douglas R. Eitel has recently opened his own medical practice, Psych ConsultMD, in Lewisburg, W.Va., where he currently resides with wife, Laura. Their son, Andrew, is a junior at the Julliard School in New York City.
Stephen Fox and Wes Musselman were selected by their peers in Dallas as two of the Best Lawyers in Dallas in the fields of labor and employment law and intellectual property law, respectively.
In December 2006, John Gibson was named vice president for policy communications and chief of staff, communications, for Fannie Mae. He lives in Washington, D.C.
Kim M. Keenan was named "Woman Lawyer of the Year" by the Woman's Bar Association of the District of Columbia for 2007. Keenan is currently a senior trial attorney with the law firm of Jack H. Olender and Associates.
David Morriss retired from the U.S. Navy with the rank of captain in March 2005 and joined the staff of the Senate Armed Services Committee. He is now general counsel for the senate minority.
Barry K. Simmons (LL.M.), on completion of Chinese language training at the Department of State's Foreign Service Institute, has been assigned to the U.S. Consulate General in Shanghai, China, where he serves as the cultural affairs officer.
After graduation, David Sutherland spent three years at Cadwalader, Wickersham and Taft in Washington D.C., four years at Caplin & Drysdale, and four years as the associate international tax counsel for the U.S. Treasury Department. In 1997 he and his wife, Deanna, moved to Hong Kong, where he is a managing director at Morgan Stanley and handles the company's tax affairs in Asia. He estimates that he's flown about three million miles in the past ten years, mainly to Tokyo, Seoul, Taipei, Singapore, Mumbai, and Sydney.
Sutherland and his wife work with a charity that provides homes to street children in Indonesia and another that cares for special needs orphans in China, and with International Care Ministries. Their eldest son, Kent, is finishing his first year at Dartmouth. Their youngest, Dillon, is a junior at Hong Kong International School. They are proud to announce that their Chinese daughter, Corrie, was accepted to UVA and will be following in their footsteps in Charlottesville.
In June, Melvin White, a partner in McDermott Will & Emery's trial department, was sworn in as president of the District of Columbia Bar. White is a two-term member of the D.C. Bar's Board of Governors and executive committee member. He also has served on the budget and finance committees.

As president, White says his priorities will be fostering greater inclusion in the D.C. bar, more pro bono service, and better mentoring and retention of junior lawyers. He focuses his practice on complex commercial litigation and dispute resolution. A member of the American Bar Association, he has been active on the ABA's Commission on Minorities in the Legal Profession. He is a member of the Fellows of the ABA, National Bar Association, Washington Bar Association, Women's Bar Association of the District of Columbia, GAYLAW, and the Edward Bennett Williams American Inn of Court.
Ken Willner met and married his wife, Lauri, after law school. They have two children, Kelly and Sean. Willner practices employment law as a partner with Paul, Hastings in Washington, D.C., and has management responsibilities as the firm's professional personnel partner. He handles employment discrimination class actions, other employment and labor law issues, and employee intellectual property disputes. Willner was named a D.C. Super Lawyer this year. In his spare time, he likes building furniture and playing with his kids.
1988


Jordan Gruber is a full-time ghostwriter for the financial services industry. See www.practicalwordsmith.com.
Michael Hayes is a visiting professor at Albany (N.Y.) Law School this academic year. Next year he'll return to the faculty of the University of Baltimore (Md.) School of Law.
J. Marshall Page was appointed the head of the business and finance practice group at Jones Walker in New Orleans.
Colleen M. Quinn recently was elected to the board of trustees of the American Academy of Adoption Attorneys and serves as the chairperson for the 2007 academy annual meeting in Williamsburg, Va. She also was named a Super Lawyer in 2006 and 2007 by Richmond Magazine and elected to the American Academy of Trial Counsel. She continues to practice personal injury and adoption law while raising her 15-yearold twin boys, teaching aerobics, scuba diving whenever she can get the chance, and learning to play tennis.
After more than seven years living in Denver, Carol Warren Simon and her family relocated to the San Francisco Bay area. Warren Simon's husband is senior vice-president for human resources at Pacific Gas & Electric, and she is taking a break from law practice to help the family get settled.
John S. Vishneski III has joined the newly combined Reed Smith Sachnoff & Weaver in Chicago as a partner. Vishneski represents insurance policyholders in coverage disputes, particularly those involving large manufacturers. He had been a partner with Mayer Brown.
1989
Ella Brown was recently named among the best attorneys in the United States for 2007 by Chambers and Partners, an independent British legal research firm that publishes rankings of leading firms based on client interviews. She is an employment litigator and partner with Pierce Atwood in Portland, Maine.
In July, Elissa Cadish was appointed to the Clark County, Nevada, District Court bench. For the past 12 years, Cadish has been at Hale Lane Peek Dennison & Howard, specializing in commercial litigation and employment law. She will handle civil and criminal cases on the bench, consulting with other judges who have made similar transitions. She will be up for re-election in 2008.

Rebecca S. Chaffin was elected to the management committee at Helms Mulliss & Wicker, where she is responsible for all aspects of the firm's day-to-day operations and strategic direction. Chaffin has been with Helms Mulliss & Wicker since 1996, focusing on complex financial transactions.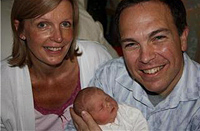 Chris Schuyler and Susan Baker welcome their daughter, Kara Mia Schuyler. Kara was born on August 31 and weighed in at 7 pounds 13 ounces.