1990s Class Notes
1990
Justice Robert Benham (LL.M.), the first African American chief justice of the Supreme Court of Georgia, gave an address in September in Tifton, Ga., at a service commemorating civil rights. Benham was the first black man to establish a law practice in Bartow County and the first since Reconstruction to win a statewide election in Georgia, when voters chose him for the Georgia Court of Appeals.
Trevor Chaplick has joined Proskauer Rose as partner and co-head of the firm's Washington, D.C., office. Chaplick's work includes business transactions in both the national and international realm.
Sean Gertner and his wife, Marla, are happy to report the birth of their first child, Eva Isabella, born February 2. Eva is the first granddaughter of Jerome Gertner '62.

Allen Groves has been named interim dean of students at the University of Virginia. Groves has high expectations for the post, as he explains, "UVA should offer the best undergraduate experience in the country, and everything we do in the dean of students' office must measure up to that standard." Before becoming interim dean, Groves directed alumni cultivation and development activities for Virginia's division of student affairs.
William Hood was appointed to the Denver District Court bench. Hood also serves on the board of trustees for the Denver Bar Association and as an adjunct faculty member at the University of Denver College of Law, where he teaches trial practice and advanced criminal procedure. Hood's wife, Diana, and daughters, Kaila and Alyssa, all agree that he looks "smashing" in his new black dress.

Philip S. McSween, a shareholder in the Nashville office of Baker, Donelson, Bearman, Caldwell & Berkowitz has been named an Outstanding Physician Practice Lawyer by Nightingale's Healthcare News. He is one of only 10 attorneys from across the country named to the annual list. McSween is a counselor to both non-profit and for-profit health care providers, including hospitals, specialty providers, and physician groups. He focuses primarily in health care mergers, acquisitions, and joint ventures.
Suzanne Parker practices with Mayer & Williams (based in New Jersey), and is also the head coach of the women's rugby team at the U.S. Naval Academy: www.usna.edu/womensrugby.
Nathan B. Smith is now general counsel of GE Fanuc Embedded Systems (gefanucembedded.com), a leading supplier of high-performance embedded computing products worldwide, with headquarters in Charlottesville.
Mimi E. Tsankov was sworn in on June 1 as an immigration judge for the Los Angeles Immigration Court. Judge Tsankov joins the ranks of more than 200 immigration judges located in 54 immigration courts throughout the nation.
1991
Scott Lassman joined WilmerHale as a partner in Washington, D.C., in September. Lassman adds his knowledge of Food & Drug Administration policy and regulation to WilmerHale's expanding FDA-related practice. Lassman formerly was senior assistant general counsel for the Pharmaceutical Research and Manufacturers of America (PhRMA). He was the 2007 recipient of the prestigious PhRMA Board of Directors Exceptional Service Award.
1992
Matthew Cholewa has joined First American Title Insurance Company in Hartford, Conn., as state and claims counsel and 1031 Exchange counsel. Cholewa has been in the title insurance industry since 1998.
Aaron Courtney recently joined Marten Law Group, Seattle's largest environmental law firm, in its new Portland office. Courtney has practiced for 14 years in the areas of energy, natural resources, water quality, and the Endangered Species Act—all areas relevant to climate change and the environment. He has worked extensively on environmental cleanups, air quality matters, agricultural issues, and corporate acquisitions and divestitures. Courtney is an active member of the Oregon and national environmental bars and has served as a vice-chair of the marine resources subcommittee of the American Bar Association's Environmental Law Section. He continues to teach as an adjunct professor at Lewis & Clark Law School in Portland.
James Czaban joined Wilmer Cutler Pickering Hale and Dorr in October 2006 as partner and chair of the firm's FDA group in Washington, D.C. He formerly practiced as a partner at Heller Ehrman and at Venable. He was named a Top Lawyer in D.C. by Washingtonian magazine in November 2004. Czaban; his wife, Beth; and kids, Nicholas and Alyssa, continue to live the suburban lifestyle in Northern Virginia, but try to get away as often as possible for mountain and ocean adventures.
Karen (Dunlop) Gibbs is a partner at Sidley Austin in Chicago. She practices in the health care group. Dunlop and her husband, Gary, recently welcomed Virginia Suzanne into the world. Ginny joins Malcolm Dunlop (12), Gillian Dunlop (10), and Caitlin Gibbs (9) to complete the family.
C. Tolbert Goolsby, Jr. (LL.M.) retired from the South Carolina Court of Appeals on July 1, but remains on the court in a senior judge capacity. In June, Goolsby's short story, "A Presbyterian Cookbook," was published by Bellebooks in its anthology On Grandma's Porch.
Elizabeth B. Lacy (LL.M.) retired from the Virginia Supreme Court in August. Lacy, appointed by Governor Gerald Baliles '67 in 1988, was the first woman on Virginia's highest court.

Sean M. Mahoney has joined the Conservation Law Foundation (CLF), New England's leading environmental group, as director of its Maine Advocacy Center. CLF President Phil Warburg described Mahoney as a "smart, dynamic, and utterly committed environmental lawyer." Mahoney currently resides in Falmouth, Maine.

In June, Theodore A. Mathas became president of New York Life. He will continue serving as chief operating officer. Since 2002, Mathas has been a member of the company's executive management committee, which is responsible for establishing management policies in all areas of New York Life's business and affairs. He also serves on the board of Haier New York Life Insurance, the company's joint venture in China. He and his wife, Keryn, live in Armonk, N.Y., with their three children.
Robert A. Matthews, Jr., is proud to announce the formation of Latimer, Mayberry & Matthews Intellectual Property Law. The firm has offices in Blacksburg and Herndon, Va., and specializes exclusively in patent law. Matthews is also the sole author of Annotated Patent Digest, which is entering its third year of publication by Thomson-West.
Andrea Moss lives in Woodstock, N.Y., with her husband, Norm Magnusson, and three children: Daisy (10), Alice (8), and Moss (3). Andrea is a partner in a specialty food company, Maya Kaimal (www.maiyakaimal.com).
Jeffrey Naness and his wife have two boys, 5 and 8. He is partner at Naness, Chaiet, and Naness, a Long Island-based firm representing management in labor relations and employment matters.
Amy E. (Hubbard) Stewart, a partner at Wilson Elser Moskowitz Edelman & Dicker in Dallas, has been selected as a 2007 Rising Star by Super Lawyers, a supplement of Texas Monthly magazine. Stewart practices in the areas of insurance coverage, bad faith litigation, managed care litigation, and appellate matters. She is a member of the Dallas Bar Association and Attorneys Serving the Community.
1993


D. Reed Freeman, Jr., has co-authored CCH Privacy Law in Marketing, a comprehensive privacy law resource for attorneys and privacy professionals. Freeman is currently a partner at Kelley Drye Collier Shannon's advertising and marketing practice group in Washington, D.C. In January, Hilda Gurley-Highgate joined the legal staff of Wal-Mart as assistant general counsel at the retail giant's home office in Bentonville, Ark.

Jill D. Jacobson has joined Bowman and Brooke in Richmond, Va. Jacobson's trial practice focuses on the defense of product liability and commercial and employment litigation matters. She has successfully defended products including drugs, medical devices, cars, motorcycles, all-terrain vehicles, and automotive components, as well as industrial and construction equipment. Jacobson is Bowman and Brooke's first openly gay partner.
Amy Y. Jenkins was named to 2007's Best Lawyers in America by Best Lawyers for employment law. Amy is currently a partner at Nelson Mullins Riley & Scarborough in Charleston, S.C., and serving as chair of the South Carolina Bar's employment and labor law section.
Bill Love was named vice-president and associate general counsel of the American Stock Exchange.

Chambers USA named Robert Schmidt, Jr., one of Ohio's leading environmental attorneys. Schmidt is a partner in the litigation department of Porter Wright Morris & Arthur. He represents clients in all major environmental programs, including the Clean Air Act, Clean Water Act, Superfund, solid and hazardous waste, emergency planning, and agricultural issues. He negotiates with both state and federal environmental agencies regarding regulatory issues and enforcement and assists clients with environmental aspects of real estate and business transactions. He also represents coal and industrial mineral companies on both regulatory and enforcement matters.
Todd Silliman is a partner with McKenna Long & Aldridge in Atlanta, specializing in natural resources transactions. He devotes a significant amount of his time representing the state of Georgia in the tri-state water disputes with Florida and Alabama. Todd is chair-elect of the Institute for Georgia Environmental Leadership and serves on the executive committee of the Georgia Conservancy. Todd is married to Wendy White Silliman and has two children, Alexander and Margaret.
1994
Alfred L. Browne III has joined the newly opened Boston office of Cooley Godward Kronish as a partner in the firm's venture capital financings and emerging companies practice groups. Browne has also been named a "Rising Star" by Massachusetts Super Lawyers in 2006 and 2007.
John Decker and Jennifer Short '95 welcomed their first child, William, in January. John is a partner in the energy practice in the Washington, D.C., office of Vinson & Elkins. Jennifer is a partner at Holland & Knight, practicing litigation in the firm's Northern Virginia office.
Neil Kapadia is actively developing real estate in Charlotte, N.C., where he has lived since law school. Neil lives with his wife, Dr. Sheena Kapadia, and has two daughters: Ameena (7) and Anjali (4). Jeanne Liedtka teaches at Lehigh University in Bethlehem, Pa., and telecommutes to work with Patton Boggs in Washington, D.C. She has four children, ranging in age from 9 to 2.

Brian C. Purcell has joined Willcox & Savage as a partner. He will practice in the Virginia Beach office, focusing on mergers, acquisitions and divestitures, joint ventures, pass-through entity taxation, and general business matters. Purcell was formerly a partner with Williams Mullen.
1995
Trey Cox won a major trial verdict for a client who helped finance a real estate project in Dallas, but never was given a promised stake in the successful development. The Dallas County jury voted to award more than $7 million to the plaintiff, whose lawsuit was based on an oral agreement to share profits in exchange for financing. "This is the highest form of advocacy," says Cox. "It's strictly a 'he said, she said' case. How do you convince a jury that one person is more credible than the other? We did it through third-party witnesses, collateral documents, and the defendant's own testimony." Cox is with Lynn Tillotson & Pinker, a Dallas-based firm.
Tilman H. Eckert (LL.M.) has started and serves as interim manager of his own business in Germany. After 10 years of experience with blue-chip companies and medium-size companies, Eckert decided in 2005 to become self-employed and, since then, has supported companies in a wide array of strategic projects. Eckert describes interim management as "a fast-growing market in Germany, although still small with regard to legal issues."
Jeff Heninger is practicing with Reed Smith in Northern Virginia and taught his first semester as an adjunct law professor at George Mason University Law School. He and his wife, Paige, have five children.
Janice Johnston works as a supervising producer for Good Morning America in New York City. She writes scripts, reads newspapers from around the country, preps guests, shoots stories, and troubleshoots the editorial content of the 8 a.m. hour of the show.

Jason Moyers and his wife, Kendall, are pleased to announce the arrival of their son, Jacob Arias Moyers. Jacob was born on June 10, 2006.
Jim Seale, along with the investment bank he founded, Seale & Associates, announced that the bank acted as exclusive financial advisor to the shareholders of Grif-Fab Corporation on the sale of the business to Ferguson Fire & Fabrication, a division of Ferguson Enterprises, a corporation whose year-end sales for 2006 totaled $9.65 billion.
Jennifer Short and John Decker '94 welcomed their first child, William, in January. Jennifer is a partner at Holland & Knight, practicing litigation in the firm's Northern Virginia office. John is a partner in the energy practice in the Washington, D.C., office of Vinson & Elkins.
Douglas D. Timmer has joined the law department of Northwestern Mutual Life Insurance Company, Milwaukee, as assistant general counsel and assistant secretary on the investments-securities team. He previously was a partner with Kirkland & Ellis in Chicago.
Yvonne K. Tran has moved from Manhattan to Ridgefield, Conn., with her two daughters, Taylor (3) and Stella (1), and her husband, John Boyd. Tran continues to work at DoubleClick Inc. as a commercial transactions attorney.
Peter S. Vincent was named the U.S. Department of Justice's assistant judicial attaché at the U.S. Embassy in Bogotá, Colombia. In that capacity, Vincent advises the Justice Department on issues concerning extradition, terrorist organizations, and narcotics trafficking. Prior to his appointment as assistant judicial attaché, Vincent was a trial attorney with the San Francisco office of the chief counsel of the U.S. Department of Homeland Security.
Robin Wilson earned the distinction of "citizen lawmaker" at an awards ceremony at the Albemarle County Courthouse. Virginia State Delegate Rob Bell presented the award for Wilson's work leading to House Bill 2969, which prohibits the practice at teaching hospitals of allowing medical students to perform pelvic exams on anesthetized patients without their consent. The new Virginia law requires informed consent. Wilson is a law professor at Washington & Lee University.
1996
Charles Abell and his wife, Siobhan, are very excited to announce the arrival of their daughter, Claire (9 lbs., 6 oz.), on July 12. Abell reports that Claire is a happy, healthy baby, and both she and Siobhan are doing very well. Big brothers James and Thomas are especially pleased to welcome their baby sister to the family.
Adam Albrett is CEO of Sirenada (www.sirenada.com), a broadcast radio interactive startup headquartered in Jordan. He is in the process of closing the sale of a 400-page patent application he wrote that includes 19 of his own inventions and more than 746 claims. Albrett may return to practicing patent law later this year.
John Calkins is an assistant general counsel for Northwestern University in Chicago, with areas of responsibility ranging from intellectual property and information technology to student affairs and athletics. Calkins writes that he also enjoys serving as a guest lecturer at the Law School.
Damian D. Capozzola has joined Epstein Becker & Green's Los Angeles office as an associate in the litigation and health care and life sciences practices. In addition, Capozzola wrote two articles, "Jump Start Your Defense to Seize Momentum and Minimize Expense" and "Ten Steps to Harness the Power of Your Expert's Knowledge," for American Bar Association periodicals. He and his wife, Renee, welcomed their first child, Donovan Louis, on June 1.
Meg Cox and Brian Cox '98 had their second daughter, Cameron, in August 2006. Cameron joins big sister Caroline. The family lives in Charlotte, N.C.
Michael D'Agostino and Robert A. Kole were panelists at Mealey's Global Warming Insurance Litigation Conference in San Francisco, speaking on reinsurance and underwriting issues. D'Agostino gave the insurers' perspective, while Kole spoke for reinsurers.

Michael L. Davitt and his wife, Michelle, celebrated the birth of their first daughter, Kennedy Paige, on April 4.
Ronan Doherty became a partner at Bondurant, Mixson & Elmore in Atlanta. Doherty represents both plaintiffs and defendants in all aspects of civil litigation and alternative dispute resolution, focusing on antitrust, appellate litigation, class actions, intellectual property, and commercial contract litigation.
Lori C. Ferguson recently joined the Sacramento offices of Hanson Bridgett. Ferguson is "delighted" with the move, noting that Hanson Bridgett shares her "passion for representing clients involved in complex legal matters in a cost-effective and efficient manner."
Joseph Kelly was named partner at Sidley Austin. Kelly works in the firm's New York office, where he focuses on securitization and structured finance.

Leezie Kim of Quarles & Brady in Phoenix was named in the June issue of Southwest Super Lawyers magazine as one of the top five percent of attorneys in Arizona and New Mexico in securities and corporate finance.
Erik Petersen and his wife, Andrea, are celebrating the birth of Liam John in April.
1997
Last year, Elizabeth Abidin and her husband welcomed their second son, Richard Christian (named after both of his grandfathers). The family moved to a new home in June, and the paperback version of The Baby Sleep Solution was published in December.
Formerly a litigation partner at Powell Goldstein in Atlanta, Simon Bloom left the firm to start his own practice in downtown Atlanta. Bloom and his partners have a civil trial practice that focuses on real estate disputes.
Laura Burton is chair of the North Carolina Bar Association's International Law and Practice Section and the vice-chair of the Immigration Committee of the North Carolina Board of Legal Specialization. She practices with Smith Moore and lives with her husband, Will, and their children, Sarah and Billy, in Greensboro, N.C.
Brian W. Byrd was named to Business North Carolina's 2007 Legal Elite listing as one of the top lawyers in the real estate field. Byrd is currently an attorney at Smith Moore in Greensboro, N.C.
Kristen M. Calleja is currently an associate at McGuireWoods in Richmond, Va., where she practices intellectual property litigation. She and her husband, Bill, have two children, Jake and Elizabeth.
Susan Carnell and Bill Carnell live in Alexandria, Va., with their two children, Mary Virginia (3) and Will (1). Bill is assistant general counsel with Verizon Communications in Arlington. In February, Susan started her own firm, Lorenger & Carnell with Michael J. Lorenger '95 in Old Town Alexandria. The firm focuses on the representation of employers in all aspects of employment disputes.
In 2006, Benjamin Dean was promoted to counsel at Pillsbury Winthrop Shaw Pittman in Washington, D.C. He is a member of the global sourcing group.
Jennifer Morgan DelMonico was named a 2006 MS Corporate Achiever by the National Multiple Sclerosis Society. This program recognizes influential leaders who have made outstanding contributions to business, civic, and cultural enrichment. DelMonico currently serves as partner-in-charge of Murtha Cullina's New Haven, Conn., office.
Ned Durden lives in Charlotte, N.C., and is a partner at WestEnd Advisors, a financial advisory firm there. He has been married to Laurie for seven years, and is father to "two wonderful girls, Jane (5) and Annie (3)."
Stacy L. Fuller has joined Kirkpatrick & Lockhart Preston Gates Ellis as a member of the firm's investment management practice group in Washington, D.C. Fuller's focus is on serving the needs of investment advisory firms of all sizes, with a particular emphasis on ETFs, closed-end funds, and funds of funds.
Andrew Gasper has left law firm practice and is general counsel of the Topps Company (baseball cards and Bazooka Joe bubble gum) in New York City.
In October 2006, Deborah Gramiccioni and her husband, Chris, welcomed their first child, Noah John, into the world. In January, Gramiccioni left her position as assistant chief of the fraud section at the U.S. Department of Justice to become vice president of TRACE International, Inc., a non-profit association of multinational companies and their commercial intermediaries that provide anti-bribery support and training. She and her family recently moved to the New Jersey shore and are enjoying life at the beach. She can be reached at gramiccioni@traceinternational.org.

Kelley Taylor Hearne has been elected partner at Drinker Biddle & Reath. Hearne is currently a member of the health law practice group in Washington, D.C., where she concentrates her practice on transactions within the health care industry.
Ellen Kennedy and Bob Kennedy were named partners at Hogan & Hartson and Hughes Hubbard & Reed, respectively, in Washington, D.C. They also welcomed their third child, Matthew Bradley. They continue to live in Kensington, Md.
After graduation, Amy Coyle Norman worked in New York for two years before meeting her husband, Casey, an Englishman who's a toy inventor and Darden alumnus. They moved to London, where Amy continued to practice law. In 2000, their first child, Zara, was born, and was soon followed by two boys, Ben and Jasper. Now living in the Cotswolds, Amy and her husband are considering raising llamas.

The Atlanta Volunteer Lawyers Foundation nominated Timothy B. Phillips for the H. Sol Clark Award in recognition of his pro bono legal work for the poor and disadvantaged. In the past five years, as he practiced privately with the law firm of Troutman Sanders and in his current position as associate corporate counsel with the American Cancer Society, Phillips has given hundreds of hours of his time in direct representation, mentoring, training, and teaching community education seminars. In its nomination of Phillips, the Atlanta Volunteer Lawyers Foundation cited "his real, demonstrated passion for equal access to justice."
Jennifer Ramach currently resides in Fort Lauderdale, Fla., where she, in addition to working as an attorney for Gunster Yoakley & Stewart, has been very active as a volunteer for the Junior League of Greater Fort Lauderdale. Having been with the Junior League for five years, Ramach has twice co-chaired the Riverwalk Run, an event that in 2007 raised approximately $40,000; more recently, she was elected vice president of finance for 2007–08.
Darla Stockton Roden and S. Mark Roden joyfully announce the birth of their son, Henry Gordon, on December 22, 2006.
Andrew T. Vedder has joined the law department of the Northwestern Mutual Life Insurance Company as assistant general counsel and assistant secretary on the investments-securities team. Vedder previously was a senior counsel with Foley & Lardner in Milwaukee, where he focused on commercial lending and other finance transactions.
1998


Allison G. Cohen married Christopher A. Marvin on November 4, 2006, in Washington, D.C. Classmates Louise (Handler) Laudano and Paul Laudano attended the wedding. Allison and her husband moved from D.C. to San Francisco in May. She continues to run Sightline, her art consulting firm on both coasts.
M. Beth Colling was named managing attorney for the nuclear operations division of BWX Technologies in Lynchburg, Va. Colling currently resides in Forest, Va., with her husband, Ken, and three children, Mackenzie, Dani, and Jack.
Brian Cox and Meg Cox '96 had their second daughter, Cameron, in August 2006. Cameron joins big sister Caroline. The family lives in Charlotte, N.C.

The North Carolina Bar Association honored Brian D. Darer as a "Citizen Lawyer" at its annual meeting in Asheville in June. Darer is a partner with Parker Poe Adams & Bernstein in Raleigh. He was selected as a Citizen Lawyer for his community service activities, including his long-term involvement with Second Chance Pet Adoptions, a no-kill animal rescue group in the Triangle area, where he has been a member of the board of directors since 2000 and currently serves as president. Darer also spent two years as a member of the board of trustees for the National Multiple Sclerosis Society for the Eastern North Carolina chapter. Darer is a member of Parker Poe's litigation department and focuses his practice in the areas of construction law, bankruptcy, reorganization, and creditors' rights issues.

William Hagedorn has joined the Portland, Maine, office of Preti Flaherty and will practice in the litigation group. He will focus on complex commercial litigation and international and domestic arbitration matters. He was previously in the Washington, D.C., office of McDermott Will & Emery.
Lisa C. Hamasaki of Miller Law Group served on the advisory committee of the California Diversity Council to organize the council's first annual California Diversity and Leadership Conference, held September 20 and 21. The event featured actress Geena Davis and millionaire businessman Chris Gardner as keynote speakers.
Justice Randy J. Holland (LL.M.) of the Supreme Court of Delaware has been selected to receive the prestigious American Inns of Court's 2007 A. Sherman Christensen Award for leadership and commitment. The award ceremony will be hosted by Justice Samuel A. Alito, Jr., at the United States Supreme Court. The American Inns of Court Foundation is a mentoring organization working to improve the skills, professionalism, and ethics of the bench and bar.

Brian S. Johnson has joined Williams Mullen as a partner in the firm's corporate finance and securities practice in Charlottesville. Johnson's practice focuses on business formations and financings, mergers and acquisitions, and other general business matters.
Seth H. Kramer and his wife, Ilana, welcomed their first son, Ryan Gaine, on December 24, 2006. Kramer and his family reside in Wilmington, Del., where he has recently joined Potter Anderson & Corroon in their business practice group and practices in the area of alternative entities.
Coates Lear recently left Hogan & Hartson's Denver office to accept a position as an enforcement attorney with the Denver regional office of the U.S. Securities and Exchange Commission. He and his wife are happy to report the recent arrival of their second child, Porter. Porter joins his older brother, Dawson, who just turned three and cannot believe he has to share the limelight with someone else.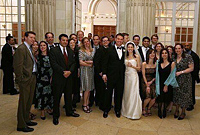 Thomas McCarthy and Sandra Farrington '99 were married on April 21 in Washington, D.C. Many Law School friends attended the ceremony, including Stephen Propst, Andrea (Becker) Looney, Meg (Gibbs) Cox '96, Ned Scharfenberg, Todd Tidgewell, Tracey (Drohan) Tidgewell, Brian Cox, Alexis Goltra, Laura (Schuler) Hagedorn, William Hagedorn, Geoffrey Eaton, Joshua Klatzkin '99, Tamer Soliman '00, Carine Saddy '99, Tyler Duvall, Leila Kashani '01, Andrea (Cummings) Duvall, Ann Donohue '99, and Vijay Shanker '99.
Paul McCoy lives with his wife, Mary Kay, and their border collie, Bula, in Berkeley, Calif. The couple lives one hour from Napa, one hour from the beach, three hours from Tahoe, and just over the bridge from San Francisco. "Life is good."

1999
Stephanie Chandler was named a 2006 Rising Star, as voted on by the state's Super Lawyers, in Texas Monthly magazine. Chandler is a partner in the business transactions section of the San Antonio office of Jackson Walker.
Major Rich DiMeglio is assigned to 4-25 BCT at Fort Richardson, Alaska, and deployed to Iraq with his unit in October 2006. His family resides in Eagle River, Alaska.
Bart Epstein and his wife, Bethany, celebrated the birth of twin sons, Malcolm and Alexander, on March 7.
Sandra Farrington and Thomas McCarthy '98 were married on April 21 in Washington, D.C. Many Law School friends attended the ceremony, including Stephen Propst, Andrea (Becker) Looney, Meg (Gibbs) Cox '96, Ned Scharfenberg, Todd Tidgewell, Tracey (Drohan) Tidgewell, Brian Cox, Alexis Goltra, Laura (Schuler) Hagedorn, William Hagedorn, Geoffrey Eaton, Joshua Klatzkin '99, Tamer Soliman '00, Carine Saddy '99, Tyler Duvall, Leila Kashani '01, Andrea (Cummings) Duvall, Ann Donohue '99, and Vijay Shanker '99.
Kenneth P. Kansa was named partner at Sidley Austin. Kansa works in the firm's Chicago office, where he focuses on corporate reorganization and bankruptcy.
Stephen Keeley has joined Crowe Chizek's Oak Brook, Ill., office as senior counsel. Keeley, along with wife and former classmate, Jennifer (Crimmins) Keeley, recently welcomed a son, James Michael, to the family, which already includes two daughters. James is also the grandson of Rosemary and Michael Crimmins '64.
City Hall News, a newspaper that covers the people and issues that shape New York City, named Chad Marlow to its Rising Stars: 40 under 40 list (the top 40 individuals in city politics who are under the age of 40). Two years ago, Marlow founded The Public Advocacy Group, an office in demand for lobbying, consulting, and public relations services.
Eric Merriam is in the Air Force JAG Corps and is assigned to the Pentagon. He lives in Alexandria, Va., with his wife, Charlotte, and daughter, Marissa.

Tampa attorney Mark P. Rankin was appointed editor in chief of the American Bar Association's Criminal Litigation Committee publication Criminal Litigation. Rankin was also elected to the board of directors of the National Association of Criminal Defense Lawyers at its annual meeting in August. He is in the white-collar crime and government investigations practice group at Carlton Fields. Previously, he was an assistant federal public defender and served as trial and appellate counsel to criminal defendants charged with offenses involving fraud, drugs, firearms, and immigration matters.