When the Constitution and National Security Interests Collide: Investigations and Trials in a Post-9/11 World
Cullen Couch
SINCE Septemer 11, 2001, the terrorist prosecutions against Zacarias Moussaoui, Jose Padilla, and Yaser Hamdi have defined the legal contours of America's "war on terror." Together they point up the political, moral, and security imperatives that have consumed a nation trying to protect itself without abandoning the rule of law.
They are three cases but one story, told here about a trio of alumni — Aaron Zebley '96, John Kavanaugh '95, and Geremy Kamens '97 — and their roles in the investigations, trials, and appeals of the first defendants to test the limits of the Constitution in a post-9/11 world. See timeline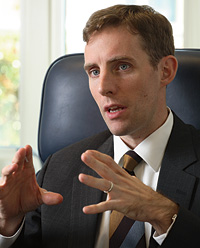 Aaron Zebley '96 and the Moussaoui Case
Three weeks before 9/11, federal authorities responded to a call from a suspicious flight instructor in Egan, Minnesota, and arrested Zacarias Moussaoui, a French citizen, for overstaying his visa waiver period. Although other activities by Moussaoui had aroused attention, the immigration charge enabled the Government to make a quick arrest. Moussaoui's case was quickly folded into the FBI's overall 9/11 investigation, and he was later indicted on six felony charges related to the 9/11 plot, three of which were capital offenses. Almost four years later he pled guilty to all of them. He is currently in a federal supermax facility in Colorado and seeking to withdraw his guilty plea.
Aaron Zebley's path intersected with Moussaoui's two days after 9/11. Zebley, then an FBI agent and now an Assistant U.S. Attorney, had just wrapped up three years on the team that had worked the East Africa Embassy bombings, another Al Qaeda operation. After 9/11, he was assigned to the FBI's 9/11 case squad — the PENTTBOM team — in the New York office. Zebley went to Oklahoma where Moussaoui lived to follow up the arrest and begin building the case that led to his guilty plea.
Criminal justice concerns and national security interests in this case began to conflict when, in March 2002, the Government announced its intention to seek the death penalty. The Government assigned Zebley and one other "case agent" to help put together the evidence necessary for the death penalty phase of the trial. In turn, Moussaoui tried to call as witnesses in his favor some "high value detainees," individuals in custody but who were not under arrest by law enforcement authorities. Reasoning that Moussaoui had the right to seek exculpatory testimony to aid his defense, Federal district court judge Leonie Brinkema of the Eastern District of Virginia, ordered the Government to make the witnesses available for depositions. The Government refused. As a sanction, she barred the Government from pursuing the death penalty and from introducing any evidence that connected Moussaoui to 9/11.
On appeal, the Fourth Circuit determined in a lengthy opinion that it was possible to craft written substitutions that would replace adequately the testimony of the witnesses sought by Moussaoui. The Government made available to defense counsel written summaries of the relevant statements, and defense counsel crafted from those summaries a proposed substitution for the testimony. According to Zebley, the Government then "had an opportunity to say, 'That's incomplete, that's not the full story, here's what else they said,' and so forth." Judge Brinkema considered both sides, decided what the admissible substitution would be, and then proceeded with the death penalty phase.
"The novel thing about Moussaoui and any future Article III terrorism prosecution," says Zebley, "is that if we continue to hold detainees beyond the reach of the criminal justice system, and if they have information or knowledge about people who are in the criminal justice system, but neither the Government nor the defendant can call them as witnesses, we're going to continue to have this tension. What do you do?"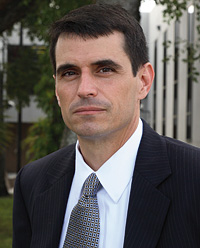 John Kavanaugh '95
John Kavanaugh '95 and the Padilla Case
Jose Padilla, a U.S. citizen, was arrested in Chicago in May 2002 on a material witness warrant linking him to the 9/11 hijackers. One month later, the Bush administration designated Padilla an "illegal enemy combatant" who had plotted to use a "dirty" bomb in a terrorist attack. He was transferred to military custody and held in solitary confinement for over three years in a Navy brig in Charleston, South Carolina, before being transferred to a Miami prison to face federal conspiracy charges. After a three-month trial, Padilla was convicted of all charges on August 16, 2007. His sentencing hearing is scheduled for December of this year.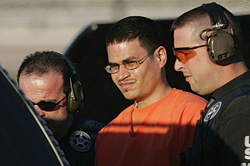 Jose Padilla, center, is escorted to a waiting police vechicle by federal marshals near downtown Miami in this Jan. 5, 2006, file photo. (AP Photo/J. Pat Carter)
For some time before Padilla's arrest, John Kavanaugh had been serving in Miami as a member of the FBI's Al Qaeda unit of the Joint Terrorism Task Force. He had become the agent in charge of building a case against Ahmad Hassoun, a radical Islamic cleric and community activist in South Florida, who had been fundraising for terrorist groups in Afghanistan and Pakistan beginning in the 1990s. Hassoun was also exhorting young Muslim men, one of whom was Padilla, to train and fight on behalf of these groups.
During the course of investigating Hassoun, Kavanaugh learned that Padilla had traveled to Afghanistan at Hassoun's behest and filled out a "mujahedeen data form," later recovered in 2001 by U.S. forces in Kandahar, to join an Al Qaeda terrorist training camp. But Kavanaugh's initial focus had always been on Hassoun and defendant Kifah Jayyousi — Padilla was an ancillary character in the plot — so his investigation of Hassoun and Jayyousi commanded all his attention while Padilla was in the brig. That would soon change.
Four years after his arrest, amid allegations of abuse while in military custody and on the eve of a likely Supreme Court battle over how long "enemy combatants" could be held without charge, the Government transferred Padilla to federal prison in Miami to face trial for conspiracy "to murder, kidnap and maim people overseas." Kavanaugh now had to treat Padilla, whom Kavanaugh believed to be a lesser actor, as a co-defendant in the Hassoun case.
Kavanaugh believes the military had been holding Padilla for his intelligence value and for national security concerns, and when these assets were exhausted the military let him go. "Once it became known that he was going to be released from military custody, he became an appropriate fit in our Hassoun case. But in the public's eye, Padilla was the bigger name. It was the Padilla case. But, in reality, and the jury's comments reflected this, he was a smaller fish — a dangerous fish, and an important one, but just a recruit."
With Padilla now a co-conspirator in the Hassoun case, what the prosecution had approached for several years as an extremely complex case involving several novel legal issues entirely separate from Padilla, now became even more difficult as it involved allegations of Padilla's mistreatment during his military confinement. Branded in the media as "the Padilla case," prosecutors now had to counter claims by defense counsel that Padilla was unfit to stand trial because he had been rendered mentally incompetent by his treatment in the brig.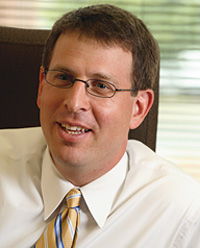 Geremy Kamens '97
Geremy Kamens '97 and the Hamdi Case
Yaser Hamdi, also an American citizen, was handed over to U.S. forces after being captured in November 2001 by the Northern Alliance in Afghanistan. After a brief detention in Guantanamo Bay, Hamdi was held in solitary confinement in the Navy brig in Norfolk, Virginia, for over a year before being placed in solitary confinement in the same Navy brig in Charleston that housed Padilla. On condition that he renounce his American citizenship and restrict his international travel, Hamdi was released in October 2004 and is now married with a young daughter and living in Saudi Arabia.

American-born Yaser Esam Hamdi in a file photo taken in June 2001. Hamdi was captured in Afghanistan by Northern Alliance forces in November 2001. (AP Photo/Asharq-al Awsat)
Three weeks before 9/11, Hamdi traveled from Saudi Arabia to Konduz, Afghanistan, seeking an ascetic Islamic experience, according to Geremy Kamens, a federal public defender. After the 9/11 attacks, Hamdi attempted to leave Afghanistan, but Konduz was surrounded by Northern Alliance forces. The Taliban negotiated surrender and arranged safe passage with the Northern Alliance for Hamdi and other foreigners in Konduz. According to Kamens, Hamdi was given a weapon and joined a convoy out of town. But the Northern Alliance broke the deal and jailed everyone. Later, they handed Hamdi over to American officials who soon learned he was an American citizen.
Processing Hamdi into the system, Department of Defense lawyer Michael Mobbs, without interviewing Hamdi, wrote a two-page summary of the Northern Alliance's story of Hamdi's capture. The so-called "Mobbs Declaration," comprising in significant part hearsay accounts of Hamdi's actions in Afghanistan, would become the Government's sole piece of evidence against him.
Hamdi's fate may never have been known but for a chance reading of a local newspaper in March 2002 by Frank Dunham, the federal public defender for the Eastern District of Virginia who at the time was Geremy Kamens's boss in Norfolk. (Dunham died in November 2006). Dunham read a story in the Virginian-Pilot about an American citizen named Hamdi being held without charges in the Navy brig in Norfolk. Dunham sent a letter to the brig commander asking to meet Hamdi. Receiving no response, Dunham asked Kamens to draft a habeas petition to file on Hamdi's behalf as a "next friend." They filed the petition in the federal district court for the Eastern District of Virginia, and presiding Judge Robert Doumar '53 appointed Dunham to represent Hamdi.
Kamens recalls the immediate storm that ensued.
"Once the court appointed our office to represent Hamdi," says Kamens, "the Solicitor General's Office jumped in directly. That was very unusual. They filed an emergency interlocutory appeal at noon on Thursday, and the Fourth Circuit gave us only a few hours that day to file our response. All we were trying to do at that point was file a petition as next friend and meet our client who, as far as we knew, had not had contact with anyone else in the world."
The Fourth Circuit panel was not receptive to Hamdi's argument. "They had absolutely no real interest in allowing us to represent Hamdi with Frank Dunham as 'next friend,'" recalls Kamens. The court dismissed the habeas petition. Dunham and Kamens returned to the district court and asked Judge Doumar to rule Hamdi's father in Saudi Arabia as a "next friend" for the petition. Judge Doumar did so, the habeas petition was reinstated, and the court ordered that Hamdi must be allowed to meet with his lawyers. On the Solicitor General's appeal of this second order, the Fourth Circuit panel remanded the issue, this time to determine whether the Government had presented enough evidence to justify Hamdi's detention before allowing such a meeting.
Back before Judge Doumar, the Government presented the Mobbs Declaration as its sole evidence. Judge Doumar ruled the declaration insufficient. On appeal, the Fourth Circuit overruled him again, declaring that the Mobbs Declaration was sufficient to dismiss the habeas petition altogether.
"They were just very, very opposed to the idea that this man was entitled to a lawyer, to meet with counsel, to present his own side of the story, to challenge what the Government was saying," says Kamens. "Judge Doumar comes from a strong conservative background, but he was not about to back down in the face of an effort by the Government to prevent anyone outside the executive branch from having some understanding of what was going on here. They were shielding what they were doing to Yaser [Hamdi], basically holding him indefinitely in military custody, incommunicado, without any charges and without any real reason, certainly no reason that they were prepared to present in a court room."
The Supreme Court agreed to hear the case in April 2004. Two months before that, Kamens and Dunham finally met Hamdi, now in the Navy brig in Charleston, for the first time, two years after filing the first habeas petition. "It was an amazing experience," recalls Kamens. "He'd actually made friends with people at the brig, but he had no inkling of what was going on. We brought down newspaper clippings with his name in the headline. He was just wide-eyed, incredibly happy to meet us, and a delightful young man. From very early on, everybody at the jail knew that Yaser [Hamdi] didn't have any relation with Al Qaeda, had no contacts with anybody who was a threat to the United States."
In June 2004, the Supreme Court declared that Hamdi had a right to habeas proceedings and access to counsel.
Brave New World
In each of these cases, national security interests and criminal procedure collided at various stages of litigation. The Government nearly derailed its death penalty case against Moussaoui by refusing to produce witnesses. The alleged torture of Padilla during his three years in solitary confinement raised questions about the quality of any evidence the Government might have gained from his statements and his competence to stand trial. And, like Padilla, Hamdi's detainment without charges raised questions about his rights as an American citizen.
The administration has stated its belief that Article III courts cannot safeguard certain rights for terrorist defendants without risking the lives of American civilians. As applied to our Constitutional protections in their purest forms, that sounds like a reasonable position. But the courts in the Moussaoui, Padilla, and Hamdi cases have shown that it is possible to apply the Constitution and procedural rules in ways, however imperfect, that still effectively balance the rights of terrorist defendants and the safety of the American public.
Many in Government also believe that trial courts are incapable of handling the evidentiary issues involving classified information in terrorism cases, but Zebley points to the Fourth Circuit's opinion in Moussaoui. The Court provided a way to meet the challenge of using classified information derived from a witness whom the defendant ordinarily could have called to the stand for live testimony, and it did so at a time of war.
Sometimes, the prosecution may have to give up a particular piece of classified information or abandon a particular angle of the case. It may have to adjust the way it charges a case if certain evidence is not available. But the courts are finding ways to deal with those issues.
Certainly, there will be difficult cases like Padilla when the evidence doesn't translate well into an Article III prosecution. "The Government knew a lot about his activities in Afghanistan, but they knew that from this other system of evidence, from the people down in Guantanamo," says Kavanaugh. "The people there could not come here and testify. Knowing something is one thing; having admissible evidence that you can present is another. You have to determine (a) whether what you know is in a form that you can present, and (b) whether presenting it is worth the price you pay. The Padilla case falls somewhere in between."
Kamens adds that there is ample precedent for judicial oversight of executive power in compelling circumstances. "Even in an area that is at the core of the Commander-in-Chief's responsibilities — the responsibility to detain enemy soldiers — the Supreme Court has said that there is room for judicial oversight," he explains. "And when you get further away from actual combat, for example in phone-tapping or warrantless domestic wiretapping cases, it seems that there should be even more room for judicial oversight."
Frank Dunham, in his oral argument to the Supreme Court in Hamdi, argued that cases like Hamdi and Padilla are indeed rare and must not be allowed to undermine long-settled law: "We have a small problem here. One citizen — we're not talking about thousands — one citizen caught up in a problem in Afghanistan. Is it better to give him rights or is it better to start a new dawn of saying there are circumstances where you can't file a writ of habeas corpus and there are circumstances where you can't get due process? I think not.
"I would urge the Court to find that citizens can only be detained by law. And here there is no law. If there is any law at all, it is the executive's own secret definition of whatever "enemy combatant" is. And don't fool yourselves into thinking that means somebody coming off a battlefield because they've used it in Chicago, they've used it in New York, and they've used it in Indiana….
"Congress tomorrow could take these military regs and they could say, 'This is the law. We authorize the executive to detain people and to give them hearings the way the military says,' and then it would be lawful. But Congress hasn't done that, and I respectfully submit, Your Honor, that until Congress does that, these detentions are not lawful. And I would respectfully ask this Court to step up to the plate and say so."
The Court did just that, saying in Justice O'Connor's plurality opinion that "we have long since made clear that a state of war is not a blank check for the president when it comes to the rights of the nation's citizens."
"At the very beginning of this case it was extraordinarily lonely," says Kamens. "We did not have many individuals in the country supportive of us. But I think through time and through exposure of what was happening, a slow understanding developed that this was really important."
Lawyers like Aaron Zebley, John Kavanaugh, and Geremy Kamens are part of a bar on the front lines of a legal frontier whose borders are emerging but still unclear. The stakes are high — not only for "enemy combatants" like Hamdi, but also for advocates like Zebley, Kavanaugh, and Kamens who must find a way to protect American lives while preserving individual liberties. They persevere in their roles with the simple belief that the Constitution that has served the country well for over 200 years will see us through in a post-9/11 world.