Non-Fiction

The Complete Guide to Sarbanes-Oxley: Understanding How Sarbanes-Oxley Affects Your Business
Stephen Bainbridge '85
Adams Media
The Sarbanes-Oxley Act is considered by many to be the most significant change in corporate governance and securities regulations in the past 70 years. The requirements laid out under the act have brought about far-reaching changes for public corporations, private corporations, and nonprofits.
The Complete Guide to Sarbanes-Oxley: Understanding How Sarbanes-Oxley Affects Your Business targets business practitioners. When the Sarbanes Oxley (SOX) act was passed by Congress in 2002, it established enhanced reporting standards for most publicly held corporations.By the end of 2008, the SOX legislation will be applied to more than 13,000 smaller, publicly-held corporations originally held exempt.
Under the expanded SOX legislation, smaller companies will now be exposed to audits and reviews, and will also be required to make their profits, losses, and compensation packages public. Sorting through the complicated language, The Complete Guide to Sarbanes-Oxley answers questions like: How do companies comply with SOX? How does SOX affect relations within the firm? Should a company go private to avoid SOX?
The Complete Guide to Sarbanes-Oxley answers in nontechnical language questions regarding the act and poses potential solutions for businesses as well as attorneys. The book takes a less technical, more understandable approach to the act, while still involving heavy analysis and practical information.
Bainbridge is the William D. Warren Professor of Law at UCLA, where he currently teaches Business Associations, Unincorporated Business Associations, and Advanced Corporation Law. In past years, he has also taught Corporate Finance, Securities Regulation, Mergers and Acquisitions, and seminars on corporate governance.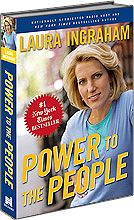 Power to the People
Laura Ingraham '91
Regnery Publishing
In Power to the People Laura Ingraham provides a riotous, take-noprisoners journey through our besieged culture and gives us a battle plan to re-make it anew, the way the Founders intended — strong, patriotic, pro-family, and unapologetically God-fearing. Part exposé, part practical manifesto, Power to the People is written in the style of Ingraham's fast-paced, no excuses, action-oriented radio show, weaving in personal tales of her own struggle to right the culture and the politics of our country: including how she derailed the appointment of Harriet Miers to the Supreme Court, mounted a grassroots campaign against corporate America's sponsorship of one of pop music's biggest and most profane rap stars, and torpedoed the amnesty bill that would have granted instant legal status to millions of illegal aliens.
And for the first time, Ingraham also reveals how she found her faith during a moment of deep loss, along with poignant details of her year long battle with breast cancer. In Power to the People, she holds back nothing, and takes the fight beyond Right versus Left to show you how to reclaim the culture and win.
In the book, Ingraham calls on the American people to take back the phrase "Power to the People." Chapters cover most of today's hot button topics — the war in Iraq, homeland security, the judiciary, the news media, and global warming — with attitude and conviction. From Publisher's Weekly, "Fans of her… radio show should be pleased to find more of the same here."
Ingraham is host of her own syndicated radio show, heard coast to coast each day on the Talk Radio Network. Author of the New York Times bestseller Shut Up & Sing, Ingraham is a frequent political and cultural commentator on television.

The Art of Woo — Using Strategic Persuasion to Sell Your Ideas
G. Richard Shell '81 and Mario Moussa
Portfolio
In business, the most successful people are not always the ones with the best ideas but, rather, the ones who have mastered the sell. The great leaders and business people of our day have been the ones capable of communicating their ideas and goals and getting others to believe in them. The "woo," as it is called by the book's authors, is "two parts art and one part science."
To shed light on just what exactly the woo is, Shell and Moussa, both Wharton faculty members, offer a self-assessment to help readers determine which persuasion role fits them best and how to make the most of natural strengths. The book also comes replete with vivid stories from the authors' personal experiences advising thousands of leaders, as well as stories about famous people like John D. Rockefeller, Andrew Carnegie, Andy Grove, and Bono.
The challenge of the woo, according to the authors, is in balancing the "self-oriented" perspective, which focuses on the persuader's credibility and point of view, and the "other-oriented" perspective, based on the audience's needs and perceptions. Robert Wolf, chairman & CEO of UBS Group Americas, calls the book "fascinating" and "essential reading for anyone trying to get head of the pack in our competitive, global marketplace."
Shell is director of the Wharton School of the University of Pennsylvania executive negotiation workshop and is a professor of legal studies, business ethics, and management. He previously authored the award-winning book, Bargaining for Advantage.

Mama Knows Breast — A Beginner's Guide to Breastfeeding
Andi Silverman '96
Quirk Books
Breast feeding may be natural, but it certainly is not easy. Mama Knows Breast helps new mothers through the often complicated and confusing stage of breast feeding. From baby positioning to breast feeding etiquette, the book is a hip, savvy guide essential for the modern family.
Andi Silverman became a mom in September 2004 and had another child just 18 months later in March 2006. Since April 2006, Silverman has operated an internet blog writing about her own experiences in motherhood and offering helpful tips to other moms. Mama Knows Breast follows the humorous, open-minded approach to breast feeding which made Silverman's blog a hit with frank advice and fun illustrations, all backed up by scientific facts. The book opens with a forward by pediatrician Dr. Stephanie Freilich.
Renee Trudeau, writer of the blog "The Journey" described Mama Knows Breast as "fun to read, attractive to look at and packed with "real life" tips, resources and "how to" information on nursing that acknowledges breastfeeding isn't always as easy as it looks."
Silverman currently lives in New York City with her husband and sons. She blogs at www.mamaknowsbreast.com.

Book of Beginnings
David A. Stuckey '01
Robertson Publishing
Book of Beginnings is a collection of humorous, poignant, and entertaining autobiographical stories from David Stuckey's childhood. The stories are "narrative prose poems," snapshot glimpses of events, emotions, and people that, for various reasons, resonated with Stuckey.
The stories capture, in scenes of heartbreaking drama, Stuckey's struggle to maintain his idealism and hope on the mean streets of West Berlin, San Francisco, and Pittsburgh, and on the deceptively quiet campuses of Lawrence, Kansas, and Ann Arbor, Michigan.
Stuckey's enthusiasm for travel and adventure led him to accept an international business development position with a firm in Budapest, Hungary, where he expects his lifelong passions for movies, milkshakes, and the Michigan Wolverines to continue unabated.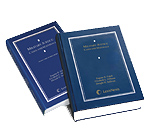 Military Justice: Cases and Materials
Dwight H. Sullivan '86 with Eugene R. Fidell and Elizabeth Lutes Hillman
LexisNexis
Military Justice: Cases and Materials engages the key issues and fundamental challenges of military justice. The high profile of military justice, combined with the difficult and fundamental legal issues raised by the military commissions, suggests that military courses will now be in great demand. This casebook provides the text for such a course. Its coverage of the U.S. court martial and other national and international systems of military criminal law provides a framework through which students can explore the role and operation of military justice within a democratic society. The book illuminates the interconnectedness of military justice systems through a far-ranging collection of judicial opinions, statutes, regulations, commentaries, and scholarship.
Military Justice: Cases and Materials gives teachers a new and powerful tool to introduce students to military law while deepening their understanding of criminal law and procedure, comparative law, international law, constitutional law, and democratic governance. At a time when the tempo of military operations around the world seems to increase constantly, when high-profile courts-martial dominate the headlines, and when challenges to the legitimacy of military justice abound, this book delves into the middle of the conflicts to give students and teachers alike unprecedented access to worldwide military justice.
Sullivan now resides in Arnold, Maryland, and works for the Air Force doing death penalty defense appellate work.
Fiction

Stone Cold
David Baldacci '86
Grand Central
David Baldacci's newest thriller, Stone Cold, is a follow-up to his bestselling work, The Collectors. Readers will again follow Oliver Stone and the Camel Club, back for their most dangerous adventure yet.
Casino king Jerry Bagger from The Collectors is hunting Annabelle Conroy who conned him out of millions. Stone and his colleagues Reuben, Milton, and Caleb marshal all their resources to protect Annabelle. Yet all their skills may not be enough when a deadly new opponent rips off the veneer of Stone's own mysterious past: Bagger's menace pales next to newcomer Harry Finn's lethality. Passing as a normal family man, Finn has already killed three men, with more targets to come. When Finn sets his bull's-eye on Stone, his reason will be the greatest shock of all, causing readers to reconsider their views of good and evil. As bodies and institutions topple, the story rockets toward a shattering finale that will leave the survivors of this explosive tale changed forever.
"When Baldacci is on fire, nobody can touch him, and this is an exhilarating thriller: fast paced, with a cast of engaging characters, a couple of mind-wrenching plot twists, and a general air of derring-do that keeps the proceedings from getting too heavy. Let's hope this isn't Oliver Stone's last appearance," says Booklist.
Baldacci recently travelled to Ireland, England, Holland, and France to promote his previous book, Simple Genius, as well as to research travel itineraries for an upcoming spring 2008 novel. Find tour dates and locations, as well as chapters and excerpts at www.davidbaldacci.com.

Patriot's Reward
Stephen Clarkson '62
Peter E. Randall Publisher
The time is 1755, more than 100 years before the American Civil War. The place, the British royal province of New Hampshire. During the next 35 years, the white residents of this northern region will have their freedom challenged, take up arms to preserve it, and, along with the 12 other Atlantic seaboard colonies, seek to establish a new government of their own that will treat them fairly and equally.
In the same period, a young African, enslaved in Portsmouth, N.H., chafes at his bondage and embarks on his personal struggle to attain the same freedoms sought by his white owners. He fights in the same war in the name of the same lofty principles.
Follow slave Will Clarkson's struggles to be free in Patriot's Reward. A "fascinating narrative of the under-recorded realities of slavery," said former U.S. Senator William Hathaway.
Clarkson is a direct descendent of Will's original owner in America. He is retired and lives with wife, Mary Claire, in Rye, New Hampshire. Patriot's Reward is his first novel.
On the Lip
Jerry Cox '79
Touching Covers, Inc.

Brainy Bostonian Fred Hanson invented a radical new way to predict every web surfer's next move. He dreams of megabucks, but government agents want to hijack his Internet startup and use it for domestic spying. The only person Fred can count on is Tom Rey, a college surfing buddy with a history of rescuing Fred. Just as the business gets ready to launch, jealous competitors, desperate lawyers, seedy Washington power brokers and a predatory financial reporter send the young entrepreneurs straight for "the lip," that crucial spot where an ocean swell ends and a wave begins.
According to New York Times bestselling author Dennis Wholey, On the Lip is "a spellbinding peek inside an overnight tech sensation, not unlike Google or YouTube."
Cox advises technology companies in Northern Virginia's Dulles Technology Corridor, where On the Lip is set.

The Law Clerk
Scott Douglas Gerber '86
The Kent State University Press

Sam Grimes is heartbroken by a law school romance gone bad. Searching for new horizons, he accepts a prestigious clerkship with a federal judge in Providence, Rhode Island. He quickly finds himself both falling in love with a beautiful young woman he meets at the courthouse and working on the case of the decade in New England: the obscenity trial of Joey Mancini, the son of a Mafia boss. And as Sam is about to find out, one thing has everything to do with the other.
Gerber, who was himself a former law clerk to a federal judge, crafts an explosive novel which gives insights into one of the most pressing social issues of the day: the impact of pornography. The novel also examines the idealism, eagerness, and curiosity of law clerks just beginning their professional careers.
In a FindLaw review, Mark Tresnowski, managing director and general counsel of Madison Dearborn, writes that Gerber's novel "seeks to go beyond simply using the law as a setting for reader entertainment … Gerber's The Law Clerk, however, is not merely a 'fun read'; it's much more ambitious than that."
Gerber is a law professor at Ohio Northern University. His previous books are The Declaration of Independence: Origins and Impact (2002), The Ivory Tower: A Novel (2002), First Principles: The Jurisprudence of Clarence Thomas (1999), Seriatim: The Supreme Court before John Marshall (1998), and To Secure These Rights: The Declaration of Independence and Constitutional Interpretation (1995).

Who Murdered Mom?
Frank Warren Swacker '49
Yellowback Mysteries

Mom, Margaret Largostern, was the owner and operator of a Washington D.C. public relations firm which specialized in the export of espionage and political corruption across continents. At the time of Margaret's death, she had been thought to have acquired confidential disks involving a submarine warfare detection system. Frank Warren Swacker's new courtroom mystery delves into the investigation of Margaret's murder and who had the most to gain. Among the suspects are Margaret's husband, Edward, a serial widower and sole beneficiary to Margaret's two-million dollar life insurance policy. Edward's daughter Cynthia, is also dragged into the plot as she prepares for final university exams while discovering more of her parents' past shady activities.
Edward consents to a process of arbitration with the insurance company in order to expedite his wife's life insurance settlement, bringing with it an ever-accelerating cascade of nefarious, humorous, and unexpected evidence. Swacker's grand finale reveals who indeed benefitted most from the death of mom and is responsible for her murder.
The book, written with the editorial assistance of his wife, Irene, is Swacker's second mystery novel. Swacker previously served as an arbitrator in many complex international and domestic disputes involving the airline, petroleum and other industries including corporate finance and securities.