Non-Fiction
The Health Care Revolution: From Medical Monopoly to Market Competition
Carl Ameringer '78
University of California Press
Carl Ameringer traces the history that has led to America's unique market-based health care system. He reveals how in the late 1970s Congress and the Supreme Court prompted the federal government's anti-trust agencies — Federal Trade Commission and the Justice Department — to change the rules under which the health care system works. His balanced account describes social, economic, and political aspects of the current system, examines the views of its proponents and opponents, and takes a look at where we are headed. The Health Care Revolution, notes one reviewer, "will claim the attention of scholars and policymakers because it frames the modern history of medical care in new and important ways."
Ameringer is Professor of Health Policy and Politics at the L. Douglas Wilder School of Government and Public Affairs at Virginia Commonwealth University.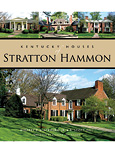 Kentucky Houses of Stratton Hammon
Winfrey Blackburn '64 and R. Scott Gill
Butler Books
The renowned residential architect Stratton Hammond designed homes in Louisville, Ky., and throughout the state. His houses combine the classic beauty of Colonial American architecture and the latest conveniences of modern life. Years in the making, this book features a comprehensive biography of the noted architect, detailed descriptions and floor plans of each house, and many full-color photographs. Architecture scholar Richard Guy Wilson wrote the introduction.
Kentucky Houses of Stratton Hammon was awarded the bronze medal for excellence in the national architecture category of the 2008 Independent Publisher book awards. Winfrey Blackburn is a senior partner with Blackburn Hundley & Domene in Louisville. The book is available at www.butlerbooks.com.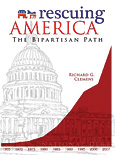 Rescuing America: The Bipartisan Path
Richard Clemens '65
Tate Publishing
Democrats and Republicans claim they have solutions to America's mounting fiscal problems. In Rescuing America: The Bipartisan Path, Clemens makes the case that to achieve any real progress, the two major parties will have to work together. He urges political leadership to leave behind partisan politics and focus on the nation's challenging issues, including the war in Iraq, the trade deficit, Medicare, and Social Security. "Rampant partisanship," he writes, "has paralyzed the ability of our government to act and lead and inspire."
In the last chapter, written well before the fi rst presidential primary for the 2008 election, the author focuses on the contrasting views of Senators John McCain and Barack Obama. "Throughout the book," writes one reviewer, "we benefit from [Clemens'] status as an intelligent, neutral observer without a stake in the 'inside the beltway' game of politics."
Clemens is a fellow of the Center on Federal Financial Institutions, a nonpartisan public policy institute that studies the federal government's insurance and lending policies.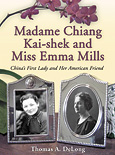 Madame Chiang Kai-shek and Miss Emma Mills: China's First Lady and Her American Friend
Thomas A. DeLong '60
McFarland & Co.
Mayling Soong Chiang, the wife of Chinese leader Chiang Kai-shek, played an important role in her work in China from the 1930s to 1975. At the age of 10 she came to the U.S. for a Western education, and while a student at Wellesley she made her closest American friend, Emma Mills.
After graduating in 1917, Mills worked on the editorial staff of a newspaper in China and tutored there. Back in the United States, she helped raise funds for the education of young Chinese in the United States.
Madame Chiang Kai-shek and Emma Mills shared a lifelong correspondence. Mills' unsealed letters and journal entries, upon which much of this book is based, provided Madame Chiang insights into American isolationist attitudes of the time. The two women shared a sense of purpose and a common cause in their work for China and Chinese-American relations.
DeLong is also the author of a comprehensive biography of John Davis Lodge.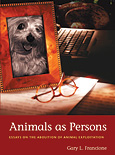 Animals as Persons: Essays on the Abolition of Animal Exploitation
Gary L. Francione '81
Columbia University Press
Gary Francione is a philosopher of animal rights law and ethical theory and is known for his criticism of animal welfare laws and regulations, his abolitionist theory of animal rights, and his promotion of veganism and nonviolence. This volume is a collection of previously published essays (some with postscripts) and one new chapter. In Animals as Persons Francione argues that using animals under any circumstances is unjustifiable and describes the ability of humans to cherish some animals as companions and some merely as food or clothing as our "moral schizophrenia" toward animals.
Francione is Professor of Law and Nicholas deB. Katzenbach Scholar of Law and Philosophy at Rutgers University-Newark. He has lectured on the subject of animal rights throughout the United States, Canada, and Europe.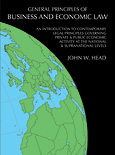 General Principles of Business and Economic Law
John W. Head '79
Carolina Academic Press
This book surveys the relationship between law and economic activity. Head covers the basic principles that govern banking, insurance, employment, intellectual property rights, competition, tax, environmental law, and other areas. Even though there is a lot of diversity among countries, the author explains how basic concepts still hold true throughout most of the world.
Head is a Professor of International Law at Kansas University. He has worked in several international financial institutions and has written a number of books on global business law and international development law and institutions.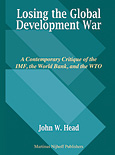 Losing the Global Development War A Contemporary Critique of the IMF, the World Bank and the WTO
John W. Head '79
Brill-Nijhoff
John Head, Professor of International Law at Kansas University, gives a new perspective on some of the most important global organizations — the World Bank, the World Trade Organization, and the International Monetary Fund — sizing them up in terms of legal and policy issues. The informative text was written with an informed lay audience in mind. Readers will learn about the effect of "mission creep," "democracy defi cit," and other issues that impact the ongoing global development war.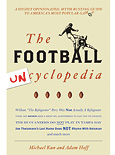 The Football Uncyclopedia: A Highly Opinionated Myth-Busting Guide to America's Most Popular Game
Michael Kun '88 with Adam Hoff
Clerisy Press
After The Baseball Uncyclopedia, Michael Kun is back by popular demand to tackle his latest subject, football. If a ref has ever made a call you didn't like, or you've ever risen to your feet while watching a game, you will enjoy the insights and irreverence on every page of The Football Uncyclopedia.
The authors include some statistical analysis, lots of opinions, and lots of myths (debunked). Alphabetical entries run the gamut — owners, champions, uniforms, bad attitudes, catchy commercials, and great plays — all described with a sense of humor, a dose of sarcasm, and passion for the sport. Fans be forewarned: nothing is off limits!
"If you're not watching football this weekend, you should be reading this book," says one reviewer. And if you are, she says, "Keep it by your elbow, and you won't throw anything at the TV. You'll be too busy laughing."
Michael Kun is in private practice in Los Angeles.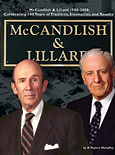 McCandlish & Lillard 1908-2008: 100 Years of Tradition, Innovation, and Results
R. Peyton Mahaffey '80
Signature Book Printing
The law firm of McCandlish & Lillard traces its history back to the practice of a single lawyer named F.D. Richardson in a small town called Fairfax in 1908. Last summer McCandlish & Lillard celebrated its first 100 years. This narrative and pictorial history documents the firm's growth and its contributions to the legal and business communities of Fairfax County and the Commonwealth of Virginia.
R. Peyton Mahaffey, principal and president of the firm, wrote the text and took many of the photographs featured in the book.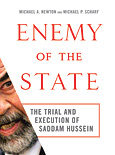 Enemy of the State: The Trial and Execution of Saddam Hussein
Michael A. Newton '90 and Michael P. Scharf
St. Martin's Press
This is the definitive history and the fascinating inside story of the nine-month trial of Saddam Hussein. For one year the authors, both experts on international war crimes, led a team of experts who prepared the prosecution and the judges for one of the most important trials in modern history. Michael Newton, then a professor at West Point, collaborated with Scharf (a former State Department official) to write the rules for the tribunal, determine which crimes should be prosecuted, whether the death penalty would be involved, and other difficult issues involved in the explosive proceedings.
Currently Professor of Law at Vanderbilt University Law School, Lieutenant Colonel (Ret.) Newton served in both the Clinton and Bush administrations as advisor to the Ambassador-at-large for war crimes issues at the U.S. Department of State. The website for the book (www.enemyofthestatebook.com) contains excerpts, sound files of author interviews, pictures, and an interactive blog where readers can pose questions.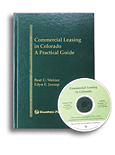 Commercial Leasing in Colorado: A Practical Guide
Beat U. Steiner '80 and Edyn Jessup '03
Bradford Publishing
Steiner and Jessup, both attorneys with Holland & Hart in Boulder, Colo., wrote this book with Colorado real estate attorneys and leasing brokers in mind.
They cover basic legal principles and highlight the strategies used behind the scenes in negotiating, drafting, and modifying lease provisions.
The authors provide useful checklists for every common lease clause, a glossary of legal and real estate terms, and several samples of different kinds of leasing forms. At the end of each chapter there's a checklist for tenants and one for landlords so either party can review a lease to make sure it's in their best interests. "The whole idea," says Steiner, "is to make people more intelligent in the lease negotiation process so it doesn't get into a shouting match or crass bargaining."
At Holland & Hart, Steiner specializes in the acquisition, disposition, development, and financing of real estate, and Jessup focuses on real estate finance and development transactions.
Fiction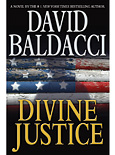 Divine Justice
David Baldacci '86
Grand Central Publishing
In the fourth novel in the ever-popular Camel Club series, John Carr, alias "Oliver Stone," is on the run. He has assassinated two men who had silenced him, and top U.S. government officials order a massive manhunt to bring him in. A master spy named Macklin Hayes pursues Stone for his own reasons and wants him dead. An isolated coal-mining town in the hills of Virginia, a world away from the center of power deals in Washington, D.C., seems like a good place for Stone to hide out from his deadly pursuers — until his own shadowy past catches up with him.
Baldacci and his family live in Virginia. He and his wife have founded the Wish You Well Foundation, a nonprofit organization dedicated to supporting literacy efforts in America. Visit his website at www.davidbaldacci.com and the foundation at www.wishyouwellfoundation.org.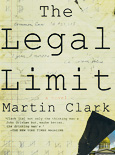 The Legal Limit
Martin Clark '84
Alfred A. Knopf
Martin Clark's third novel is based on a case he once heard as a judge in Stuart, Va. Two brothers named Gates and Mason grew up with an angelic mother and a violent and abusive father. Gates's life is a wreck, while Mason is on a straighter track in law school. On a fateful visit home, Mason goes out with his brother and in the heat of a confrontation, Gates shoots and kills someone. There are no witnesses to the crime, and Mason hides the weapon and fabricates a story to cover up for his brother.
This secret forms a tie between the two men.
Years later, Mason comes back home as commonwealth attorney. His brother meanwhile is in serious trouble for selling cocaine. He asks Mason to rig a pardon for him, and when Mason refuses, more tension ensues.
The Legal Limit is a darker novel than Clark's first two (The Many Aspects of Mobile Home Living and Plain Heathen Mischief), but just as entertaining, with "lots of crackling Southern dialogue and a plot wound as tightly as a watch," according to a review in The Los Angeles Times.
Clark serves as circuit court judge for Patrick and Henry Counties and the city of Martinsville, Va.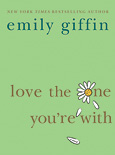 Love the One You're With
Emily Giffin '97
St. Martin's Press
Ellen and Andy have a great marriage, the kind in which husband and wife bring out the best in each other. But one day in a chance encounter, Ellen runs into Leo, the former flame who brought out her worst and left her with a broken heart and no explanation eight years ago. Suddenly all of her old emotions well up, and Ellen begins to question the life she's living and the choices she's made.
In Love the One You're With, "readers will follow Ellen with fascination and trepidation as she enters the dangerous waters of what might have been — or still could be," writes a Hartford-Courant reviewer. New York Times bestselling novelist Emily Giffin delivers a compelling story for anyone who has ever wondered about the road not taken.
Giffin lives in Atlanta with her husband and three children.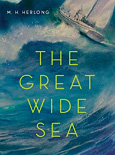 The Great Wide Sea
Madaline H. Herlong '84
Viking
Ben, Dylan, and Gerry are grieving their mother's death. Their father, overwhelmed by his own grief, decides to buy a boat, sell the house, and take the boys on a year-long sailing trip to start a new life. The boys go along unwillingly. Life on board is challenging enough in tight quarters, particularly in the prickly relationship the father has with the oldest son, Ben, the narrator of the story. One morning the boys wake up to realize that their father has disappeared. The brothers are lost and on their own as a threatening storm approaches.
A tale of survival and coming of age, The Great Wide Sea was inspired by the author's four sons. This is her first novel. "Unforgettably beautiful," notes the book editor for the Times-Picayune, "filled with the power of family stories as they are lived and created and passed on. Herlong has learned her craft well enough to know that children must be the heroes of their own lives, and Ben, Dylan and Gerry, so brave and struggling, will stay in readers' hearts forever. M.H. Herlong is definitely a writer from whom we can expect great things."
After practicing law and teaching, Herlong is now in Tulane's doctoral program in literature. Find more about the book at www.thegreatwidesea.com.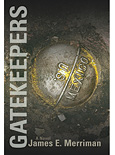 GateKeepers
James E. Merriman '73
iUniverse Inc.
Grant Meredith lives a peaceful life on a ranch in Colorado until the day he finds out that his brother was gunned down in the streets of Scottsdale, Ariz. Driven by grief, Meredith is determined to find the murderer. His search takes him to a Mexican family dynasty called the GateKeepers that has controlled the U.S.-Mexican border for decades.
Meredith soon finds himself in a dangerous world of drugs, smuggling, and plenty of officials bribed to look the other way. His former career as a military contractor provides him the resources and the toughness he needs to endure — but the price may, in the end, be too much to pay. "Merriman is a gifted storyteller and a careful craftsman; the story is crisp and interesting, the prose clean and evocative," notes Kirkus Discoveries. The author, accomplished in the rodeo sport of team roping, lives on a ranch in Colorado.