Class Notes
Send Us Your News
We welcome submissions for inclusion in Class Notes. Submit online, mail to UVA Lawyer, University of Virginia School of Law, 580 Massie Road, Charlottesville, VA 22903; or fax to 434-296-4838. Please send you submissions by February 19 for inclusion in the next issue.
1940


The University's Miller Center of Public Affairs and the Miller Center Foundation honored Mortimer Caplin, founding member of the law firm of Caplin & Drysdale, with the 2009 Elizabeth Scott Award for his dedication and leadership to the Center, the University, and the greater community. The conferring of the award on September 17 was one of the highlights of the Foundation's annual Salute Event.
The Foundation praised Caplin for his longstanding service to the Miller Center as a member of both its governing council and foundation board. It also applauded him for establishing the endowment that launched the annual Mortimer Caplin Conference on the World Economy. Debuted last year, this landmark event brought 12 former G-20 finance ministers to the Miller Center to lay the underpinning for new financial architecture to address rapidly changing global economic challenges.
Alumni Events
D.C. Luncheon
More than 100 alumni attended the annual D.C. Luncheon at the Mayflower Hotel on June 24. As alumni enjoyed a light lunch, Dean Mahoney introduced Professor John Harrison who shared an outsider's inside view of the U.S. Department of State, where he spent 2008 as a counselor on international law in the Office of the Legal Adviser.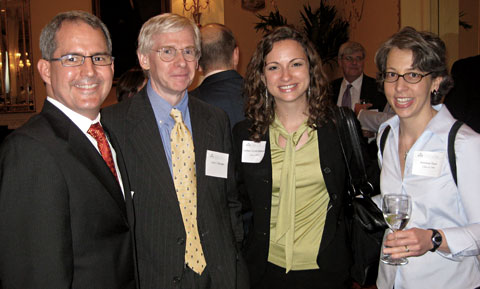 From Left: Scott Patrick '96, Professor John Harrison, Lindsay Grinols Simmons '07, and Suzanne Dans '96
From Left: Tillman Breckenridge '01, Ryan Hartman '05, Babak Djourabchi '01, and Monica Welt '01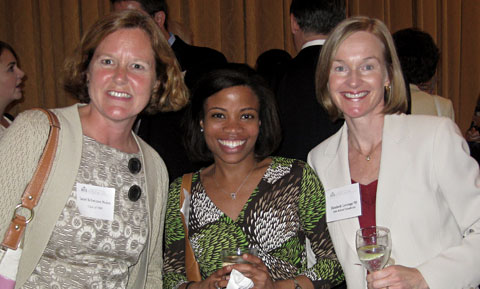 From Left: Janet Schwitzer Nolan '89, Christine Hines '98, and Elizabeth Leverage '92

1949


In September, Benjamin F. Sutherland reached his 60th anniversary of practicing law. He entered the Law School on the GI bill after World War II, passed the bar in 1949, and still practices at age 91 in Clintwood, Va.

Frank Warren Swacker's murder mystery, Who Murdered Mom?, is available in its second edition through Amazon.com, Barnesandnoble.com, and local bookstores.
1951
Jack P. Jefferies wants classmates to know that his wife, Karen Lisa Sommarstrom Jefferies, died on March 12. Karen and Jack married in 1972 and raised a daughter, Elizabeth Jefferies de Villegas. Jack is a retired senior law partner at Lord Day & Lord in New York City.
1955


William Littlejohn won the Washington Writers' Publishing House annual fiction contest with his debut novel, Calvin. The book is a coming of age story of ten-year-old Billy and an African-American servant, Calvin, who manages to bring some stability to a chaotic family situation in South Carolina during the Depression. The book has been published as a trade paperback by the Washington Writers' Publishing House. (See In Print)
1957


John Corse recently took a trip up the Alaska Inland Passage from Ketchikan to Juneau aboard a 162-foot motor yacht. He had a number of adventures along the way, including a steep jump into icy waters and a close encounter (within six feet) with a grizzly. Corse had no way to escape—with two women and five children positioned behind him. Fortunately, the bear was well fed and distracted by salmon leaping upstream, and turned away at the last minute.
On another excursion, a wrong turn on a hiking path led Corse up a 3,000-foot mountain with four children in tow. After touring Glacier National Park, he headed for the U.S. Masters National Swimming Meet in Indianapolis, Ind. He came in second in the 50-meter freestyle event, third in the 200-meter individual medley, and swam on three winning relay teams. "Not bad," he writes, "after lolling around eating and drinking in luxury for two weeks before the meet."
Herbert S. Glickman has joined Greenbaum, Row, Smith & Davis as counsel in the firm's Roseland, N.J., office. Previously he served as a superior court judge for 24 years, presiding over matrimonial and family-related cases. In recent years he concentrated on mediation and arbitration of family cases in private practice.
1959
Wright Hugus, Jr., is entering his 15th year of semi-retirement — reading and writing in the winter and selling ice cream from his vintage Good Humor truck in the summer.