Faculty Briefs

Kerry Abrams's article "Becoming a Citizen: Marriage, Immigration, and Assimilation," was published by Cambridge University Press in a book edited by Linda McClain and Joanna Grossman entitled Gender Equality: Dimensions of Women's Equal Citizenship. She also helped to organize two family law conferences during the summer, one for emerging family law scholars at the University of Colorado, Boulder, and one at Harvard Law School. Abrams also presented two papers at the Law & Society annual conference in Denver.

Barbara Armacost '89 completed an article entitled "Arizona v. Gant: Does it Matter," which will appear in the upcoming issue of the Supreme Court Review. Also, Armacost has been invited to deliver the Kamm Memorial Lecture on Law and Society at Wheaton College in April.
In June Margo Bagley was a distinguished visiting professor teaching American company law at the University of Muenster. In July she taught international patent law and policy in the GW Summer IP Program at the Max Planck Institute in Munich. In August she presented "The International Patent System: Issues and Opportunities," at the Second Beijing International Chemical and Pharmaceutical Intellectual Property Forum.
Bagley was honored in August to serve as a distinguished visiting professor at the National University of Singapore, where she taught international patent law and policy.

Charles Barzun '05 completed work on a new article, "Jerome Frank and the Modern Mind," which argues that one of the major works of legal theory in the 20th century has been profoundly misunderstood by generations of scholars.
Since its publication in 1930, Frank's Law and the Modern Mind has been the subject of academic comment and controversy. But even those scholars who have looked favorably upon Frank's work concede that he failed to articulate a theory of adjudication or offer any affirmative proposal for legal reform. Barzun argues, however, that this interpretation of Law and the Modern Mind is deeply mistaken and that the source of the mistake lies in previous scholars' failure to understand Frank's philosophical worldview and, therefore, his intellectual motivations.

Michal Barzuza's paper, "The State of State Antitakeover Law," wasaccepted for publication in Virginia Law Review in December. Barzuza's paper, "Lemon Signaling in Cross-listing," was accepted to the Yale/Stanford junior faculty forum. She presented the paper at Stanford in May.
Barzuza participated in the Harvard's Proxy Access Roundtable in October, and presented a paper in the symposium, "In Berle's Footsteps," at Seattle University in November.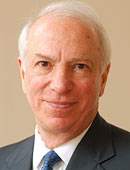 Richard Bonnie '69 continues his extensive activities as chair of the Virginia Supreme Court's Commission on Mental Health Law Reform, implementing legislation enacted in 2008 and 2009, and preparing a third round of reforms in 2010.
Bonnie spoke at conferences sponsored by the Alzheimer's Association and the Virginia Hospital and Healthcare Association on the Commission's overhaul of the Health Care Decisions Act that went into effect in July. He also spoke on the challenges of mental health law reform at the annual conference of the National Association of State Mental Health Program Directors in September in Virginia Beach.
Bonnie published an overview on the Virginia experience article in Health Affairs, a major health policy journal, entitled "Mental Health System Transformation After the Virginia Tech Tragedy."
Meanwhile, the Virginia General Assembly has asked Bonnie to chair a new study on mental health issues in colleges and universities, an area that has been outside the domain of the Supreme Court's Commission but that remains highly charged as a result of recent suicides and homicides committed by troubled students. The new study will be conducted by two task forces (on legal issues and services issues) overseen by a steering committee. John Monahan will serve on the steering committee. Bonnie appeared before the General Assembly's Joint Commission on Health Care in October to describe the study, which is projected to be completed in the fall of 2010.
In May Bonnie addressed senior leadership at the CDC on "Public Health and the First Amendment" in Atlanta, and presented "Is Model State Legislation Needed for Treatment of Drug Offenders?" to a forum held by a special committee of National Conference of Commissioners on Uniform State Laws Special Committee in Washington, D.C.
In June Bonnie presented "New Uses for Advance Directives" to a Conference on Alzheimer's Disease and Related Disorders at the University of Virginia Institute on Aging in Charlottesville. And in July he presented "Evaluating Reform of the DC Public Schools," to the National Academy of Sciences in Washington, D.C.
In October Bonnie presented a paper entitled "Indiana v. Edwards and the Limits of Autonomy in Criminal Defense," at the annual meeting of American Academy of Psychiatry and Law in Baltimore.

Whitfield Broome is serving as chair of the Virginia Board of Accountancy for 2009–2010. This state agency is responsible for the regulation of Certified Public Accountants and CPA firms in the Commonwealth of Virginia. The seven members of the Board are appointed by the governor for four-year terms. Broome was initially appointed to the Board by Governor Mark Warner in 2003, and subsequently reappointed for a second four-year term by Governor Tim Kaine. His current term ends on June 30, 2011.
In addition, Broome continues to serve on the national CPA Board of Examiners, which is responsible for the Uniform CPA Examination used by all states. For 2009-2010, he will also serve on the Board's Executive Committee and chair its State Board Committee. The State Board Committee includes representatives from boards of accountancy across the United States. It serves as a means of communicating with state boards and specifically of receiving feedback on the Uniform CPA Examination from state boards.

In April Jon Cannon and Michael Bucey produced a white paper for the Miller Center, "America's Energy Future: Balancing Renewable Power and Carbon Fuel." The paper was background for a debate on U.S. energy policy that was aired on PBS. Also in April, Cannon spoke to the Society of Fellows of the University of Virginia, on emerging national policy on climate change.
Over the summer Cannon wrote an article on the Supreme Court's decision in Entergy Corp. v. Riverkeeper, Inc., which addresses use of cost-benefit analysis in EPA decisions. The article has been accepted for publication in the Harvard Environmental Law Review.
Cannon serves on the National Academy of Science's Committee on America's Climate Choices, which has been tasked by Congress to "investigate and study the serious and sweeping issues relating to global climate change and make recommendations regarding what steps must be taken and what strategies must be adopted in response to global climate change, including the science and technology challenges thereof." The committee's final report will issue in 2010.
In September Cannon presented a critique of Regulation by Litigation by Andrew Morriss, Bruce Yandle, and Andrew Dorchak at a roundtable at Case Western Reserve University School of Law. Cannon also serves on the board of advisors for the Institute for Policy Integrity at NYU Law School and participated as a panelist at a workshop there in November on cost-benefit analysis in regulation.

George Cohen completed articles to be included as chapters in two different books. The first is "Interpretation and Implied Terms in Contract Law," which is an updated version of a previously published article in the Encyclopedia of Law and Economics, the second edition of which will be published in 2010. The second article, "How Fault Shapes Contract Law," will be included in a book on fault and contract law (title TBA), also to be published in 2010, and edited by Ariel Porat and Omri Ben-Shahar. Cohen also expects to finish this fall work on the fifth edition of the Law and Ethics of Lawyering, a casebook co-authored with Geoffrey C. Hazard, Jr., Susan P. Koniak, Roger C. Cramton, and W. Bradley Wendel. The casebook will also be published in 2010.

Brandon Garrett's work was cited in the Supreme Court's opinion in Melendez-Diaz v. Massachusetts and in the majority opinion and a dissenting opinion in Osborne v. District Attorney's Office of the Third Judicial District. Garrett spoke about the Osborne case at a summer workshop at the Law School.
In May Garrett participated in a panel at the annual Law & Society Conference in Denver titled "New Research on False Convictions and Exonerations."
In October Garrett spoke at the University of Toronto's lecture series, "Current Controversies in Forensic Science & Medicine," hosted by their Centre for Forensic Science & Medicine. He presented research on forensic science testimony in wrongful conviction cases, as well as discussed current issues regarding forensic science reform.
Garrett is working on a book, "Misjudging Innocence," about the criminal investigations, trials, appeals, and post-conviction litigation of people exonerated by post-conviction DNA testing, for which he recently received a contract from Harvard University Press. As part of that project, Garrett is working on analyzing data concerning eyewitness identifications in cases of exonerees. He presented that data in a talk at the American Society of Criminology meeting in November.
Two articles from George Geis are forthcoming this year: "An Empirical Examination of Business Outsourcing Transactions" in the Virginia Law Review and "Internal Poison Pills," in the New York University Law Review (offering a novel type of security for governing the tensions between majority and minority shareholders).
Risa Goluboff published an essay called "Dispatch from the Supreme Court Archives: Vagrancy, Abortion, and What the Links Between Them Reveal About the History of Fundamental Rights" in the Stanford Law Review, and gave a workshop at Harvard Law School on the same essay. She made a presentation at a Yale Law School conference called "The Constitution in 2020," on a panel on social rights. She also made a presentation at a symposium on the NAACP at the Carter Woodson center at UVA.

Thomas Hafemeister had three articles published this summer; "Beware Those Bearing Gifts: Physicians' Fiduciary Duty to Avoid Pharmaceutical Marketing," (with Sarah Payne Bryan) in the University of Kansas Law Review; "The Fiduciary Obligation of Physicians to 'Just Say No' if an 'Informed' Patient Demands Services that Are Not Medically Indicated,"(with Richard M. Gulbrandsen, Jr.), in the Seton Hall Law Review; and "Lean on Me: A Physician's Fiduciary Duty to Disclose an Emergent Medical Risk to the Patient," (with Selina Spinos) in the Washington University Law Review. A fourth has been accepted for publication, "Last Stand? The Criminal Responsibility of War Veterans Returning from Iraq and Afghanistan with Post-Traumatic Stress Disorder," (with Nicole A. Stockey), in the Indiana Law Journal (forthcoming December).
In addition, this summer, as editor of Developments in Mental Health Law, Hafemeister published Volume 28, Number 1, which contained an article by Benjamin Holley '09, "It's All in Your Head: Neurotechnological Lie Detection and the Fourth and Fifth Amendments," and an article by Amanda Muller '10, "'And His Roommate Told Me…'; Should Forensic Mental Health Evaluators Be Barred from Recounting Third-Party Statements When Explaining the Basis of Their Opinions?," and 30 pages of case notes that he authored. Holley with his partner, Lee Pfeifer '09, won the William Minor Lile Moot Court Competition this spring.

A. E. Dick Howard '61 has been appointed by the National Constitution Center and the University of Pennsylvania School of Law as their visiting scholar for 2009-10. The joint appointment does not entail the scholar's being in residence; instead, the scholar gives several lectures or programs during the course of the academic year. Previous scholars have included Akhil Amar, Lillian BeVier, Ted Olson, Kathleen Sullivan, and Lawrence Tribe. The theme for the next year is global constitutionalism, a focus that builds on Howard's work with constitution-makers in other countries.
In July Howard gave his inaugural lecture at the Center. His subject was "Founding Principles: The French Connection." In his lecture, Howard considered the early American state constitutions, French interest in American developments, the activities of Benjamin Franklin and Thomas Jefferson in Paris, the drafting of the Declaration of Rights of Man and the Citizen and of France's first Constitution, and enduring themes of French and American constitutionalism.
At the Fourth Circuit Judicial Conference, Howard organized and moderated a panel reviewing principal decisions of the United States Supreme Court's 2008–09 term. His panelists included two prominent journalists, Jan Crawford Greenburg of ABC News, and Linda Greenhouse, formerly of the New York Times and now a senior fellow at Yale Law School. The other panelists were John McGinnis, of Northwestern University School of Law, and Ted Olson, a frequent litigator before the Supreme Court.
The Virginia Bar Association invited Howard to speak on "The Struggle for the Supreme Court" at a special meeting at the Old Capitol Building in Williamsburg. He reviewed the efforts of successive Republican presidents to undo the legacy of the Warren Court and to move the Court in a more conservative direction.
In Washington, Karamah: Muslim Women Lawyers for Human Rights, convened its annual Law and Leadership Summer Program. Howard organized a workshop on the distinctive features, in a comparative setting, of American constitutionalism. In Charlottesville, Howard was a faculty member at the National Security Law Institute, sponsored by the Center for National Security Law. He spoke on the prospects for constitutional democracy in other parts of the world.
As the fall semester got underway, the editors of the Virginia Law Review invited Howard to speak at their annual luncheon for faculty. Reflecting on his days as a law clerk to Supreme Court Justice Hugo L. Black, Howard recounted significant ways in which the Court has changed from the days of the Warren Court to the present time. He emphasized changes in the Justices' background and experience, in the process of nomination and confirmation, in way the Justices conduct their business, and in the selection and role of the law clerks.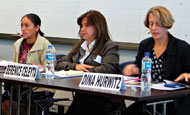 In September Deena Hurwitz was in Colombia to participate in the launch of the Spanish version of a report on the "Right to Education of Afro-descendant and Indigenous Communities in the Americas." (Full text PDF.) The International Human Rights Law Clinic wrote the report in 2008, in collaboration with the Robert F. Kennedy Memorial Center for Justice and Human Rights, and the Cornell Law School International Human Rights Clinic, for the Inter-American Commission on Human Rights. Professor Hurwitz presented some of the conclusions from the report at a conference hosted by the University of Los Andes in Bogota.
The Law School Human Rights Program has received a grant from the Office of the Vice Provost for International Programs to bring Rashida Manjoo, the U.N. Special Rapporteur on violence against women, its causes and consequences, to UVA for one month, January - February 2010. Manjoo will be a distinguished international fellow and a visiting professor. The purpose of the UVA Distinguished International Fellows Program is to broaden and deepen the relationships between UVA faculty and colleagues outside of the U.S.; increase opportunities for research collaborations; provide opportunities to exchange ideas about effective teaching; expose students to the expertise of the International fellows through classroom lectures, seminars, and individual meetings; and to expose members of the larger University community and residents of Central Virginia to the interests and scholarship of the fellow.

This summer Liz Magill '95 received from the American Constitution Society's Richard D. Cudahy Writing Competition an award for her paper "Standing for the Public: A Lost History." The competition seeks to identify legal scholarship that shows "a keen grasp of legal doctrine, deep insight into the institutional forces that determine how doctrine is implemented, and an appreciation of the public impact of doctrinal and institutional choices, including the consequences for fundamental values such as fairness, participation, and transparency."
In August Magill became the Law School's Academic Associate Dean.
In October she presented "Standing for the Public: A Lost History" at NYU's Constitutional Theory Colloquium.

In June Tom Massaro became founding Dean of the medical school at the University of Botswana. It is the first medical school in the country and the newest one in Africa.
In October Dan Meador participated in a panel discussion on the election of state court judges at the annual meeting of the American Academy of Appellate Lawyers in Philadelphia.
At a conference on the Supreme Court at the George Washington University Law School in November, Meador participated in a panel discussion on a proposal to regularize Supreme Court appointments by providing for the appointment of one new justice every two years.

Greg Mitchell published "The Limits of Social Framework Evidence" in Law, Probability & Risk (with John Monahan and Larry Walker), and "The Relation Between Consistency and Accuracy
of Witness Testimony" (with Ronald Fisher and Neil Brewer),in the Handbook of Psychology and
Investigative Interviewing: Current Developments and Future Directions, from Wiley Press.
David Klein (UVA Politics Department) and Mitchell completed editing of the book, The Psychology of Judicial Decision Making, which was published this fall by Oxford University Press. Mitchell contributed two chapters to the book: one titled "Evaluating Judges" and one with Philip Tetlock titled "Cognitive Style and Judging." Mitchell and Tetlock also published a lead article, "Implicit Bias and Accountability Systems: What Must Organizations Do to Prevent Discrimination?," and two replies to responses to the article, "A Renewed Appeal for Adversarial Collaboration" and "Adversarial Collaboration Aborted But Our Offer Still Stands," in the book series, Research in Organizational Behavior.
In the spring semester, Mitchell helped organize the Olin Conference on "Combating Workplace Discrimination," and he also served as a moderator and presenter at the conference. Other University of Virginia faculty from the Law School and the economics, psychology, and sociology departments participated in the conference, as well as leading discrimination researchers and scholars from Harvard, Howard University, MIT, the University of Minnesota, Princeton, and the University of California, Berkeley.
This summer Mitchell participated on a panel discussing current psychological research on witness memory and its legal relevance at the 31st Congress of the International Academy of Law and Mental Health. Also this summer, Tetlock and Mitchell were awarded a two-year, $250,000 grant from the Searle Freedom Trust to study the relationship between implicit bias and discriminatory behavior.

In May John Norton Moore, director of the Center for Oceans Law and Policy (COLP), sponsored the 33rd COLP Conference, "Changes in the Arctic Environment and the Law of the Sea" in Seward, Alaska. Moore delivered a paper on the opening panel entitled "Conference Negotiation on Ice-Covered Area Articles." His paper, along with all others delivered at the conference, will be published late in 2009 in the conference proceedings volume, Changes in the Arctic Environment and the Law of the Sea.
Also in May and June, COLP held its 17th National Security Law Institute. The institute provides advanced training for professors of law and political science who teach or are preparing to teach graduate-level courses in national security law or related subjects requiring a detailed understanding of national security law.
COLP also conducted the 14th annual Rhodes Academy of Oceans Law and Policy in Rhodes, Greece in June and July. The Rhodes Academy is an international collegial institution dedicated to fostering a better understanding of the modern law of the sea and to promote adherence to the rule of law in the world's oceans.
In June Moore presented the paper "Toward More Effective Counter Piracy Policy" at the Maritime Piracy/Counter Piracy Workshop at Booz Allen Hamilton. A published version is in the works.
In July Moore spoke at the National Governors Association annual meeting in Biloxi, Miss. He addressed the Natural Resources Committee session: Barriers to American Energy Security and Independence.

Tom Nachbar spent time this summer (as a U.S. Army Reservist) working on the Detention Policy Task Force in Washington, looking at policy solutions for how to deal with detainees in the future. A new edition of the book he edits for the Army, the Rule of Law Handbook, came out in October.
This fall the Carolina Academic Press published Jeffrey O'Connell's book, Political and Legal Adventurers: From Marx to Moynihan, co-authored with his brother Thomas E. O'Connell. The book is a collection of biographical essays on lawyers and others whose careers intertwined with law, public policy, and politics, including Adlai Stevenson, Felix Frankfurter, Tommy Corcoran, Pat Moynihan, Bayard Rustin and others.
In early 2010 the Columbia Business Law Review will publish an article by O'Connell and Patricia Born on the similar cost and other advantages of an early offers reform proposal for product liability claims as compared to general liability claims.

In August Dotan Oliar presented "Secondary Fair Use" at the IP Scholars Conference at Cardozo Law School, N.Y. The project studies the liability that should be imposed on technology companies for copyright infringement related to their products.
In September Oliar published "From Corn to Norms: How IP Entitlements Affect What Stand UP Comedians Create" (with Chris Sprigman) in Virginia Law Review In Brief. This essay replies to four law professors who published responses to our article on IP norms among stand-up comedians, published last year in the Virginia Law Review.
In October Oliar presented two papers, "Secondary Fair Use," and "Naked and Gross: Restrictions on Alienation in Trademark Law" (with Rich Hynes) at the Works in Progress in IP conference in Seton Hall Law School, N.J.
Oliar's article, "Conventional IP: A New Reading," is forthcoming (2009) in UCLA Law Review. It sheds light on puzzling occurrences in the Constitutional Convention surrounding the framing of the IP Clause, and on the framers' intent and the clause's original understanding.

Robert O'Neil spent the spring semester as a visiting professor at the University of Texas School of Law in Austin, teaching a course, Con Law: Church and State.
During that time he lectured at the University of Missouri-Columbia (annual Friends of the Library Dinner), Rice University, Trinity University/San Antonio, the University of Arkansas-Little Rock, the Valencia Community College Annual Program for Community College administrators and lawyers, and co-presented the William Cotter Debate at Colby College in Maine.
In February O'Neil received the first William Kaplin Award, presented by Stetson University at its annual higher education law conference. He also conducted workshops and programs for several governing boards (Butler University, all West Virginia public university board members and presidents), while advising the University System of Maryland on film exhibition policies, and presented a virtual seminar on campus speech issues for the National Association of College & University Attorneys (NACUA). He has also continued to work with the Association of Governing Boards (revising their basic document for new trustees, "Effective Governing Boards)," serving on an advisory council on conflict of interest, and the board of consulting editors of Trusteeship, the AGB magazine).
In the spring O'Neil spoke at the annual meetings of the American Library Association (Chicago), AGB (San Diego), and NACUA (Toronto). He is continuing to direct the Ford Foundation's Difficult Dialogues Initiative, which is entering its final year. Also this fall, he has an article commissioned by NACUA for the 50th anniversary symposium issue of the Association's scholarly publication, Journal of College & University Law.

Dan Ortiz is working on a journal piece called "Nice Legal Studies," which he hopes to have published next spring; and with Liz Magill on a book chapter called "Comparative Positive Political Theory and Institutional Design."
The Supreme Court Litigation Clinic, directed by Ortiz, has had several cases going on this past summer, which Ortiz and others have been working on together. First, there's Bloate v. United States, which concerns whether time spent preparing pre-trial motions is automatically excludable under the Speedy Trial Act. It was argued on October 6 by Mark Stancil. The clinic also worked on two cert petitions. One, in Rollins v. United States, concerns whether a federal court can impose a sentence consecutive to a not-yet-imposed state sentence. The other, Mincey v. United States, concerns whether a person who has the renter's, but not the rental company's, permission to drive a car can have a reasonable expectation of privacy in it. The clinic has also been working hard to identify and line up new cases to pursue.

In September Mimi Riley presented two talks at "Bio2Biz South Africa," South Africa's annual national biotechnology meeting. The first is "Challenges and Solutions in Commercializing Genetically Engineered Animals and their Products," and the second, "Regulating Cloned and Genetically Engineered Animals: Opportunities, Perils and Pitfalls." The following week Riley spoke at the Virginia IRB Consortium in Charlottesville on "The Genome Information Nondiscrimination Act (GINA) of 2008" and "Regulatory Aspects of Genetic Research."

Mildred Robinson published "Transfer Tax Reform after EGTRRA-2001: Reconstruction or Further Deconstruction," in the Virginia Tax Review.
Robinson also made a number of appearances in conjunction with Law Touched Our Hearts: A Generation Remembers Brown v. Board of Education, (with Richard Bonnie; Vanderbilt Press, 2009). She moderated a penal discussion in Williamsburg at the William & Mary Law School featuring four of the five contributors from the William & Mary Law faculty; presented during the Virginia Festival of the Book in March (with Richard Bonnie); presented at the Robert Russa Moton Museum in Farmville, Va., in May; and participated as a panelist during Larry Sabato's "Massive Resistance" conference in July in Richmond.

In the summer Jim Ryan '92 published an article and book chapter: "The Big Picture: Five Legal Issues That Have Changed the Face of Public Schooling in the United States" in Phi Delta Kappan; and "The Real Lessons of School Desegregation," in From Schoolhouse to Courthouse: The Judiciary's Role in American Education (Brookings Institution Press 2009). Ryan has another chapter, entitled "A Legal Perspective on Teacher Compensation Reform," in Performance Incentives: Their Growing Impact on American K–12 Education (forthcoming, Brookings Institution Press 2009).
Ryan also taught constitutional law to a group of foreign students in Columbia Law School's "Summer in Amsterdam" program, and in January will begin a four-month fellowship at the University of Auckland Law School in New Zealand. Ryan stepped down as the Law School's Academic Associate Dean at the end of August.

George Rutherglen has new editions of two books coming out: Employment Discrimination Law: Visions of Equality in Theory and Doctrine (a third edition), and Major Issues in the Federal Law of Employment Discrimination (a fifth edition). He also has a book under contract with Oxford University Press on Slavery, Freedom, and Civil Rights. Also, over the summer, his article, "Textual Corruption in the Civil Rights Cases," came out in the Journal of the Supreme Court Historical Society.

Fred Schauer continues to serve on the board of governors of the James T. & Catherine D. Macarthur Law and Neuroscience Project, and presented "Can Bad Science Be Good Evidence?: Neuroscience-Based Lie Detection and the Mistaken Conflation of Legal and Scientific Norms" as his inaugural lecture for the Law School's David and Mary Harrison Distinguished Professorship in April; at the Duck Conference on Social Cognition in June; at the Mino-Foro on Proof and Truth in the Law at the Institute for Philosophical Research, UNAM, Mexico City, in September; at the University of Virginia Department of Psychology in October; and at the State University of New York at Buffalo in November.
In May Schauer lectured on jurisprudence at the University of Palermo and the University of Genoa in Italy.
In September Schauer wrote "The Trouble with Cases" with Richard Zeckhauser for a National Bureau of Economic Research conference, Regulation by Litigation, with the paper to be published in the conference proceedings by the University of Chicago Press. He also spoke on "Guidance and the Supreme Court Docket" at a Yale Law School conference on the Supreme Court docket.
In October Schauer delivered the annual Melville Nimmer Memorial Lecture at the UCLA School of Law with the title "Facts and the First Amendment." The lecture will be published as an article in the UCLA Law Review. He also delivered the annual Sibley Lecture at the University of Georgia School of Law, with the title "When and How (If At All) Does Law Constrain Official Action?" The lecture will be published as an article in the Georgia Law Review.
In November Schauer was a featured speaker at a university-wide conference on racial profiling at Washington University in St. Louis. He also spoke at the University of Michigan Law School's Legal Theory Workshop on "Llewellyn on Rules"
Schauer has also published "Paltering," with Richard Zeckhauser, in Deception: From Ancient Empires to Internet Dating (Stanford University Press, 2009); and "Institutions and the Concept of Law: A Reply to Ronald Dworkin," in Law as Institutional Normative Order (Ashgate Publishing, 2009).

Richard Schragger has returned to UVA after a year in New York City, first as a visiting professor at NYU in fall 2008 and then as the Samuel Rubin Visiting Professor at Columbia in spring 2009.
Schragger's article, "Mobile Capital, Local Economic Regulation, and the Democratic City," will be published in the Harvard Law Review in December. He presented the paper at faculty workshops at NYU, Columbia, and Cardozo.
In October of 2008 he gave the keynote address at a conference, "Cities and Counties in the Global Economy: Local Economic and Immigration Policy" held at the UC Hastings College of Law. In June he presented "Rethinking the Theory and Practice of Local Economic Development" at a conference entitled "Reassessing the State and Local Government Toolkit" held at the Chicago Law School. The paper will be published in the Chicago Law Review next year. He also published "The Progressive City", an essay for "Why the Local Still Matters: Federalism, Localism, and Public Interest Advocacy," in Papers from the Eleventh Annual Liman Public Interest Program Colloquium (2009), a conference at the Yale Law School.

Gil Siegal S.J.D. '09 (with Moti Mark) has published "Mental Health Rights in Israel — A Multi-dimensional Analysis" in the Journal of Health Law and Bioethics. Siegal is a member of the Israeli Statutory National Committee on Brain Death and Organ Transplantation; the European Society of Cardiology Special Task Force; and the Ethics Committee of the Medical University of Graz, Austria. He is also on the international advisory board of the Austrian Biobank Project (GATiB II Project).
Siegal has received a research grant from the Israeli National Institute for Health policy for "A Multi-disciplinary Approach to Quality Control of Child Abuse Identification in Emergency Care."

Barbara Spellman has been serving this year on the National Academies Committee on Behavioral and Social Science Research to Improve Intelligence Analysis for National Security, and she was appointed associate editor of Thinking & Reasoning, and co-editor of a special issue of Psychonomic Bulletin & Review on "Psychology and Law: Emerging Trends in Empirical Research." Spellman will have a paper in that special issue (with Elizabeth R. Tenney) entitled "Credibility In and Out of Court."
Spellman also published (with Elizabeth R. Tenney and Hayley M. D. Cleary) "Unpacking the Doubt in 'Beyond a Reasonable Doubt:' Plausible Alternative Stories Increase Not Guilty Verdicts," in Basic and Applied Social Psychology. Thatarticle (which originally appeared in a psychology journal) was revised for legal application and published with response and replies as: "This Other Dude Did It!" A Test of the Alternative Explanation Defense," in The Jury Expert.
Spellman also spoke in September at the Northwestern University Law School "Law and Psychology Colloquium on (Re-)Considering Credibility," and in November at the University of Buffalo Baldy Center for Law and Social Policy on the same topic.

Paul Stephan '77 coauthored a new casebook, Doing Business in Emerging Markets, with Richard Dean and published by Foundation Press in October. In October, Stephan appeared at a conference at Columbia Law School on investment law and social justice, and made a presentation at Harvard Law School on accessory liability under the Alien Tort Statute. In December he will present a paper at a conference at Santa Clara Law School on "The Supreme Court and Treaty Interpretation, 1945-2000," which will be published as part of a book on the history of the Supreme Court's engagement with international law.
In October Siva Vaidhyanathan received an IP3 Award from Public Knowledge, a public interest advocacy and education organization that seeks to promote a balanced approach to intellectual property law and technology policy that reflects the "cultural bargain" intended by the framers of the constitution. Awards are given to individuals who over the past year (or over the course of their careers) have advanced the public interest in one of the three areas of intellectual property, information policy, and internet protocol. Vaidhyanathan was recognized for his work in intellectual property.
For the past decade, Vaidhyanathan has been one of the leading academic advocates for a more balanced copyright policy. He is the author of two books, Copyrights and Copywrongs: The Rise of Intellectual Property and How it Threatens Creativity, (New York University Press, 2001), and The Anarchist in the Library: How the Clash Between Freedom and Control is Hacking the Real World and Crashing the System (Basic Books, 2004), with a third scheduled for next year. He also has written numerous articles and appeared on TV making the case for access to information.

In May Ted White chaired a panel at the Woodrow Wilson Center for International Scholars' conference on Alexander Vassiliev's Notebooks and their implications for Cold War History. A two-part essay originating in that conference, "Alexander Vassiliev and Alger Hiss," appeared in the summer and autumn issues of volume 12 of the Green Bag 2d.
In October White attended a conference on the history of judicial review at George Washington Law School and presented a paper, "Looking for the Law of the Land," which will subsequently be published in a symposium in the George Washington Law Review.

In January George Yin presented his paper, "Temporary-Effect Legislation, Political Accountability, and Fiscal Restraint," to a tax conference held in Los Angeles, "Tax Policy in the Obama Era," jointly sponsored by the UCLA School of Law and the Urban Institute-Brookings Tax Policy Center. The paper, published in April in the New York University Law Review, explains why legislation with a specific expiration date promotes accountability and budget restraint.
In March Yin testified before the U.S. Senate Finance Committee at a hearing on whether the expiring Bush tax cuts for middle-income taxpayers should be extended. He argued that because of the country's dire fiscal situation, all of the tax cuts, including those applicable to middle-income taxpayers, should be allowed to lapse as soon as the country achieves a target level of economic growth. The testimony was published in "Bush Income Tax Cuts Should Not Be Extended," 123 Tax Notes 117 (2009). Yin also participated in a conference on "The Federal Budget and Tax Policy for a Sound Fiscal Future," sponsored by the Washington University Law Center for Interdisciplinary Studies in St. Louis. He presented his paper on temporary-effect legislation and fiscal restraint and also commented on a paper concerning tax expenditures and the federal budget.
In April Yin organized the annual meeting, held at the Law School, of the Virginia Tax Study Group, a group of practitioners, academics, and government representatives who have ties to the Law School and are interested in tax policy issues. The program focused on ways to finance the economic recovery effort and many preexisting government obligations, with specific panels on energy and environmental taxes, the corporate tax, and the value-added tax.
In June Yin participated in a five-day workshop on international taxation, Berkeley, Calif., jointly sponsored by the Robert D. Burch Center for Tax Policy and Public Finance and the Oxford University Centre for Business Taxation.
In July the first edition of Yin's casebook, Partnership Taxation (Aspen 2009), co-authored with Karen C. Burke, was published. Yin is continuing work on a companion text, Corporate Taxation, also to be published by Aspen.
In November Yin will participate in the 62nd Annual Federal Tax Conference sponsored by the University of Chicago Law School. He will comment on a paper concerning the taxation of publicly traded partnerships.
In December Yin will deliver the luncheon talk at the 57th Annual Taxation Conference sponsored by the University of Texas School of Law. His topic will be "Tax Legislation (including Tax Reform?) in 2010 and Beyond."
Other publications during 2009 included "Corporate Tax Reform, Finally, After 100 Years" (forthcoming
Tax Notes
), a short essay, which will be included in a compilation of tax reform proposals for the Volcker Tax Reform Panel, that argues in order to prevent a major tax shelter, only public firms should be subject to the corporate tax (if adopted, the proposal would reverse a policy decision made exactly 100 years ago); "Reforming the Taxation of Foreign Direct Investment by U.S. Taxpayers," National Tax Association., Proceedings of 100th Annual Conference on Taxation; "The Story of
Crane
: How a Widow's Misfortune Led to Tax Shelters" in
Tax Stories
(Paul L. Caron, ed., Foundation Press, 2d ed. 2009); and "Lawyer, Teacher, Public Servant" in John Gamino, Robb A. Longman & Matthew R. Sontag, eds.,
Careers in Tax Law: Perspectives on the Tax Profession and What It Holds for You
(Amer. Bar Assn. Section of Taxation 2009).