OPINION

Honor Code, Softball, and No Class Rank
Stan Perry '90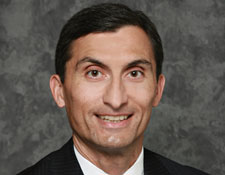 In August I was in Charlottesville for on-campus recruiting. Boy, what a difference a year makes.

Last year, the talk among the Big Law firms, of which I'm a member, was how to get to $1 million in profits per partner — unless your firm was already at $1 million in profits per partner, in which case the focus was how to get to $1.25 million. Another hot topic before The Fall was whether less profitable practice groups, such as labor and employment or mass tort litigation, should be eliminated.

Fast forward to 2009, and the talk in Big Law has changed, and changed dramatically — no more $1 million profit goals. Rather, articles and blogs chronicle layoffs and reductions (performance-based only, of course). Labor and employment and mass tort litigation are now growth areas in this abysmal market. Firms are embracing them like long lost Prodigal Sons.
All of this makes for an interesting recruiting experience to my favorite place on Earth. Every time I go to Charlottesville, which is, regrettably, only once a year, I view it as a pilgrimage to holy ground. But this year the holy ground is not such a happy place. The students at the Law School face a dreadful market. They've either had bad summer experiences or heard horror stories about low offer rates.

But I'm not here to bring more bad news — we have all had enough of that already. No, I'm here to remind UVA lawyers, past and present, that we are part of something grand and special. In fact, I was impressed two weeks ago, as always, by the quietly confident but self-assured law students at UVA.

So, what is the good news? Is UVA special because of the beauty of Charlottesville, the sanctity of the Grounds, and the enduring legacy of Thomas Jefferson? Yes and no. Yes, Charlottesville, the Grounds, and Thomas Jefferson make UVA special. But no, as important as they are, they do not help prepare UVA lawyers for the throes of modern legal practice.
Nevertheless, there are three keys to the UVA Law experience that help equip the current students, and those of us not so current, to survive these dark days in the legal profession.

Honor Code: If you're a self-promoter, you won't like UVA's honor code. The self-promoter does not trust his classmates to be fair, honest, and ethical, whereas the UVA Law student understands the freedoms that come with living in a community of honor and the knowledge that honor violations will be dealt with swiftly and seriously. Lawyers face all kinds of ethical temptations — from trust accounts to billing time. For the UVA Lawyer, these are nothing new. We walked out of classrooms with our exams in hand and a time limit to complete them. One can either live with this freedom and trust her classmates, or become paralyzed with the fear that others will cheat and gain an unfair advantage. The practice of law is no different — you can either set your own professional and ethical conduct, or you can fret about how others are cheating the system, the firm, or the court.

Softball: In softball, individual accomplishments must be part of an overall team effort. An individual bats and fields the ball but, in isolation, can accomplish nothing. A batter, short of a home run, cannot get an RBI without a runner on base. A base runner cannot drive herself in. A simple groundout requires a ball thrown by the pitcher, fielded by an infielder, and thrown to the first baseman. Creating that one out requires three of the nine players. If you are a true UVA Lawyer, you understand teamwork. A non-UVA Lawyer might prefer to play golf — an individual sport based on one's own accomplishments. One can learn many things on the golf course, but one thing you won't learn is teamwork. Softball, however, is a lesson in teamwork and a lesson that life is not fair. As UVA Lawyers, we know that, as in softball, we must practice to get better, learn from our mistakes, and ensure we are playing on a team committed to teamwork and not just a collection of individuals who happen to be on the same field.

No Class Rank: If your goal is to be first, to make sure everyone knows how high you rank, then the Law School is not for you. What a joy to say, when asked about class rank, "At UVA we did not have class rank." Not only that, but we had the B mean (now officially the B+ mean). How does the lack of class rank better adapt UVA Law students for the current market? It helps us realize that our commitment to hard work is simply that: our own commitment to do the best we can. It is not, as most of the legal world would have you believe, a commitment to grind our competition (inside our law firms and opposing counsel) into sawdust. If we do the best we can, and do so in a professional and ethical manner, we will survive these difficult times. An individual commitment to do your best will help you survive layoffs, reductions in force, career changes, and even personal defeats.

I suggest that every UVA Lawyer with the experience of the Honor Code, Softball, and No Class Rank can adapt to these harsh times because we know that money will come and go, and busts will follow booms, but our personal commitment to effort, integrity, and teamwork will not change.
Stan Perry is a partner in the Houston office of Haynes Boone. He is one of the leading environmental litigation counsels in Texas.