Non-Fiction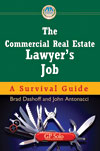 The Commercial Real Estate Lawyer's Job: A Survival Guide
John Antonacci '02 and Brad Dashoff
American Bar Association
Nearly two years ago, the authors were approached by a fellow attorney about authoring a book for the American Bar Association that could serve as a commercial real estate law survival guide for new attorneys, solo practitioners, and in-house counsel who may not regularly practice real estate law. Intended as an essential tool for both new and seasoned real estate lawyers, this book provides basic instruction on commercial real estate assignments they are likely to receive.
The Commercial Real Estate Lawyer's Job explains the most common transactions, and the tasks associated with them. It offers practical advice for organizing workload; provides tips for success; and details vital resources needed for real estate lawyers.
Specific areas covered in the book include: real property interests and deeds; purchases and sales; debt and equity financing; mezzanine loans; REITs; leases and development documents; transaction closings; and more. The book has added value given the changes in the real estate market caused by the current economic crisis. "With the recent increase in the volume of workouts and lease renegotiations, readers may find the chapters on financing and leasing particularly beneficial in gaining a better understanding of the terms and issues in the documents used in those types of transactions," Antonacci says.
Antonacci is an associate in Pillsbury's real estate group. He works on a variety of real estate transactions, including purchase and sale of commercial properties, commercial and retail leasing, commercial lending and real estate development (including ventures that qualify for the federal low-income housing tax credit). Before entering law school, Antonacci also worked as a Certified Public Accountant.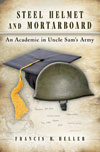 Steel Helmet and Mortarboard: An Academic in Uncle Sam's Army
Francis H. Heller '41
University of Missouri Press
As a young officer in the Austrian army in 1938, Francis Heller refused to swear an oath of allegiance to Adolf Hitler and narrowly evaded arrest by the Gestapo, escaping to Czechoslovakia, then to America.
Steel Helmet and Mortarboard recounts the dramatic story of how the author's life alternated between the demands of military service and an academic career. Heller earned his law degree in 1941 and set a course for studying political science, but was drafted into the U.S. Army in 1942 and became a private in a field artillery unit. After receiving a battlefield commission for his service in the Pacific, he was assigned to bring German nationals from the Far East, and in doing so he witnessed Dachau and the terrible fate of so many of his countrymen.
After serving and fighting in New Guinea and the Philippines, Heller earned his Ph.D., and taught at the University of Kansas. He left the academic life once again for active duty in the Korean War, and later served in the U.S. Army and General Staff College at Fort Leavenworth.
Heller's narrative reflects the unique perspective of someone who has experienced war and peace through alternating careers of soldier and scholar.
Heller is Professor Emeritus of Law at the University of Kansas and author and editor of numerous titles, including The Kansas State Constitution: A Reference Guide and Economics and the Truman Administration.
Lethal Logic: Exploding the Myths that Paralyze American Gun Policy
Dennis A. Henigan '77
Potomac Books
For decades, bumper-sticker slogans have framed the heated debate over gun control in the United States. These simplistic, well-crafted messages —"When guns are outlawed, only outlaws will have guns," and "Guns don't kill people; people kill people," — are catchy and memorable, but don't hold up to rational thought. Yet they have been methodically drummed into the minds of many Americans by the National Rifle Association and other pro-gun groups.
Lethal Logic examines the effect of the gun lobby's relentless message and how it has been successful in blocking the passage of lifesaving gun laws. Many Democratic leaders in favor of stricter gun controls are reluctant to speak out against the NRA for fear of the political consequences, while the alliance between the Republican Party and the NRA strengthens and continues to be a force to be reckoned with.
In his book, Dennis A. Henigan exposes the pro-gun slogans as wrong-headed marketing ploys and helps raise the debate to a higher plain. "Dennis Henigan has long been one of the nation's leading thinkers on the gun violence issue," says Sarah Brady, honorary chair of the Brady Campaign to Prevent Gun Violence, the sister organization of the Brady Center. "In Lethal Logic, he has given us a clear roadmap toward destruction of the 'any gun, any time, any place' arguments of the gun lobby."
Henigan is vice president for law and policy at the Brady Center to Prevent Gun Violence, a national non-profit organization that works to reduce gun violence in America through education, research, and legal advocacy. He is the founder of the center's Legal Action Project, which represents gun violence victims in lawsuits against gun manufacturers and sellers. He has been a leading advocate for stronger gun laws for 20 years, appearing on national TV shows including 60 Minutes, The Today Show, Nightline, Larry King Live, and Dateline NBC.
Henigan has written and spoken extensively on liability and constitutional issues relating to gun laws and violence committed with guns and has testified before Congressional committees on gun issues. Under his direction, the Brady Center's Legal Action Project has recovered millions of dollars in damages for victims of gun violence. Henigan coauthored another book on the issue of gun control, Guns and the Constitution: The Myth of Second Amendment Protection for Firearms in America in 1995.

Get Rich Cheating: The Crooked Path to Easy Street
Jeff Kreisler '98
Harper
In a world where so many people seem to bend the rules — from Congressmen to baseball players to slick financiers — what's holding the rest of us back? Jeff Kreisler's first book, Get Rich Cheating, is a humorous, tongue-in-cheek guide to getting what isn't ours (but sometimes seems as if it ought to be). He dedicates his book, "To money, the root of all good," and throughout he gently pokes and prods readers to stop daydreaming about a life of luxury and go out and grab it — to boldly go where upright, ethical people would never dare.
Kreisler's thoroughly researched guide presents the stories of famous and not-so-famous cheaters and what we can learn from them. He has the answer for anyone naïve enough to ask, "Why cheat?" And he follows up with lots of tips on how to exploit "some of the people all of the time." Kreisler put his J.D. to use in writing the handy section on what to do if you're unfortunate enough to get caught.
"A brilliant and brilliantly sustained satirical broadside," writes Tony Hendra of National Lampoon. "On just about every page you'll find a pithy, pointed barb worthy of the late great George Carlin." Get Rich Cheating is a Boston Globe bestseller. It has been noted in The New York Post, Fox News, and on a number of popular comedy blogs.
Kreisler has written for Comedy Central's Indecision 2008, the Huffington Post, Shoot The Messenger, and the Independent Film Channel. He wrote a humorous business column for Jim Cramer's TheStreet.com and he's won the Bill Hicks Spirit Award for thought-provoking comedy. Kreisler performs internationally and resides in New York City.

Punishing Corporate Crime: Legal Penalties for Criminal and Regulatory Violations
James T. O'Reilly '74
Oxford University Press
James T. O'Reilly and four colleagues at Baker & Daniels have written a timely book about corporate crime. As scrutiny of corporate business deals increases in the post-Enron era, so do novel remedies to address the problem. The authors summarize the historical background of corporate punishment, which has traditionally played out in fines, or in more extreme cases, sanctions that terminate the business. Punishing Corporate Crime also analyzes the latest remedies used by the United States Government, including restitution, receivership and monitoring, deferred prosecutions, integrity agreements, and disbarment from regulated fields.
Punishing Corporate Crime analyzes preventative programs and offers advice on ways to address the changing punishments that challenge modern corporations.
O'Reilly serves as counsel at Baker & Daniels of Indianapolis, as well as a part-time professor at the University of Cincinnati College of Law. He is an international lecturer on environmental law and author of more than 40 textbooks. He provides safety and environmental health consulting to a wide variety of clients, and currently chairs the FDA Committee of the American Bar Association.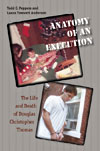 Anatomy of an Execution:
The Life and Death of Douglas Christopher Thomas
Todd C. Peppers '94 and Laura Trevvett Anderson
Northeastern University Press
University Press of New England
At the age of 17, Chris Thomas committed a brutal double homicide of his girlfriend's parents. The facts of the case, and his guilt, are undisputed. In 2000 he was executed by the Commonwealth of Virginia by lethal injection, one of the last juvenile offenders put to death before the Supreme Court ruled that execution of such young offenders was "cruel and unusual punishment."
Co-authors Todd C. Peppers and Laura Trevvett Anderson, Chris Thomas's high school teacher, trace the complete story — from a desolate childhood, a twisted first romance that led to the crime, the trial, the time in jail, and death row. Peppers examines the pros and cons of the court-appointed counsel and takes a careful look at the execution of juvenile offenders in terms of public policy and constitutional law. He describes conditions on death row and how a spiritual advisor can give a condemned criminal a chance at redemption in his final days. Is a murder's life worth nothing more than its most violent act? Readers of Anatomy of an Execution will find themselves looking more deeply into that question.
"Anatomy of an Execution combines excellent scholarship and legal analysis with a compelling and tragic life story," says Victor Streib, professor of law and former dean, Ohio Northern University of Law. "As such, it is accessible to lay readers and true crime buffs, as well as instructive to criminologists and lawyers. Very few if any books of this genre are its match."
Peppers is associate professor in the Department of Public Affairs at Roanoke College in Salem, Virginia, and lectures in law at Washington and Lee University School of Law. His first book was Courtiers of the Marble Palace: The Rise and Influence of the Supreme Court Law Clerk.
Fiction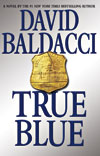 True Blue
David Baldacci '86
Grand Central Publishing
Mason "Mace" Perry was a respected police officer in the nation's capital until she was framed for a crime. She spent two years in prison, stripped of her freedom and her career. When she walked out she set her sights on one goal — reclaiming her badge and her reputation. There was only one way to prove that she had the right to wear her uniform again; she would have to solve a challenging case on her own. She works undercover and there's someone shadowing her — a U.S. attorney who wants nothing more than to send her back behind bars.
Despite the fact that her sister is the police chief, Mace is on her own — until she meets a lawyer named Roy Kingman who worked with poor people before he landed a job at a D.C. law firm. Together they investigate the mysterious death of a female partner at his firm. With every twist and turn they unravel dark secrets from both the private and public realm.
Baldacci has written 17 best-selling novels on themes ranging from international intrigue to coming of age in the rural South. With his wife, Michelle, he is co-founder of the Wish You Well Foundation, which works to promote literacy.
Calvin
William L. Littlejohn '55
Washington Writers' Publishing House
William Littlejohn won the 2009 Washington Writers' Publishing House fiction writing contest with his first novel, Calvin. As the novel unfolds, 10-year-old Billy Smithson is abducted from his father's home and taken by his unstable mother to live with her father in Athena, South Carolina. An African American servant named Calvin Lemoyne ends up taking care of Billy that summer of 1940, in the Depression-wracked South. Their relationship unfolds in the unforgettable months that lie ahead, a troubled time of war and segregation.
"Calvin is a brilliantly told tale …," writes one reviewer, "that illustrates the darkness, mysteries, and occasional joys of life as they all occur: with complexity, natural suspense, and ultimate if bittersweet clarity." Littlejohn, who was born in the South and grew up there, describes everyday scenes in spare, vivid prose:
He splashed cold water on his face for a few seconds. Then he picked up a white bar of Ivory soap and vigorously scrubbed his head and neck working hard to raise suds in the cold water. Every now and then he blew through the growing suds like a breaching whale. With the suds thick and white, shrouding his blackness, he rinsed. Splashing about he ducked his head under the faucet. He made loud noises, puffing and snorting more than needed to keep the soap out of nose and mouth.
Calvin captures a sense of place and reveals how war changed everything in this small Southern town. Through it all, Calvin, the central figure and the man of few words, emerges as an unforgettable character.
After serving in the U.S. Marine Corps, Littlejohn practiced law for 30 years in Chicago. He took a sabbatical year to try his hand at writing and enjoyed it so much he decided to leave his law practice to write full-time. He lives with his wife, Marcia, in Washington, D.C.