2000s Class Notes
2000
Ryan Clinton has been designated a Rising Star by Texas Super Lawyers 2010. He has handled a wide range of appellate matters in state and federal courts, presented oral arguments before the Supreme Court of Texas and briefs before the Supreme Court of the United States. He is with Hankinson Levinger in Dallas.
Timur Engin left life as a partner to "try his hand at being in-house counsel" at Genentech, Inc. He and Erica (Oliver) Engin are enjoying life in California with their son, Joseph (2).
Danielle Kamensky married Bill Higson from Tampa, Fla., on April 17 in New Jersey. The couple will reside in Virginia Beach, Va., where Danielle is currently stationed with the U.S. Navy.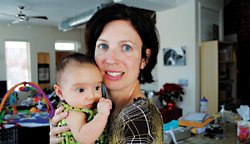 On January 12 Rohit Kumar and his wife, Hilary, welcomed into the world their first child, Kiera Chapman. "She's a happy, healthy baby girl," writes Rohit, "and is growing like a weed. As if that weren't life-changing enough, upon returning to work from paternity leave my boss, Senator Mitch McConnell, asked me to step into the role of deputy chief of staff in the Office of the Republican Leader. The first part of the year brought a lot of change to our house, but we're settling into our new routines and enjoying life as new parents!"

Carrie Nixon launched Nixon Law Group, based in Vienna, Va., at the start of 2010.
Anna Palmer was recently selected as a 2010 Georgia Super Lawyers Rising Star. Anna and Billy Palmer also announce the arrival of Graham Alexander, born November 10, 2009. Graham joins big siblings William (6) and Caroline (3).
Dave Pinto was unsuccessful in his 2010 run for county attorney (district attorney) in the eastern half of the Twin Cities in Minnesota, where he lives with his wife and two sons. He's grateful for the support—financial and otherwise—of so many UVA Law friends. He continues to work as a domestic violence prosecutor in the county attorney's office.

Patrick Richards opened Richards Patent Law, a Chicago-based patent law firm, in the spring of 2009. Richards Patent Law focuses on all non-litigious aspects of patent law, including preparing and filing patent applications, patent prosecution, and patent-related opinions and transactions.
Andy Wright is the staff director of the Subcommittee on National Security & Foreign Affairs in the U.S. House of Representatives. He and his wife, Caprice Roberts, recently bought a house in the vibrant Bloomingdale neighborhood of Washington, D.C.
2001
Michael Fitzpatrick has been elected a shareholder of McAndrews, Held & Malloy, Ltd., where he practices intellectual property law with an emphasis on patents. He lives in Chicago, with his wife, Helen, and son, Henry.
Tom Lane has been recognized by Virginia Super Lawyers as a Rising Star in 2010 the area of civil litigation–defense. He practices at ThompsonMcMullan in Richmond and lives in Mechanicsville with his wife, Loren, and their three daughters, Caitlyn (7), Megan (5), and Shannon (1).
Melissa Moore Sigler and Geoff Sigler welcomed their second child, John Warren ("Jay") on November 9, 2009. Jay joins big brother Thomas (2). Just four days prior to Jay's arrival, Geoff was named partner in Gibson, Dunn & Crutcher's Washington, D.C., office, where his practice focuses on class action defense and health care litigation.
Michael Myers has left Latham & Watkins to become chief health law counsel for the University of California-San Diego.
Justice Frank Sullivan, Jr., LL.M., received the national 2010 Diversity Leadership Award from the American Bar Association section of litigation for his successful efforts to increase diversity through a number of initiatives, including the Indiana Conference for Legal Education Opportunity, the first state program in the nation to assist minority, low-income, and otherwise disadvantaged students pursue law degrees; projects to improve access to Indiana courts for those who have limited ability with English; and a comprehensive jury pool list that increases the diversity of jury pools.
2002
Jennifer Bowen Wieland and her husband, Jeff, welcomed their third child, Zachary Cyrus, on April 7. Zach joins big brother Ben (6), and big sister Maggie (3).
Eric Magnell was promoted to lieutenant colonel in May. In July he left for Kuwait, where he will spend a year at Camp Arifjan.
Lesley Pate Marlin, president of the Young Lawyers Conference, attended the annual Virginia State Bar meeting in Virginia Beach in June.
Ray Reduque and Amy Lincoln relocated from Washington, D.C., to San Francisco this year just in time to welcome their first child, John Knox Reduque, born February 1. Ray has joined the San Francisco office of Hogan Lovells US, where he continues his complex litigation practice. Amy was recently elected shareholder at Beveridge & Diamond, where she is co-chair of the air practice group, advising clients on the federal Clean Air Act and comparable state laws.
Beth Richardson and her husband, Michael O'Rourke, welcomed their first child, John "Jack" Addison, on October 28, 2009. The family resides in Washington, D.C., where Beth recently became a principal of Beveridge & Diamond.

Kendal Sibley has been promoted to counsel in the Richmond, Va., office of Hunton & Williams, where she is a member of the tax and ERISA practice. Kendal focuses her work on the tax aspects of securitization transactions. Prior to joining Hunton & Williams in 2004, Kendal held a two-year judicial clerkship with Judge Karen J. Williams of the U.S. Court of Appeals for the Fourth Circuit.
Aaron P. Simpson was elected partner at Hunton & Williams in the New York City office, where he focuses his practice on privacy, data security, and information management issues as a member of the firm's privacy team.
2003
Angela A. Ciolfi received a National Child Advocacy Award from the Young Lawyers Division of the American Bar Association at the ABA annual meeting in San Francisco in August. Ciolfi was recently named legal director of the Charlottesville Legal Aid Justice Center's JustChildren Program. Her work for JustChildren as a law student earned her the Oliver White Hill Award from the Virginia State Bar in 2003 and helped her become a Lewis F. Powell Fellow following a clerkship for U.S. District Judge Reginald C. Lindsay.
Jason Piche and Catherine Obenshain Piche announce the birth of their second daughter Josephine Wrenna born on January 6.
Ryan Shores received the 2010 Outstanding Young Alumni Award presented by the Huntingdon College National Alumni Association in Montgomery, Ala. He is an associate with Hunton & Williams in the Washington, D.C. office, where he focuses his practice on antitrust, intellectual property, and other complex commercial litigation.
2004
Allison Orr Larsen has joined the faculty at William & Mary Law School. After graduating she clerked for Judge J. Harvie Wilkinson III '72 on the U.S. Court of Appeals for the Fourth Circuit and Justice David Souter on the Supreme Court of the United States. She was recently with O'Melveny & Myers in Washington, D.C.
Caitlin and Ned Sackman are proud to announce the birth of their first baby, Thomas Andrew, on June 2. Ned and Caitlin live in Concord, N.H., where Ned is a litigation associate in the Manchester office of Bernstein Shur, P.A.
Michael Signer recently opened Madison Law & Strategy Group with several colleagues, with an affiliated consulting practice, Madison Strategies. He counsels clients on regulatory strategy and public affairs with an emphasis on energy, national security, and financial regulation, in the Arlington, Va., office.
Sean Suder has accepted the position of chief counsel for land use and planning for the City of Cincinnati. Prior to taking this position, Sean practiced for six years as a real estate and land use lawyer at the Cincinnati law firm Keating Muething & Klekamp. Sean resides in the Cincinnati neighborhood of Hyde Park with his wife, Elisa, and their twin toddlers, Lily Hope and Abbott.
2005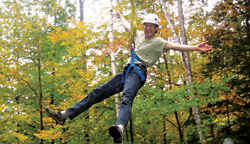 Kelly McDonald and his wife, Lynn Maziarz, welcomed the arrival of their son William only a few months after graduation. Their daughter Charlotte came along two years later, and their third, Sophie, was born in July. Lynn worked for several years in marketing and is now at home, even busier than she was at work.
Kelly has worked at Murray Plumb & Murray in Portland, Maine, since graduation. With only 17 lawyers, the firm is tied for seventh largest in the state. He has worked on cases ranging from products liability defense for a national manufacturer to partitioning a boat between joint owners. His practice is focused on commercial and construction litigation.
Karen Pogonowski just celebrated her first year of business at Haskell's Inn, her bar in northern New York. After three-and-a-half years of practicing civil litigation in Minneapolis, Minn., she purchased a small bar/restaurant in the foothills of the Adirondacks. Her first year in the bar business has been, she reports, "an adventure." Karen was engaged to Mark Mowers on January 10 and they plan an autumn wedding.
2006
J'lene Mortimer has joined Sacks Glazier Franklin & Lodise, a downtown Los Angeles trust and estate litigation firm, as an associate. Previously, she was an associate at Quinn Emanuel Urquhart & Sullivan.
L. Read Mortimer has joined the Newport Beach office of TA Associates Realty as a member of the acquisitions team. Established in 1982, TA Associates Realty is one of the largest and most experienced privately held real estate advisors in the United States, managing 96 million square feet of commercial real estate and 8,900 residential units located in 35 markets nationwide. Previously, Mortimer was an associate on the originations team with Mesa West Capital.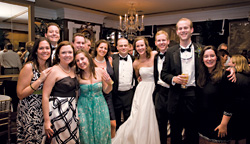 David A. Reed and Sara Pheasant were married on May 29 in Savannah, Ga. Attending the wedding were Jessica Calagione '07, Caroline Geiger, John Mark Goodman, Jason Karaffa, J.R. Lederer, Aryn Thomas, Miles Treakle, and Jennifer Wine. The couple lives in Atlanta, where David is a patent attorney with Sutherland Asbill & Brennan.
James Tysse has been selected as the 2010–11 Supreme Court Fellow assigned to the U.S. Sentencing Commission. The Fellows Program was created in 1973 to provide promising individuals first-hand understanding of the federal government, in particular the judicial branch. Fellows are involved in projects that examine the federal judicial process and seek solutions to problems in the administration of justice. As the fellow at the U.S. Sentencing Commission, Tysse will conduct legal research on sentencing guideline issues and legislative directives that are pending before the commission.
Olivier Winants LL.M. started work as a political advisor for the United Left Group in the European Parliament in Brussels after finishing his six-month internship in the European Commission data protection unit. He is mostly active within the Committee for Civil Liberties, Justice, and Home Affairs and the Committee for Internal Market and Consumer Protection.
Amy Millard Radley and her husband, Daniel, welcomed a baby girl, Emmeline Ayla, on February 19, 2009.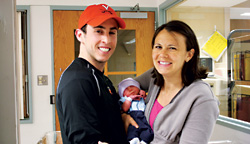 J.D. Moss reports Tyler Colby was born at 1:14 pm April 12, measuring 19 inches and tipping the scales at 5 pounds, 5 ounces. "He was a little early, but passed all of his hospital tests with his eyes closed. He is doing great and is getting used to his new surroundings," he writes.
2010
After graduation Anna T. Bagwell joined with the Eastville, Va., firm of Turner & Turner, founded by her grandfather, C. A. "Al" Turner, Jr. '48, (1919–2003) and her uncle, C. A. "Bert" Turner, III '86.