1980s Class Notes
1980
T. Spence Chubb recently joined Wilmer Hale as special counsel in the litigation department and intellectual property litigation group in the Washington, D.C., office. Prior to the move, Chubb had been with the U.S. International Trade Commission for over two decades, most recently as supervisory attorney in the Office of Unfair Import Investigations. He and his wife have two sons (17 and 21).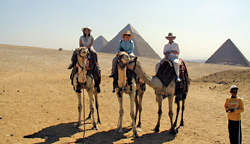 William Nusbaum has practiced commercial real estate and municipal bond law with many of the same colleagues for 30 years. Only the firm name has changed, with Hofheimer Nusbaum's merger into Williams Mullen in 2004.
Since his last Law School reunion (probably 15 years ago), he has headed at various times (and sometimes at the same time) the Norfolk Democratic Committee, the Foodbank of Southeastern Virginia, the Harvard Schools Committee of Southeastern Virginia, Ohef Sholom Temple, and the Virginia College Building Authority. His most meaningful experiences were his Temple presidency, adult bar mitzvah (not having had one as a teen) and being part of one of two husband-and-wife delegate couples at the 2000 Democratic National Convention in Los Angeles.
Professionally, Nusbaum writes he enjoyed serving as bond counsel for, and helping to craft, the first financing in the country to use tax-exempt bonds to leverage new markets tax credits, in November 2006.

W. David Paxton has been selected for inclusion in Best Lawyers in America 2011 and Virginia Super Lawyers 2010 in labor and employment law in employment and labor law. He is a partner in the Roanoke office of Gentry Locke Rakes & Moore.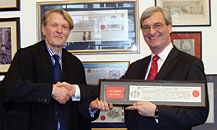 Jonathan J. Rusch has received the Honorary Freedom of the City of London, the highest honor the City can bestow. An expert in the fields of cybercrime and mass-marketing fraud, Rusch was named for this award as a result of his work in developing close working relationships between the United States and the United Kingdom on fraud investigations and prosecutions. The award ceremony took place on March 12 at the Chamberlain's Court in the Guildhall before a select group of invited guests.

"I'm deeply honored to receive the Honorary Freedom," says Rusch. "Joining a company of past recipients such as Theodore Roosevelt, Winston Churchill, and Nelson Mandela is genuinely humbling. I just hope that someday I get to exercise some of the purely traditional rights of Honorary Freedom—such as carrying a naked sword in public and driving sheep over London Bridge."

Rusch is Deputy Chief for Strategy and Policy, Fraud Section, Criminal Division, U.S. Department of Justice. He is an adjunct professor of law at Georgetown University Law Center and lecturer at the Law School. —­Rebecca Barnes


1981
David P. Ferretti has been included in Best Lawyers in America 2011 in the area of corporate law and mergers and acquisitions law. He is a member in charge of lawyer administration in the Charleston, W. Va., office of Spilman Thomas & Battle, where he focuses his practice in the areas of corporate, mergers and acquisitions, public finance, and health care law.
William M. Herlihy has been selected for inclusion in Chambers USA 2010 in the area of natural resources law, Best Lawyers in America 2010 and 2011 in the areas of corporate law, energy law, and natural resources law, and West Virginia Super Lawyers 2010 and 2011 in energy & natural resources and business/corporate. He is a member with Spilman Thomas & Battle in the Charleston office.
Matthew L. Jacobs is listed in Best Lawyers in America 2011 for insurance law and in Washington, D.C. Super Lawyers 2010 for insurance coverage litigation. Lexology Legal Writing Awards recently named Jacobs "Author of the Year—Insurance USA 2010." He is listed in Chambers USA 2010 in the area of insurance: policyholder. He is a partner in the litigation department in the Washington, D.C., office of Jenner & Block.

Blaine A. Lucas has been selected for inclusion in Pennsylvania Super Lawyers 2010 in the government/cities/municipalities section and Best Lawyers in America 2011 in land use & zoning law and municipal law. He has also been recognized in Philadelphia magazine as one of Pennsylvania's top lawyers since 2006. He is a shareholder in the public sector services and business services groups in the Pittsburgh office of Babst, Calland, Clements and Zomnir.
Darrel Tillar Mason has been recognized by Virginia Lawyers Weekly as one of Virginia's "Leaders in the Law" and honored by the Virginia State Bar for exceptional bar leadership by a special resolution. She was appointed by the Supreme Court of Virginia to the Virginia State Bar Council, and was appointed by the Virginia General Assembly to the board of the Virginia Office for Protection and Advocacy. She continues to focus her practice on representing children with special needs. Her office is in Manakin Sabot.
Mark D. Plevin has relocated from Crowell & Moring's Washington, D.C., office to its new office in San Francisco, where he will continue his litigation, bankruptcy, and insurance coverage practice.

Andy Shott has joined Bricker & Eckler as partner in the real estate practice group in the West Chester, Ohio, office, where he focuses on real estate development and finance, housing development, land use planning, equity syndication, and commercial law. He was formerly with Strauss & Troy in Cincinnati.
1982
William H. Hines has been named to the New Orleans City Business Leadership in Law Class of 2010. Honorees are selected based on their contributions to the legal profession and to their community. This is the fourth time he has been named for the award, an accomplishment that earns him induction into the Leadership in Law Hall of Fame. He is listed in Best Lawyers in America 2010 in the areas of banking law, corporate law, insurance law, international trade and finance law, project finance law, and real estate law, and in Louisiana Super Lawyers 2010 in the area of business/corporate law. He is managing partner of Jones Walker and a member of the business and commercial transactions practice group.

Jeffrey Levinger was recently named among the top appellate lawyers in Texas in Chambers USA 2010. In May he was profiled in a special section of the Dallas Business Journal called "The Defenders," which lists North Texas' top business defense attorneys. He is chairman of the State Bar of Texas Committee on Pattern Jury Charges and is an officer of the State Bar of Texas appellate section. He is recognized in Texas Super Lawyers 2010, was recently cited in D Magazine's "Best Lawyers in Dallas" listing, and has been included in Best Lawyers in America 2010 in the areas of appeals and commercial litigation. He is a partner with Hankinson Levinger.
George P. ("Pat") Manson, Jr., retired several years ago as vice-president, general counsel and secretary of Albemarle Corporation, a NYSE chemical company headquartered in Richmond and Baton Rouge with operations around the world. He left the workplace early due to a rare genetic disease that left him legally blind. Since retirement, he has been active in the research/support group for those with the same condition, providing counseling and writing for the group's newsletter and website. He reports that he is otherwise healthy and happy. He and his wife, Gerlinde Edwards, live in Richmond and have two sons, 28 and 24.
1983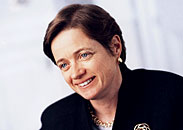 On June 12 in the Queen's Birthday Honours List, the Queen of England appointed Amelia Chilcott Fawcett a Dame Commander of the British Empire (D.B.E.). The honor, equal to a knighthood, cited Fawcett's service in the financial industry. The formal "investiture" ceremony will take place at Buckingham Palace in the fall.

"I am overwhelmed by the generosity of this honor, and enormously privileged to receive it," said Fawcett, who holds dual citizenship in the U.S. and Great Britain. The prestigious award from the Queen is not her first; in 2002 she was made a Commander of the British Empire (C.B.E.).

Fawcett is chair of the Guardian Media Group in London, which publishes the Guardian, Observer, and MediaGuardian.co.uk, and is also on the board of State Street Corporation in Boston. Until recently, she was chair of the financial services firm Pension First, a financial services and systems solutions business focused on risk management for pensions.

Always on the lookout for ways to make a difference in the world, Fawcett has been known to sail beyond what she dubs the "murky waters" of financial services. In 2006, while vice chairman of Morgan Stanley, she crossed the Atlantic with a crew of four aboard her 47-foot sailboat, Pendragon. The challenging 17-day voyage raised more than 300,000 pounds ($475,000) for the UK's leading breast cancer charity. She funded all of the expenses of the trip herself so that every penny of the money raised could go to research. —­Rebecca Barnes



James P. Cox III has just completed his term as president of the Charlottesville Albemarle Bar Association, during which time the Virginia State Bar named the bar association an Award of Merit winner for its successful "Senior Law Day—A Toolkit for Surviving Life's Later Challenges." He also serves as chairman of the wills trust & estates section of the Virginia Bar Association. He was a featured speaker at the July VBA meeting in Hot Springs, where his session was titled, "Love and Death: Fundamental Issues Affecting the Interplay Between Domestic Relations and Estate Planning Practices."
Cox was selected for inclusion in Best Lawyers in America 2011 and Virginia Super Lawyers 2010. He is with Michie Hamlett Lowry Rasmussen & Tweel in Charlottesville, where he practices in the areas of estate planning and administration, estate litigation, and real estate.

Don Haycraft received the Louisiana State Bar Association's 2010 Pro Bono Publico "Access to Justice Pro Bono Hero" Award in May. Presented to Haycraft at the Louisiana Supreme Court, the award recognizes attorneys who have provided pro bono legal services in excess of 50 hours to indigent Louisiana residents, as well as leadership to others. Haycraft is a shareholder with Liskow & Lewis, where he is the pro bono case coordinator and a board member of the New Orleans Pro Bono Project. He provides legal assistance to the homeless and assists law student volunteers who travel to New Orleans to volunteer their time in the aftermath of Hurricane Katrina.
James L. Keeler received an honorary doctor of laws degree from Bridgewater College on April 6 at the Founder's Day ceremony. He is a retired president and CEO of WLR Foods Inc. Keeler served as chairman of Bridgewater College's Board of Trustees from 2003–09, when he was named chairman emeritus.
John E. Osborn has joined US Oncology, Inc. in The Woodlands, Tex., as executive vice president and general counsel, with responsibility for all legal and government affairs matters. He will continue to serve as a member of the bipartisan United States Advisory Commission on Public Diplomacy, which evaluates government policies and programs in that area and reports to the Congress and the President. He was a visiting research fellow in socio-legal studies at Oxford in 2008, and his comparative article on the regulation of off-label scientific and medical information has been published by the Yale Journal of Health Policy, Law, & Ethics.
Terence P. Ross has moved his intellectual property litigation practice to Crowell & Moring. He is a partner in the intellectual property group in the Washington, D.C., office.
Elizabeth Springer Stellmann's daughter, Lily, has completed her first year at the University of Virginia. She is in the College of Arts and Sciences, Elizabeth reports, and loves UVA.
1984
Ross Eichberg has joined Nixon Peabody as a partner in the Washington, D.C. office, where he focuses his practice on transactional real estate. He was formerly with Patton Boggs.
The Bay City Branch of the NAACP in Detroit asked Melvin "Butch" Hollowell to be its keynote speaker for the 54th Annual Freedom Fund Banquet held in May. Hollowell was appointed as the Michigan Automobile and Home Insurance Consumer Advocate by Governor Jennifer Granholm. "Michigan residents are paying some of the highest home and auto insurance rates in the nation, and they need an advocate who will lead an aggressive effort to find a solution to the skyrocketing cost of insurance," Granholm said.
Prior to serving in his current position, Hollowell was general counsel of the NAACP's Detroit Branch, the nation's largest branch, where he also headed the Legal Redress Committee, made up of lawyers, law professors, and judges who work together on civil rights matters.
Being the keynote speaker put Hollowell among impressive company; Thurgood Marshall delivered the banquet's first keynote address. General Colin Powell, Secretary of State Hillary Clinton, and President Barack Obama have also keynoted.
Fred A. Kelly has been named chair of Nixon Peabody's firm-wide litigation department. He is a partner in the Boston office, where his practice areas include biotech, class actions and aggregate litigation, FDA regulations, life sciences, and international arbitration.
1985

Michael Allen has, "despite all of his efforts to eschew conventional standards, become a partner in the D.C. civil rights law firm, Relman & Dane." He has spent the last 25 years working on poverty and civil rights issues, and in 2009 settled the largest cases ever involving false civil rights certification and accessibility for people with disabilities under the Fair Housing Act. He and Janice Kaplan have been married since 1985 and have three children: Satchel (18), Halle (16), and Hudson (14).
Chip Grayson is the head of investment banking at Morgan Keegan, based in Memphis, Tenn. He has been happily married to Lisa Grayson since 1983 and they have two daughters in college and a 16-year-old son. Grayson travels constantly on business and has had fun visits this year with classmates Sheffield Hale, Steve Raber, J. Kelley, and Dan Boeglin.

Catherine W. Johnson has joined Hanson Bridgett as partner in the San Francisco office, where she will focus her practice on environmental law. She was previously with Wendel Rosen Black & Dean.

Stephen E. Noona has become a fellow of the American College of Trial Lawyers. He is a partner with Kaufman & Canoles in the Norfolk, Va., office, where he is head of the litigation section and
chair of the intellectual property and franchising practice group.

Christine Thomson has been selected for inclusion in Best Lawyers in America 2011 in the areas of medical malpractice and personal injury litigation. She is with Michie Hamlett Lowry Rasmussen & Tweel in Charlottesville.
1986
David Baldacci was a featured speaker at the seventh annual Authors in Kind literary luncheon at the New York Palace Hotel on April 22. The luncheon was a benefit for God's Love We Deliver (GLWD), a charitable organization that provides meals and nutritional counseling to people living with HIV/AIDS, cancer, and other life-threatening illnesses throughout all five boroughs of New York City, and Newark and Hudson County, N.J. He was invited to speak by Linda Fairstein '72, who serves on the board for GLWD and was master of ceremonies for the event.
Baldacci gave a sneak preview of his latest book, Hell's Corner, the fifth installment of the Camel Club series, which is to be published in November.
William W. Eigner has been selected by his peers as a Top Attorney in San Diego County, Calif., for 2010 in the area of corporate transactions, a recognition he has achieved for the third year in a row. He was recently featured in the San Diego Daily Transcript. Eigner is a partner in Procopio, Cory, Hargreaves & Savitch.
Greg Ferenbach, formerly general counsel at Strayer Education, Inc. in Arlington, VA, has returned to private practice as a partner in the higher education practice group at Dow Lohnes in Washington, D.C.

Joyce J. George LL.M. moved from Akron, Ohio, to Flagler Beach, Fla. in June. Following retirement from Ohio's Ninth District Court of Appeals, George became U.S. Attorney for the Northern District of Ohio and continued her professional pursuits as a visiting judge, arbitrator, mediator, and private judge. On June 30, 2009, George retired from the bench. She continues to provide dispute resolution services and legal education for arbitrators, mediators, judges, and advocates. Visit her Web site at www.joycejgeorge.com.
Ann Peldo Cargile, a partner in the Nashville, Tenn., office of Bradley Arant Boult Cummings, has been elected to the Anglo-American Real Property Institute. AARPI is a not-for-profit organization with a limited number of elected members who are closely involved with real property in the United States and the United Kingdom. It is organized for the purposes of bringing together a membership of the most knowledgeable and best qualified real estate professionals from the two countries to promote discussion and analysis of the causes of and potential answers to identified problems involving ownership, use and development of land, and land transactions, with a view to finding and advancing practical solutions.
Janet Satterthwaite is a partner at Venable, where she has been since 1996. She specializes in trademark law, domain names, and cyberspace intellectual property issues. She lives in Washington, D.C., is married, and has a daughter (12) and a son (8).
After 24 years at the Southern Environmental Law Center in Charlottesville, Kay Slaughter retired on August 26. She will continue to live in Charlottesville and teach a class on environmental law and land use to UVA undergraduates in the planning department of the School of Architecture.

June Summers Haas spoke at the ABA Institute for Professionals in Taxation (IPT) advanced tax seminar in New Orleans in March. Haas is co-chair of the IPT's Advanced Income Tax Seminar Committee. She was the moderator for two sessions in the seminar: "Fair Apportionment: (Part I) What is It?" and "Fair Apportionment (Part II) Now That We Know What It Is, How Do We Prove It?"
Haas is a partner with Honigman in Lansing, Mich., in the tax appeals department. She was recently named by State Tax Notes magazine to its "All-Decade State Tax Team." She litigates state tax cases, works on resolutions of tax disputes, advises clients nationwide on multi-state and Michigan tax strategies. Her practice also includes managing state income, value-added, sales, and use tax issues for businesses.
1987

Kyle Beaty has joined Winstead, where he is a member of the finance and banking practice group and finance services industry group in the Dallas office. He was formerly a partner with Spencer Crain.
Keith Cole has been appointed vice president, government relations for General Motors International Operations, which manages GM's operations outside Europe and the Americas. Cole and his family have recently relocated to GM's office in Shanghai, China.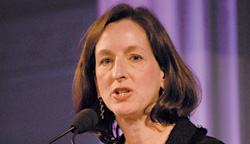 The Girl Scout Council of Greater New York recognized Catherine Keating, along with five more honorees, at its 35th Annual Tribute Dinner in April. Honored for her constant dedication to community service, Keating is currently the chief executive officer of the J.P. Morgan's U.S. Private Bank.
One of Keating's greatest efforts remains working for impoverished and low-income families worldwide and in New York City.
Judge David C. Keesler recently celebrated his sixth anniversary as a United States Magistrate Judge for the Western District of North Carolina. Keesler lives in Charlotte with his wife, Susan, and daughters, Amelia and Caroline (12 and 9). He enjoys participating in state and local bar activities, serving on the board of trustees at Trinity Episcopal School, where his girls attend, and watching a lot of soccer games. Classmates Ry Winston and Bob Long are neighbors.
Mark Mellon's fantasy novella, Escape From Byzantium, has been co-awarded a Silver Medal by the 2010 Independent Publisher Book Awards in the category of Fantasy/Science Fiction. Mark is an attorney for the FDIC and lives in Northern Virginia. Mark originally wrote Byzantium during his second and third years of law school, "to provide himself with a distraction," he writes. Mark has also had two other novels published, The Pirooters and Napoleon Concerto, both by Treble Heart Books (www.trebleheartbooks.com). A new novel, Roman Hell, was published this summer by Amber Quill Press (www.amberquill.com). See In Print.
John M. Mitnick lives in Northern Virginia and is vice president and general counsel of Raytheon Technical Services Company, one of Raytheon Company's divisions. He is engaged to Dr. CarolDeane "Dee" Benedict, and a Spring 2011 wedding is planned. In July he published his first book, Team Baseballs: Artifacts of the Game. (See In Print.)
David Morriss remains the minority general counsel for the Senate Armed Services Committee working on a variety of defense matters for the ranking Republican member of the committee, John McCain. He is now enjoying his sixth year with the committee, having been brought onto the staff by former chairman, John Warner '53.
David and Mary Elizabeth remain busy with their three children, John, Will, and Graham, who are now all teenagers. David recently returned from a trip to Ethiopia, Djibouti, and Kenya reviewing the growing threat of the al Qaeda-affiliated organization al Shabab in Somalia and other East African countries. In addition to his role as general counsel, he also handles all operational, readiness, and procurement matters for the Marine Corps, as well as oversees DOD-wide efforts such as the Joint Improvised Explosive Device Defeat Organization and the Mine Resistant Ambush Protected vehicle program.
David Skeel has been awarded the Robert A. Gorman Award for Excellence in Teaching at the University of Pennsylvania Law School. He often appears on national news programs and radio shows to give analysis on legal topics and is often quoted in the Wall Street Journal, New York Times, and the Washington Post. He is the author of Icarus in the Boardroom and Debt's Dominion: A History of Bankruptcy Law in America, as well as numerous articles.
1988
John Cooper has been included in Virginia Super Lawyers 2010 in the area of personal injury law. He is a partner with Shapiro, Cooper, Lewis & Appleton in Virginia Beach.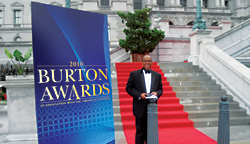 James F. Williams and his law firm, Perkins Coie, were honored at the 11th annual Burton Awards for Legal Achievement (BALA), held at the Library of Congress in June. BALA is a nonprofit academic program in association with the Library of Congress, and was established to honor firm and law school authors for their effective legal writing that uses clear, concise language and avoids "legalese." James was honored for co-authoring "Taking a Case to Trial."
Based in Seattle, Williams' practice focuses on complex business litigation and civil trials. He is listed in the 2010 Corporate Counsel edition of Super Lawyers and was included in Washington Super Lawyers 2010.
1989

David N. Cohan has been named to serve a two-year term on the board of directors of the Roanoke Bar Association. He is a partner in Gentry Locke Rakes & Moore, where he focuses his practice on commercial transactions, including intellectual property, commercial real estate, banking, and corporate formation.
Nan Eitel resigned her partnership at Jones Walker after 21 years—the first 16 years in New Orleans and the last five in Washington, D.C.—to join the U.S. Department of Justice. Eitel is associate general counsel (Chapter 11) in the Executive Office for U.S. Trustees (EOUST). She will be working with the 21 regional U.S. Trustees across the United States, the assistant trustees and trial attorneys in 95 field offices, and a newly developed Chapter 11 trial team out of the EOUST in D.C. She will be engaged in Chapter 11 matters and policy throughout the country (except in Alabama and North Carolina, which are not part of the UST system), particularly as the number of case filings has risen dramatically.

James D. Wall is listed in Best Lawyers in America 2011 in the areas of corporate law and health care. He is a partner with Wall Esleeck Babcock in Winston-Salem, N.C.