Class Notes
Send Us Your News
We welcome submissions for inclusion in Class Notes. Submit online, mail to UVA Lawyer, University of Virginia School of Law, 580 Massie Road, Charlottesville, VA 22903; or fax to 434-296-4838. Please send your submissions by March 1 for inclusion in the next issue.
1936
George Seward turned 100 on August 4. He continues to follow a regular schedule of work, commuting from his home in Scarsdale, N.Y., to the Seward & Kissel office in Manhattan. Seward's career was highlighted in the New York Times' City Room Blog in a July 30 post, "Hitting the Century Mark, and Still Behind His Desk."
1948
Walter Herbert Morse passed away at home on June 7 in Amherst, Va., at the age of 90. He was the husband of Elvira Whitehead Morse. Born in New York City on February 4, 1920, he attended Hackley Preparatory School and Princeton University. He received law degrees from the University of Virginia and George Washington University and was a member of the bars of Connecticut, D.C., and Virginia.
Morse served in Naval aviation in WW II from 1942–46, and in the Naval Air Reserve from 1951–68. He retired with the rank of Captain.
He was general counsel of the Defense Communications Agency. In this position he received the Department of Defense Exceptional Citizen Service Award. Later, he was general counsel of the Selective Service System for which he received their Distinguished Service Award. He retired in 1980 as Washington counsel for RCA Global Communications. He was a member of the committee responsible for establishing the law school at George Mason University. Morse served on a number of boards involved in community and local affairs as well.
1949
Stanley Schoenbaum received the Partnership for Philanthropic Planning's Professional Advisor Award in May in recognition of his advising clients with respect to achieving their goals in charitable giving. He has practiced law in the tax and estate fields in San Antonio, Tex., for 52 years, after five years with the office of chief counsel for the Internal Revenue Service in Atlanta and Washington, D.C. He founded Schoenbaum, Curphy & Scanlan in 1974, whose name partners are all still active.
1950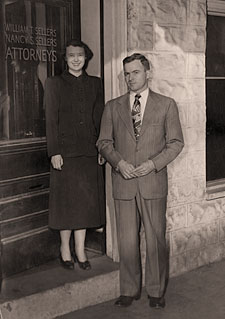 Nancy Smith Sellers, a noted expert in tax and probate law, passed away at her home in Murfreesboro, Tenn., on June 1 at the age of 82. She was the first woman to practice law in Murfreesboro, and until 1977 she was the only one. Her distinguished law career spanned 57 years When Nancy Smith attended the University of Tennessee in the 1940s, students could take classes in law at the same time they took undergraduate-level classes. By the time she graduated with a B.A. she had one year of law school to her credit. Her father, who was a lawyer, told her that if she wanted to practice law in the South she should attend the University of Virginia.

Nancy Smith graduated from the University of Virginia Law School on June 12, 1950, and was married the same day to William T. Sellers '50 in the chapel on campus. She and her husband joined her father in practice and established the Smith & Sellers law firm in Murfreesboro, Tennessee, and were later joined by two of their sons, Ted and Ewing Sellers. Their daughter, Cindy Sellers, practices law in Nashville with Bass, Berry & Sims.

In 2001 Nancy Smith was honored at an event to celebrate Fifty Years of Pioneers: Early Women in the Law, co-sponsored by the Lawyers Association for Women and the Tennessee Bar Association. The dinner marked the end of a research project to discover what it was like for women who practiced law in Tennessee in the first half of the last century. According to the study, women entered law for many different reasons, and though few noted outright discrimination from professors, classmates, or colleagues, a number of stories revealed that women were sometimes seen as taking up slots in law school that could be put to better use by men. Women who studied law were sometimes seen as something other than "ladies," and even if they proved themselves they might not be taken as seriously as men.

The first time Nancy Smith Sellers appeared in court for a divorce case, the judge intended to hear her case first, which would have been out of order, but she said she didn't want preferential treatment, and waited her turn. "I have never felt like I should receive preferential treatment," she once said, "but only equal treatment from my fellow lawyers and judges, and I think that I have." At the same time, looking back, she mused that as a young lawyer she might have been a bit too naïve to detect discrimination in her profession. —­Rebecca Barnes


1957
Bertram Shapero is a tax practitioner representing people before tax agencies in several states. He lives in Palm Beach County, Fla. His older brother, the Honorable Walter Shapero, is a member of the class of '54.
1958
John F. Merchant was inducted into the National Black Golf Hall of Fame on March 27 in Tampa, Fla. In 1992 he became the first black member of the executive committee of the United States Golf Association and served for three years.
Merchant was the first black graduate of the Law School. When his daughter, Susan B. Merchant received her J.D. in 1994, she became the first black legacy at the Law School. Susan's classmates invited John to deliver the commencement address to her class, an honor he was happy to accept.
In 1987 Merchant helped establish the Walter N. Ridley Scholarship Fund to encourage black alumni from throughout the University, and others, to provide financial help to black students entering the University. After more than 40 years as a general practitioner, Merchant enjoys retirement in Connecticut, where he is writing his autobiography.
1959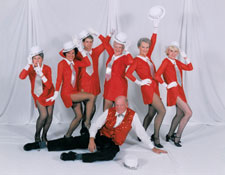 There's something about the sound of metal taps hitting a floorboard that tends to make people smile. Most of us can't help but wonder how tap dancers can be so coordinated. But Robert Bohannon has mastered the art of making it look easy. He didn't mean to get so good at it—at first, anyway. He was minding his own business, taking piano lessons at an arts center near his home in Virginia Beach, when his teacher said to him in no uncertain terms, "We need a man in the tap dancing group. You can learn here."

He was game, at least to try it, since they really did need someone. It wasn't something he took to right away, but he persisted in a good-natured way. Thirteen years later, he has it down. "Some of the steps are pretty difficult," he says. "It's like the law—you have to practice!" And practice he does. Constantly.

His calendar is filled with volunteer performances with his group, the Lakewood Dance and Music Tap Club of Norfolk. They go to retirement communities, convalescent centers, and churches, as well as larger venues, including Norfolk's Harrison Opera House.

Bohannon dances every week with about 30 women. He credits his choreographer, Chris Petteway, for much of his success. He has a Charlie Chaplin and Gene Kelly routine and performs a smooth Fred Astaire number, "Top Hat," but it's his Elvis routine that really rocks the crowd. To get into the role he dons a body suit and a wig. "The costume makes me look 20 years younger," he says. "I'm the age Elvis would be if he were alive today." He taps "Blue Suede Shoes" while strumming a guitar and lip-synching the words. Now that's coordination. —­ by Rebecca Barnes