Non-Fiction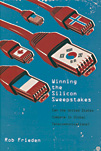 Winning the Silicon Sweepstakes: Can the United States Compete in Global Telecommunications?
Rob Frieden '80
Yale University Press
On the surface, it seems as if the U.S. telecom industry is brimming with both intense competition and entrepreneurial spirit. But as Rob Frieden points out in this timely book, there isn't nearly enough of either. In fact, Americans get by with equipment and connectivity that lag behind a number of other countries. In the realm of ICE (information, communication, and entertainment) markets, it turns out that we're actually left out in the cold, on our way toward becoming a third-world country.
How did we get stuck, when other nations are moving ahead? The U.S. Congress hasn't been paying enough attention, Frieden explains, while impressive profits keep industry leaders happy with the status quo. Regulators tend to favor large companies, making it difficult for newer, more innovative companies to edge into the market. It's a losing game for consumers, he says, who end up paying more for less.
Frieden aims to make readers become more literate in the digital world. It's not enough to be able to use a cell phone; it's important to understand how to use them efficiently and to understand the impacts of their use. Many users barely have a clue; they just try to keep up with the latest gadget and service plan. Frieden has a unique perspective on early adopters of technology, for on a university campus he's surrounded by students whose abilities at eye-hand coordination and multitasking far outperform their abilities as educated consumers.
"Network access is inferior here," Frieden writes of the current situation in the United States, "access to network features is locked down, and network operators are preoccupied with extracting maximum possible regulatory accommodations instead of working tirelessly to improve the value of their services." Winning the Silicon Sweepstakes is a compelling read for most of us who plugged, willy-nilly, into the digital revolution. Readers of this book will become better-educated consumers and in turn, will potentially impact where the U.S. will head in the ever-changing world of information and telecommunications.
Reviewer James Katz of Rutgers University praises Frieden's keen analysis and calls it "an indispensable roadmap for individual empowerment and national development in the 21st century." He also calls it a great read.
Rob Frieden is Pioneers Chair and Professor of Telecommunications and Law at Penn State University, where he teaches courses in law, economics, and management, including a class in ICE technologies.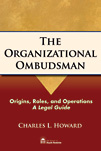 The Organizational Ombudsman: Origins, Roles and Operations—
A Legal Guide
Charles L. Howard '75
American Bar Association
An ombudsman can act as an effective neutral problem-solver when conflicts or concerns arise within an organization. The Organizational Ombudsman is an important new resource for ombudsmen and a range of other professionals who benefit from conflict resolution, including corporate officials, in-house counsel, university officials, and corporate executives. Howard makes a strong case for the important role ombudsmen can play in today's complex regulatory environment.
Howard has two decades of experience advising and representing ombuds. He has seen first hand how the role of ombudsman has been affected by technologies, demographics, and globalization. In The Organizational Ombudsman he presents suggestions for how to structure and document an ombudsman program. He traces the development of the role over the past 50 years and includes a number of examples of how ombudsmen can be effective in raising and resolving issues that are difficult for staff or administrators to bring up on their own. Also covered are the legal issues involved, including collecting cases that deal with imputed notice and confidentiality.
"An indispensable reference book for the organizational ombudsman," writes one reviewer. The author, he says, "combines his thorough understanding of legal principles with his first-hand familiarity with the day to day activities and dilemmas of the practicing ombudsman. The book is both scholarly and accessible."
Charles Howard is a partner with Shipman and Goodwin in Hartford, Conn. He has a national practice representing organizational ombudsmen at universities and multinational corporations. In 2002 he was appointed to a national advisory group to review and recommend revisions to the federal sentencing guidelines.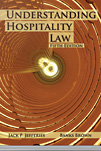 Understanding Hospitality Law
Jack P. Jefferies '51 and Banks Brown '77
American Hotel & Lodging Educational Institute
This comprehensive guide to the legal issues involved in hotel and restaurant operations has sold more than 200,000 copies since it was first published. It covers the basic legal principles that apply to the industry, the hotel-guest relationship, the hotel's responsibilities to guests and others, restaurant, food service, bars, employee management, and laws that affect general operations.
In this fifth edition, the authors revised and updated much of the text to further explain the legal principles involved in the daily workings of the hospitality industry. They explain how the Family Medical Leave Act, immigration laws, the Americans with Disabilities Act, and the Patriot Act affect daily operations. Among new topics covered in the book are: overbooking, admitting minors to hotels, group contracts, tip compliance agreements with the IRS, the power of law enforcement to obtain records of guests, and "drive by" ADA lawsuits. Each of the book's 40 chapters includes an "Important Points for Management" section that summarizes the legal principles covered in that chapter.
Understanding Hospitality Law is an invaluable guide to help hotel and restaurant operators understand the basic legal principles that apply to the industry and an invaluable tool to help them recognize legal problems in time to avert or contain damaging lawsuits.
Co-authors Jack Jefferies and Banks Brown are among the best-known U.S. experts on how laws and regulations affect the hospitality industry. Jefferies, now retired, was legal counsel to the American Hotel & Lodging Association (AH&LA), the New York State Hospitality & Tourism Association, and the Hotel Association of New York City for 21 years and was special consultant to McDermott, Will & Emery. Banks Brown, a partner with McDermott, Will & Emery, is currently legal counsel to AH&LA, the Hotel Association of New York City, the Travel Business Roundtable, and the International Hotel, Motel & Restaurant Show.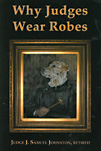 Why Judges Wear Robes
J. Samuel Johnston '72
Warwick House Publishers
The painting on the cover of Why Judges Wear Robes is a portrait of the author's beloved yellow Labrador retriever, Dixie, dressed in a robe and clutching a gavel. The whimsical picture sets the tone for dozens of humorous anecdotes that focus on the lighter side of the daily drama inside the courtroom. (Sometimes you can, in fact, judge a book by its cover.)
J. Samuel Johnston always knew he wanted to be a lawyer, never thinking that after only four years of practice he'd be appointed judge. He understood the legal demands of the job, but he was somewhat surprised at the parade of humanity that came into the courtroom every day. "I was charged," he notes, "to employ the patience of Job, the wisdom of Solomon, and the practical common sense of Dear Abby to unravel and solve these problems, of course, always governed by the rule of law."
With a keen appreciation of the individual characters in the courtroom and a natural knack for storytelling, Johnston begins with a story on himself. On his first day on the bench, Judge J. Samuel Johnston was only 30 years old. He wore a suit, not a robe, but that was not unusual for a Virginia general district judge. He focused on the serious job at hand and mustered a commanding voice. The youngest judge ever selected in Virginia, he was determined to prove he was worthy of the job.
All went well for the first few minutes, until he was handed a note telling him to check his zipper. That humbling experience inspired the title of this book. Why Judges Wear Robes is a delightful collection of dozens of light-hearted anecdotes, told in a conversational style. They are authentic, earthy, and spiked with profanity—the author notes that they would probably be rated R. "In an attempt to be sensitive to all individuals who came before me," he writes, "I have changed most of the names to protect the guilty."
Judge Johnston earned respect, if not affection, from defendants over the years. He tells how he gave a ride to man he had convicted and sentenced many times. The man informed the judge that he'd just served 90 days for a crime he didn't commit. When Johnston asked him why he didn't appeal, the man shrugged, "You've been right all those other times, so I decided to give you the benefit of the doubt in this one and just serve my time."
Team Baseballs: Artifacts of the Game
John M. Mitnick '87 and James J. Spence, Jr.
Artifact Publishing
For baseball fans, a ball signed by a favorite team is perhaps the ultimate memento of the game. A perfect fit for the human hand, it's hard to imagine a neater surface for a player's signature. These treasured objects are the subjects of this comprehensive and informative book for collectors, baseball fans, and historians alike.
Topics covered in Team Baseballs include classification and authentication, forgeries, clubhouse signatures, certificates and letters of authenticity, the ins and outs of grading, valuation, preservation, storage, and collection management. The handsome volume features over 150 full-color illustrations, including a gallery of 45 historic championship and All-Star team balls from 1920 through 2008 inscribed with the signatures of Babe Ruth, Sandy Koufax, Willie Mays, and other all-time greats.
The renowned baseball historian and author of Total Baseball, John Thorn, writes, "Whether you collect team-signed baseballs, or intend to buy one, or only admire them from afar, this is the book for you. Authors Mitnick and Spence are the experts and will steer you clear of forgeries, facsimile balls, deceptive clubhouse signers, and a severe case of buyer's remorse."
Authoritative and entertaining, Team Baseballs evokes the fascinating personalities of the players and the greatest events in baseball history. "This is a game to be savored, not gulped," wrote Chicago White Sox owner, Bill Veeck. The same might be said of this engaging book.
John Mitnick has collected team baseballs for almost 20 years, and has one of the most notable collections in the U.S. He is a division general counsel with Raytheon.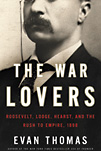 The War Lovers: Roosevelt, Lodge, Hearst, and the Rush to Empire, 1898.
Evan Thomas '77
Little, Brown, and Company
Few would argue the idea that war is hell, and that wars rarely end the way we mean them to, yet even when the reasons for heading into battle seem sketchy, off we go, again and again. As Evan Thomas finished writing Sea of Thunder, a chronicle of the final naval battle of World War II, he turned his attention to the phenomenon of war fever.
His narrative spans the years 1895–98. Only one generation had passed since the carnage of the Civil War, and America geared up to create an empire, whatever the cost. "I began looking for a narrative that would capture this eternal phenomenon," says Thomas, "and I found my story in the experiences of three war lovers over a century ago—Theodore Roosevelt, seeking glory with his Rough Riders; his friend and colleague, Senator Henry Cabot Lodge; and William Randolph Hearst, the newspaper publisher who believed he could single-handedly start a war."
There were those who spoke out against war—Senator Thomas Brackett Reed became a political outcast for speaking out against the mounting enthusiasm for war and empire building. William James, the nation's leading philosopher and psychologist, raised questions about why nations go to war and questioned their motives for doing so. But with Lodge and Roosevelt so sure about our Manifest Destiny, and Hearst using headlines to get people fired up, the doves were marginalized.
Evan Thomas reported on the war in the Middle East for years for Newsweek, and some of the parallels in the lead-up to war are eerie. "History never repeats itself exactly," he notes, "but it kind of rhymes." With his skill in telling great human stories, Thomas delivers a page-turner of a book about American history. He is Editor at Large with Newsweek and the author of Sea of Thunder, John Paul Jones, Robert Kennedy, The Very Best Men, The Man to See, and The Wise Men.
Fiction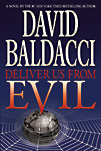 Deliver Us From Evil
David Baldacci '86
Grand Central Publishing
Meet Evan Waller, whose greed knows no bounds. He commands a fortune by dint of his cunning and total lack of scruples—he'll buy and sell anything and anyone. He's excited about his latest diabolical venture, which could involve millions of deaths around the world. Can anyone deliver the world from his terrible plan?
Enter Shaw, a shadowy figure first seen in The Whole Truth. He witnesses a murder and can never let down his guard; underestimating the evil character he's pursuing could cost him his life and more. Someone else, it turns out, is after Evan Waller—a woman named Reggie Campion who's an agent for an undercover vigilante group in England. On the other side of the globe, a photojournalist named Katie James meets with an inside source for background for an important story. After the meeting she's knocked out and flown to a secret location.
All three are hunting the same monster of a man, each for their own reasons. Even readers used to the pace of Baldacci's thrillers may find themselves coming up for air while turning the pages of Deliver Us From Evil.
David Baldacci and his wife, Michelle, have founded the Wish You Well Foundation, which works to promote literacy. Visit his Web site at www.DavidBaldacci.com.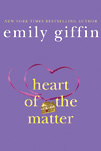 Heart of the Matter
Emily Giffin '97
St. Martin's Press
In Heart of the Matter, bestselling author Emily Giffin's fifth novel, she takes on the subject of infidelity and the difficult choices attached to it. Giffin is a master of portraying characters with flaws as well as fine qualities, then letting them live and breathe in intimate relationships.
Tessa and Valerie have successfully carved out the lives they want to have. Tessa is a happily married mother who gave up a professorship at Wellesley to devote herself to her children. Her husband, Nick, is a handsome plastic surgeon who has a great way with kids. Valerie is a single mother who put herself through Harvard Law School while raising a son alone. She steers clear of relationships because they've never brought her anything but pain.
In a twist of fate that weaves their lives together, Valerie's son is badly burned at a birthday party, and Nick treats him at the hospital. In the course of the boy's prolonged treatment, Nick and Valerie are drawn to each other, and their carefully ordered lives begin to unravel.
Giffin tells the story through the perspective of Tessa, in first person, and Valerie, in third person. That choice is key to the story, because it allows readers to get inside the minds of these two women, see their strengths and weaknesses, and feel empathy for them, no matter what their choices turn out to be.
Pulled into the story by Giffin's deft handling of her characters, readers will probably think they know what's going to happen, but they may be surprised in the end. Giffin's first novel, Something Borrowed, is being made into a major motion picture set to release in 2011.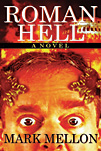 Roman Hell
Mark Mellon '87
Amber Quill Publishing
Roma, capital of the world, choked with summertime heat and filth, the sum and summit of earthly power and glory. This is the arena where the impoverished poet Martial struggles for money and fame.
When Titus, the "Princeps" or first citizen of Roma, asks Martial to be his spy, the shameless poet willingly accepts. Yet what first seems like a trivial assignment grows increasingly dangerous and deadly when the evil witch, Canidia, and Sagana, her ogress sister, enter into a plot with Domitian, Titus's brother.
With the help of a brave ex-legionary, Martial tries to reveal the plot to Titus. Yet Martial's efforts to save the Princeps only drag him deeper … into a Roman Hell …
Mark Mellon is an attorney for the FDIC and lives in Northern Virginia. This is his sixth novel, following the success of The Pirooters, Napoleon Concerto, The Empire of the Green, Hammer and Skull, Libertarian in Love and Escape to Byzantium, which he wrote during law school.