1960s Class Notes

1960
K. King Burnett received the Maryland Bar Foundation's H. Vernon Eney Endowment Fund Award in 2010. The award is the organization's highest award and honors an individual who has demonstrated outstanding leadership in working to improve government and the administration of justice. Nominees exhibit four principal characteristics of Mr. Eney, which distinguished his career: excellence in the law; bar leadership; community leadership; and enormous capacity for work.
1964
J. Scott Merritt writes that he had a stroke in December of 2007. "I can't write well or talk well—you should talk to me!" He hopes to visit Charlottesville soon.
1965
Tony Medley has achieved the status of Silver Life Master in the American Contract Bridge League. Medley is the author of three books, UCLA Basketball: The Real Story; Sweaty Palms: The Neglected Art of Being Interviewed, the first book ever written on the job interview for the interviewee; and The Complete Idiot's Guide to Bridge. Medley is also a Motion Picture Association of America-accredited film critic. His critiques, columns, and interviews may be read at www.rottentomatoes.com and at www.tonymedley.com, and in with several newspapers. He lives in Marina del Rey, Calif.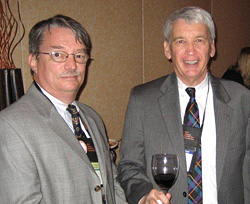 Retired from a 40-year practice, Thomas Player '65 is pursuing a second career in sculpture. His work is shown primarily at the Edward Dare Gallery in Charleston, S.C. Player has been accepted as a fellow in the Hambidge Artist Residency Program in the Blue Ridge Mountains of North Georgia and in the 77th Annual National Sculpture Society Exhibition in South Carolina. He sculpts in stone at his mountain studio in Highlands, N.C. His work may be seen at www.tomplayersculpture.com.
1966

John W. Bates III received the 2011 William H. Ruffner Medal, the highest honor bestowed by Virginia Tech, in honor of his loyal and enthusiastic support of the university. He earned his bachelor's of business administration at Tech in 1963 and comes from a family of Hokies.
After graduating from the Law School, Bates began a 43-year legal career that culminated in his position as managing partner with McGuireWoods in Richmond.
Bill Eckhardt has completed his 18th year teaching at the University of Missouri's Kansas City School of Law. He has been awarded Outstanding Teacher awards four times. This year he received the Chancellor's Award for Excellence in Community Engagement.
Guy O. Farmer II has been listed in Chambers USA 2011 and Florida Super Lawyers 2011 in the area of labor and employment law, Best Lawyers 2011 in labor and employment law, and Best Lawyers 2012 in employment and labor law/management. Farmer is with GrayRobinson in Jacksonville, where he is shareholder in the labor and employment group.
Peter Kilcullen had a great time at the 45th Law reunion in May. A week after the reunion he went scuba diving with his son in the Turks & Caicos. "Retirement is wonderful—as long as the stock market doesn't crash! Holley and I still live in Old Town Alexandria after 29 years and really love it." The Kilcullens had a big family vacation in August in Bald Head Island, N.C.

William M. Slaughter has been selected for inclusion in Best Lawyers 2012 in the area of public finance law. He is a founding partner with Haskell Slaughter Young & Rediker in Birmingham, Ala.
1967
Suzanne Wescoat, wife of Jack Wescoat, died on August 8, after a long fight with breast cancer.
1968

Associate Justice Robert L. Brown of the Arkansas Supreme Court has announced his retirement, effective January 1, 2013. He has served in this position since 1991.
While on the Supreme Court, Brown has written more than 1,220 majority opinions, including the term-limits decision for congressmen and senators in 1994 (U.S. Term Limits v. Hill), which was affirmed by the United States Supreme Court, and four Lake View decisions on the adequacy and equality of the state's public school funding system, beginning in 2002 (Lake View School District v. Huckabee).
Emil "Tovi" Arthur Kratovil, Jr., passed away in Charlottesville on August 1, at 70. He was born in New Bedford, Mass., and attended St. Paul's School in Concord, N.H. Following graduation from Williams College in 1962, and before attending the Law School, he served in the Vietnam War and was awarded a number of medals for his service and retired honorably as captain in the U.S. Marine Corps. He was a partner in the admiralty and maritime law firm of Haight, Gardner, Poor and Havens in New York City for most of his legal career.
For the last two decades of his life Tovi dealt stoically with the debilitating effects of Parkinson's disease. He thrived in the company of friends and family, always interested in their news and events.
1969
Robert W. Ashmore has been selected for inclusion in Best Lawyers 2012 in labor and employment law. He is a partner at Fisher & Phillips in Atlanta, Ga.
Ernest "Ford" Barrett has been litigating a case, TCF National Bank v. Bernanke, challenging the constitutionality of the Durbin Amendment, a provision in the Dodd-Frank Financial Reform Legislation that limits the interchange fee paid by merchants who accept debit cards.
Jerry Coughlan has been named among the Top 50 lawyers in San Diego Super Lawyers 2011. He has been listed as a Top 50 lawyer every year since the launch of the publication in 2007 and has been listed among the Top 10 twice, in 2007 and 2010. Coughlan is a founding member of Coughlan, Semmer, Fitch & Pott in San Diego, Calif., where his practice focuses on trying and litigating civil and white-collar criminal cases.
On a personal note, Jerry was recently inducted into the Commanderie de Bordeaux, San Diego chapter, an international organization of hobbyists with a keen interest in Bordeaux wines.
Frederick Hodnett has been appointed as a civil marriage celebrant (§ 20–25 of the Code of Virginia). He is performing civil marriages for couples who qualify to obtain a Virginia marriage license.
J. Theodore Jackson, a partner with Rushton, Stakely, Johnston and Garrett in Montgomery, Ala., has been elected to the board of trustees of Samford University in Birmingham. Samford is the largest private institution of higher learning in Alabama, with an enrollment of over 4,700 students. Founded in 1841, the school is affiliated with the Alabama Baptist State Convention and offers 138 undergraduate majors, minors, and concentrations; and graduate programs in business, divinity, law, education, arts and sciences, nursing and pharmacy.
David Wiecking departed this life July 22. Wiecking was the retired chief medical examiner for the Commonwealth of Virginia. Born in Washington, D.C., and raised in Northern Virginia, he graduated Johns Hopkins School of Medicine in 1960. Wiecking and his wife, Mary Jane, moved to Charlottesville so he could do his residency at UVA.
While completing his two years of surgical and three of pathology residencies, Wiecking attended and graduated from the Law School and passed the Virginia state bar. For 21 years he served as chief medical examiner for the state, heading one of the most respected forensic laboratories in the nation. His was personally involved in directing the lab in the nation's first successful DNA-based prosecutions for capital crimes in Virginia's South Side Strangler serial rape-murder case during 1987.
"The case revolutionized forensic medicine. It was the first time in the country that DNA linked multiple rapes and murders. It was the first time someone was to be executed as a result. It also was the first time in Virginia that DNA indirectly cleared an innocent man—a mentally disabled man had confessed to one of Spencer's murders to avoid a death sentence and was serving time in prison," according to the Richmond Times-Dispatch.