1970s Class Notes
1970
Elaine R. Jones is the recipient of the 2011 Thurgood Marshall Award given by the American Bar Association's section of individual rights and responsibilities. The award was presented at a gala dinner of the association's national conference in Toronto, Canada, in August. Jones served as president and later as director-counsel, emeritus of the NAACP Legal Defense and Educational Fund.
Jones was the first African-American woman to graduate from the Law School. Soon after graduating, she was the counsel of record in Furman v. Georgia, the U.S. Supreme Court case that in 1972 abolished the death penalty in 37 states. She has litigated many class action employment discrimination cases challenging race and gender discrimination in the workplace.
1971
In April Carol Bagley Amon was named chief judge of the Federal District Court for the Eastern District of New York.
Jerry A. Davis has retired after 27 years as United States Magistrate Judge for the Northern District of Mississippi. In that district, judges have broad powers and preside over a wide range of cases in tandem with a district judge. Davis became known for cases involving sweeping reform of the Mississippi prison system and for his ability as a mediator.

Edward B. Lowry is listed in Virginia Super Lawyers 2011. His practice with MichieHamlett in Charlottesville focuses on statewide commercial litigation.
Mark E. Sullivan was recently cited as an expert in the division of military pensions in a trial court decision in Maryland and in an opinion of the Minnesota Court of Appeals. In April he was an instructor in military family law at the Naval Justice School in Newport, R.I. He also presented a program on military divorce issues at the Georgia Bar's Family Law Institute at Amelia Island, Fla. He is on the drafting committee of the Uniform Deployed Parents Custody Act, which is being written for the Uniform Law Commission, an organization that proposes model laws for states to enact. Sullivan is a retired Army Reserve JAG colonel practicing family law in Raleigh, N.C. The second edition of his book, The Military Divorce Handbook, was released in August.
Ronald R. Tweel is included in Virginia Super Lawyers 2011. He was also noted as Charlottesville Family Lawyer of the Year for 2011. Tweel is with MichieHamlett, where he focuses his practice on domestic relations.
1972
Howard E. Gordon is the recipient of the 2011 Traver Scholar Award, created by Virginia Continuing Legal Education and the Virginia State Bar to honor those who embody the highest ideals and expertise in the practice of real estate law. Gordon is a partner with Williams Mullen in Norfolk, where he focuses on commercial and multi-family real estate, commercial leases, ground leases, land use planning and permits, and urban development.
1973

Fredrick R. Tulley
is listed in
Chambers USA 2011
in litigation: securities and in
Best Lawyers 2012
in commercial litigation, banking & finance, and bankruptcy. He was also recognized in
Best Lawyers
as Baton Rouge Litigation Bankruptcy Lawyer of the Year. He is a partner with Taylor Porter, where his practice focuses on commercial litigation, securities litigation, professional malpractice, construction, antitrust, RICO, commercial bankruptcy, and insurance insolvency.
1974
Whittington W. Clement, a partner at Hunton & Williams in Richmond, serves as chairman of the Virginia Chamber of Commerce and is the immediate past president of the Virginia Law Foundation.

James T. O'Reilly is of counsel with Sandler, Travis & Rosenberg in Washington, D.C., where he concentrates his practice in life sciences, including biotechnology, and Food and Drug Administration and Environmental Protection Agency regulatory matters.
He assists clients with compliance, product recalls, product approval, liability risk, inspections, and related issues. He is widely regarded as an expert on food law.
O'Reilly serves as chair of the ABA Committee on Government Information and Privacy and as co-chair of the FDA Committee.
Richard Voigt has been recognized as one of Greater Hartford's Top Attorneys by Hartford Magazine. He is with McCarter & English, where he is partner in the labor and employment law group. He represents employers in a wide range of matters, including wrongful discharge cases, employment discrimination cases, state and federal court injunction actions, breach of contract cases, trade secret/proprietary information cases, and wage-hour claims.
1975
Glenn R. Croshaw has been elected by the General Assembly of Virginia for an eight-year term as a judge of the Second Judicial Circuit Court for the City of Virginia Beach.

In September John A. Eckstein was presented with the St. Thomas More Award, given by the Catholic Lawyers Guild of Colorado to individuals who exemplify the intellect, integrity, and moral courage of St. Thomas More in service to God, family, and profession.
Eckstein served as the chair of the Colorado Bar Association's Professionalism Coordinating Council from 2007 to 2009. He was recently appointed by Colorado Chief Justice Michael Bender to a new commission on the profession. Eckstein practices corporate finance and securities law as a director and shareholder with Fairfield and Woods in Denver.

Don P. Martin has been named in Southwest Super Lawyers 2011 in business litigation and in Chambers USA 2011 in litigation. He has also been selected for inclusion in Best Lawyers 2012 in commercial litigation, legal malpractice law/defendants, litigation/banking & finance, and litigation/real estate. He is a partner with Quarles & Brady in Phoenix, Ariz.
1976
Robert Bauer is recognized in the 2011 edition of The National Law Journal's Most Influential Lawyers, one of only four listed in the area of government affairs. He recently stepped down from the position of White House Counsel and has returned to private practice at Perkins Coie, where he is a partner in the political law practice. He will serve as general counsel to President Obama's reelection campaign, general counsel to the Democratic Committee, and personal lawyer to the President.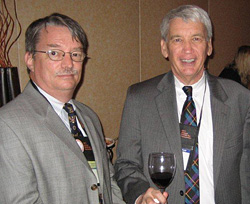 David A. Baker '76, left, received the 2011 William M. Hoeveler Judicial Award, presented at the judicial luncheon of the annual Florida Bar Convention in Orlando in June. The award recognizes a judge who "exemplifies strength of character, service, and competence as a jurist, lawyer and public servant." Baker is a U.S. Magistrate Judge for the Middle District of Florida. With David is Hal Litchford '78.
Peggy Haines is now at Lander & Rogers, an Australian firm with offices in Sydney and Melbourne. She has extensive experience with corporate, public offer, and public sector superannuation funds. She was previously with Freehills.

William J. Keenan, Jr., has been appointed co-chair of the Connecticut Bar Association's labor and employment retirement and welfare benefits subcommittee. He will assist with educational programs in the employee benefits field and will write or oversee articles for the labor and employment law section's quarterly newsletter. Keenan is chair of the employee benefits practice group at Murtha Cullina in Hartford.
Keith Morgan remarried last November. His wife, Jane McDonald, is a partner at Weil, Gotshal & Manges in New York. Morgan continues to be general counsel of GE Capital.

W. Joseph Owen III is listed in Virginia Super Lawyers 2011 in the area of general litigation. He represents individuals and businesses in civil and commercial litigation, criminal defense, personal injury, real estate, estate planning, corporate and construction law. He is a founding partner with Owen & Owens in Midlothian.
Ann Margaret Pointer has been selected for inclusion in Best Lawyers 2012 in labor and employment law. She is a partner with Fisher & Phillips in Atlanta, Ga.

Joseph A. Rideout was recently presented with the Diocese of Toledo's Centenary Award for Outstanding Service for his service to St. John's Jesuit High School. The award was presented during the solemn vespers service in June at Toledo Rosary Cathedral. Rideout is a board member and immediate past chairman of the board of trustees of St. John's Jesuit High School.
He is with Shumaker, Loop & Kendrick, where he is a partner in the real estate practice group.
1977

Paul K. Casey was named Dealmaker of the Year for 2011 by American Lawyer for his role in helping to structure a landmark public-private partnership that raised hundreds of millions of dollars to improve and maintain low-income housing developments in New York City. These developments, built with state and city funds between 1950 and 1980, had gone nearly a decade without direct subsidies.
Casey and his team worked alongside the general counsel's office for the New York City Housing Authority, which had been trying for years to find a way to subsidize the 21 developments, home to more than 45,000 people. The joint legal team determined that NYCHA could merit federal funding under provisions of the American Recovery and Reinvestment Act of 2009 if it structured a deal using public and private funds under HUD mixed-finance rules. The resulting transaction, one of the largest tax-credit bond deals in U.S. history, was completed in just six months to meet a federal deadline.
Casey is with Ballard Spahr in Baltimore, Md., where he is a partner in the real estate and public finance departments, co-chair of the housing group, and member of the real estate finance and public finance transaction groups.

Stephen W. Earp has been recognized as a Leader in the Field for 2011 in environmental law by Chambers USA, the seventh consecutive time he has been so honored. He has also been selected for inclusion in Best Lawyers 2012 in the area of environmental law and environmental litigation. He is with Smith Moore Leatherwood in Greensboro, N.C.
1978

Edmund T. Baxa, Jr., LL.M. '80 has been selected as the recipient of the 2011 Judge J.C. Jake Stone Distinguished Service Award by the Legal Aid Society of the Orange County Bar Association for the pro bono contributions he has made throughout his career. Baxa is a partner with Foley & Lardner in Orlando, Fla., and chair of Foley's national pro bono committee.
Baxa has served as guardian ad litem for dozens of abandoned and neglected children in dependency proceedings in juvenile court, handling more than 80 juvenile cases and donating more than 725 hours of legal services. He was a recipient of the Legal Aid Society Individual Award of Excellence in recognition of this work. He has also given counsel and support to the Sanford-Burnham Research Institute, which provides free legal services to nonprofit research institutions and universities to assist them in the development of treatments for orphan diseases.
Baxa has steadily encouraged his colleagues to increase their participation in pro bono and community service activities. At the start of his tenure, Foley ranked 119 in American Lawyer's list of law firm pro bono practices; in the July 2010 the firm ranked 36.
Constance A. Howes has been named to the Becker's Hospital Review list of 291 Hospital and Health System Leaders to Know, which recognizes individuals who are guiding prominent American health care organizations through change and innovation. Howes has served as president and CEO of Women & Infants Hospital in Providence, R.I., since 2002.
As of January 1, W. Thomas McGough, Jr., is senior vice president and chief legal officer of UPMC, a 20-hospital health system affiliated with the University of Pittsburgh.
George N. Meros, Jr., has been selected for inclusion in Florida Super Lawyers 2011 in the area of civil litigation defense and is listed among Florida Trend's Legal Elite 2011 in the area of government and administrative law. He is with GrayRobinson in Tallahassee.
Lloyd Miller writes that he continues to enjoy life in Alaska and "watching our 14-year-old daughter grow into a prima saxophonist."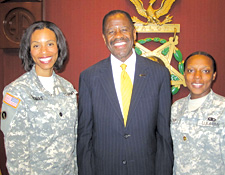 Blake D. Morant '78, dean of Wake Forest Law School, began his legal career as a JAG officer with the XVIII Airborne Corps at Fort Bragg, N.C. In May Morant was invited to that same JAG office to give a professional development talk, where he met current Army JAG officers, Lieutenant Colonel Margaret Thomas '00 and Major Yolanda McCray '03. Both alumnae are also graduates of the U.S. Military Academy, West Point.
1979

Anne L. Kleindienst has joined Polsinelli Shughart in Phoenix, Ariz., where she is a shareholder. She will focus her practice in the areas of business and health care law.
Kleindienst has represented businesses and health care providers, including hospital systems, behavioral health and long-term care facilities, and physicians groups in corporate and finance matters. She serves as general counsel to the Greater Phoenix Chamber of Commerce and as board member on the Arizona Investment Council. She was recently with Fennemore Craig.

Ely A. Leichtling has been recognized in Chambers USA 2011 in the area of labor and employment. He has also been selected for inclusion in Best Lawyers 2012 in employment law/management, labor law/management, and litigation/labor & employment. He is a partner with Quarles & Brady in Milwaukee, Wisc.
David Llewellyn presented a talk, "the Circumcision Lobby" at Genital Autonomy—the Eleventh International Symposium on Circumcision, Genital Integrity, and Human Rights at the University of California, Berkeley in July 2010. Llewellyn's law practice centers on cases involving circumcision malpractice/damage.