1980s Class Notes
1980
John F. Brenner has been selected for inclusion in New Jersey Super Lawyers 2011. He is a partner in the health effects litigation practice group with Pepper Hamilton in Princeton and New York. Brenner focuses his practice on the defense of complex products liability and mass tort cases against pharmaceutical and medical device manufacturers.

Norman E. Parker, Jr., has been elected vice chair of the board of directors of the Elijah Cummings Youth Program in Israel (ECYP). The program fosters positive relations among all ethnic communities in Maryland's seventh congressional district, focusing on leadership development, promotion of inter-ethnic understanding and tolerance, and civic involvement. Parker is of counsel in the public finance department of Ballard Spahr in Baltimore.
Richard J. Pocker has been elected to the Nevada State Bar Board of Governors. He is the administrative partner for the Las Vegas office of New York-based Boies, Schiller & Flexner.
The Episcopal Church has named Stacy Sauls as its chief operating officer. The Right Reverend Sauls oversees the staff of the Episcopal Church Center in New York City, as well as at offices in Washington, D.C., Los Angeles, Seattle, and Puerto Rico. Prior to this post, Sauls was Bishop of Lexington for more than a decade. His episcopacy is recognized for his focused and creative work on mission and vision in the context of a smaller diocese in Eastern Kentucky, where 14 of the 100 poorest counties in the country are located.
Robert D. Seabolt has been named chief operating officer of Troutman Sanders. He will remain based in the firm's Richmond office.
1981
Patricia Dondanville has joined Reed Smith in Chicago, as partner in the corporate & securities group. Her practice includes corporate finance and transactional matters with a focus on providing strategic legal counsel to energy industry clients. She is ranked with Chambers USA-America's Leading Lawyers for Business in the area of energy and natural resources and is currently vice chair of the ABA section on public utility, communication, and transportation law.
Dondanville will serve as the section's chair-elect in 2012 and chair in 2013. She was previously with Schiff Hardin.
Professor of Law Geoff Gilbert LL.M., S.J.D. '88 has been elected to his second term (2011–14) as head of the School of Law at the University of Essex, United Kingdom. He was elected a Bencher of the Middle Temple in 2009 and called in February 2010. He is editor-in-chief of the International Journal of Refugee Law.
Douglas A. Hastings has been named to the National Law Journal's list of Most Influential Lawyers in the category of health care, one of only three to be named in this field. Honorees were recognized at The National Law Journal's annual dinner on June 8 in New York City. A special report appeared in the March 29 issue of The National Law Journal, noting that Hastings is considered "the dean of the health care bar."
Hastings has considerable expertise in transactions and governance on behalf of hospitals, academic medical centers, health plans, and managed care organizations. He serves on the board of Health Care Services of the Institute of Medicine, which oversees the Institute's research and publications regarding health care system payment and delivery. He is a member with Epstein Becker Green in Washington, D.C.
Thomas Heimbach's firm changed its name to Flamm Walton. Heimbach is the managing partner of the Allentown, Pa., office.
George C. Howell III was recently named chair of the American College of Tax Counsel, a nonprofit professional association of tax lawyers recognized for excellence in tax practice and for contributions to the profession.
Howell is partner at Hunton & Williams in Richmond, Va., where he heads the tax and ERISA group. He focuses his practice on the tax aspects of REITs, REMICs, securitizations, master limited partnerships, private investment funds, and other financial transactions. He is listed in Best Lawyers 2011 in the area of tax law.

Blaine A. Lucas has been listed in Pennsylvania Super Lawyers 2011 in the area of government/cities/municipalities. He was also named as one of the Top 50 Pittsburgh Super Lawyers for 2011. He is with Babst Calland, where he is a shareholder in the public sector services and business services groups. He represents public and private clients on a variety of matters, with particular emphasis on land use and land development issues.
1982
Alma Angotti has joined Navigant Consulting in Washington, D.C., as a director in its global investigations and compliance practice, where she will focus on anti-money laundering, anti-bribery and corruption projects. In July she resigned from the Financial Industry Regulatory Authority (FINRA), where as senior special counsel she had led FINRA's enforcement efforts and had been a key figure in designing and conducting AML training courses for the self-regulatory organization's staff and industry officials.

Michael Houghton has been elected president of the National Conference of Commissioners on Uniform State Laws (the Uniform Law Commission) for a two-year term. The commission researches, drafts, and promotes the enactment of uniform state laws. Houghton is listed in Best Lawyers 2011 in the areas of administrative law, government relations law, and banking law. He is a partner with Morris, Nichols, Arsht & Tunnell in Wilmington, Del., where he focuses his practice in the areas of commercial law counseling and unclaimed property.

Jeffrey Levinger has been recognized in D Magazine's Best Lawyers in Dallas 2011 for appellate law. His appellate experience covers virtually every area of substantive law, from legal malpractice to intellectual property to products liability. Since 2009 he has served as chair of the State Bar of Texas committee on pattern jury charges— malpractice, premises, and products. He is a founding partner of Hankinson Levinger.
Former FEC chairman and general counsel to John McCain's presidential campaign, Trevor Potter, found himself in the surprise position of teaching Comedy Central's Steven Colbert about campaign finance and Super PACs on air in March. Soon after, Colbert asked Potter to become his attorney and help him create a Super PAC. On a recent trip to the National Gallery Potter was recognized for being "Colbert's lawyer." When not on air, Potter heads up Caplin & Drysdale's political-law practice in Washington, D.C.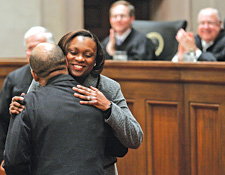 Cleo E. Powell was elected to the Virginia Supreme Court by the General Assembly for a 12-year term. She is the first African-American woman to be elected to this position. She previously served on the Virginia Court of Appeals and was the first African-American woman to serve in that position as well. See a related story. Powell spoke at the Law School November 10 as part of a conference on increasing diversity in the legal profession.
Powell photo Credit: SteveHelber, Associated Press
J.B. Ruhl has joined the faculty at Vanderbilt University Law School as the David Daniels Allen Distinguished Chair in Law. He will continue his research and teaching in the fields of environmental law and land use law.

In early August Thatcher A. Stone won a decision in the U.S. Court of Appeals for the Ninth Circuit that could change federal law for airline passengers. Stone convinced the Ninth Circuit that the Airline Deregulation Act of 1978 did not preempt state law claims for breach of contract by passengers in privity with an airline, including claims for breach of implied covenants of good faith and fair dealing.
The decision in Ginsberg v. Northwest has been covered in the news and legal press because it expands passenger rights and underscores the airline industry's tension with the flying public, says Thatcher, a longtime aviation lawyer.

The Honorable Kent C. Sullivan has joined Sutherland Asbill & Brennan as partner in the litigation practice group in Houston and Austin, Tex. Sullivan previously served as a justice for the Texas Court of Appeals in Houston, as first assistant attorney general, and as a district judge. He was a trial lawyer in private practice for more than 20 years.
Sullivan has served multiple terms on the Supreme Court Advisory Committee that is appointed by the Texas Supreme Court to provide advice and research on proposed changes to the Texas Rules of Appellate Procedure, the Texas Rules of Civil Procedure, and the Texas Rules of Evidence. He has also served multiple terms on the Texas Pattern Jury Charge Committee, which is responsible for the formulation of standardized jury instructions and questions for use in trials throughout the state.
Raymond G. Truitt has been selected for inclusion in Best Lawyers 2012 in real estate law. He is a partner in the real estate department of Ballard Spahr in Baltimore, Md., where he focuses his practice in commercial real estate financing, leasing, development, and restructuring.
In 2011 Avery "Sandy" Waterman was named to Multi-Million Dollar Advocates Forum, the Best Lawyers in America (medical malpractice and personal injury) for the fifth time, and Virginia Super Lawyers for the third time. Waterman practices with Patten, Wornom, Hatten & Diamonstein in Newport News.
1983
Paul Cella was appointed as a circuit judge for the Eleventh Judicial Circuit of the Virginia State Courts on July 1. Cella previously served as a general district court judge.
Judge Robert J. Conrad, Jr., was recently elected to serve a one-year term as vice-president by the Board of Governors of the North Carolina Bar Association. He has served on the U.S. District Court for the Western District of North Carolina since 2005.

James P. Cox III is listed in Virginia Super Lawyers 2011 in the areas of estate planning and probate and real estate and in Best Lawyers 2011 in trusts and estates and real estate law. He is chair and member of the council and legislative committee of the wills, trusts and estates section of the Virginia Bar Association and is the current chair of the real estate committee of the Charlottesville Albemarle Bar Association. Cox is with MichieHamlett in Charlottesville.
Win Dayton just finished his second year as deputy principal officer at the U.S. Consulate General in Istanbul, Turkey. He writes, "Highlights of the past year included a visit by fellow North Grounds RFC Infidel and classmate, Bob Latham, and his daughter, Kira; summiting 16,850-foot Mount Ararat; and swimming the Bosphorus."
Lisa Friel has left the Manhattan District Attorney's Office after 28 years to enter the private sector. Friel spent 25 years in the sex crimes unit and served the last ten years as chief, and now aims to use her experience to make a difference in the private sector. She has joined T & M Protection Resources, a consulting and investigative firm, where she will be heading a new division that will provide sexual assault and sexual misconduct education, training, and investigative services to a variety of private entities, including colleges and universities, sports teams and leagues, and private businesses.
John T. McCormick published his first book, Dad, Tell Me a Story: How to Revive the Tradition of Storytelling with Your Children, with Nicasio Press. The book contains a collection of stories that McCormick created and illustrated with his two sons, William and Connor. The book and the companion Web site, also offer guidance to parents on how to make up stories with their children, while offering parenting insights reflecting the wonder and joy of raising kids. McCormick is an attorney in Washington, D.C., where he lives with his wife, Danna, and the boys. (See In Print.)
Elaine Metlin received the National Association of Women Judges' 2011 Florence K. Murray Award in October. The award is presented annually to a woman who is not a judge and who has influenced women to pursue legal careers, opened doors for women attorneys, or advanced opportunities for women within the legal profession.
Metlin is a partner in Dickstein Shapiro's business litigation and white collar practices in Washington, D.C. She was named head of the firm's women's leadership initiative in 2006 and was a founding member of the District of Columbia Chapter of Women's Leadership and Mentoring Alliance, a nonprofit organization whose mission is to cultivate networking, mentoring, and career development opportunities for women across industries. She has counseled victims of rape and abuse and spent hundreds of pro bono hours seeking to protect women's reproductive rights. She was a key figure in drafting Dickstein Shapiro's policy on alternative work arrangements, where women could work on a schedule reduced by as much as 50 percent and still be on a partnership track.
Metlin served as a role model herself when she entered the Law School as a single mother of a two-year-old daughter in 1980.
Owen Pell received an honorary doctor of laws degree from the State University of New York and delivered the commencement address at Binghamton University on May 22.
His speech, on mentoring, can be found on YouTube. Pell is a partner in the commercial litigation group at White & Case in New York.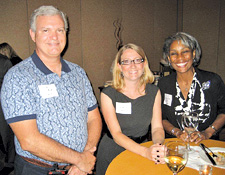 A photo from the June 23rd Florida Bar reception in Orlando, Florida: Bob Wilkens '83, Laura Everett '02 and Markita Cooper '82.
1984
Bill Chapman was confirmed by the Washington State Senate to serve as chairman of the Washington Recreation and Conservation Funding Board. The RCFB awards roughly $100 million biannually in 11 different grant programs for parks, trails, and wildlife habitat. Chapman was nominated to the position by Governor Gregoire.
Thomas G. McNeill has been named among the Leaders in Their Fields by Chambers USA 2011 in the area of general commercial litigation. McNeill is with Dickinson Wright in Detroit, Mich., where he is practice department manager for the commercial litigation and alternative dispute resolution groups. He is recognized for his work on class action lawsuits in a variety of industries, and has considerable experience in transactional disputes.
John C. Ramig has joined Ater Wynne in Portland, Ore., as partner in the global trade, business, emerging business, and family owned business groups. He works with clients on general business and corporate matters, including entity formation, acquisition or sale of companies, and corporate financings.
Prior to practicing law, Ramig served on the Washington, D.C., staff of U.S. Senator Mark O. Hatfield and on the White House staff in the Carter administration's Office of Public Liaison. He also served on the staff of Donald Anderson, a member of the British Parliament.
1985
Martha N. Donovan is included in New Jersey Super Lawyers 2011 and Chambers USA 2011 in the area of environmental law. Donovan is with Norris McLaughlin & Marcus in Bridgewater, where she is a member and co-chair of the environmental law group. She focuses her practice on environmental law and complex litigation with emphasis on the defense of environmental property damage and toxic tort claims. She also has considerable experience working on insurance coverage matters.
Mark Kmetz has been named director of the Massachusetts Division of Professional Licensure, an agency that licenses and regulates trades and professions to ensure consumer protection and maintain a level playing field for licensees in the commonwealth. The agency oversees 31 boards and some 50 trades and professions, from cosmetologists to psychologists to electricians.
Kmetz most recently worked at Public Consulting Group, a Boston-based consulting company that offers products and services to government clients nationwide in the areas of health care, education, and information technology, managing litigation and arbitration for the company. Previously he worked in the Massachusetts Attorney General's office, directing tobacco enforcement initiatives, assisting in the management of the Public Protection Bureau, and pursuing central artery/tunnel cost recovery.
Kevin A. Ohlson has been nominated by President Barack Obama to serve as a judge on the U.S. Court of Appeals for the Armed Forces. Ohlson is currently the chief of the professional misconduct review unit in the Department of Justice. From 2009 to January 2011, he was chief of staff and counselor to U.S. Attorney General Eric Holder.
Christine Thomson has been included in the 2011 Influential Women of Virginia, sponsored by Virginia Lawyers Weekly. The honor recognizes the outstanding contributions of women in all fields, including law, business, health care, arts, and education. She, along with other honorees, were celebrated at a luncheon on May 19 in Richmond, and a profile noting her achievements was included in VLW in May.
Thomson is with MichieHamlett in Charlottesville, where she focuses on medical malpractice and medical device cases. She also represents plaintiffs in other personal injury cases with extensive medical damages.
1986
Norman Cherner was promoted and transferred from Lovingston, Va., to Inwood W.V., where he manages a Rite Aid Pharmacy.
Edward M. Rogers has joined Reed Smith in Washington, D.C., as partner in the real estate group. He has more than 20 years of experience in real estate development and commercial finance, with a focus on large-scale, mixed-use projects. Rogers was named among the top real estate lawyers in the District of Columbia in Chambers USA 2011. He was previously with Arent Fox.
1987
John Bridgeland is the author of the recently published book, Heart of the Nation: 9/11 and America's Civic Spirit. The tenth anniversary of 9/11 reminded Americans of their volunteering spirit and willingness to serve and be part of something larger than themselves. Bridgeland chronicles the many ways Americans pulled together in that time of crisis and how collective effort for the common good is key to the nation's spirit.
Bridgeland is former director of the White House Domestic Policy Council under President George W. Bush and is a current member of the White House Council for Community Solutions under President Barack Obama.
Stephen Fox is included in the D Magazine Best Lawyers in Dallas list for 2011 in the area of labor and employment law. He has also been selected for inclusion in Best Lawyers 2012 in labor and employment litigation, employment law/management and labor law/management. Fox is a principal with Fish & Richardson, where he is head of the trade secret theft, employment, and employee mobility practice. He led a team that secured the largest employment law verdict in Texas in 2010.

Robert W. Long was recently a guest host on CNBC Worldwide Exchange. Long is the CEO of Conversus Asset Management, the largest publicly traded fund of private equity funds. His office is in Charlotte, N.C.
Michele A. Masucci is listed in Chambers USA 2011 in the area of health care/New York. She is a partner in the Long Island and New York City offices of Nixon Peabody, where she heads the health services practice. Masucci leads a team of more than 25 attorneys who advise clients in the health care field on issues including regulatory requirement and compliance.
At the end of the last academic year Dayna Matthew stepped down after having served as both associate dean and vice dean of the Colorado Law School. Matthew is taking a year's sabbatical to complete a book project and work on a public health law project with the National University of Rwanda Law School in Butare, Rwanda.
Tom Walls serves on the staff of Senator Mark Warner (D-VA) as chief counsel. Following an earlier stint as a Senate staffer, Tom joined the Washington, D.C., office of McGuireWoods in 2001. At McGuireWoods he was a partner and founder of the firm's political law group while also serving as senior vice president for federal public affairs at McGuireWoods Consulting. Tom and Molly Fields Walls celebrated their 21st wedding anniversary this year. They live in Arlington, Va., and have a daughter, Nora (16) and son, Bennett (19), who is a sophomore at Oberlin College.
1988
Steve Sndyer Global Adapt: Cross-Cultural Awareness
Foreign Minister of Indonesia N. Hassan Wirajuda S.J.D. has been awarded the Medal of Honor (the Bintang Mahaputera Adipradana) by Indonesia's President Susilo Bambang Yudhoyono. Awarded for his outstanding contributions to Indonesia's foreign policy and diplomacy, the medal was presented on August 12.
Wirajuda served as a career diplomat, then Minister for Foreign Affairs of the Republic of Indonesia from 2001 to 2009 under two different presidents. He is currently a member of Indonesia's President Advisory Council for Foreign Relations.
1989

Keith H. Johnson has been selected for inclusion in Best Lawyers 2012 in the areas of environmental law and litigation/environmental. He is a partner with Poyner Spruill in Raleigh, N.C., where he is co-chair of the land use, utilities, government, and environmental section and the sustainability practice group. His practice focuses on the development and redevelopment of property and the environmental, utility, and land use issues that arise from development projects.
Carlton W. Reeves was invested as a federal judge on the U.S. District Court for the Southern District of Mississippi on April 15. Reeves was nominated for the federal judiciary by President Barack Obama and was unanimously confirmed by the U.S. Senate. The investiture ceremony was held on the campus of Jackson State University, where Reeves graduated in 1986 with a B.A. in political science.
Reeves served in the U.S. Attorney's Office for the Southern District of Mississippi as Assistant U.S. Attorney and chief of the Civil Division, and nationally in the Civil Chiefs Working Group in the Department of Justice. Prior to his appointment to the federal bench, Reeves practiced law with Pigott Reeves Johnson in Jackson, Miss., where the focus of his practice was state and federal litigation.
Chris Schuyler has joined White and Williams as counsel in the directors and officers practice group in Westchester County, N.Y. His practice focuses primarily on business, transactional and finance issues for corporate and insurance industry clients, and regulatory counseling for insurers, reinsurers, and insurance brokers.

Stefania Shamet has been chosen to receive the 2011 Edward T. "Red" Heinen Wetlands Award, the Environmental Protection Agency's most prestigious national award recognizing superior work to protect wetlands. The award is given to the person from EPA's nationwide wetlands program who exemplifies the highest standards and personal dedication to wetlands protection. Shamet is an attorney in EPA's mid-Atlantic regional office in Philadelphia, Pa., where she provides counseling and enforcement representation for the region's water pollution control program, including the Clean Water Act, the Safe Drinking Water Act, and the National Environmental Policy Act.
Lisa Stenson Desamours is an assistant general counsel at MetLife in New York City, providing strategic advice and negotiating transactions for the company's global corporate real estate portfolio in over 60 countries and enterprise-wide vendor sourcing operations. In October 2010, she was honored for ten years of service on the board of directors of Harbor Science and Arts Charter School. She was appointed chair of the legal committee of The Girl Friends, a national civic women's organization.

James Wall has been named in North Carolina Super Lawyers 2011. He is with Wall Esleeck Babcock in Winston-Salem, N.C., where he focuses his practice on corporate law and health care.