Class Notes
Send Us Your News
We welcome submissions for inclusion in Class Notes. Submit online, mail to UVA Lawyer, University of Virginia School of Law, 580 Massie Road, Charlottesville, VA 22903; or fax to 434-296-4838. Please send your submissions by March 1 for inclusion in the next issue.
1939

Retired Virginia Supreme Court Justice W. Carrington Thompson passed away in June at the age of 95. After years in government service, politics, and private practice, Thompson was named to the Commonwealth's highest court in 1980. He stepped down in 1983. In 1982 Thompson was among the first group of justices to receive the Master of Law degree in the judicial process from the Law School.
1940

Mort Caplin has learned that the original Boris Chaliapin painting of his 1963 Time magazine cover is now part of the National Portrait Gallery's collection. The portrait will be on display in the recent acquisitions exhibit which opens November 18. Mort believes this may be the first time an IRS Commissioner "was actually hung!"
Prior to 2001, subjects had to have been dead for at least ten years before the gallery would acquire non-presidential portraits. Mort is happy to report that the barrier no longer exists.
1942
Gerard "Jeff" Podesta died on May 16 at the age of 94. He was born in Hoboken, N.J., and lived in Montclair and Glen Ridge for most of his life. He attended the University of North Carolina and Princeton before graduating from the Law School. During World War II he served as lieutenant in the amphibious command. From 1947 until he retired in 1990, he practiced with Podesta, Myers and Crammond in Bloomingdale, where he specialized in land development, estates, and municipal matters.
Podesta excelled in sports, particularly tennis. He won seven consecutive university titles and was captain and top player on Princeton's undefeated 1938 tennis team.
1948

Robert C. Nusbaum
was recently honored with the Eggleston-l'Anson Professionalism Award by the Norfolk & Portsmouth Bar Association. The Eggleston-l'Anson Award recognizes an attorney who has epitomized the highest standard of personal and professional reputation and conduct throughout his or her career, and is the association's highest honor. Nusbaum is with Williams Mullen in Norfolk, Va., where he is a partner in the business section.
Former U.S. Congressman (R-Va) and Virginia State Supreme Court Justice, Richard Poff, passed away June 28, in Tullahoma, Tenn. Poff served in the House of Representatives for 19 years and later for 16 years on the Virginia Supreme Court. In 1971 Poff "surprised official Washington … by withdrawing from consideration for a seat on the Supreme Court rather than submit to the harsh scrutiny he feared his anti-civil rights voting record would arouse," according to a New York Times obituary.
Poff was said to be President Richard Nixon's choice to fill the so-called "Southern" seat on the Court when Justice Hugo Black died. In a Virginia newspaper interview at that time, Poff expressed deep regret over his earlier segregationist record which dated back to the 1950s. Not wanting his prior record to affect the confirmation process, he asked the president to "drop him from consideration." Nixon went on to nominate Lewis F. Powell.
Minerva Wilson Andrews, of Charlottesville, and formerly of McLean, passed away September 4. She was 86 years old.
She was born in Rock Hill, S.C., and graduated from the University of South Carolina before attending the Law School, where she was one of the earliest women graduates. Wilson Andrews began her legal career as a trial attorney in the antitrust division of the U.S. Department of Justice in Washington, D.C. She joined Bauknight, Prichard, McCandish & Williams in 1963 (which became Boothe, Prichard & Dudley in 1972). In 1980 she was made partner. After a merger with McGuire, Woods, Battle and Boothe, she served in the McLean, office until retiring in 1992.
In retirement she participated in many activities in her community in Charlottesville and worked on two books: Carolina-Virginia Recollections and A Carolina-Virginia Genealogy.
1950
Edward M. Selfe passed away on November 30, 2010 at 89. He was born in St. Paul, Minn., and grew up in Chicago and Atlanta. He attended Presbyterian College in Clinton, S.C., where he played varsity tennis and graduated magna cum laude in 1943. He served in the U.S. Army during World War II, where he rose to the rank of captain and fought as a first lieutenant infantry platoon leader during the 90-day Battle of the Heurtgen Forest in Germany and in the ensuing Battle of the Bulge. For his valor in battle, he was decorated with the Silver and Bronze Stars and awarded the Purple Heart.
Selfe entered the Law School on the G.I. Bill in 1947, where he distinguished himself by graduating second in his class, serving on the Virginia Law Review, and being elected to Order of the Coif, Omicron Delta Kappa, and the Raven Society. He taught at the Law School for one year, then practiced law in New York with the Shearman & Sterling law firm. In 1952 he began a long and distinguished legal career in Birmingham with the predecessor to the Bradley Arant Boult Cummings law firm, with which he practiced as a partner in the fields of corporate and tax law, and with which he remained closely associated for over 58 years until his death. While a partner at Bradley Arant Boult Cummings, Selfe argued many landmark tax and business valuation cases, was recognized by his peers nationally by being elected as a Fellow of the American College of Tax Counsel, and served as an adjunct professor at the University of Alabama School of Law from 1968 to 1990, teaching business planning.
He was an avid skier for most of his adult life, and was a highly competitive tennis player until his late 80s. He was ranked nationally in his age division over the years, most recently second nationally, and competed this year in the national championships for the over-85 men's singles division of the U.S. Tennis Association.
1957
Herbert Glickman retired as a superior court judge in New Jersey after 25 years on the bench. He is now working in mediation and arbitration of matrimonial cases with Greenbaum, Rowe, Smith & Davis in Iselin, N.J.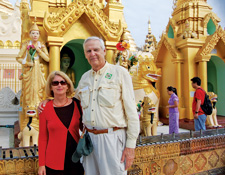 William R. Bruce '59, who is mostly retired from the law firm of Adams and Reese, now lives with his wife, Rita, in St. Marys on Georgia's southeast coast. Bill, who is a past member of the Tennessee House and Senate, was honored during 40th anniversary ceremonies for the highly successful Tennessee Natural Areas Act, which he sponsored in the Senate in 1971.
He and Rita recently celebrated their 30th wedding anniversary with a trip that began with a safari in South Africa followed by a cruise from Cape Town to Singapore via many ports in Africa, Madagascar, various island groups in the Indian Ocean, Sri Lanka, Myanmar, Thailand, and Malaysia.
In addition to travel, Bill fills his time with boating, church activities, playing the piano for and leading two sing-along sessions at local facilities for the elderly, bicycling, and visiting family. His six children (who include one lawyer, two college professors, one CPA, one chemist and high school teacher, and one computer engineer), and 14 grandchildren are scattered across the country.
Presently, he is special counsel to Adams and Reese, in their Nashville office, is a fellow of the American, Tennessee, and Nashville Bar Foundations, and continues to be involved in limited Tennessee practice.