Non-Fiction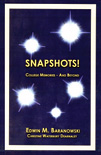 Snapshots! College Memories and Beyond
Edwin M. Baranowski '71 with Christine Waterbury Dearnaley
Amazon.com/CreateSpace
For an aging boomer (for anyone, in fact), a great sense of humor might be the most valuable asset of all.
Snapshots!
provides evidence for that idea. In the words of one appreciative reader, "Seek prompt professional attention if you can read this through and not laugh out loud." The author notes that his book is based on actual events, though some are made up, some are embellished, and some have emerged from, he confesses, a "faulty recollection." He introduces readers to his early growing up, his Catholic education, and the decadent years at Hamilton College.
While you probably won't find the answers to life's big questions in Snapshots! who knows? Baranowski's 87-year-old father is reading the book for the third time looking for "secret messages."
Snapshots! is chockfull of adolescent fantasies and fraternity pranks and rituals. Mixers with women from Vassar, Skidmore, and Wells, drinking binges, and testosterone-fueled contests worked out in fire extinguisher fights and bare-knuckled skirmishes with bouncers. Through it all, Baranowski's Chi Psi fraternity bros, including Crab, Crude, Gargoyle, and Lunch, stuck together for better or worse.
By the time he made it to law school, Baranowski realized only hard work would ensure his survival. His first job was with Morrison & Kendall in New York, where the nicknaming tradition continued: "Old Skinhead" for a senior partner, "Chuckles" for a junior member. The joy of reminiscing comes through on every page of Snapshots! The author would be the first to tell readers that putting it together "beats writing briefs."
While writing his book, Baranowski reconnected with college friends he'd lost track of, including "Pristine Christine," the co-author of Snapshots! Baranowski is with Porter Wright Morris & Arthur in Columbus, Ohio, where he specializes in patents relating to infrastructure technologies.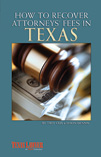 How to Recover Attorneys' Fees in Texas
Trey Cox '95 and Jason Dennis
Texas Lawyer
How to Recover Attorneys' Fees in Texas is
a comprehensive, step-by-step guide to help attorneys win and defeat attorneys' fees claims at trial. In today's legal landscape, the ability to recover attorneys' fees may be the deciding factor in whether or not to file a lawsuit. It almost always plays a critical role in the decision to settle or try a case.
This volume includes the legal basis and requirements to recover attorneys' fees, all the important steps to follow for both the pre-filing and pleading stages, and tips for the most effective ways to assemble evidence. Thorough explanations are also included for proving fees at trial and what discovery is needed. "Their advice on how to record and bill time should be required reading for every young lawyer," notes an attorney in his review. How to Recover Attorneys' Fees in Texas also has lots of practical examples and helpful forms and checklists.
A former state district judge, describing the task of recovering attorneys' fees as damages in Texas as "a procedural minefield," writes, "Trey and Jason have put together the definitive text laying out the process and best practices for recovering attorneys' fees in Texas."
Cox is a partner at Lynn Tillotson & Cox, a litigation boutique in Dallas.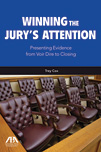 Winning the Jury's Attention: Presenting Evidence from Voir Dire to Closing
Trey Cox '95
First Chair Press (American Bar Association)
Trial lawyers don't automatically receive the undivided attention of a jury; they must work for it. It's crucial to choose the right message, present it in the best way possible, and do so within the right amount of time.
Trey Cox, an experienced and successful trial lawyer, knows how to communicate effectively with a jury. In Winning the Jury's Attention: Presenting Evidence from Voir Dire to Closing, he reveals seven key principles that lead to a courtroom win:
The Personal Credibility Principle: credibility can be earned through demonstration of competence, accuracy, leadership and efficiency.
The Signaling Principle: people learn best when material is presented clearly and simply.
The Segmentation Principle: people take in information best in bite-sized chunks.
The Multimedia Principle: people learn better from words and pictures than from words alone.
The Coherence Principle: people learn better when extraneous material is excluded.
The Stickiness Principle: people hold on to statements and ideas that are "sticky."
The Jolt Principle: people who are jolted periodically listen with rapt attention.
Cox shows how implementing these techniques through each phrase of a trial will help lawyers connect with the jury and influence how each juror takes in and processes the information presented. He also examines courtroom-tested techniques recommended as part of preparation for trial. "This book is something that shouldn't exist," writes a general counsel, "a fun-to-read, comprehensive, and useful text on a subject that can be as dry and dusty as any in the legal profession."
Business Liability Insurance Answer Book 2011-2112
Devin C. Dolive '02, Betsy P. Collins, and Jodi D. Taylor
Practicing Law Institute
Being held personally liable for a business-related decision can be a nightmare for any company executive or employee. In the recent economic downturn, the number of cases being brought against businesses and the people who run them has surged.
Business Liability Insurance Answer Book 2011-2112 is a convenient reference guide that provides answers to many insurance issues common to business owners and managers. It can be used by non-lawyers and business professionals in risk management planning, and will also be of interest to lawyers and other legal professionals.
The book is organized in Q & A format with answers to common insurance issues that plague all kinds of businesses. The straightforward format is practical, direct, and user-friendly. More than 50 practice tips and helpful notes are also included.
Devin Dolive and his co-authors/editors explain many of the kinds of issues being litigated and the different kinds of liability insurance available to protect against lawsuits and cover losses in the event of a successful recovery. Liability areas defined and explained in detail include commercial general; professional; directors' and officers'; fiduciary; employed persons; excess insurance; and fidelity insurance liability. Who are the potential targets of litigation? What is a hammer clause? Such questions and many more are answered clearly and concisely.
Dolive is an attorney with Burr Forman in Birmingham, Ala. His practice includes commercial litigation and labor and employment matters and representation of both insurers and insureds in insurance coverage disputes.

Law and Behavioral Biology: A Study in Behavioral Biology, Neuroscience, and the Law
Edwin Scott Fruehwald LL.M. '94, S.J.D. '01
Vandeplas
In
Law and Human Behavior: A Study in Behavioral Biology, Neuroscience, and the Law
, Edwin Scott Fruehwald reveals how the fields of behavioral biology and neuroscience will be the next frontiers for legal thought. In the near future, he explains, these two areas will become as important in legal analysis as economics has been for the past several decades.
Fruehwald believes there was a nascent legal system on the savannah, where innate rules of behavior were enforced by devices such as reputation and ostracism. In this book, he presents the principals of behavioral biology and neuroscience, then applies the principles to different legal topics. He delves into topics including the biological basis of rights, the ways behavioral biology and neuroscience can be used to critique postmodern legal thought, reciprocal altruism as the basis for contract, and how behavioral biology can be used to analyze constitutional cases. He also shows why it is important to base law on a correct view of human nature.
Fruehwald has taught at the law schools of the University of Alabama, Roger Williams University, and Hofstra University.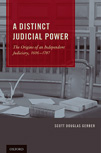 A Distinct Judicial Power: The Origins of an Independent Judiciary, 1606-1787
Scott Douglas Gerber '86
Oxford University Press
A Distinct Judicial Power presents the first detailed analysis of the origins of judicial independence in the United States.
In the first part of the book, Gerber traces the intellectual origins of judicial power from Aristotle's theory of a mixed constitution to John Adams's modifications of Montesquieu. He also describes the debates during the framing and ratification of the Constitution regarding the independence of the federal judiciary.
The main section of the text consists of 13 chapters that chronicle how the colonies and the subsequent 13 original states treated their judiciaries. The author draws upon a wealth of resources, including charters, statutes, and instructions that relate to judicial power between 1606 and 1787 (and sometimes beyond).
In his conclusion, Gerber delves into the influence colonial and early state history had on the federal model and how early experiences and political theories led to Article III of the Constitution. He explores how the principle of judicial independence prepared the way for the doctrine of judicial review and laid the groundwork for the protection of individual rights.
"Historians, constitutional scholars, and the public at large will profit by reading this thoroughly researched and clearly presented book," writes Richard Epstein, Tisch Professor of Law at NYU School of Law. Gordon Wood of Brown University describes A Distinct Judicial Power as "a deeply researched study of a much neglected subject."
Gerber is a professor of law at Ohio Northern University.

Dad, Tell Me a Story: How to Revive the Tradition of Storytelling with Your Children
John T. McCormick '83 with William and Connor McCormick
Nicasio Press
Dad, Tell Me a Story is a book for parents who want to bring the traditional art of storytelling into their home. John McCormick shows how he and his two sons created stories that made bedtime a part of the day they all looked forward to; stories filled with dragons, pirates, squirrels, bats, and bulldogs. Sometimes the most elaborate stories would begin with a familiar backyard creature or a family pet. At the beginning no one really knows where the story will end, which is of course part of the fun!
For a reader new to this kind of creative activity, it can seem a bit daunting. What if I get stuck and can't figure out where the story's headed? It's okay, McCormick explains, to stop and ask your child, "Guess what happened next?" They'll probably have an idea of their own, and will enjoy having a role in the story's creation.
Dad, Tell me a Story includes 25 engaging tales—animal stories, adventures and folk tales, cultural and historical stories, and stories about growing up—and is illustrated throughout with delightful full-color illustrations. McCormick includes many storytelling tips and examples of plots, themes, beginnings, and endings. He also shares insights into the wonder of raising children. Appropriate for children ages 5 to 11 (and parents of all ages).
McCormick is an attorney in Washington, D.C. Find companion material at: www.dadtellmeastory.com.
Pattern Jury Instructions for Federal Criminal Cases
District of South Carolina
Eric Wm. Ruschky '73
South Carolina Bar
There are no pattern jury instructions established and approved in the Fourth Circuit for use in criminal cases. Eric Ruschky helps fill that void in this volume by setting out pattern instructions that are annotated primarily by reference to Fourth Circuit and Supreme Court cases. Authority from other circuits is noted only when there is no Fourth Circuit or Supreme Court authority on point.
Pattern Jury Instructions for Federal Criminal Cases is organized in six sections that reflect the order in which jury instructions are usually given. The section on preliminary matters addresses burden of proof, presumption of innocence, direct and circumstantial evidence, note taking by jurors, and other topics. The specific criminal statutes section provides pattern charges for most federal crimes separated into crimes under Title 18 and other titles. Elements of the offense are included for each crime. A section of definitions explains terms commonly used throughout the criminal code. The defenses section provides jury instructions for various defenses to crimes and defense-specific definitions for common terms, and explains to which crimes each defense is applicable. A final instructions section advises the jury regarding rules they must follow when evaluating evidence admitted during the trial.
The practice notes section deals with lesser-known legal principles that may influence the preparation of jury instructions. A CD of the text is included with each copy of the book, allowing readers to use a keyword search and copy and paste excerpts to their own documents and correspondence.
Ruschky is of counsel with Grimsley in Columbia, S.C., which represents banks and other lending institutions in foreclosure, bankruptcy, replevin, and collections.
Founding Federalist: The Life of Oliver Ellsworth
Michael C. Toth '06
Intercollegiate Studies Institute
A good biography takes a reader on a great discovery, particularly when it focuses on a little-known figure who left an indelible mark on history.
Founding Federalist: The Life of Oliver Ellsworth
is such a book.
Oliver Ellsworth was a Founding Father of American democracy who made enduring contributions to the republic. He was one of five men selected to write the first draft of the Constitution, and he played a key role in negotiating the provisions of the Constitution that established equal apportionment of representatives in the Senate and apportionment based on population in the House of Representatives.
"Proportional representation in the House was 'comfortable to the national principle,'" Toth writes, quoting Ellsworth, "while an 'equality of voices' in the Senate 'was comfortable to the federal principle.'" The author explains that such a compromise appealed to Ellsworth's instincts as a lawyer to close a deal.
Ellsworth was a sponsor of the Judiciary Act of 1789. He came up with a bill that established federal district and circuit courts, the types of cases each would hear, and their relationship to state courts. Toth draws on his own legal background to describe how Ellsworth approached this daunting task. Ellsworth went on to become the third Chief Justice to the Supreme Court.
Toth's clear and comprehensive biography, the fifth in a series on the Lives of the Founders, brings Ellsworth's contributions to light and brings him to life in quotes from his contemporaries, historians, and quotes from Ellsworth's own writings. "Clearly and gracefully written," notes a reviewer from The Washington Examiner. "Clear prose and an eagle eye for legal argument," notes another.
Toth has served as an officer in the United State Marine Corps and a staffer for White House budget director Mitchell E. Daniels, Jr. He is clerking for U.S. District Court Judge Ursula Ungaro in Miami, Fla.

The Commandments We Keep
A Catholic Guide to Living a Moral Life
Peter J. Vaghi '74
Ave Maria Press
The Commandments We Keep is Monsignor Peter Vaghi's third book in the Pillars of Faith series. In this volume he shows how the Ten Commandments can lead the way to gaining a closer relationship to Christ.
Vaghi explains how the commandments can be used to deepen understanding of Jesus and how they can be a touchstone for daily examination of conscience. He describes the practical and pastoral implications of each commandment and includes questions for reflection and a prayer to nurture the idea that the faithful can actually embody the spirit of the commandments in daily life.
The book concludes with a guide to confession and examination of conscience and a reference section for further study. The Commandments We Keep can be used as an aid and guidebook for groups to explore their faith.
Archbishop of New York Timothy Dolan writes that Vaghi's exploration of the Ten Commandments "combines the realism of a pastor with the precision of a theologian to 'bring them down the mountain' for us today."
Vaghi is pastor of the Church of the Little Flower in Bethesda, Md. He practiced law for a number of years and is still a member of the Virginia State Bar and the D.C. bar. He continues to offer Catholic counsel to the profession.
Fiction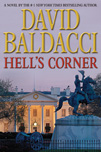 Hell's Corner
David Baldacci '86
Grand Central Publishing
In this latest thriller in the Camel Club series, the President of the United States asks Oliver Stone to lead one last high-risk mission.
The night before Stone is to set off on his assignment, he walks through Lafayette Park. There are four people there who seem out of place, and Stone's sixth sense tells him something is very wrong. Just then, a bomb explodes in the park, in what seems to be a terrorist attack against the President and the British Prime Minister, who had been attending a state dinner at the White House that night.
British MI-6 agent Mary Chapman joins Stone in the hunt for the bombers, who quickly prove to be extremely capable, elusive, and deadly. Stone turns to members of the Camel Club, even though he knows the alliance could be risky.
Stone has attempted unsuccessfully to exit this shadowy world of politics and intelligence many times before. There are two things he knows for certain: There is no one he can really trust, and more often than not, things aren't what they seem. He can only rely on his cunning, his instincts, and his considerable experience. He's one of the best at this lethal game; even so, this could be his—and the Camel Club's—last stand.
"Baldacci keeps peeling back layers of Stone's psyche," says Booklist, "revealing him to be a man full of unresolved conflicts and a potentially self-destructive amount of guilt over his past actions. Another winner."
Baldacci and his wife, Michelle, have founded the Wish You Well Foundation, which works to promote literacy. Visit his Web site at www.DavidBaldacci.com.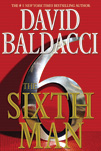 The Sixth Man
David Baldacci '86
Grand Central Publishing
Former Secret Service agents Sean King and Michelle Maxwell take on their most challenging case yet in The Sixth Man.
Alleged serial killer Edgar Roy awaits his trial in a federal supermax prison, almost certain of conviction. Roy's attorney, Ted Bergin, a beloved mentor to Sean King, calls King and Michelle Maxwell in to help handle the case. On their way to meet Bergin they find him slumped over in his car, emergency lights flashing. He'd been murdered along the rural road that leads to the prison in which Roy is incarcerated.
Who murdered Bergin, and why? As King and Maxwell pursue the answers they try to unearth Edgar Roy's past, which leads to a series of multiple obstacles, dead ends, and hidden threats.
Along the way they discover the existence of an information processor that works with such lightning speed that it is certain to change the landscape of national security—information some would kill for to protect. They also discover The Analyst, a brilliant but disturbed man who is at the center of it all.
In The Sixth Man, King and Maxwell find themselves up against powerful enemies and ultimately engage in a terrifying confrontation. "A lean, relentlessly paced thriller," notes the Richmond Times-Dispatch.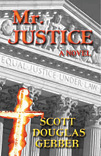 Mr. Justice
Scott Douglas Gerber '86
Sunbury Press
When the first African-American is elected president of the United States, it's a milestone in history and a day of jubilation for many. But soon an unsettling mood creeps into the nation's capital. Trouble is brewing. The Ku Klux Klan, long dormant and laying low, rises like a ghostly army and begins to gather in protest.
The president's greatest political rival asks the Supreme Court to reconsider a racially charged decision, heating up an already toxic atmosphere. The rival has a dark secret that only the nation's highest court will be able to reveal. Meanwhile a law professor nominated by the president to a position on the bench is headed for the knockdown fight of his life. Who will prevail? The dark side of politics and the undercurrent of racial hatred that fuels the KKK set the stage for Gerber's third legal thriller.
Gerber is a professor of law at Ohio Northern University and senior research scholar in law and politics at the Social Philosophy and Policy Center.

Familiar Shadows
Bert Goolsby LL.M. '92
Publishing by Rebecca J. Vickery

This coming-of-age story, a sequel to the author's first novel, Her Own Law, is set in the Deep South as World War II comes to a close. Twelve-year-old Luke McLendon and his best friend, Will Sheffield, fall head-over-heels in love with the same girl, a beautiful orphan named Lydia Powell. When Luke's aunt Tweeve is given temporary custody of Lydia, Luke's summer, usually filled with a familiar routine of baseball, lazy afternoons at the pond, and playing cops and robbers, suddenly gets complicated. Luke does a lot of growing up that summer, with some painful early lessons in love and loss.
Goolsby conveys the atmosphere of a small Southern town in the summer of 1945 through evocative details—sweet ice tea and berry cobbler, the press of damp, humid air—set against the constant tension and troubling presence of segregation in a way that carries you there.
Goolsby is a former chief deputy attorney general of South Carolina and judge on the South Carolina Court of Appeals. He is the author of three short-story collections and three other novels: Her Own Law, Harper's Joy, and The Trials of Lawyer Pratt. He lives in Columbia, S.C.
The Trials of Lawyer Pratt
Bert Goolsby LL.M. '92
Publishing by Rebecca J. Vickery
The Trials of Lawyer Pratt is set in the South in the 1960s, when Billy Joe Pratt takes on the defense of Siggy Youmans, a bottle washer accused of murder and arrested holding the murder weapon. The defendant asserts his innocence, but his own mother says he can't be trusted, that he's never been known tell the truth. "Iffen his lips are a'movin' he's a'lyin'," she says.
Billy Joe Pratt isn't the kind of lawyer you go looking for on a good day, much less when the odds are stacked against you. In fact, some of his colleagues question the validity of his credentials. He is young and rather lazy, and his secretary, Dixie, described as "float-qualified beautiful," is more diligent about painting her nails than keeping up her office skills. But despite his sketchy resume and reputation, as the story unfolds Pratt throws himself into the case.
In The Trials of Lawyer Pratt serious crimes and courtroom drama play against a cast of interesting, quirky characters and the kind of colorful dialog that could only go on in a Southern town in the 1960s.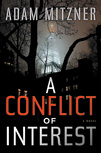 A Conflict of Interest
Adam Mitzner '89
Simon & Schuster
At 35, Alex Miller is the youngest partner in a prominent law firm in New York. He appears to have it all. He's a criminal defense attorney already building a reputation as one of the best in his field. He has a wonderful wife, who understands the long hours and the stress involved in high-stakes cases, and a beautiful young daughter.
At his father's funeral Alex meets a man named Michael Ohlig who's been a mysterious figure in the Miller family history. He was his father's best friend at the beginning and end of his father's adult life, but that fact seemed of little relevance to Alex. Mitzner describes a scene at the funeral that marks the beginning of a relationship between Michael Ohlig and Alex Miller that would soon dominate their lives:
"Three times Ohlig poured a shovel full of dirt on my father's casket, fulfilling the ritualistic last act of a Jewish burial. Each motion was deliberate, as if his movements were intentionally drawn out to prolong his time to say good-bye. But it was the powerful way he approached the shovel, and the force with which he yanked it from the dirt, that most caught my eye, stating unequivocally that he was not someone to challenge."
Ohlig asks Alex to represent him in a high-profile criminal investigation involving an alleged brokerage scam that lost hundreds of millions of dollars for investors. He's wealthy almost beyond imagining, but he insists he is innocent, and Alex, despite his experience in such cases, believes him.
As the case unfolds, Alex finds himself in for much more than he bargained for.
The facts of the case involve shocking secrets that challenge everything the young lawyer believes in—about the law, his family, and himself. In a desperate search for the truth, Alex has to deal with revelations about deception in his past that put his promising future in jeopardy.
The author combines the insights of an experienced litigator with the imaginative mind of a novelist to render a debut novel that has been compared to Scott Turow's Presumed Innocent. "Psychological and legal suspense at its finest," notes a review in the New York Times. "A terrific read!"
Mitzner is head of the litigation department of Pavia & Harcourt in New York City.